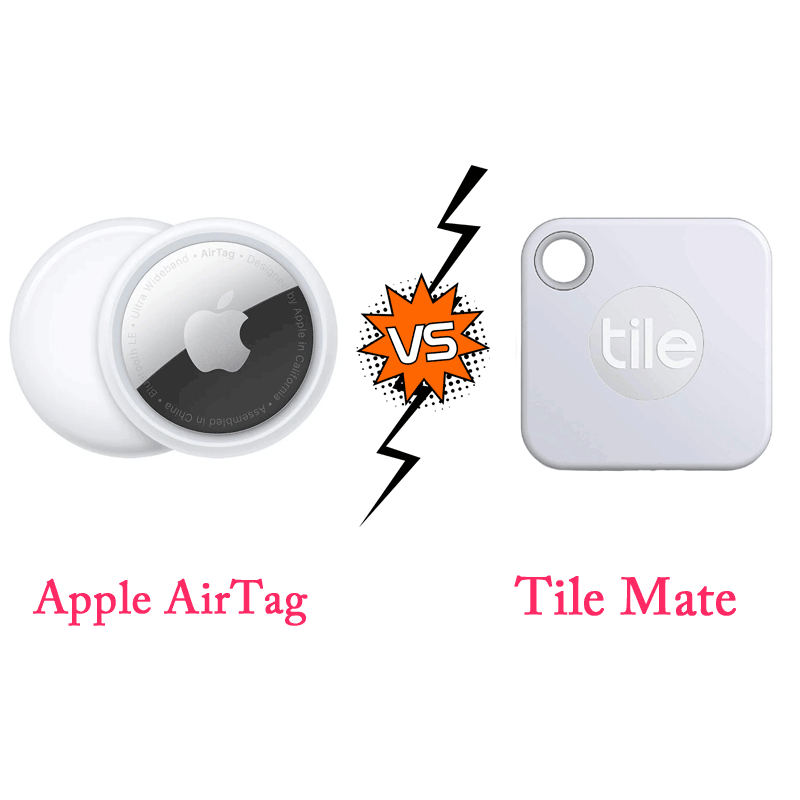 How many times have you misplaced your keys or other smaller items that you were sure existed in your backpack but now are nowhere near it? Tiny objects are hard to locate, especially when you are in a hurry.
Thanks to advances in connectivity-oriented technology, Bluetooth-based key finders found the right market in the last few years. All you need to do is attach the key finder to your belongings, and quickly locate them using an app on your smartphone.
Speaking of key finders, the one brand that has ruled the roost in the last couple of years is Tile. Their affordable product range, especially the Tile Mate, has solved the core issues of those who "never find anything".
But now, they have competition from none other than Apple. Apple's new AirTag is here to disrupt the market dominated by Tile so far.
So, what are the two key finders about and how do they compare? Continue to read further as we break it down for you.
How Do the Two Item Trackers Compare?
Table Title: Apple AirTag compare with Tile Mate
| | | |
| --- | --- | --- |
| Name | Apple AirTag | Tile Mate |
| Price | $29 each, $99 for 4-pack | $25 each, $70 for 4-pack |
| Size | 1.26 inches in diameter, 0.31 inches thick | 1.65 x 1.65 x 0.26 inches (Tile Pro); 1.4 x 1.4 x 0.24 inches (Tile Mate) |
| Connectivity | Bluetooth LE, U1, NFC | Bluetooth LE |
| App | Find My | Tile |
| Battery | User-replaceable CR2032 | User-replaceable CR1632 |
| Battery warning | Yes | Yes |
| Bluetooth range | Unknown | 200-feet |
| Water resistance rating | IP67 | Splash-proof |
| Notifications | Included | Requires Tile Premium |
| Precision Finding | Yes | No |
| Compatibility | iPhone 11 or later for Precision Tracking features | Android, iOS |
| Accessories | Yes | Limited |
| Personalization | Free engraving | No |
Whether you already own a Tile Mate and are on the fence about switching to an AirTag, or you are a first-time buyer of a Bluetooth tracker, you should first be aware of the pros and cons of both. So, here are the key comparable parameters based on which you can choose the one that is right for you.
Connectivity
Bluetooth Low Energy (LE) works at the heart of both devices. With Tile Mate though, you need to pair it with whatever smart device you are using before you can begin tracking an item. So, don't go looking for your keys before your device knows that it has to look for them.
With Apple, on the other hand, pairing is a lot simpler. Yes, it also primarily used Bluetooth LE, but you just have to hold the key finder close to your Apple device once, and it automatically gets paired.
Don't you just love it when devices begin to talk to each other automatically? It just saves so much of your energy and time!
There is a bonus with Apple AirTags, too. It has a special U1 chip, which when paired with your iPhone (only 11 and 12), can help with precision tracking.
What does this mean? In simple terms, the chip gets all of your iPhone's sensors such as the camera, the gyroscope, the accelerometer, and so on, to work together and find the location of your lost item to its exact coordinates. That is something the Tile Mate, unfortunately, does not do.
App
To use Tile Mate on any device, you must install the Tile app. While it might seem a bit tedious to set up yet another app – yet another account and yet another password, the Tile app makes the key finder versatile.
It means that if you switch to another device in the future, you can still use the same key finder as long as you have the Tile app.
Moreover, Tile Mate is compatible with Google and Amazon, too. So, if you are used to sitting around and ordering Alexa or your phone's Google Assistant to do other things for you, you can safely add "finding your lost items" to the list.
AirTags, on the other hand, work only with Apple devices, which makes it a great investment for those who want to stick to the Apple ecosystem. The advantage of this is that you do not need to install any additional apps.
The AirTag pairs up with your iPhone in an instant and all your tagged items show up in the built-in "Find My" app. This is convenient for those who like everything seamlessly connected with the same technology, present under one umbrella.
Battery
Often overlooked among a slew of ultra-tech parameters is the battery. How long will the battery of the device last? This is one of the first questions you should ask when purchasing any electronic device.
Now, when you compare the AirTag and the Tile Mate, both of them have batteries that last about a year. But then comes the real question. What do you do when the battery life is over? Do you get to replace it or do you have to throw the device away and buy a new one?
Well, the good news is that both the key finders have replaceable batteries. And, what is even better is that you can replace the battery yourself, without the need to call a service technician or a technical helpdesk.
Also, you don't need to set a date on your calendar to remind yourself that the battery has to be changed. Both devices have battery alerts that begin flashing when their life is about to be over.
When compared, the battery of an AirTag has a slight edge over that of the Tile Mate. It uses a CR2032 coin cell battery as opposed to the CR1632 of Tile. The CR2032 is more readily available.
Range
Okay, so both of them use Bluetooth LE to locate your lost items. But do both of them have the same range of detection? What if you lost something a bit far away from home? Will your key finder still locate it?
Here is the catch. Apple does not mention the exact range of an AirTag, but they do specify that anything can be located within Bluetooth range. The Bluetooth range is typically around 800 feet, provided there is a direct line of sight.
It means that if you have forgotten your tagged item at your friend's place way down the road, and there is nothing between your house and theirs, your AirTag will still be able to locate the lost item.
Tile Mate, on the other hand, specifies that the range is about 200 feet, which is still good enough and works for most people. But it is not as mind-blowing as the range of AirTags.
As if this range of AirTags was still not good enough, there are additional features! You can still locate your lost items if they are out of range. All you need to do is use Apple's larger, secured, end-to-end encrypted "Find My" network.
Physical Appearance
Looks do matter, and Apple knows that. And so, although it offers its AirTag only in one size, it looks sleek. It is just like a coin that you slide inside your wallet or attach to other items through accessories.
Yes, the good old accessories not only enable you to use the tracker on numerous items but also completely overhaul the appearance of the tracker. Apple offers a range of accessories, for example, one of which converts the tracker into a keyring that you can easily attach to your backpack or other items.
If you are thinking that all the work Apple is doing to enhance the looks of the tracker is going into accessories, you could not be farther from the truth. There's more!
You can get the AirTags personalized! Whatever you want to be engraved on it will be done. And these engravings come at no extra cost.
The Tile Mate might seem a bit drab after all the luxury and style that Apple has come up with to entice its non-Apple customer base. Although Tile has different trackers of different dimensions, the Mate is just a regular square-shaped tracker with nothing interesting engraved on it.
Pricing
Whenever you want to purchase a new electronic device or anything for that matter, it all comes down to value for money, doesn't it? Let's look at how the two Bluetooth item trackers stack up against each other concerning pricing.
At the first glance, it may seem like the AirTag is pricier than the Tile Mate. After all, Apple has priced the product at $29 for one piece. Of course, as with most other things, you can save if you buy more than one. So, a 4-pack of Apple AirTags will cost you $99, which brings the cost down to $24.75 apiece.
Contrarily, a Tile Mate will cost you $25 for one piece and you may buy a 4-pack for as low as $70. Sounds like a better deal? Wait, there's more.
With AirTags, the only price you pay is the one-time purchase price. Then you can get all the notifications and smart alerts on your iPhone at no extra cost. But with Tile Mate, it gets a bit trickier.
Although your basic usage with the initial purchase of Tile Mate is free, advanced features such as smart alerts and location history require an annual subscription, which at the very least will cost you about $39 a year.
The verdict? Depending on how smart you want your Bluetooth tracker to be, Tile Mate can either be cheaper or costlier in comparison to AirTags.
Which One Should You Buy?
That is the most important question, isn't it? So, here's the deal. If you have already invested in the Apple ecosystem, which means you have the latest iPhone, and all the other gadgets, which are also from Apple, sync up to your phone, the Apple AirTag is a clearer choice for you.
It not only offers more advanced technology (remember the U1 chip and precision tracking?) but also allows you to access all of its cool features without additional payment. Yes, it is certainly a bit more expensive than the Tile Mate, but the cost difference is not significantly high when you think about the additional features you can access.
Tile Mate is still good enough if you are more used to versatile devices such as Android phones and Amazon Alexa, but you need to subscribe to a yearly plan to use all those smart features. Of course, if all you are looking for is a basic tracker, you can always buy the Tile Mate as is, without the subscription.
Either way, finding lost items is no longer going to be a head-scratcher when you end up with one of these two Bluetooth-enabled item finders.