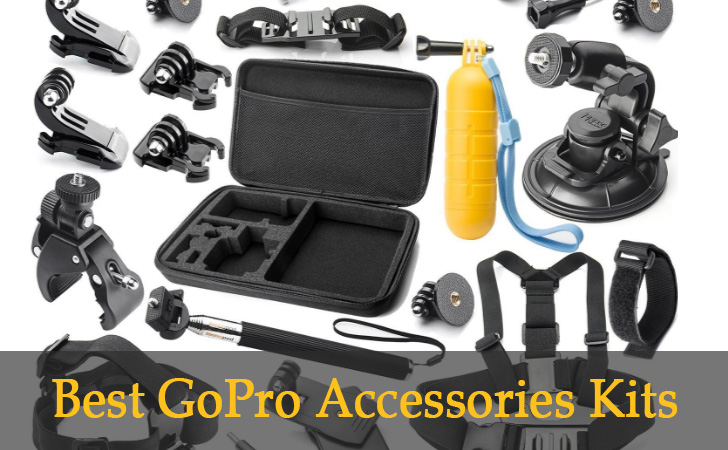 In recent years, GoPro cameras have become some of the most popular electronic items on the market. These cameras are designed for rugged, outdoor use. They can be strapped to your head or helmet in order to capture your craziest adventures in the making. Therefore, GoPro cameras are popular among sports lovers who are desperate for a camera that takes great pictures and videos without getting easily damaged or destroyed. If you're looking for a camera that can be with you at all times to capture your best moments wherever they may be, a GoPro camera is a great choice for you.
However, the camera itself is not necessarily all you need for a great image and video-capturing experience. A wide range of accessories are available that are designed specifically for GoPro cameras. These kits help significantly improve users' experience with their cameras. The accessories include useful items like batteries, chargers, head and chest straps, and much more. They allow you to maximize your GoPro photography and videography easily. If you already have a GoPro camera or plan to invest in one, purchasing an accessory kit for your camera can significantly improve your GoPro experience.
Read the following GoPro Accessories Bundle reviews to buy your favorite one.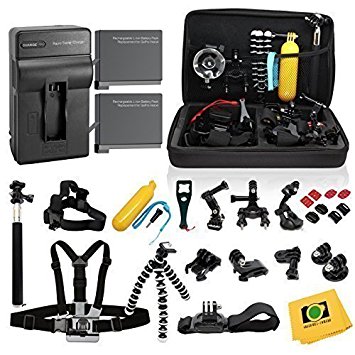 This GoPro accessory kit is exactly what its title suggests–complete. It includes twenty-five different useful accessories that are compatible with your GoPro Hero 4 camera. These accessories include two batteries, a charger, a curved surface adhesive, a flexible tripod, a large carrying case, a chest strap, a head strap, a wrist strap, a mini suction cup designed for your car, and much more.
If you use your GoPro camera so much it feels like an extension of yourself, this accessory kit just might be the one for you. It includes virtually everything you might ever need for your GoPro camera no matter where you're going or what you're doing. Whether you're swimming, riding your bike, sledding, running, or participating in any other type of indoor or outdoor activity, you'll find an accessory in this kit to use to your advantage.
7. DeKaSi GoPro Accessory Kit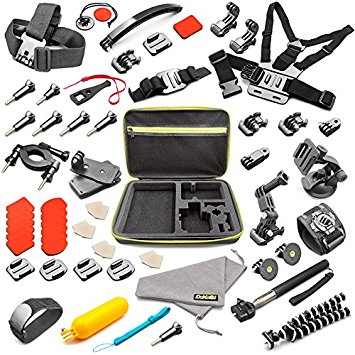 You can take the accessories in this kit with you just as easily as you tote your GoPro around wherever you go. All of the accessories in the kit are contained within a carrying case that is resistant to shock in order to keep them effortlessly protected while you're on the go. The entire kit is lightweight and portable; it weights a total of only three pounds.
The accessories themselves are unique. They include multiple flexible tripods, anti-fog inserts, a storage bag, a camera tether, a WiFi remote wrist strap, and more. The full kit includes fifty-five different accessories for you to use in tandem with your GoPro camera.
6. Erligpowht Basic GoPro Accessory Kit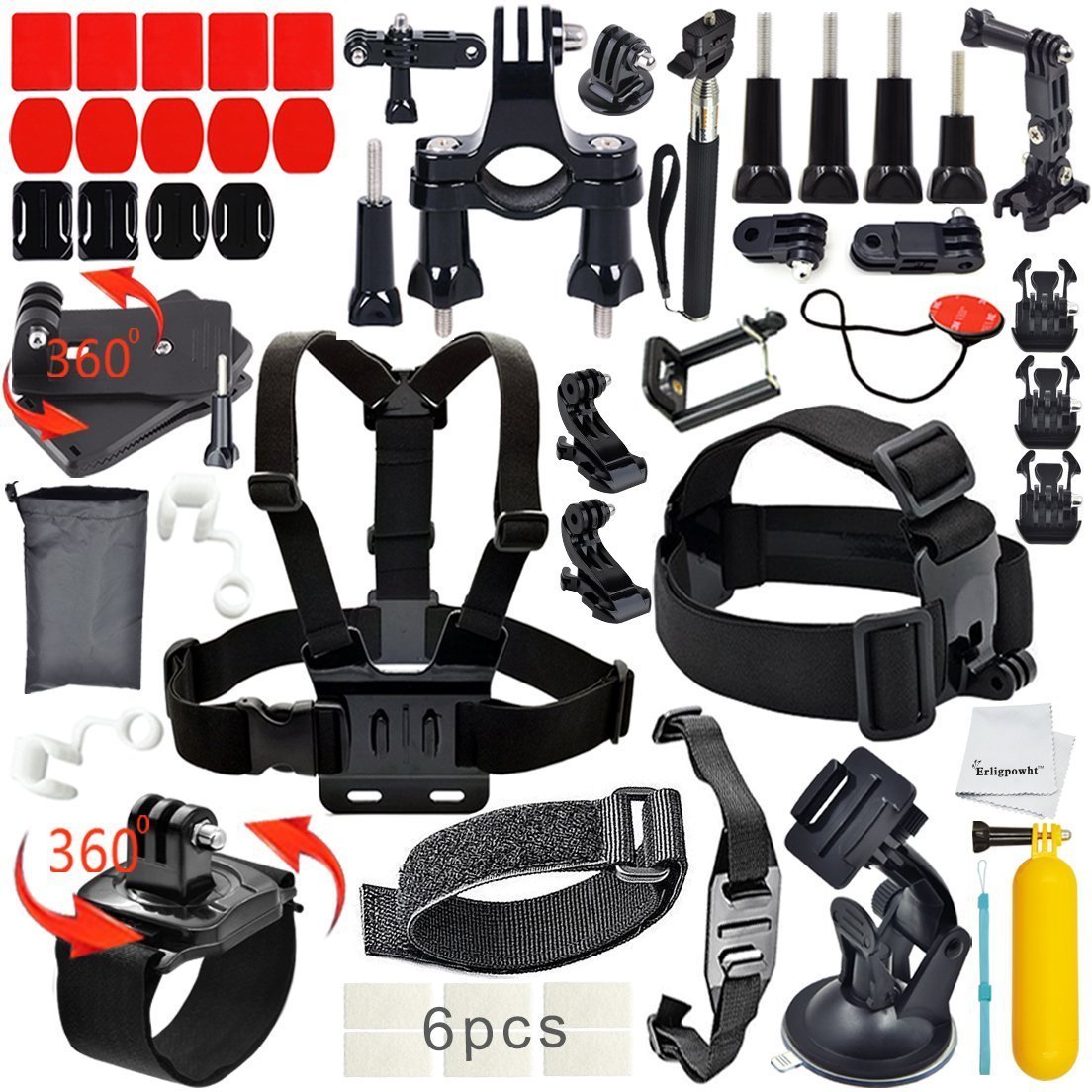 This GoPro accessories kit is designed specifically for outdoor use. It includes forty different pieces, all of which are included specifically because of their usefulness for avid outdoor adventurers. The accessories are all compatible with the GoPro Hero 3, 3+, and 4 camera versions.
Are you tired of asking other people to capture your most important moments? One of the best things about this specific accessories kit is that, with it, you'll never again have to worry about getting someone else to take pictures or videos of you. This accessory kit includes many different stands and mounts that allow you to secure your GoPro camera in a variety of prime positions to capture footage without anyone else's help. Among other accessories, the kit includes a windshield mount, a swivel mount, an adjustable head strap, and a chest harness.
5. Neewer Action GoPro Accessory Kit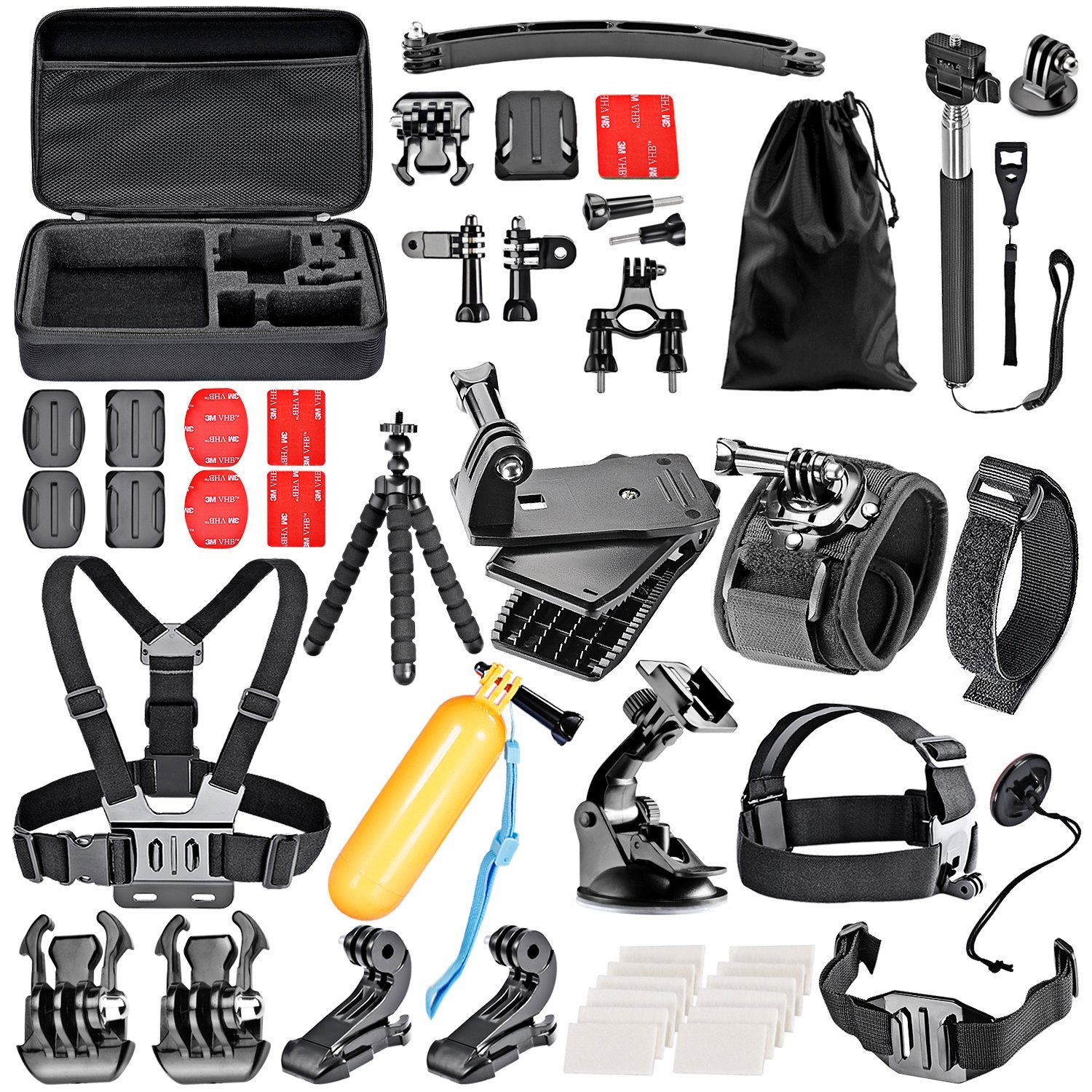 One of the most frustrating problems many sporty GoPro users encounter is capturing low-quality footage. This problem is often due to users' own movement while filming or photographing. The accessories in this kit are designed to allow you to capture high-quality pictures and videos even when you're moving around in full-on adventure mode.
This accessory kit comes with fifty different accessories. These accessories include a WiFi remote wrist strap, a triangle suction cup mount, a mini retractable tripod, a a backpack strap mount, and more. The triangle suction cup mount features an aluminum adapter pad and super strong suction. This firm suction minimizes shakiness in the pictures and videos you take. The retractable tripod's small size makes it easy to store and take with you for vibrationless shots while on the go.
4. Soft Digits GoPro Accessory Kit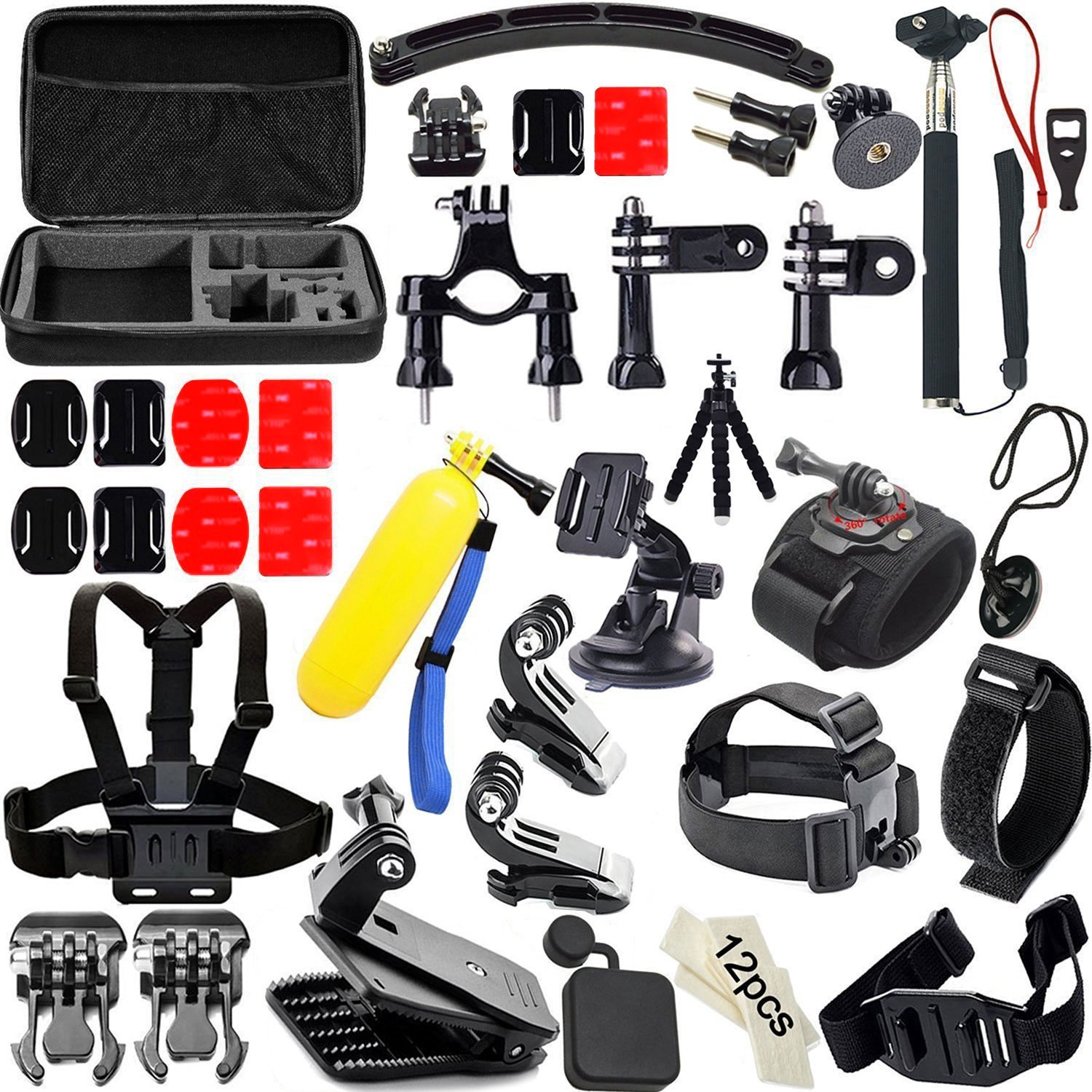 Do you like to swim, surf, or participate in any other water sports or activities? Taking pictures and video while swimming or surfing often makes for awesome footage. However, it is often difficult or even impossible to safely operate a camera while you're submerged in water.
Among other things, this accessory kit is equipped specifically to help you use your GoPro camera with ease in the water. It includes a floating handle and long screw. The floating handle is bright yellow so it is easily found if you do drop your camera in the water. In addition to the floating handle, the fifty-piece accessory kit includes anti-fog inserts, a carrying case, a suction cup mount, a bicycle handlebar mount, and much more.
3. Lifelimit GoPro Starter Accessory Kit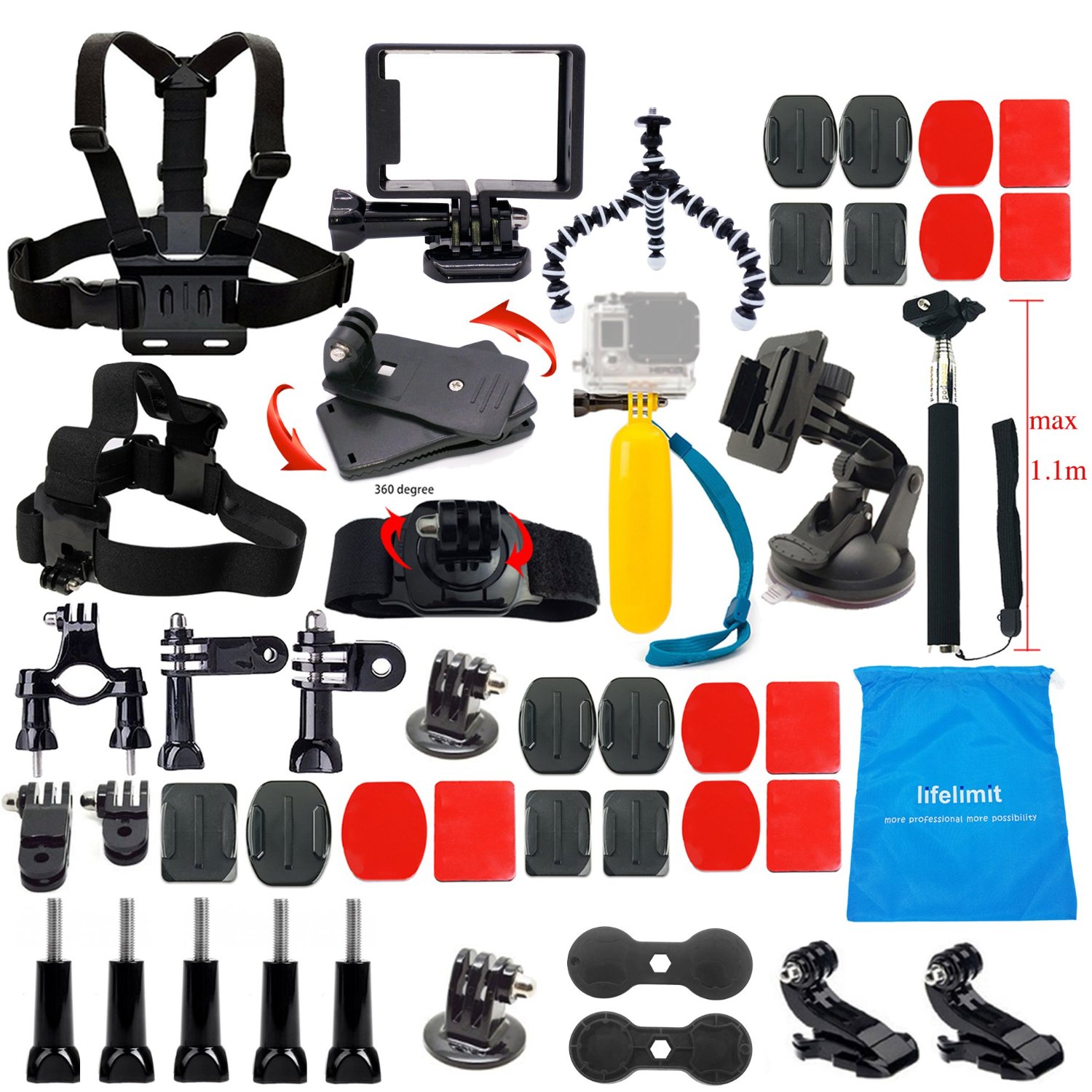 Are you just starting out in the realm of GoPro cameras? If so, this simple, starter accessory kit is the one for you. It is compatible with a wide variety of GoPro camera versions, including the Hero 5, Session, 4, 3, 2, and HD Original.
This kit comes with a wide variety of accessories that help you improve your GoPro user experience. These accessories include an octopus tripod, a suction cup, a headstrap mount, an extendable handheld pole, a floaty bobber, a chest harness, and more.
2. Zookki Outdoor Sports GoPro Accessory Kit
This kit is the essential accessory collection for all GoPro users who primarily use their cameras to capture outdoor sports footage. It includes many different accessories that help you take top-quality pictures and videos of yourself and your surroundings while in motion. The kit is compatible with several different GoPro camera models, including the Hero 5, 4, and 3.
Use this accessory kit anywhere from the mountains to the ocean for great results. Some of the useful accessories it includes are a cheststrap mount, a headstrap mount, a car suction cup mount, a floating handle grip, and more.
1. Black Pro Basic GoPro Accessory Kit 
This GoPro accessory kit works with almost all GoPro cameras. This list of models includes the Hero 5 as well as the Session 5, 4, 3, 2, and 1. The kit includes thirteen different accessories that are all both useful and easy to use.
Although this kit only includes thirteen accessories, it is the perfect basic starter kit for outdoor lovers. It includes all necessary tools to help you use your GoPro camera in a variety of conditions. The kit includes a floating grip mount. This tool allows you to safely and securely use your camera in the water. In addition, the collection also features thumb screws. These screws allow you to adjust your accessories even when temperature are below freezing.
GoPro cameras are one of the most popular electronics on the current market for a reason. They're a revolution in image and video-capturing technology in and of themselves. With the right accessories, such as the ones included in the kits in this post, you can significantly improve your photography and videography experience and make sure you get the most out of your GoPro camera.
Capture Your Favorite Moments With The 10 Best GoPro Selfie Sticks