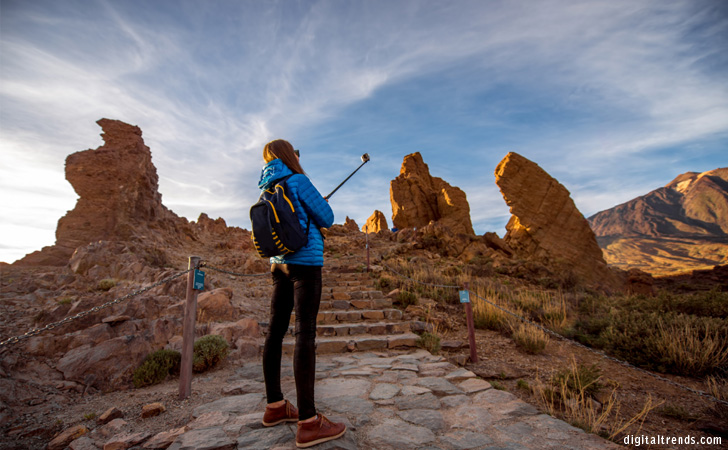 Waterproof, With Button, Remote, Lightweight
GoPro cameras are action cameras with a mountable design that has stunning photography capabilities with related features. These cameras have completely transformed how we film our adventures. In a world where everyone always wants to share their biggest adventures and moments in their lives.
Having a camera that will capture your moments and your surroundings while giving you amazing photo quality is a must-have. That is when a GoPro will come in handy.
However, if you own a GoPro HERO10 camera you know your arms are never long enough to be in a position to capture the beauty of your adventure and your surroundings. GoPro cameras have a wider lens which means they capture everything around you while you take a selfie. In order to adopt the best photos and selfies you should invest in a GoPro selfie stick and here are 10 you should consider. Read the following GoPro Selfie Stick reviews to find your favorite one.
10.

Luxebell Adjustable Monopod Selfie Stick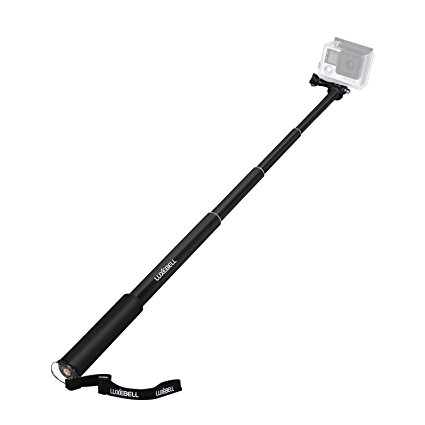 The beauty of this monopod selfie stick is the fact that it is not exclusive to a GoPro camera. It can be used with any smart phone or device which makes it extremely convenient to carry with you when you want to take an amazing photo but do not have your GoPro camera on hand.
This selfie stick extends up to 40.5 inches with a twist and lock system so you can lock it into place once you have found the perfect distance for your photo. Not only that but you can rest assure your device is locked into place and will not fall. It is also extremely lightweight 4.5 oz so you can travel with it at all times.
9.

Mpow GoPro Selfie Stick with BlueTooth Remote Shutter with Build-in Button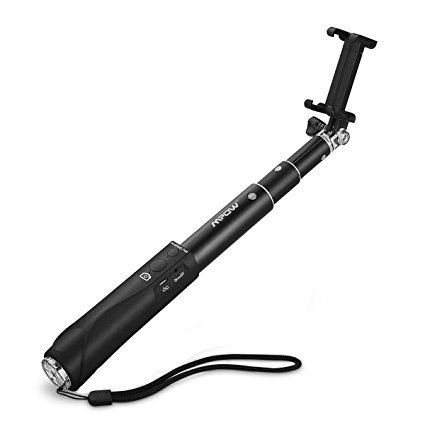 If you want a simple, straight to the point selfie stick that can be used for your GoPro or your smart phone this is the one for you. It is simple to use you simply turn it on connecting your device via bluetooth and you are good to go.
The spacious design of this selfie stick makes it compatible with most larger smart phones as well as the GoPro Hero camcorders. These camcorders are generally a little larger which makes this selfie stick an excellent option if you own a GoPro Hero10 Camcorder.
8.

Shindea Telescopic Handheld Monopod Selfie stick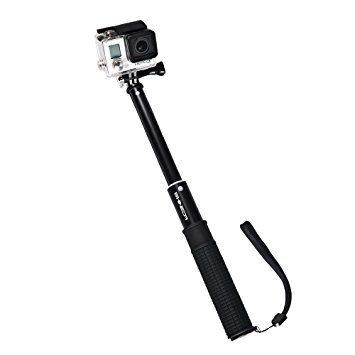 If you want to be able to mount your selfie stick onto a tripod this selfie stick comes with ¼ inch screw in the bottom so you are able to screw and unscrew your monopod selfie stick at any moment. This enables you to be able to use this selfie stick in 2 different forms.
You are also able to mount your GoPro cameras directly thanks to its built-in GoPro adapter. This GoPro selfie stick extends 36 inches with a 4 section lock system.
7.

Prories MonoPod Lightweight Waterproof Extension Selfie Stick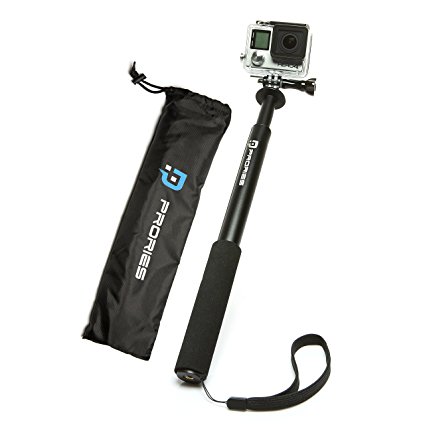 The perfect outdoors GoPro selfie stick is this one because of its waterproof feature. You can take it with you anywhere you go without worrying about the base getting wet and becoming damaged. This selfie stick is perfect for going skydiving, skiing, hiking, mountain climbing and water activities such as snorkeling, scuba diving among others.
It has the ability to capture every memory you wish to save and cherish regardless of how the weather is. This selfie stick also comes with screws at the bottom so you are able to unscrew it and mount it on a tripod whenever you decide to do so.
6.

Luxebell Telescope Pole with Tripod Stand Mount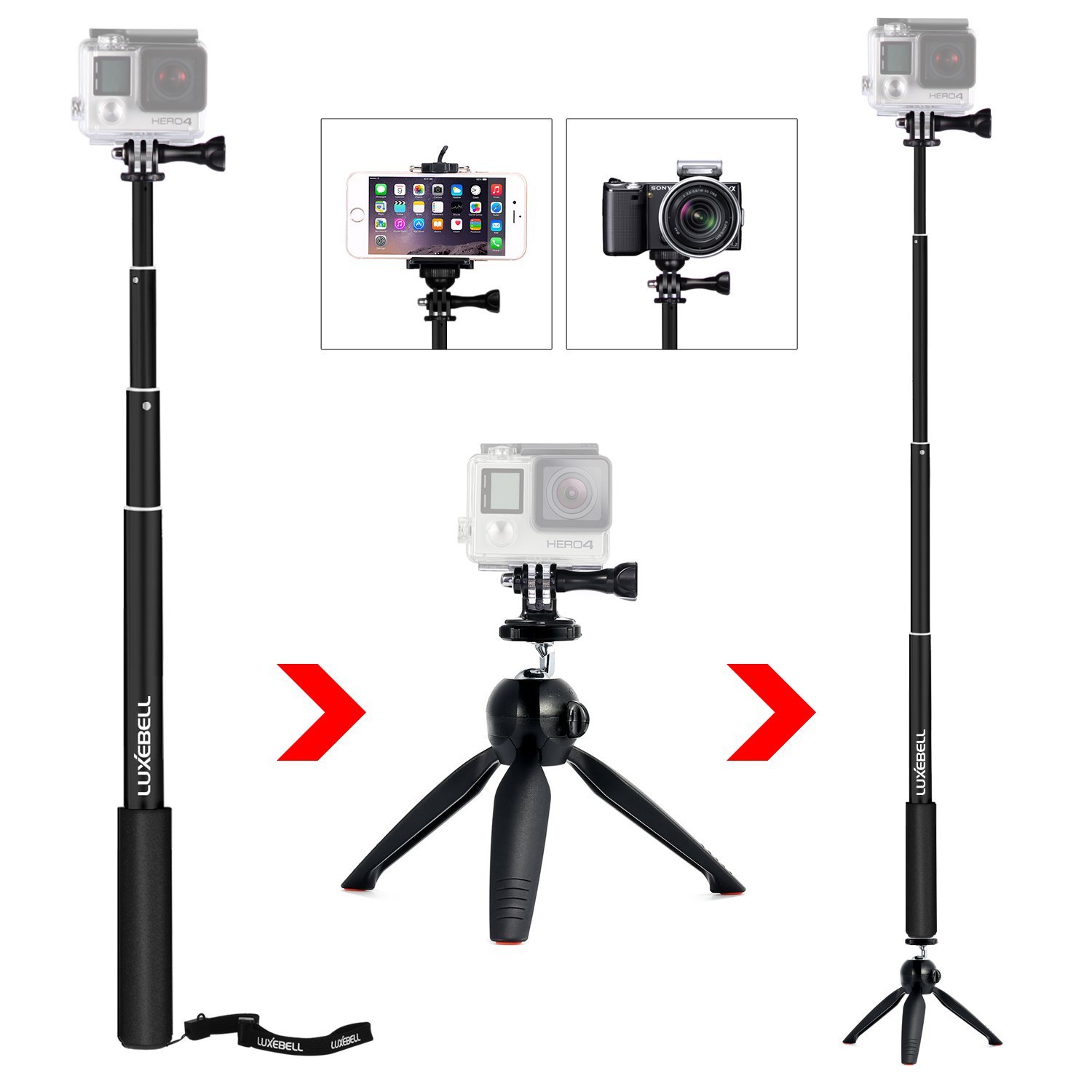 This 3 in 1 kit is ideal for everyone who has a love for photography or simply enjoys taking pictures and creating memories. It comes with a selfie stick, a tripod mount and a GoPro adapter so you are able to switch between your Gopro camera and your smart phone at any moment.
This gives you the ability and flexibility that you require to capture the best pictures and videos at any given time. The selfie stick extends 40.5 inches and has a twist and lock system to prevent it from sliding from the position you want it in.
5.

Professional 10 in 1 Monopod Selfie Stick with Remote Shutter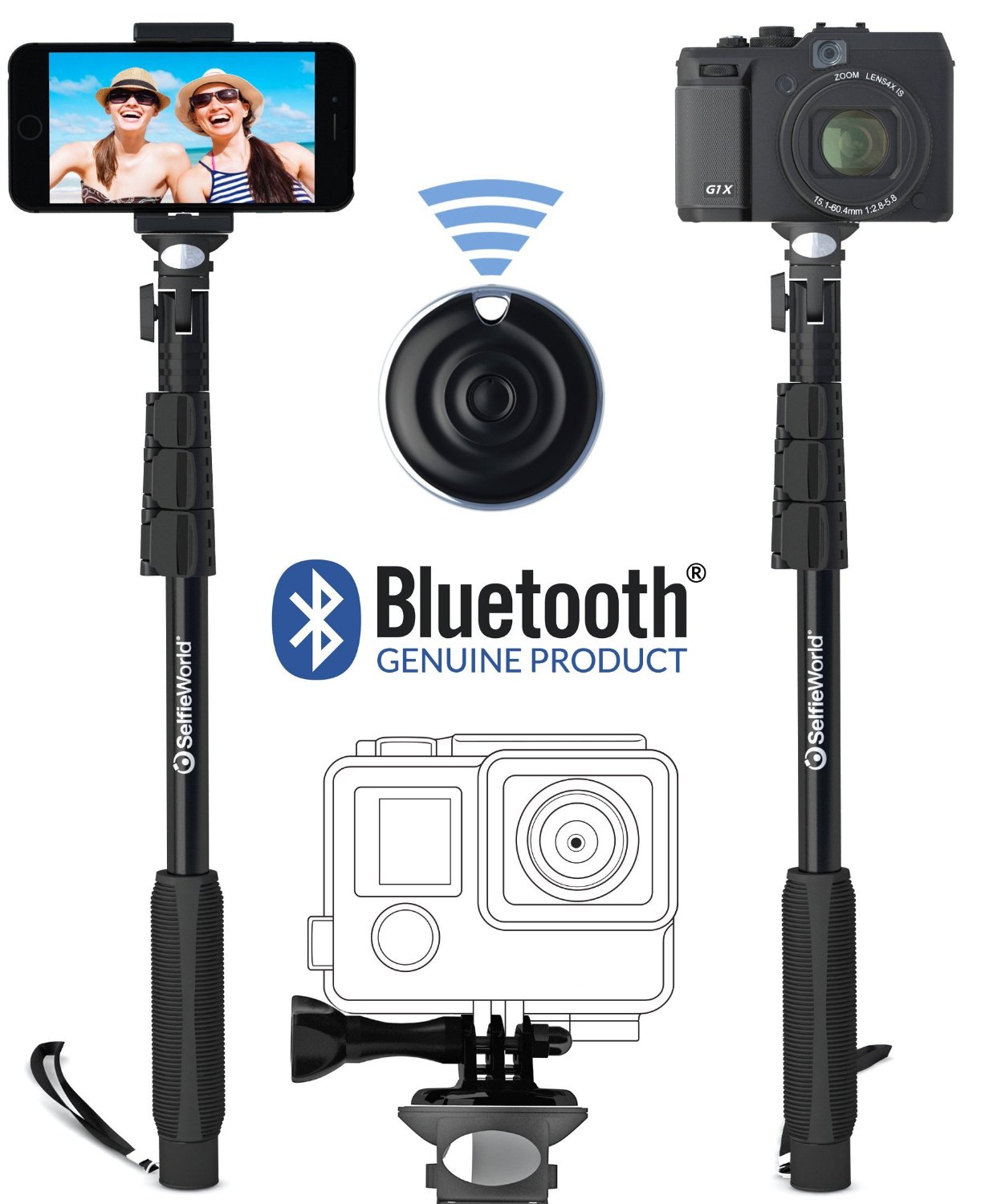 All of your devices can be mounted onto this monopod selfie stick. You can mount 7 different smart devices and it supports 3 different camera functions. It works with iPhone 12, Androids, Mini camcorders and GoPro cameras. They can all can be connected through the bluetooth capacity that this selfie stick has. Another fantastic feature that it has is its waterproof capacity. You can take it with you anywhere and for any adventure you may go on.
4.

GoRad Gear Extreme GoPro Selfie Stick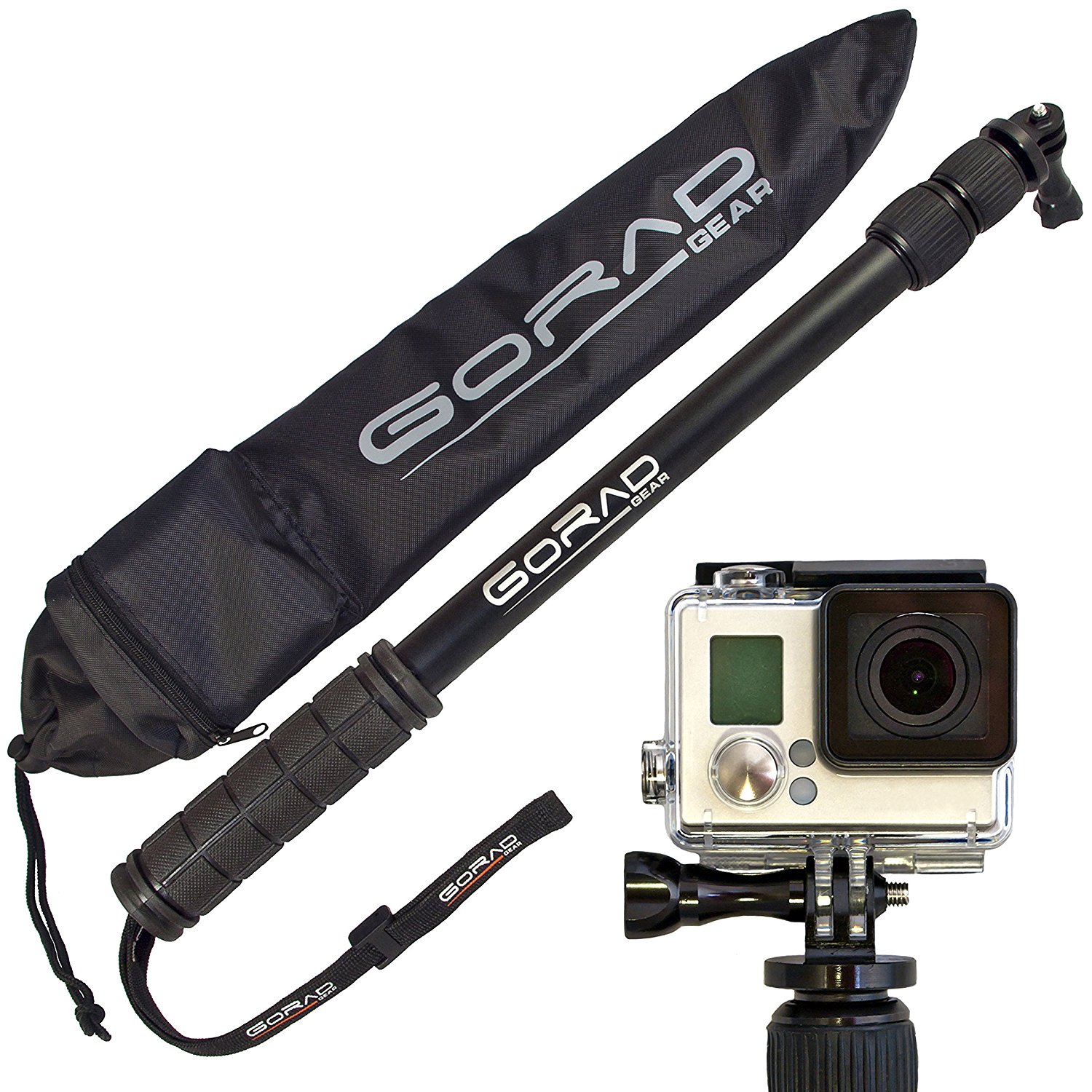 One of the main reasons people love a GoPro extreme selfie stick is because they want to be able to capture all the crazy adventures they may get into. This selfie stick is idle for someone who enjoys extreme sports. It is so sturdy you can go skiing down a mountain while using this selfie stick and know your GoPro camera will be just fine.
You also have the ability to mount this to a tripod if you opt to do so as it is suitable for a tripod as well. It comes with a twist locking system so you can modify the length of the selfie stick and know that your GoPro is secure every time. If you enjoy capturing outdoor images having a selfie stick that is waterproof is a must. You can capture all your favorite images regardless of how the weather may be every time when you use are using this selfie stick.
3.

GoPro 3 way Grip Tripod Selfie Stick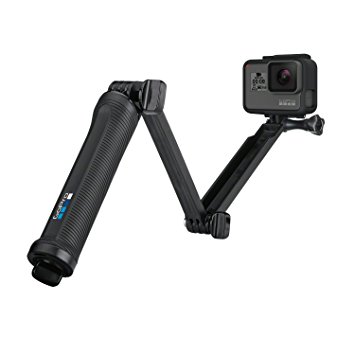 This is an official GoPro tripod selfie stick what this means is it will only function with your GoPro. It has a 3 way grip to give you the versatility you want when it comes to filming and taking pictures. It can be used as a camera grip, extension arm or as a tripod to give you the ultimate convenience.
The entire selfie stick is waterproof so you can take underwater video and images without having to worry about damaging your tripod. The tripod itself is stored right in the handle to keep it from being a bulky item, it also gives you easy access for when you want to use it in a different manner.
2.

Universal Selfie Stick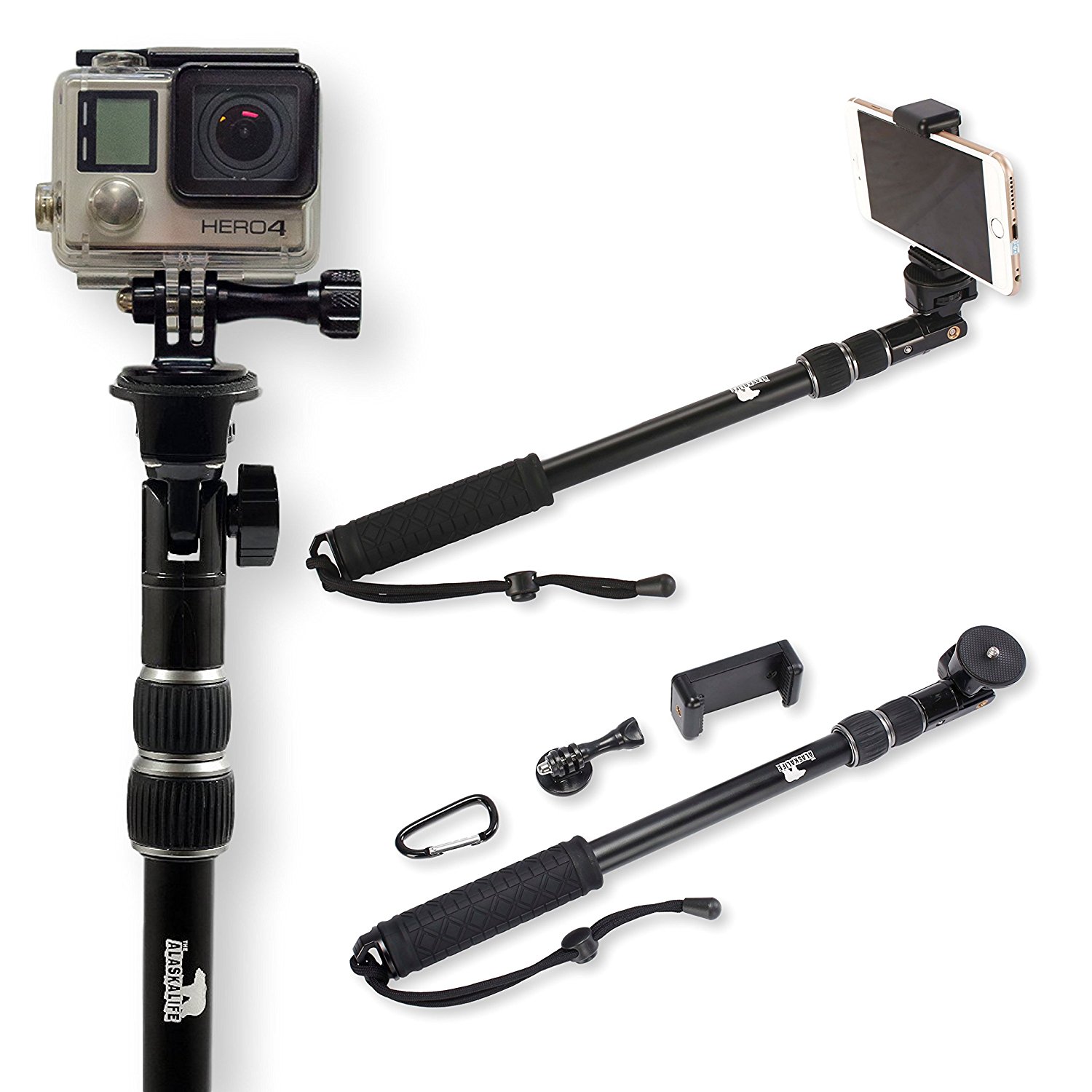 The beauty of a universal selfie stick like this one is the fact that it can be used on not only with your GoPro but on all of your smart devices as well. It comes with a smart phone adapter that can accept any device that is 85mm wide.
The pole is completely waterproof so you do not have to worry if your selfie stick pole happens to become wet. This is the most versatile selfie stick on the market as it can adapt to pretty much any smart device you would need it to.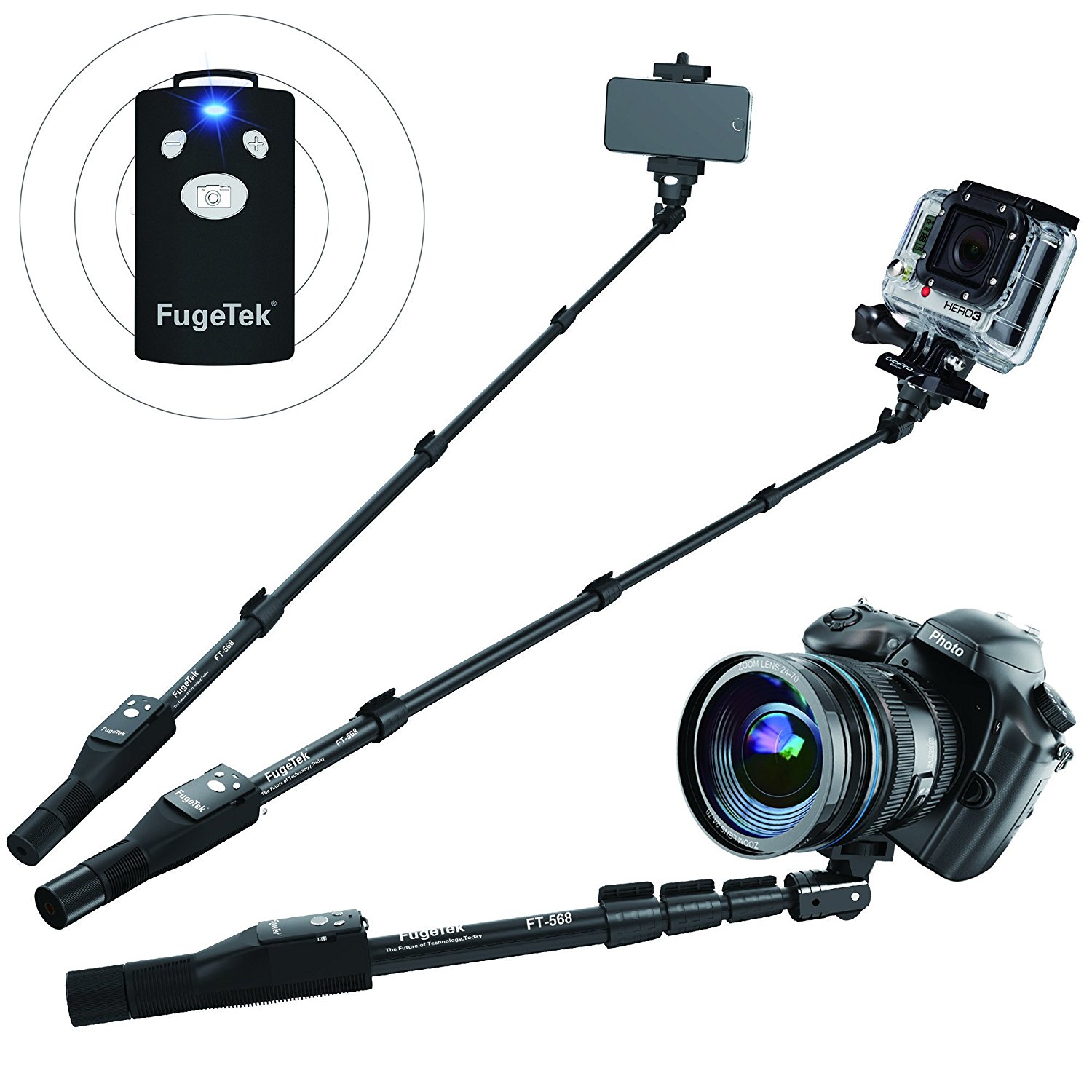 No longer struggle to take the perfect video or selfie when you are using a GoPro camera or your smart phone all you need is this professional selfie stick. Just like the name states this is a professional selfie stick what this means is it comes with all the tools you need to capture the perfect image.
This selfie stick even has a bluetooth remote. Which means that you connect your device via bluetooth to this selfie stick and you can control all the pictures and videos you take via the remote that it comes with.
Are you a fan of capturing images? If so you definitely want to be able to take great images and these selfie sticks may be what you need to do so. Please tell us which selfie stick you are most intrigued by in the comments below.