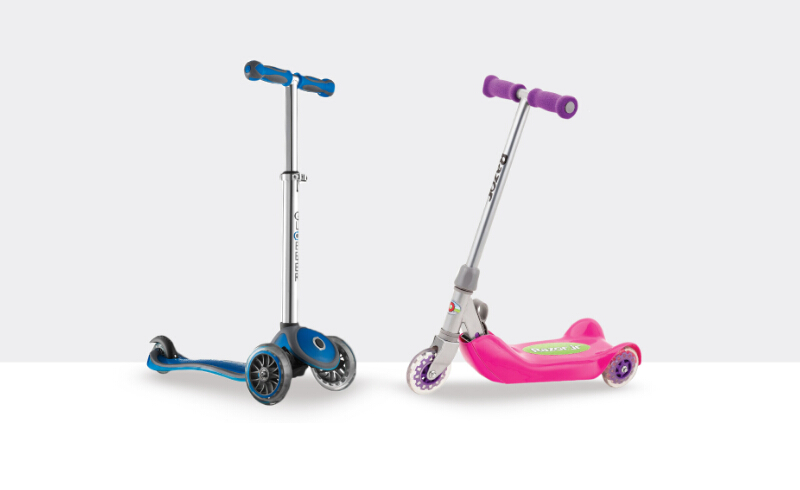 Children of all ages love the feeling of freedom that owning their own 2- or 3-wheel kids scooters brings. And whilst children playing on kids electric scooters may be a concern, owing to the speeds they can attain, the kids' scooters that run on 'foot-power' are definitely safer. A love of riding around on a set of wheels does seem to be 'hard-wired' into our brains and kids scooters have been around for about 100 years. Of course, those early kids scooters were mostly hand-made, using roller-skates and pieces of wood. But they pointed manufacturers in the direction of a significant 'gap' in the market!
Safer and easier to ride than a bicycle, the kids 3 wheel scooters' market has continued to thrive and most of us remember the fun to be had riding around on our very own vehicle! According to our research on kids scooters reviews, kids electric scooters have not taken over from push-power scooters and the traditional 2- or 3-wheel scooters are still as popular as ever. The range of similar-looking kids scooters is enormous, so to help you get the right size scooter, with the best features for your child, we've compiled a guide to the Top 10 Best Kids Scooters! Read the following kids scooter reviews to find the best one for you!
10. Razor A Kick Scooter
This is the original kick-scooter and this model is recommended for age 5 and older kids/adults. Kids love flying along the street on a scooter and there's a useful rear-fender brake for a fast stop. This scooter has 98 mm urethane wheels with ABEC 5 bearings and a sturdy aluminium frame. It's strong enough for adults weighing up to 143 lbs. to hop on from time to time, too.
Reviewers like that it can easily be dismantled and taken on camping trips and report that it's a durable kid's scooter that can last for years. The Razor A is the first size in the Razor kid's scooter range and has a 6 month warranty.
9. Globber 3 Wheel Adjustable Height Scooter
For age 3 and above, this kids 3-wheel scooter's able to carry a weight up to 110 lbs. It has a useful adjustable height handlebar, so as your child grows the scooter keeps up – saving you buying one every year! The steel-plate deck is reinforced to strong support and there's a long rear brake which provides efficient braking.
The polyurethane wheels are extra-high with ABEC 5 bearings for a nice, smooth ride. This is a popular 'first' kids 3-wheel scooter with a low deck ground clearance for optimum stability and an 'easy-learn'steering lock to aid balance. You can buy this Kids Scooter at walmart.
8. Radio Flyer Pro Glider
This kids 3 wheel scooter's got a tapered deck, so the child's 'kick-path' is kept clear and there's a footbrake for extra control. Designed as a high-performance kids scooter, the urethane wheels are Premium E-Z Glide to provide a faster ride.
Good quality first kids 3 wheel scooter for a small child, who has a big yard where the speedy action can be enjoyed safely. This model also has a 'learn-to-steer' feature to get your child off to a good start and users rate this as a safe and stable kids 3 wheel scooter.
7. Rimable Foldable Maxi Kick Scooter with LED Light up Wheels
This is a well-designed kids 3 wheel scooter with fabulous LED light-up wheels that kids love! It has an adjustable handlebar height for safe use and a rear-brake for quick stopping when necessary. The wide base makes this a very stable scooter and the 'learn-to-steer' feature is very much appreciated by purchasers.
The weight limit is 50 lbs, although one adult user said he had used it once or twice with no problems. And the folding design is very useful for popping the scooter into the trunk. Users did comment that a travel-bag, shoulder bag would make this unit perfect!
6. Razor Berry Kick Scooter
Here's another kids scooter from Razor that's recommended for ages 5 and over and with a weight limit of 143 lbs. It features folding handlebars with easy-grip foam covering. And the Razor Berry range comes in a range of bright colors, with a sturdy plastic deck and color contrast wheels.
The deck is skateboard-style and this model was road-tested by kids aged 3 and 5 demonstrating that it gives a smooth and enjoyable ride. This model has a lightweight, steel frame, handlebars and fork design. It does not have adjustable height, so checking the dimensions is important before you buy.
5. Razor Spark 2.0 Scooter, Pink
A cute scooter for girls. This sleekly-designed, pink kids scooter has adjustable handlebars and is easy to fold-up and carry. It has snazzy motion-activated LED lights running under the deck and attractive light-up urethane wheels, plus a rear-fender brake.
Another popular feature of this fun-looking kids scooter is the Spark Bar, which you step on to create a trail of flying sparks – how cool is that? The reviewer says this is a 'family scooter' that he really bought for himself and that he sometimes uses for commuting to work, when the kids are at school. It folds down to a rectangle and is lots of fun!
4.

Micro Mini Kick Scooter, Blue – Kids Scooter – Age3, 4, 5, 6, 7 Years+
A great 3 wheel scooter for kids! This 3 wheel kids scooter is designed for even the youngest children to enjoy and recommended for ages 2 – 5. One of its unique selling points is the award-winning 'lean-to-steer' system that lets kids manoeuvre, turn, curve and sway just by shifting their weight from side-to-side. It's Swiss-made with wheels made from highest quality polyurethane for the smoothest gliding action.
The deck is low to make it easy for small children to get on and off. This 3-wheeler was purchased to replace a used-up Huffy Mini-scooter and the reviewer said this Micro-Mini handles much better and is obviously superior to the Huffy they had before.
3. Razor A2 Kick Scooter
According to our kids scooters reviews this is a great-looking, well-made and sturdy scooter, suitable as a second scooter for kids aged 5 and over, who've outgrown their first 3-wheeler kids scooter. Grandfathers report that it glides smoothly and handles nicely with rubber shock-absorbers between the front wheel and the handlebar shaft!
It has all of the other features of other scooters on our Top 10 Best Kids Scooters 2016 list, plus an enhanced finger-guard and is foldable. It's considered to be a safe and durable 2-wheeled kids scooter with a superior design aesthetic and silver finish that separates it from the brightly colored kids scooters.
2. Razor A3 Kick Scooter
The Razor A3 original kids scooter is intended for bigger and older kids, including teens, and takes a weight of up to 143 lbs. Made from aircraft grade aluminium, this is a sturdy, well-made kids scooter designed to withstand some heavy use over several years. This model has several style and function innovations to ramp up the fun-factor, including the latest 'wheelie bar' that adds to the excitement for older kids.
The wheels are 125 mm urethane, and significantly bigger than those on the A and A2. So combined with ABEC 5 high-speed bearings and the spring-less shock absorbers, uneven pavements can't stop you getting a smooth ride. With a patented, rear fender brake and useful fold-up feature, this great-looking silver and blue kids scooter is one of the most popular purchases for older kids.
1. Micro Maxi Kick Scooter with T-bar
Buy best kids scooter on amazon. The No. 1 spot in our Top 10 Best Kids Scooters was easily taken by this well-designed kids 3 wheel scooter. It's more expensive and one contributor to our kids scooters reviews said when he bought this for his 3 year old grandson, the price did make him wince a bit! This is the best seller on the market!
Now, several years later, he's very satisfied with his purchase, and the adjustable handlebar that means it's still going strong. It definitely moves easier and faster than other 3 wheel scooters, and the brake is wider than on Razor scooters, making is easier for small feet!