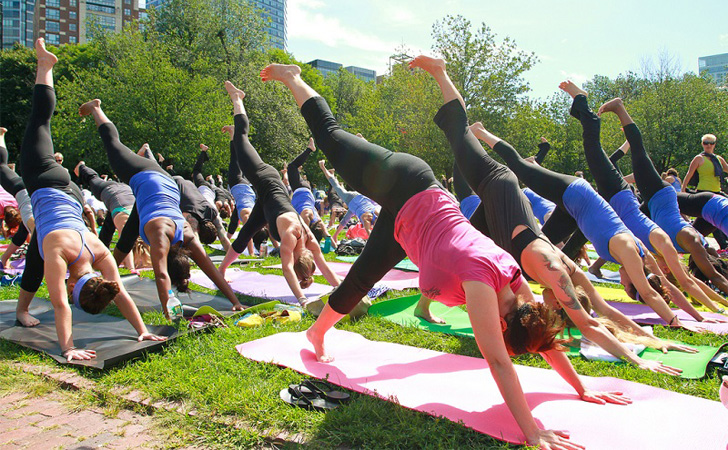 Comfortable Yoga Pants for Women
Yoga pants, or leggings, are by far some of the most comfortable pants on the planet. They're stretchy and movable, which is why they are designed for use during workouts and exercising. However, cardio activity and strength training are not all that yoga pants can be worn for. They also look great when paired with a loose and flowing top, boots and a sweater, or a myriad of other clothing to create a flawless outfit that combines comfort and fashion perfectly.
Keep reading to learn about the yoga pants reviews of top rated ten best yoga pants currently available.
10. Spalding Women's Boot-Leg Yoga Pants
These yoga pants from Spalding are designed with a comfortable loose boot-leg cut to prevent your legs from feeling squished or smothered during wear. They are crafted from ninety-two percent cotton to ensure breathability and comfort. The other eight percent of the pants' fabric is spandex to increase their stretchiness.
The yoga pants feature a wide elastic waistband at the top, which helps them fit snugly around your waist to stay in place without budging or digging into your skin while you walk or exercise or even move around during your daily life. The pants come in three different colors: black, gray, and navy.
9. Spalding Women's Capri Legging
These leggings from Spalding come in a cute, cropped capri cut that is perfect for summer. The leggings fall just underneath your knee, leaving your calves bare and able to breathe while still providing full coverage for your butt and thighs. These leggings cling gently to your skin to ensure a tight and comfortable fit.
The leggings are crafted from a blend of cotton, polyester, and spandex to create a flawless combination of comfort, stretchiness, breathability, and ease of movement. These Spalding leggings are available in black, charcoal, and navy colors to provide you with multiple neutral options that can complement any outfit.
8. Lookatool Women's High Waist Fitness Yoga Sport Pants
These yoga pants from Lookatool combine attractive designs with comfortable functionality. They are available in more than twenty-five different bright, fun patterns that are all unique unto themselves. These patterns include a galaxy print, various animal prints, geometric shapes, hearts, and more.
The yoga pants are crafted from spandex fabric that is stretchy and fits snugly around your legs and butt for a tight and comfortable fit that doesn't get in your way while you run or work out at the gym.
7. 

Prolific Health Fitness Power Flex Yoga Pants Leggings
These yoga pants from Prolific Health are full coverage legging pants that stretch from your hips to the base of your ankles. They have a slim fit that fits snugly around your legs all the way to the bottom. The pants are crafted from a blend of nylon and spandex to ensure lightweight, breathable flexibility.
The Prolific Health yoga pants are available in a wide variety of bright, unique ombré colors like the pink ones pictured above. These colors range from coral to turquoise to purple to black. The pants feature a wide waistband for increased comfort and decreased chafing and irritation.
6. 

Manstore Women's Tights Active Yoga Running Pants Workout Leggings
These leggings from Manstore are designed to be the perfect pants to wear during high-intensity workouts when you need flexibility and lightweight breathability for ease of movement. The leggings are crafted from ninety-five percent polyester and five percent spandex to achieve soft comfort combined with stretchy flexibility.
The leggings feel extremely comfortable and soft as they fit snugly against your legs. They include high-quality elasticity that will not stretch or wear out over time. The striped leggings are available in three sets of colors: gray and black, pink and black, and green and black.
5. 

Popular Basics Women's Cotton Yoga Pants With Fold Down Waist
Best yoga pants for women: These yoga pants from Popular Basics are wide-legged, boot-cut pants that do not cling to your legs and fit loosely to ensure comfort and prevent you from feeling smothered in the pants. They are also very stretchy to increase comfort and flexibility.
The pants feature a wide elastic waistband. This waistband ensures that the yoga pants will stay in place on your hips all day long even when you exercise and prevents the fabric from digging uncomfortably into your skin. The black yoga pants are available with a wide variety of different waistband colors ranging from red to turquoise to lime green.
4. Hollywood Star Fashion Women's Slimming Foldover Capri Crop Yoga Pants
Review of yoga pants: These yoga pants from Hollywood Star Fashion are cropped capri-cut leggings with a snug and comfortable fit. The yoga pants are designed to be slimming. They fit tightly against your legs and butt and help enhance the shape and curves and help your hips and thighs appear slimmer.
The yoga pants are crafted from more than ninety percent cotton. Their cotton formulation allows them to feel soft and comfortable while letting your skin breathe without feeling smothered or experiencing moisture accumulation or buildup. The pants also include a small percentage of spandex in order to achieve a stretchy, springy feel. The comfortably wide waistband of these yoga pants is available in many different colors, including but not limited to blue, purple, green, red, and more.
3. Baleaf Women's Yoga Running Workout Capri Legging
These leggings from Baleaf have a tight capri design that is cropped off just below your knee for a cute and modern fit. The leggings' blend of nylon and spandex fabric is stretchy and flexible. The fabric is also infused with sweat-wicking technology to help keep your skin feeling cool and dry even when you work out.
The striped leggings are available in a variety of color schemes. They feature a hidden pocket that allows you to store your keys, chapstick, or other necessities while you go for a run or work out at the gym. The leggings also include flat, ergonomic seams to decrease the risk of chafing and skin irritation and increase your range of motion while exercising.
2. 90 Degree by Reflex Power Flex Yoga Pants
These yoga pants by Reflex are crafted from a special blend of nylon, polyester, and spandex that combines a soft comfortable feel with stretchy flexibility and movable breathability. The yoga pants are designed for wear during light to intense exercise and feature a slim, snug fit all the way down to your ankles for ease of motion.
These leggings are made with fabrics of the highest quality that are designed to absorb and remove moisture to prevent you from feeling uncomfortably sweaty even during an intense workout. They are also designed to contour to your body to help you appear slimmer and more shapely.
1. Aenlley Women's Activewear Capri Legging Workout Yoga Pants
These yoga pants are crafted from a blend of cotton and spandex to create comfortable, soft, stretchy, and breathable pants. They are designed for workout wear and are crafted to withstand active performance ranging from yoga poses to sprints.
The leggings are resistant to wind, weather, moisture, and abrasion, making them the perfect pants for runners or any active woman who often plays outdoor sports or exercises outside. The pants fit tightly and have a snug stretch that does not wear out over time even after extensive washing.
If you're in the market for a new pair of stretchy, comfortable, top-quality yoga pants or leggings, look no further than this list. Use the products described in this post to discover some of the best yoga pants you can find.