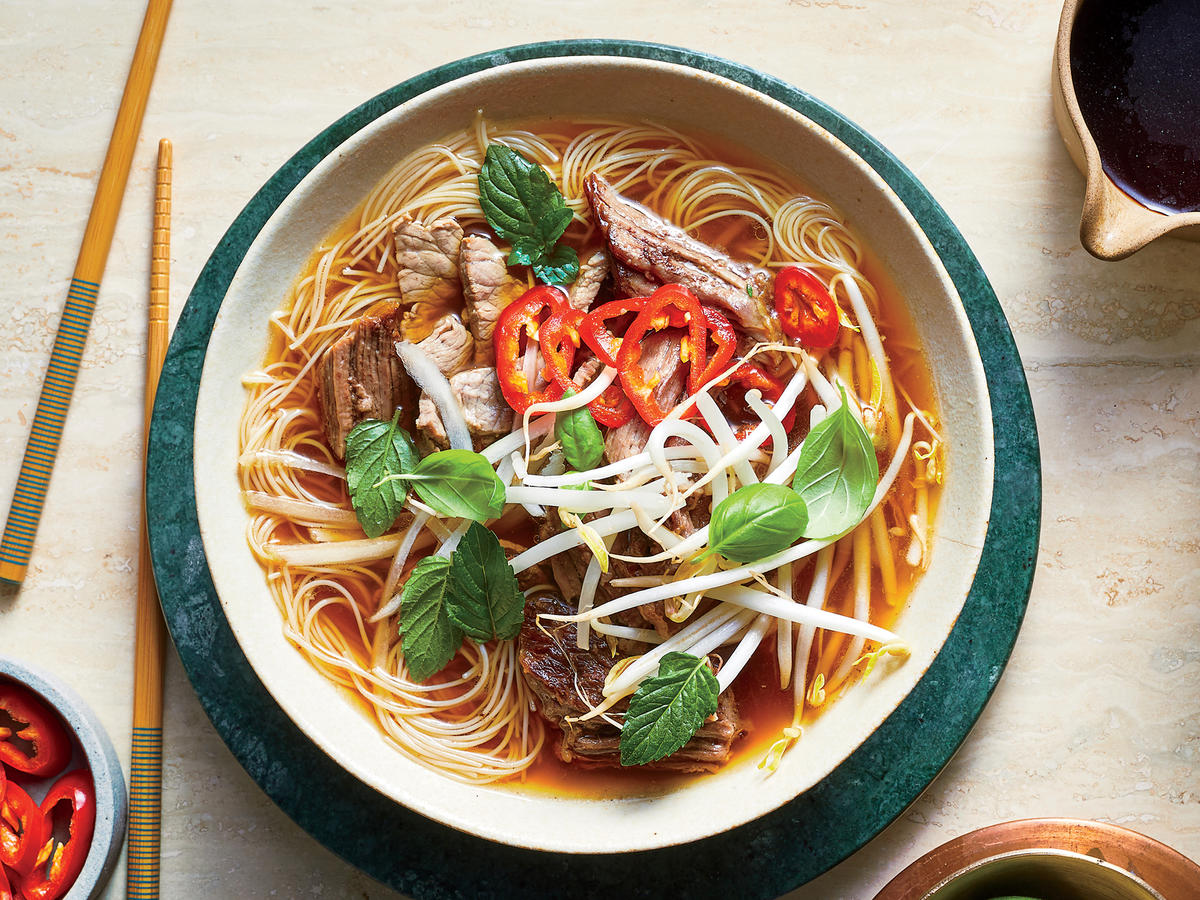 Okay, the secrets out: pho is obnoxiously delicious whether you're eating it day or night. The flavors are exotic and exciting while remaining comforting and homely. The intensity of ingredients blend together magnificently to create a blend of harmony that sinks into your taste buds and gives you a sense of enjoyment in your gut.
Never tried pho? Okay. Let's talk about pho and why everyone's utterly obsessed.
What is Pho?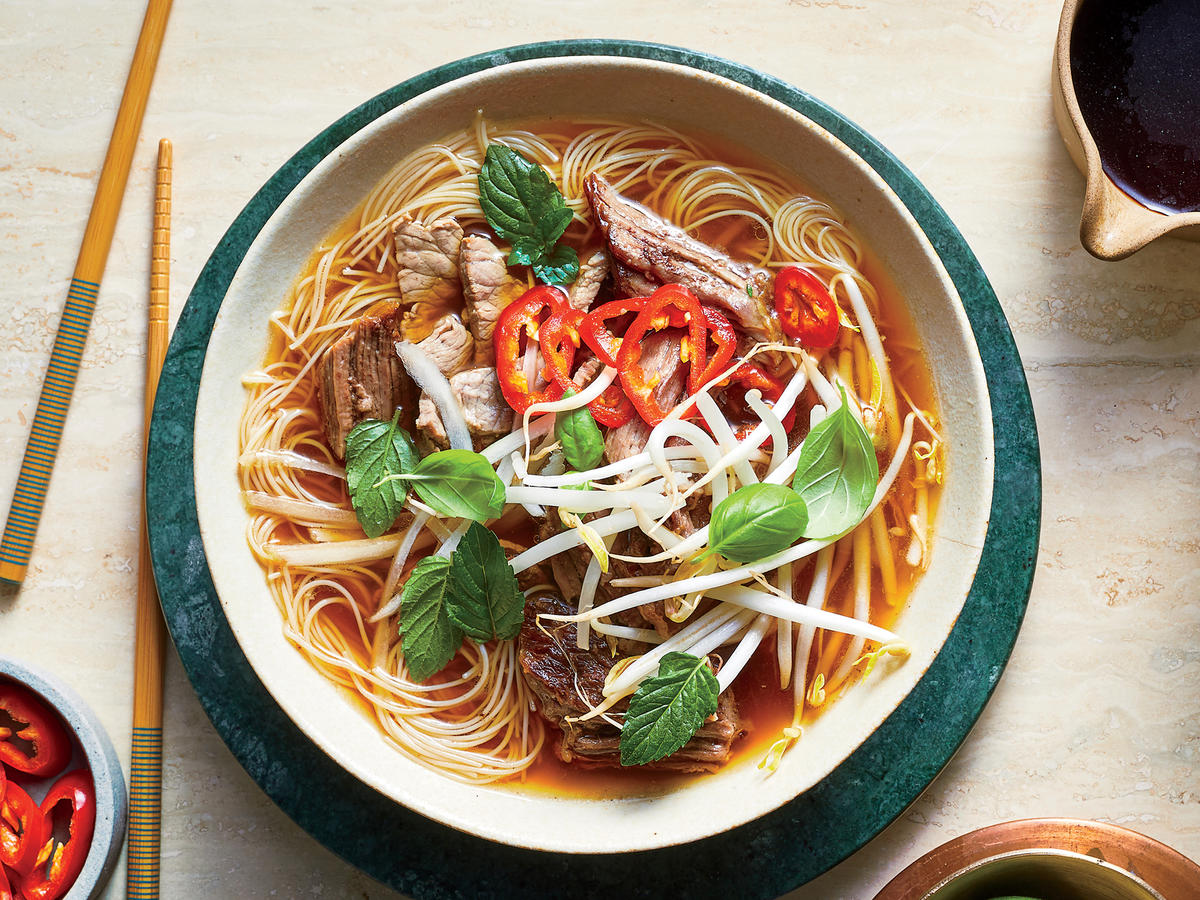 via Cooking Light
If you've tried pho and fell in love, you have the Vietnamese people to thank. This desirable bowl of perfection was created first by them in or around the 20th century, and is believed to be a take on a French classic known as pot au feu.
Pho is essentially a bowl full of noodles that are covered in thinly sliced slithers of beef, topped off with a spicy and rich beef broth that has been simmered for days on end, and finished off with a collection of sprouts and fresh spices, including cilantro and basil.
Okay, this might seem like a super easy dish to recreate. And to be honest, with just a few ingredients and plenty of time on your hands, it can be created in your own home with ease. However, a lot of people don't want to put the time and energy necessary for delectable, homemade beef broth that's riddled with spices and other fantastic ingredients, which is why most people opt for a professional chef in the Vietnamese restaurant to make their pho.
How Can You Make Pho in a Flash?
If you are a lover of pho, you might be astounded to find out that this dish is typically eaten for breakfast in Vietnam. It gives people a certain 'kick' in the morning, probably due to the blend of all natural and fresh ingredients splurged on top. After all, a shot of cilantro and basil right in the morning is bound to make anyone's day light up immediately, right?
But for the bulk of us in America, we opt to splurge on this dish in the afternoon or evening for lunch and dinner. So what's a girl to do if she wants a bowl of steaming hot pho for dinner, but doesn't want to spend hours (really we should say days) preparing beef broth?
We have a solution for your pho crisis:
Use a store bought beef broth.

This might be unheard of; in fact, it may even be a

sin

to recommend store bought beef broth instead of the real deal. Okay, okay. We know that store bought beef broth is literally nothing like the homemade beef broth, but when you're in a pinch and you need pho NOW, it can be impossible to get yours hands on the good stuff. If you're desperate for a pho fix, go ahead and get some store bought beef broth; just don't tell anyone, and let it be a one time thing.
Or, of course, make your own.

If you're handy in the kitchen and plan ahead for a pho craving (because you know it hits at LEAST once a week) consider making your own beef broth. All you need are beef bones, vegetables of your choice, some type of acid such as lemon, salt, and water. It should simmer anywhere from 6 to 24 hours before it is done and ready to use. Don't forget to top off with fresh herbs!
Use your own blend of spices.

We all know that the main spices found in pho includes a mix of star anise, cinnamon, and and cloves. But what if you're not exactly the biggest clove fan? What if you hate cinnamon? What if you just want to be creative? Well, the best part about recreating a classic in your kitchen is the ability to mix and choose whatever spices you want. Instead of cinnamon, opt for ginger. Add some lemon. Squeeze some limes. Whatever you like, add it to your pho and let it shine.
Don't forget to top it off.

If you're making traditional pho, you can't forget to top it off with some fresh herbs and sprouts. However, in this area of pho you can be wild and creative as well. Go with the basic basil, cilantro, and sprouts, or do something more vivid and exciting- or more tame, if you're into that sort of thing.

Use a different type of meat.

So pho usually uses thinly sliced beef; and oh, is it incredible when it soaks up all of the different spices, herbs, and beef broth. However, you're not stuck with beef when it comes to making pho at home. When making pho in your own kitchen, you can swap out the traditional thin beef to something you prefer over red meat. Love chicken? Consider making a chicken pho. How about bison? Sure, why not. Vegetarian? Use your favorite type of tofu or tempeh to replace the beef. There's endless opportunities, so maybe you should just try something different every week!?
Conclusion
Conclusion? Well, we all love pho. The beautiful blend of herbs and spices are simply incredible when placed in a bowl of noodles and beef, and we can't get enough of it. And if you've never had it before, give it a shot and you will truly understand why everyone goes crazy over this Vietnamese dish.
Remember when you're recreating the dish in your home that you can be a bit more creative. Opt for a home cooked beef broth or make a quick pho with store bought. Go wild with the fresh herbs or keep it classic. Go for beef or completely make this dish unique to you with your favorite meat with turkey, bison, tofu, and so much more. It's completely customizable and you'll be sure to love this dish no matter what time you eat it throughout the day!
What is your favorite way to make pho? Do you stay traditional, or have a unique twist? Share your recipes with us!