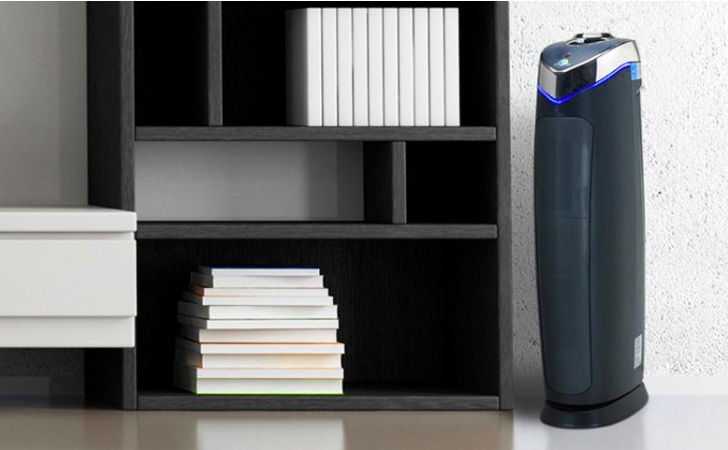 Finding the proper air purifier for your needs and home may not be as simple as you may think. There are hundreds if not thousands of different air purifiers that claim to get the job done. However, after extensive research we have found the best air purifier for your bedroom or a small home. Or you can read this report of the top air purifiers on the market.
An air purifier like this one was specially designed to enhance the air of a smaller bedroom. What this means is you will get the most consistent, crisp, clean air in any small home or bedroom. It is designed to clean the air in a small space without compromising quality or affordability. Here is why the GermGuardian AC4825 Air Purifier is the quietest bedroom air purifier on the market.
Multiple Stage Filtration System – Best Room Air Purifier
With a unique 3 stages filtering system it is no surprise this air filter is considered top notch. In order to provide you with the cleanest air possible this air filter puts every air particle it comes in contact with through 3 stages.
The first stage of the three stage filtration system begins with the pre-filter stage. This pre-filter stage is when the air purifier uses activated carbon to trap larger particles that are found in the air of your home. Particles such as dust, lint and hair will be trapped in this step of the filtration process.
Activated charcoal is very porous which means its uneven surface is great for trapping larger pollutants. As well as eliminating odors that stem from household pets, cooking and tobacco smoke.
The second stage of the three stage filtration system begins with the air being filtered through a True HEPA filter. True HEPA filters go through a rigorous process. This process was created to determine whether they are able to collect close to 100% of airborne particles as tiny as 0.3 microns in diameter. For example pet dander, dust mites, mold spores and pollen would all fall under this category.
The third and final stage of the three stage filtration system begins with the use of UV-C light. The meaning of this is any pathogen that may be in your air will be eliminated at this stage. It has been demonstrated that UV-C light is capable of filtering out all pathogens such as E-Coli, Rhinovirus and Streptococcus.
Capacity and Clean Air Delivery Rate – True HEPA Filtration Air Purifier
The capacity of this air purifier is about 155 square feet. This is equivalent to the average size of a bedroom. The units CADR (clean air delivery rate) is 100+. Which means that it is capable of delivering 100 cubic feet of clean air per minute with 5 changes of air per hour.
What this means to you is your air will be cleansed until the GermGuardian AC4825 Air Purifier feels it has removed every single particle that is not beneficiary for you to breathe.
Silent – The Best Air Purifier for Children 
When it comes to anything in your bedroom you want everything to be as silent as possible so you can always achieve a good night sleep. The GermGuardian AC4825 has 3 fan settings low, medium and high.
When set on low the air purifier is surprisingly quiet it is almost undetectable to the naked ear. In fact, many people will argue they had no idea it was still on if it wasn't for the blue LED lights.
Even when placed on medium setting it is practically unnoticeable. On the highest setting you can expect to hear a very light noise in the background similar to white noise. It is actually unnoticeable even in that setting.
Sleek Design
The design of this air purifier is among the best air purifer designs on the market. It is sleek and very presentable in any setting or place in your home. Not bulky or extremely large which makes it easier to place in any area you choose to place it in.
It comes with sleek lines, a black casing and blue LED lights to make the best looking air purifier money can buy. Weighing around 10 lbs makes it can be carried without much of a hassle.
Cleaning and Maintenance
To extend the longevity of any product it is required to clean and keep up with maintenance. Many air purifiers may be difficult to maintain clean. However, this air purifier makes cleaning it a breeze. It simply needs to be wiped down with a dry, lint free cloth to prevent dust from forming in the air vents. As well as vacuumed every two weeks.
The filter must be vacuumed to ensure it remains clean and working at its maximum potential. You can change the filter every 8 months or so depending on the way in which you use The GermGuardian AC4825 Air Purifier.
In Conclusion
In conclusion, this is ultimately the best looking air purifier money can buy. However, do not let the sleek look fool you. This air purifier gets the job done correctly and with efficiency every time. Not only is it lightweight but it is also extremely quiet which makes it the best bedroom purifier. If you are on the lookout for a new air purifier that is sleek and compact this is the one for you. You can buy this air purifier directly on the market. Or you can check the best air purifiers this year here.