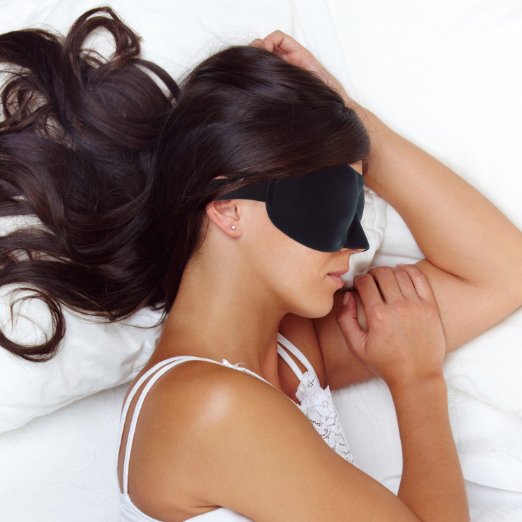 Insomnia is a terrible condition, yet sometimes a significant improvement can be made just by restricting how much light enters the eyes. Some of us have an over-sensitive brain that responds too strongly to the wake-up effects of light and the go to sleep response to darkness. I have had a severe sleep disorder for over 20 years and know that I found that using a sleep mask to create total darkness, made a huge improvement in my sleep/wake cycle. The best sleep masks need to be lightweight and comfortable, giving a complete black-out of ambient light and have a flat or contoured shape that fits your individual face.
So we've included a full range in our 10 best sleep masks, including masks for people with a large nose, those using night-time breathing machines and anyone who prefers a natural-fiber, hypo-allergenic mask. And discover which masks are best for side-sleepers, stomach-sleepers and those who hate using normal ear-plugs. In addition, we have a luxury deep-blue sleep mask, which looks just like the blindfolds used by illusionists/magicians on stage! So whether you need a functional sleep-mask in regular black or a more glamorous blue satin model, you'll find exactly what you need here! Read the following sleep mask reviews to find the suitable one for you!
10.Restoration Lightweight & Comfortable Contoured Sleep Mask Including Moldex Ear Plugs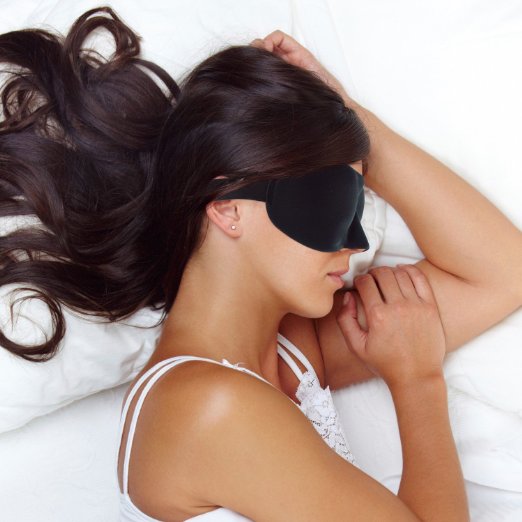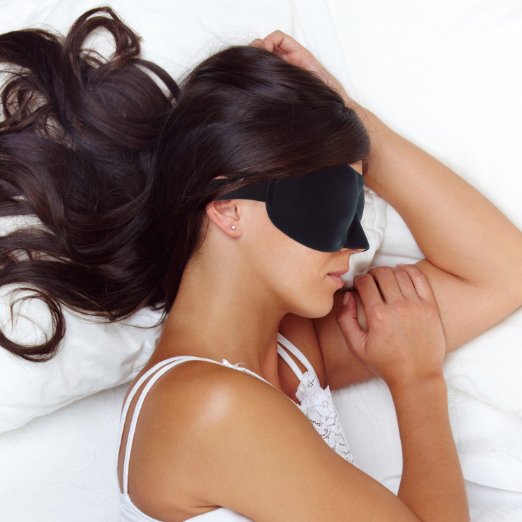 This is one of the latest contoured sleep-masks and is made from polyester fabric, so you can wash and dry it easily. The Velcro fastening allows this sleep-mask to be adjusted to fit women, men and kids faces. Theres an elastic strap to wear around the head that is both adjustable and comfortable. It has padding around the eyes and a cut-out to cover the nose.
Some people light padding on a sleep mask, and other find it creates unwanted heat on the face. I suppose it depends on whether you live in a hot or cold climate. Users said the contours gave them a nice fit and almost complete black out. Theres a handy pair of earplugs included with this eye mask.
9.

Koalago HemmingEdge+ 3D Contoured Lightweight Memory Foam Sleeping Mask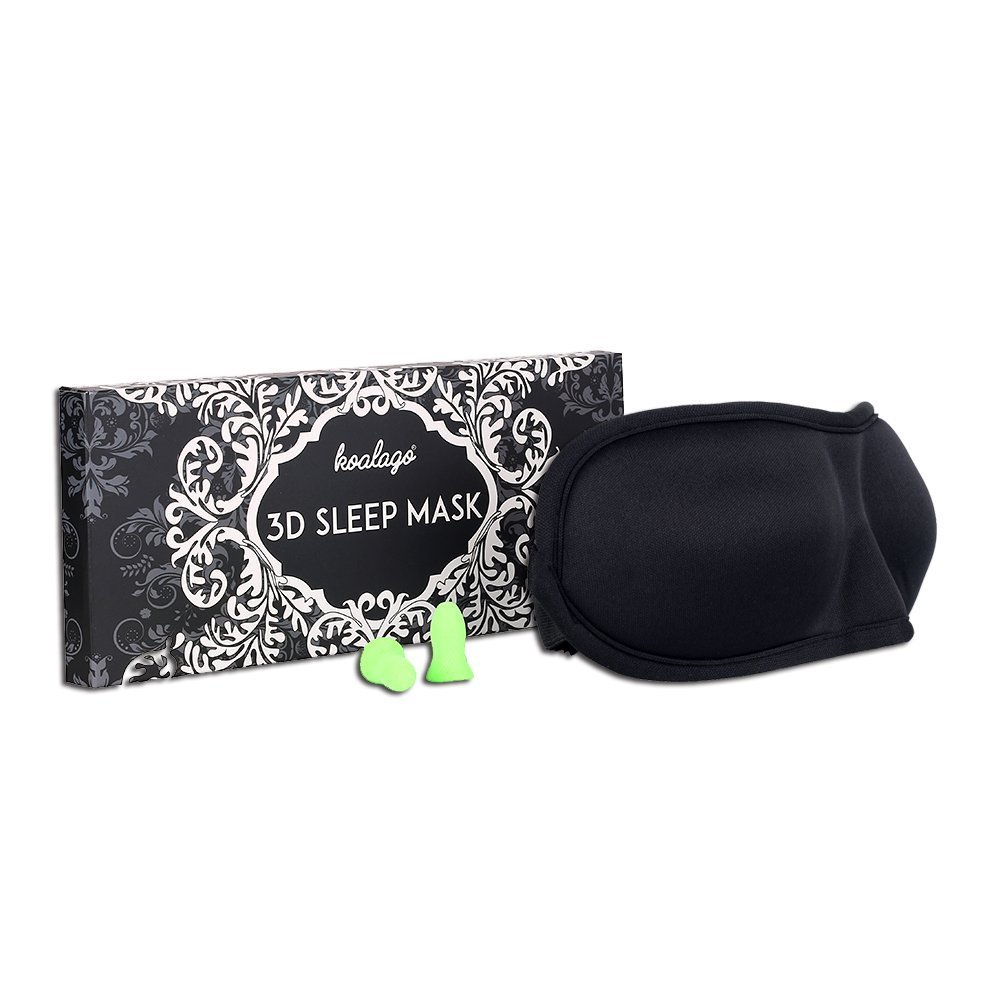 This is another contoured sleep mask with an adjustable elastic strap and Velcro closer. Some users prefer contoured sleep masks that dont touch the eyes, because this tends to wake some people during the night, although it has never bothered me.
I imagine theres plenty of difference in whether you have large or deep-set eyes and individual face shapes, too. This gives almost complete black out and a set of earplugs included in the purchase. Owing to the rather attractive way this item is packaged, I think it would be the perfect gift for someone who could use a sleep aid.
8.Dream Essentials Sweet Dreams (TM) Lightweight Contoured Sleep Mask Kit with Earplugs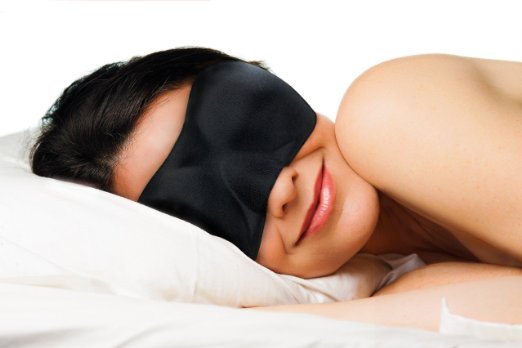 This lightweight sleep mask is also described as a relaxation mask. I think is a good idea as people with insomnia often benefit from closing their eyes for a light doze to relax and refresh them during the day. As with the other contoured sleep masks, you get almost a complete black-out with just a little light showing under the bottom edge.
This is a foldable sleep mask with earplugs kit, which comes with handy drawstring carry pouch you can pop in a handbag or your pocket. Makers claim it also works for side-sleepers, but some testers say it slips a little if you sleep on your side.
7.

TravelSnugs The EyeSnugs Contoured Sleep Masks with Ear plugs and Carrying Pouch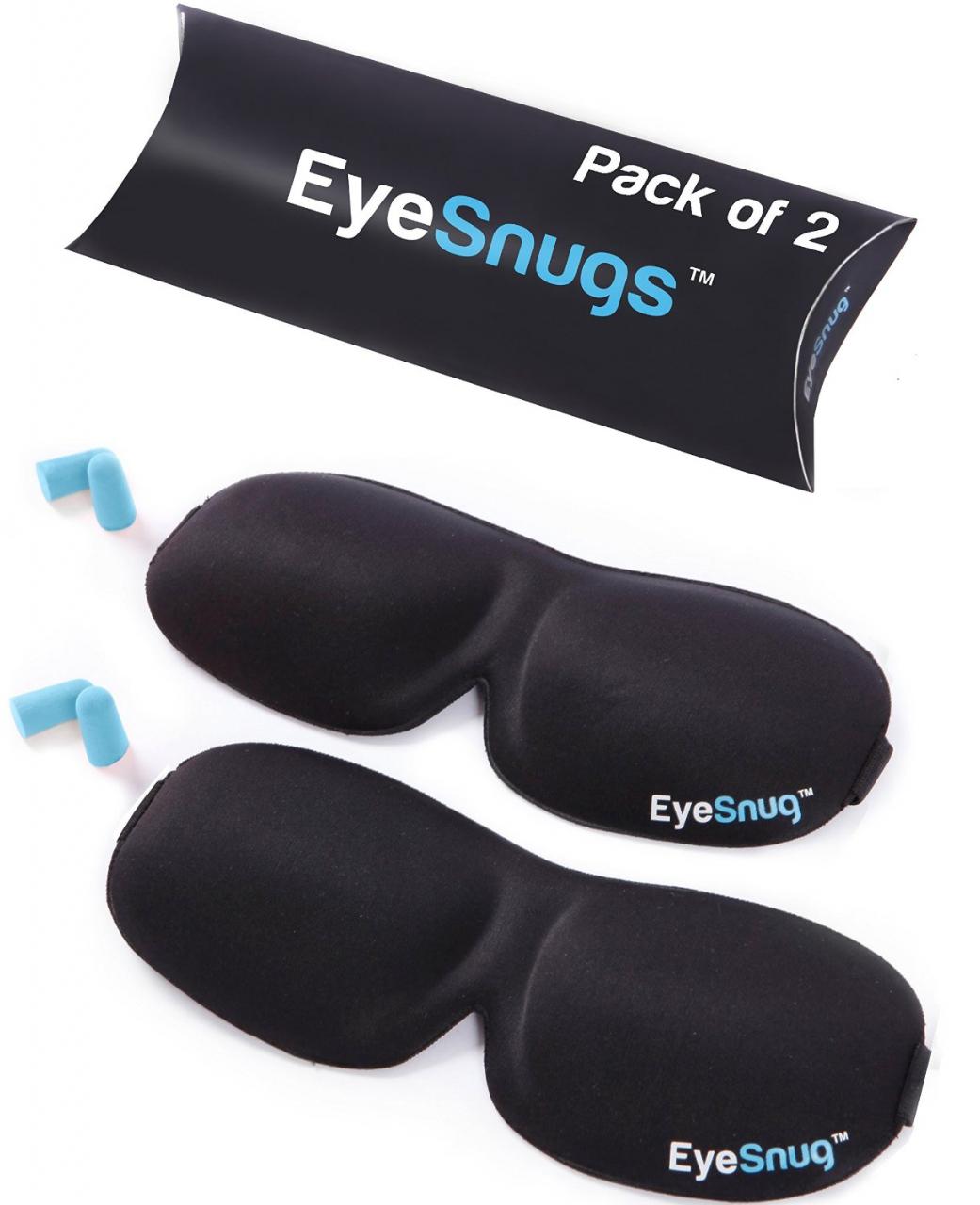 This contoured sleep mask promises not to smudge your make-up, referring to times when on a plane, when you may have fallen asleep and woken up with panda-eyes from mascara thats melted and smeared. Users say they liked getting two men's/women's/children's sleep masks in one purchase along with free ear-plugs and a nice travel-pouch.
If you wear a face-cream at night, you may notice some black dye has transferred from the mask to your face. Wash in cool water by hand. You can put this in with your 'dark', machine wash, but a tester said the sleep masks were more floppy after being machine washed.
6. Super Silky Super-Soft Sleep Mask with Free Ear Plugs and Carry Case by 40 Winks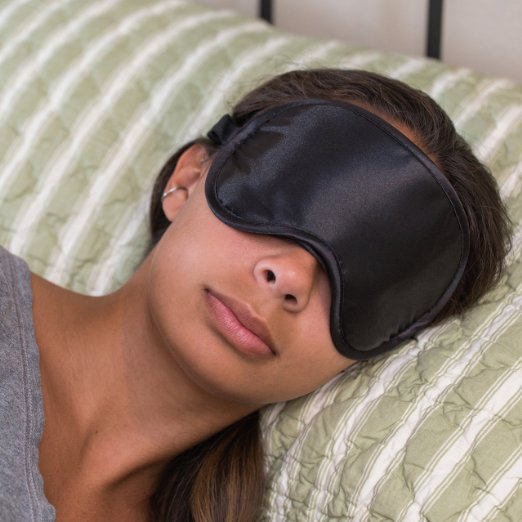 This sleep-mask doesnt have a nose covering section, which some users prefer. This mask has a shiny fabric surface and is lined with comfortable, soft cotton. One of our testers has a large head that makes regular sleep-masks too tight, but said this mask was adjustable to his head girth and very comfortable.
A warning to those who value their white linen: some users commented that it did leave black marks on pillowcases. I would advise all purchasers of black sleep masks to rinse the mask in tepid water and soap before use, to get any excess dye out. Otherwise, this is a well-made and effective black-out mask.
5.Extra Large! Alaska Bear – 2 straps Natural Silk Sleep Mask, Super-Smooth Night Mask – Sleeping Mask for Men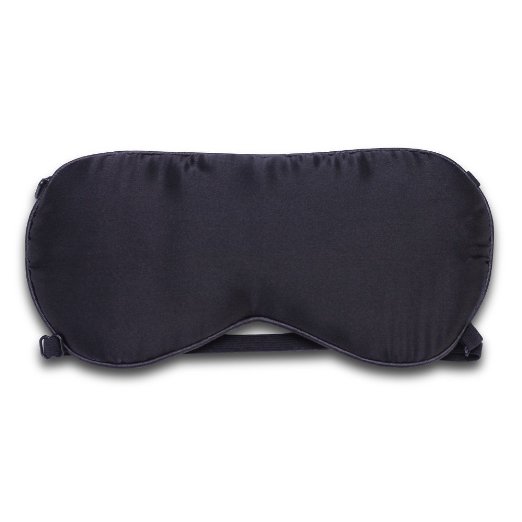 Here we have an extra-large sleep-mask which is very comfortable owing to the dual tension-adjustable bands, which make the pressure on the top and bottom highly adjustable. This is different from most sleep-masks that have just one band across the middle. At last, a hypo-allergenic mask made from 100% silk!
Like all sleep-masks, I would advise hand-washing and drying naturally. Doesnt put any pressure on the nose or affect breathing, which is something that can be a problem with nose-covering sleep-masks for some people. Provides total black-out and is also offered as a way to alleviate the pain of migraines by promoting better blood circulation.
SHOP NOW
4.Patented Sleep Mask – Premium Quality Eye Mask with Contoured Shape By Nidra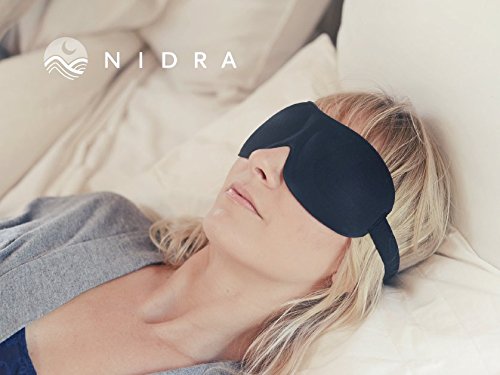 This is one of the best sleep masks for side- and stomach-sleepers, as our reviewers say theres no slipping during the night. Its contours are designed to curve away from the eyes and eye-lashes for extra comfort. I actually know 3 or 4 people who have extra-long eyelashes, and they say confirm they need contoured masks to get a comfortable fit.
It is thicker than a lot of sleeping masks, but the polyester and foam is light and users say it doesnt feel hot. This is an excellent choice for anyone with a large nose, as theres no nose-cover, so you get a good, comfortable fit.
3. Alaska Bear – Natural Silk Sleep Mask & Blindfold, super-smooth eye mask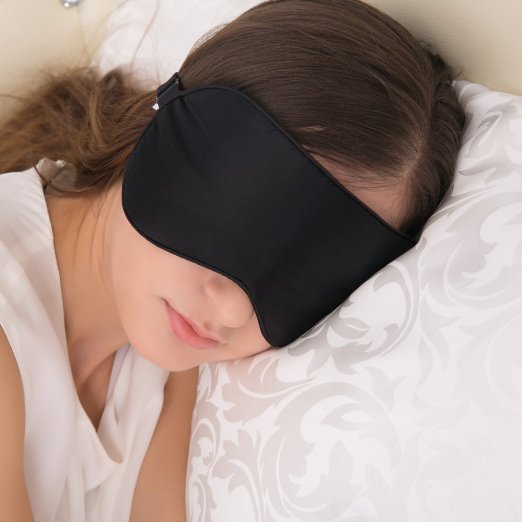 This is a luxury sleep mask made with 100% silk on both outer and inner sides. This design leaves the nose free and doesnt impede breathing through pressure or in any way. You can use a sleep apnea oxygen mask with this shape of mask, too. Testers say its a well-made and substantial mask that's very soft and light on the skin.
It gives total black-out and doesn't feel hot in an already warm sleeping area. This is because its made from natural silk fiber, which allows efficient transpiration i.e. it allows moisture and air to move through it. This is a great Sleeping Mask for both men and women.
2.

Bedtime Bliss Contoured & Comfortable Sleep Mask & Moldex Ear Plugs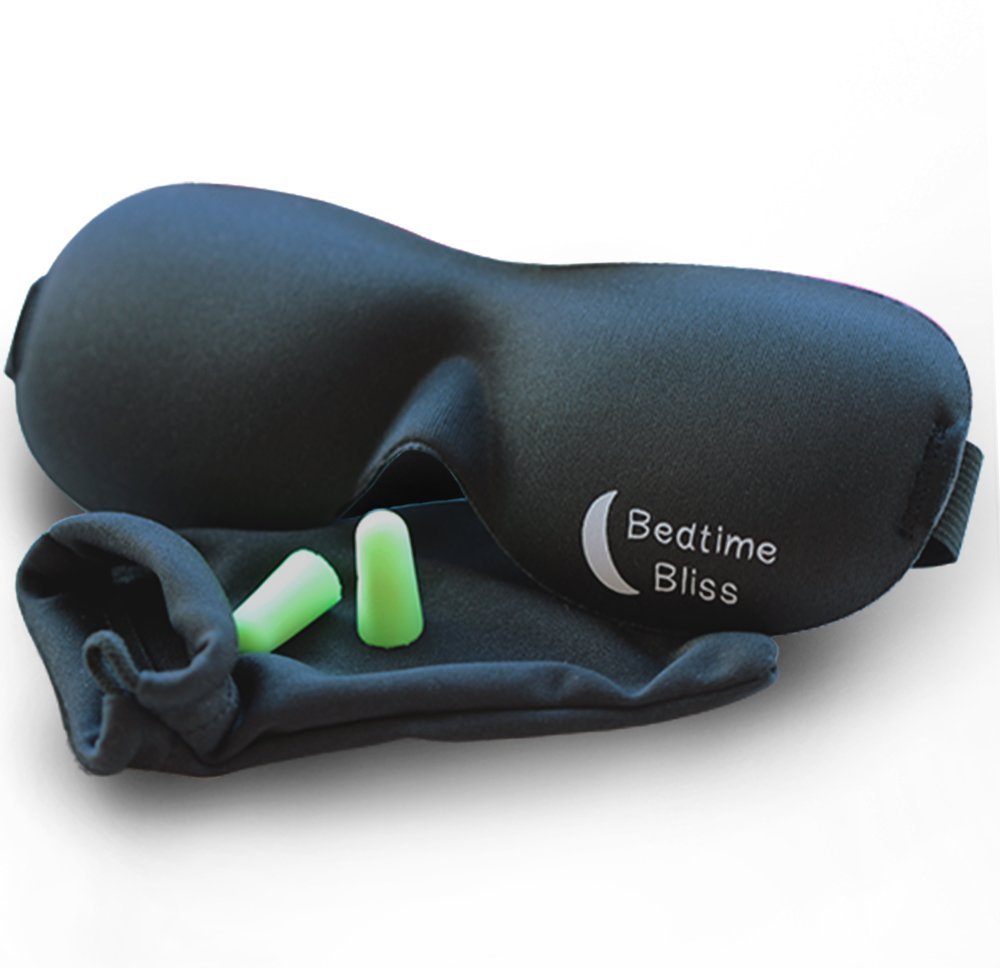 This superior sleep mask is also marketed as a meditation-aid and comes with the usual ear-plugs, but also with an e-booklet explaining how to get the most use out of the mask. Our stomach-sleeping tester says she had no trouble with this mask. Its a mask with a rounded shape to avoid any pressure on the eyes or nose, but pretty flexible and comfortable.
This is another mask made from polyester interlock fabric and foam. Users say it has no chemical odor, which some masks have when you first open the package. Judged suitable for everyone by our reviewers.
1. Sleep Master Sleep Mask

Our No. 1 Best Sleep Mask on the Market this year is this gorgeous, deep-blue mask with a polyester exterior and a soft cotton lining. What makes it stand out from the rest of the best sleep masks is the design. The patented sleep mask shape goes further around the head to cover the ears, giving built-in sound muffling.
This appeals to those who dont like ear-plugs and testers said they prefer to have the nose left uncovered. It has a very, very slight pressure on the eyes, which people who have dry-eye because they sleep with their eyes open, say is just enough to keep their eyes shut. Its my favorite sleep-mask, too!