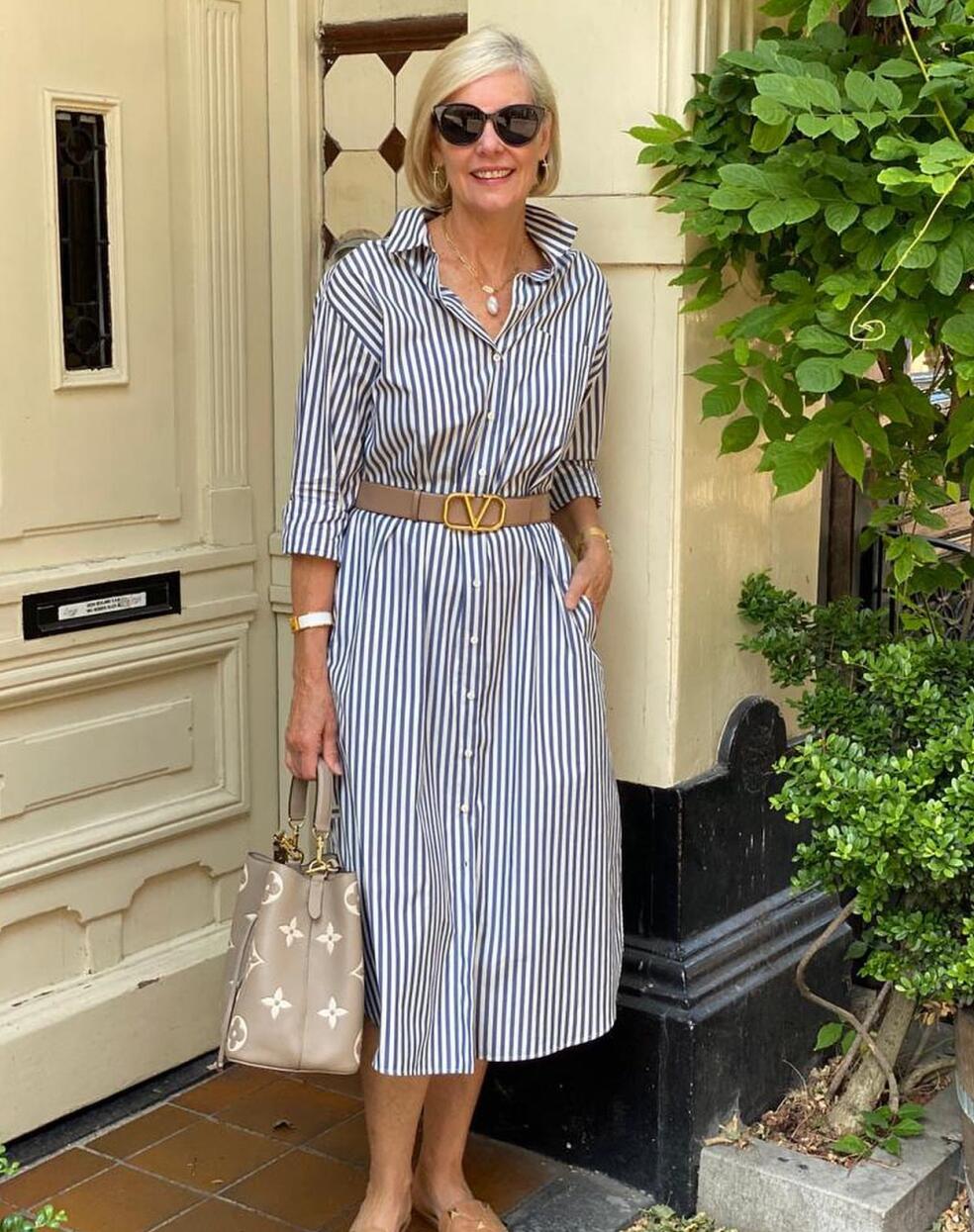 Choosing outfits at any age should be a fun experience that showcases your personal style, suits your lifestyle and makes you feel comfortable and confident.  Summer fashion for ladies over 60 has changed substantially over the years. And as we stay healthy and active for much longer these days, we naturally retain our interest in fashion and wearing stylish outfits.
As you age, you may choose to adjust what you wear to accommodate changes in body shape, style preferences and comfort, but you can still be trendy and stylish. And if your figure hasn't changed much and you prefer to wear the same flattering shapes you've always worn, there's no reason at all why you shouldn't!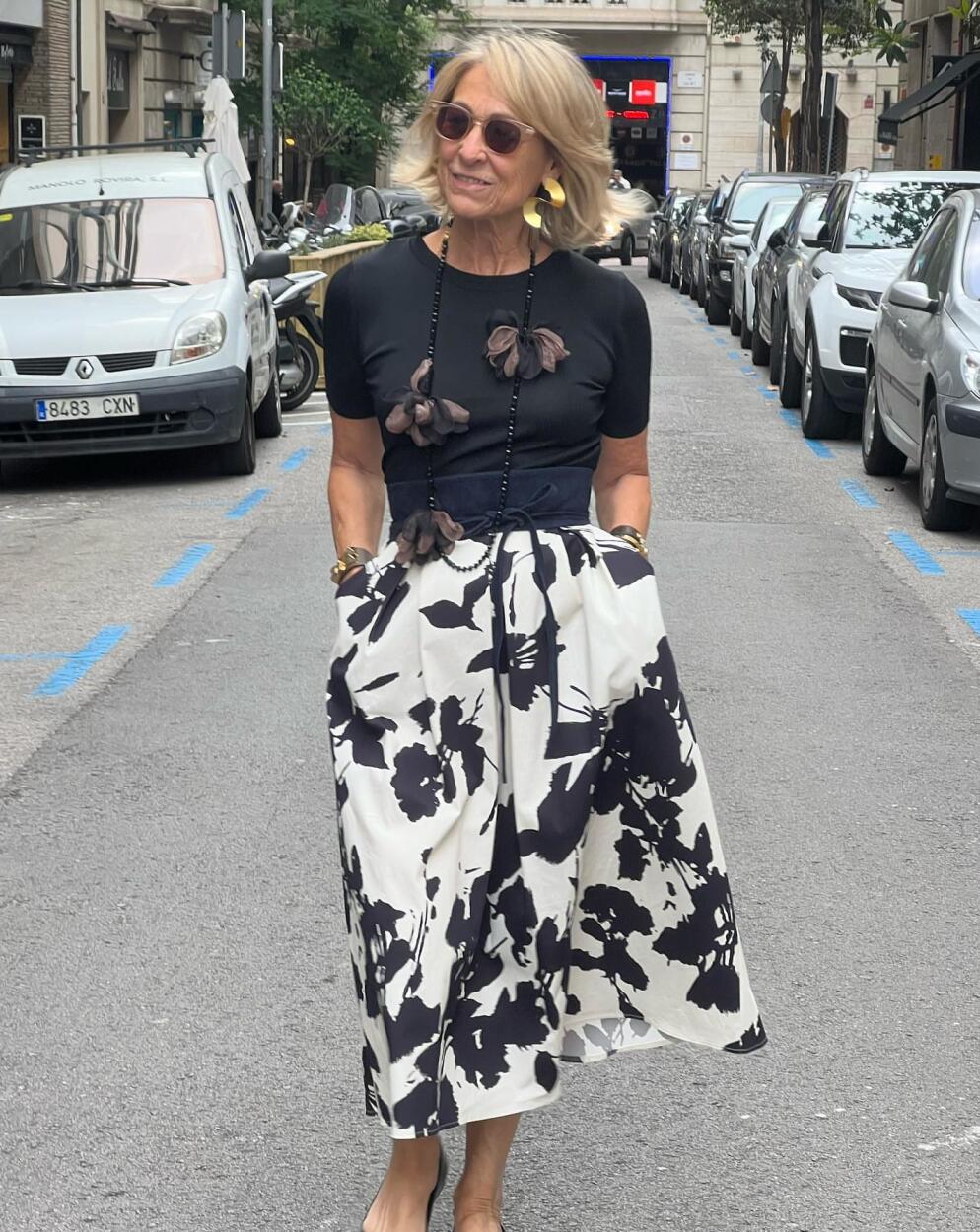 With the exception of mini-skirts, you can wear skirts/dresses of any length, but this year's trends veer strongly towards the midi- and maxi-length skirt. When summer arrives you enjoy more opportunities to socialize with friends and family and show off your style.
So to help you achieve your dream summer looks this year, I've put together these tips and a super-trendy gallery of casual summer outfits to bring you up to date with current trends!
For women over 60, choosing summer outfits involves a combination of factors including personal style, body type, and comfort. Here are some tips to consider:
Consider Your Lifestyle: The first thing to consider is your lifestyle. If you're frequently active, attending social gatherings or if you enjoy traveling, your style will be significantly different from someone who prefers a more laid-back or homely lifestyle.
Embrace Light and Natural Fabrics: Lightweight materials like cotton, linen, and silk are perfect for hot summer days. They are breathable and are available in various styles, from blouses to dresses.
Select Flattering Colors: As you age, your skin tone can change. Colors that looked great on you in your 30s might not look as good now. Pay attention to whether you have a warm or cool undertone to your skin and select colors that complement it. Pastels and light colors can be great for summer.
Choose Comfortable Fits: As we get older, comfort becomes more important. Choose clothes that fit well and don't restrict your movements. Dresses that are knee-length or longer, loose-fitting tops, wide-leg pants, or capris can be stylish and comfortable choices for summer.
Layer Wisely: Even in the summer, it can get cool in the evenings. Consider light layers like a cotton cardigan or a lightweight shawl that can be easily added or removed.
Accessorize: Accessories can really complete an outfit. Consider adding a statement necklace, stylish sunglasses, a summer hat, or a colorful scarf to your ensemble. Choose comfortable and supportive shoes that fit well with your outfit.
Embrace Prints and Patterns: Summer is a great time to wear fun prints and patterns. Florals, stripes, and polka dots are all classic choices that can add some visual interest to your outfit.
This Year's Trendy Summer Colors
Summer colors should take over from your darker outfits, with crisp white tops and jeans, worn with purple, pink, green and sunshine yellows. Lighter colors are bright and fresh and this year's most fashionable colors have embraced the natural, the neutral and earth colors, too. Green is particularly popular this year and trendy, green denim jeans are appearing in more stores every week. And classic white jeans have made a big come-back this year, making it easy to create a range of casual, summery outfits around one fashionable garment.
In fact, one of the simplest ways to show you're up-to-date with current fashion is to wear several different shades of white and off-white together, which adds interest and texture to your outfits. Monochrome outfits in eye-catching colors can be extremely flattering to women over 60. And wearing 'tonal' outfits i.e. items of the same color, but in different tones, is another trendy way to dress!
Match Clothes to Your Hair & Skin Colors
If your hair is grey, you may find that colors such as orange, turquoise, mango, lemon and bright pink will add flattering color to your image. But avoid wearing beige shades next to your face, as they can emphasize a lack of color in your face. However, a bright, printed scarf around your neck can make a beige top more flattering. Light grey is another fashionable color for this year and looks very chic when matched with a bright color. But if it doesn't suit your natural coloring, use black and white as your sophisticated neutrals. And even if you haven't used a lot of makeup in the past, a bright lip-color will always help you appear more youthful when you're over 60!
Summer Accessories for Women Over 60
Accessories are always important and this year's selection includes summer scarves and jewelry that create a youthful vibe.
Comfortable sneakers are very popular, but if that's not your style, stick with a low heel and bright shoes, which are a great outfit 'elevator' for dining out, as well as being comfy for shopping trips.
Wedge heels covered in natural fibres are also highly fashionable this year and are a comfortable and trendy style that's never far from the fashion favorites. Revise your wardrobe and if you have any summer clothes/accessories/footwear that no longer fit or make you feel frumpy – donate or recycle them!
Shapes & Styles to Choose this Summer for Women Over 60
When shopping for summer clothes this year, look out for flowing skirts and dresses, which drape well and flatter your individual body shape.
Pleated midi skirts look great with a belt to help define your waist and long skirts/dresses are popular for graceful, casual summer wear!
Trousers and jeans have moved on to wider-leg designs, which are cooler and more comfortable in summer. And you can now choose from Capri pants, ankle-length, flares and various lightweight trouser styles to replace jeans.
If your jeans are too long, just roll-up the hems for this year's favorite casual twist.
So take a moment to browse today's summer gallery of casual outfits for women over 60, where you'll find lots of fabulously fresh ideas!
1. Printed Dress in Soft Earth Colors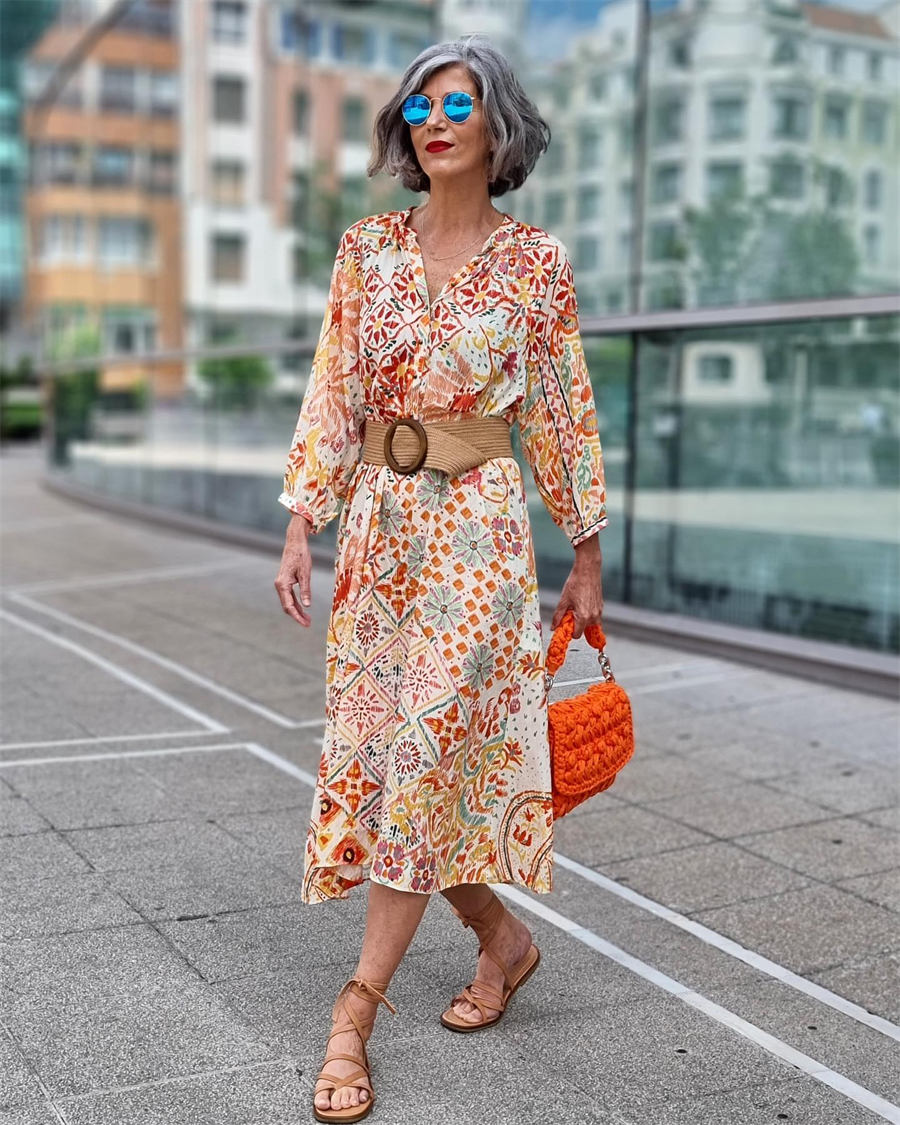 This lovely printed dress uses lots of trendy earth colors, like burnt orange, rusty red, cream, brown and aqua to create a bright, but chic color palette.
The lightweight fabric drapes well around the figure and a broad, hessian belt does a great job of defining the waist.
Wear with flat, light-brown criss-cross sandals and an eye-catching vibrant orange woven fabric handbag with chain detail on the strap.
Loose, long sleeves will keep you cool and cover your arms in hot temperatures!
2. Seaside Summer Casual Outfits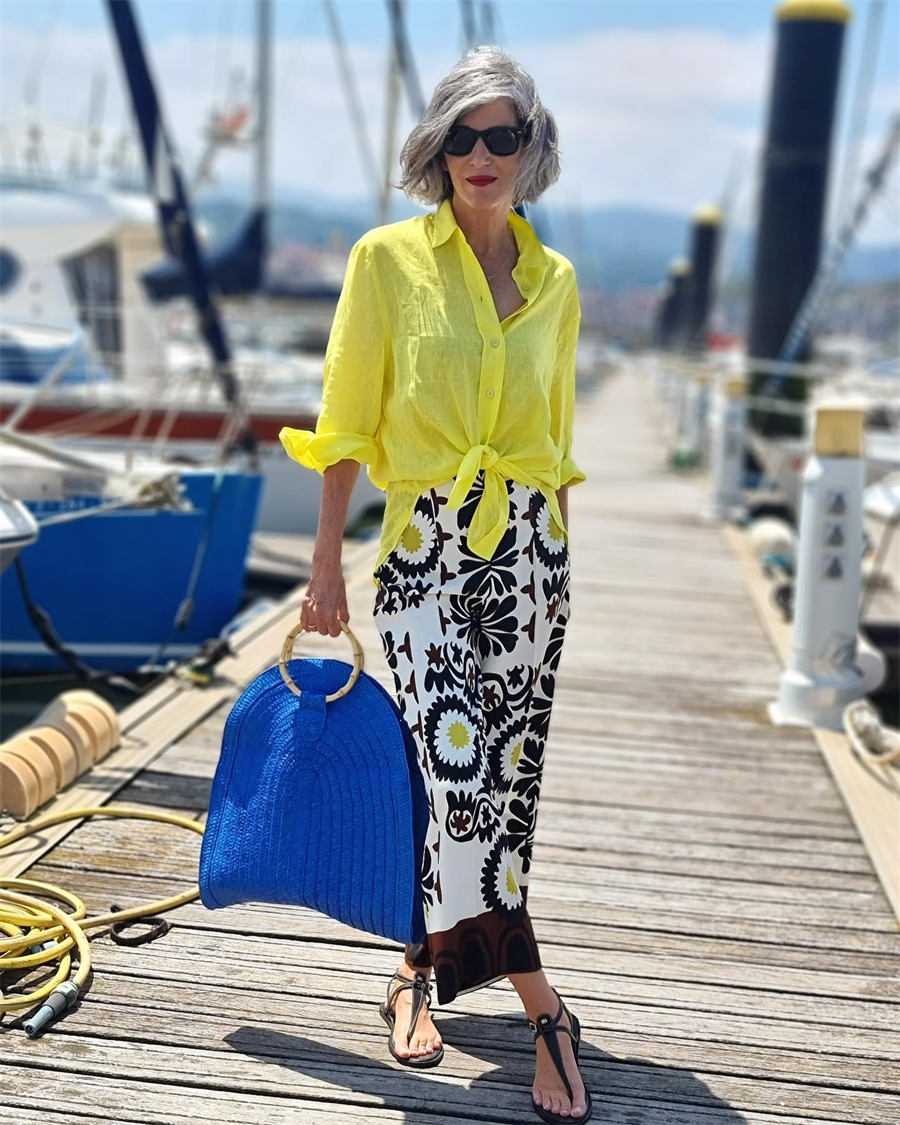 Whether you're going to the beach or for a short trip in a pleasure boat, this outfit will show your wonderful fashion style!
The yellow blouse looks fabulous and picks out the yellow featured in the long, abstract floral, print skirt.
The fashionable ankle-length skirt has a straight silhouette, which is flattering to most women.
And the casually-tied blouse, echoes the 'cropped top' fashion in a graceful way.
The royal blue woven tote-bag is perfect for carrying towels, sun lotion and a book, and adds to the jaunty vibe of this chic hot weather ensemble!
3. Bright Floaty Summer Outfit – Over-60 Plus-Size Women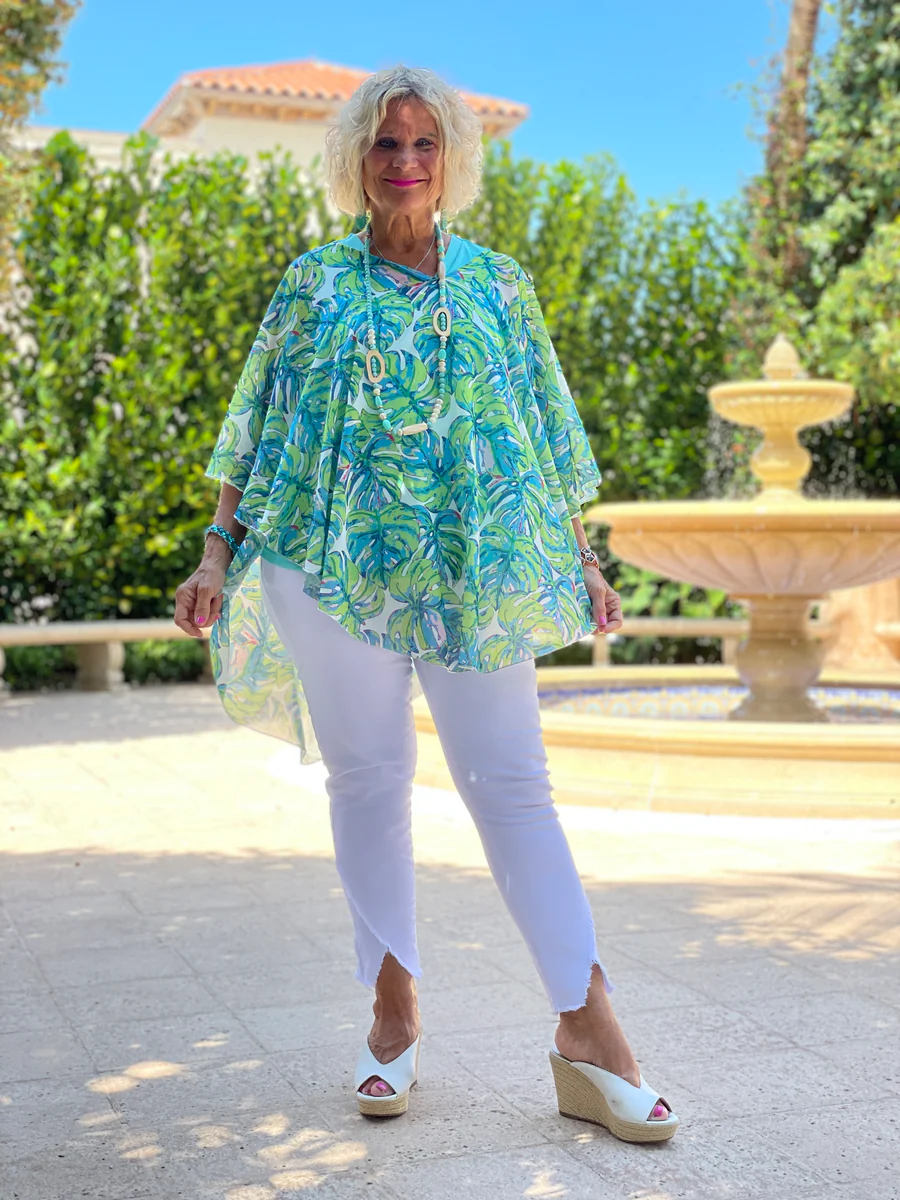 This clever design is cut to flatter anyone with a little extra weight around the hips.
The top is made from light, floaty fabric that swirls around the body, rather than hugging every line.
And it flares out at hip level in a flattering asymmetrical hemline, which continues around the back.
Trendy ankle-length white jeans complete a lovely, diamond-shaped silhouette that starts at the shoulders, flares at the hips and moves in at the ankles.
With a bright blue/green leaf print and white jeans with a modern detail at the ankle,  this casual outfit makes a lovely summer-party look!
4. Cool Beige Knit-Top & White Slim-Cut Capri Pants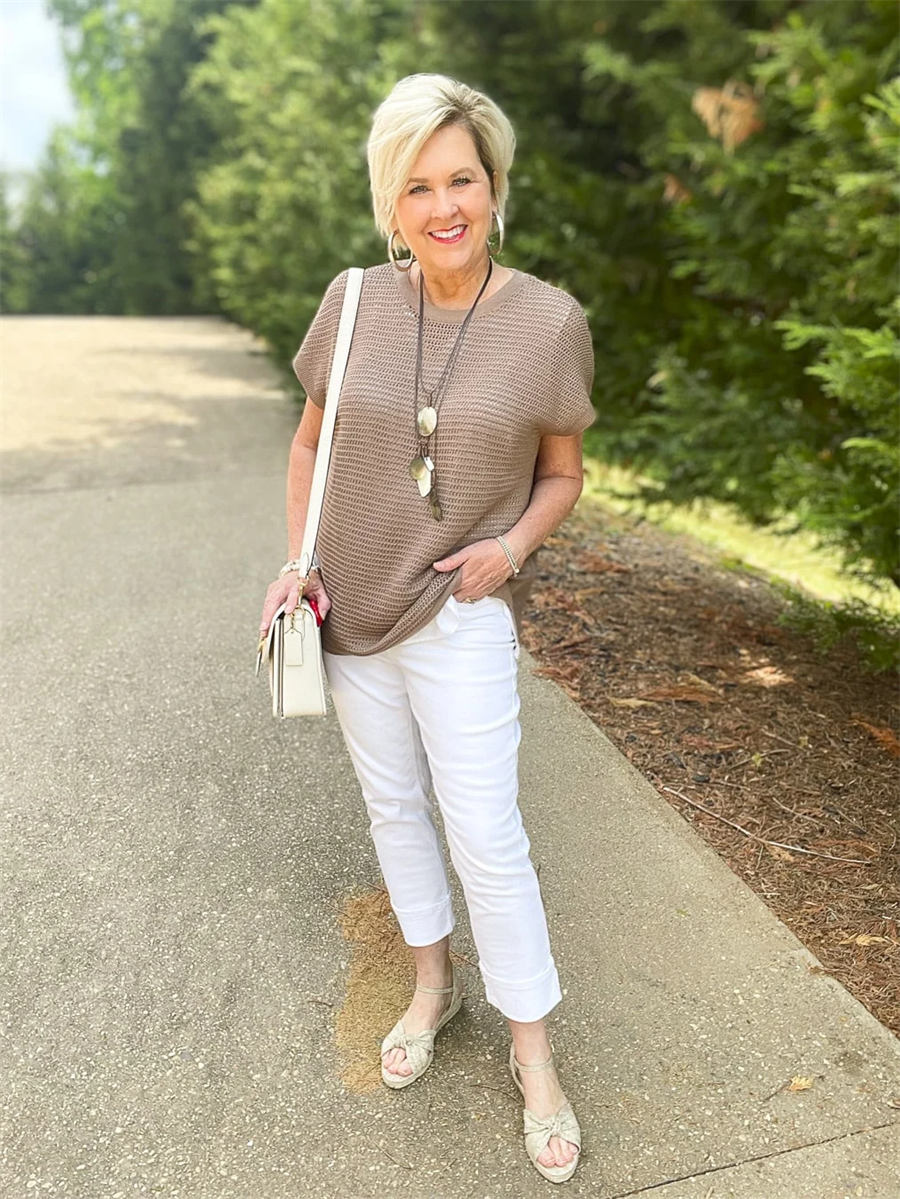 This beige knitted top is trendy and practical for summer and will keep you cool and attractive.
It's a great shape for the over 60's with short sleeves to cover the upper arm and a length that drapes over the stomach area in a flattering way.
Turned-up hems always give a youthful vibe, and these slim-cut, white jeans with a newly-fashionable turned-up hem look just like Capri-pants!
And finally, a leather-satchel shoulder-bag is also a classic style that looks perfect with this white and beige outfit.
5. Turquoise Twin-Set With a New Twist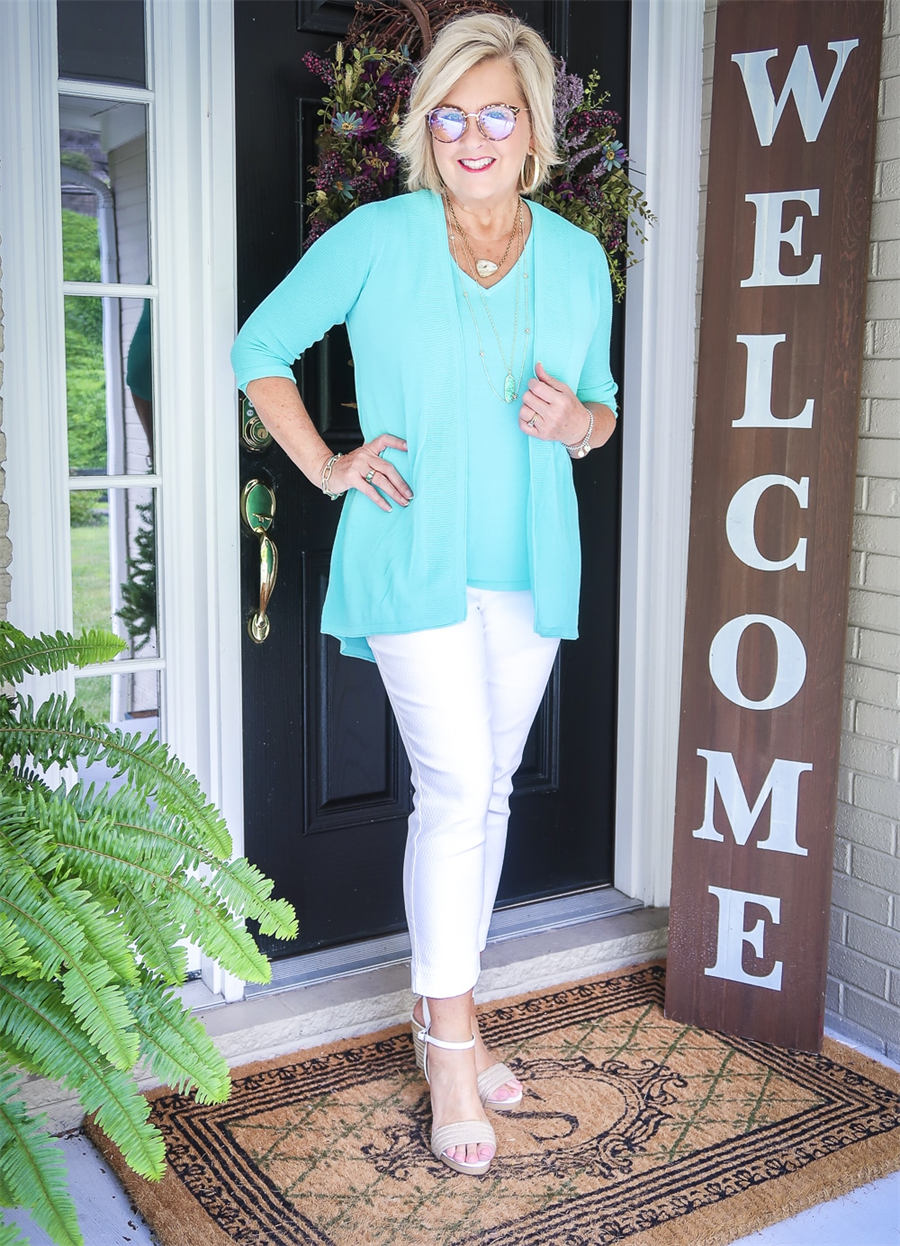 Giving an informal get-together on the garden patio?
Then this is a great smart-casual outfit to wear as the host.
Turquoise is an optimistic, summery color and semi-formal, twin-sets – a huge daywear trend from the 50's and 60's – has a casual, new twist this year.
Three-quarter sleeves, a flattering V-neck and a slight outward flare from the asymmetrical hem will all help you look your trendy best!
And the hip skimming length is a great look with white, ankle-length pants.
6. Glamorous Special Event Dress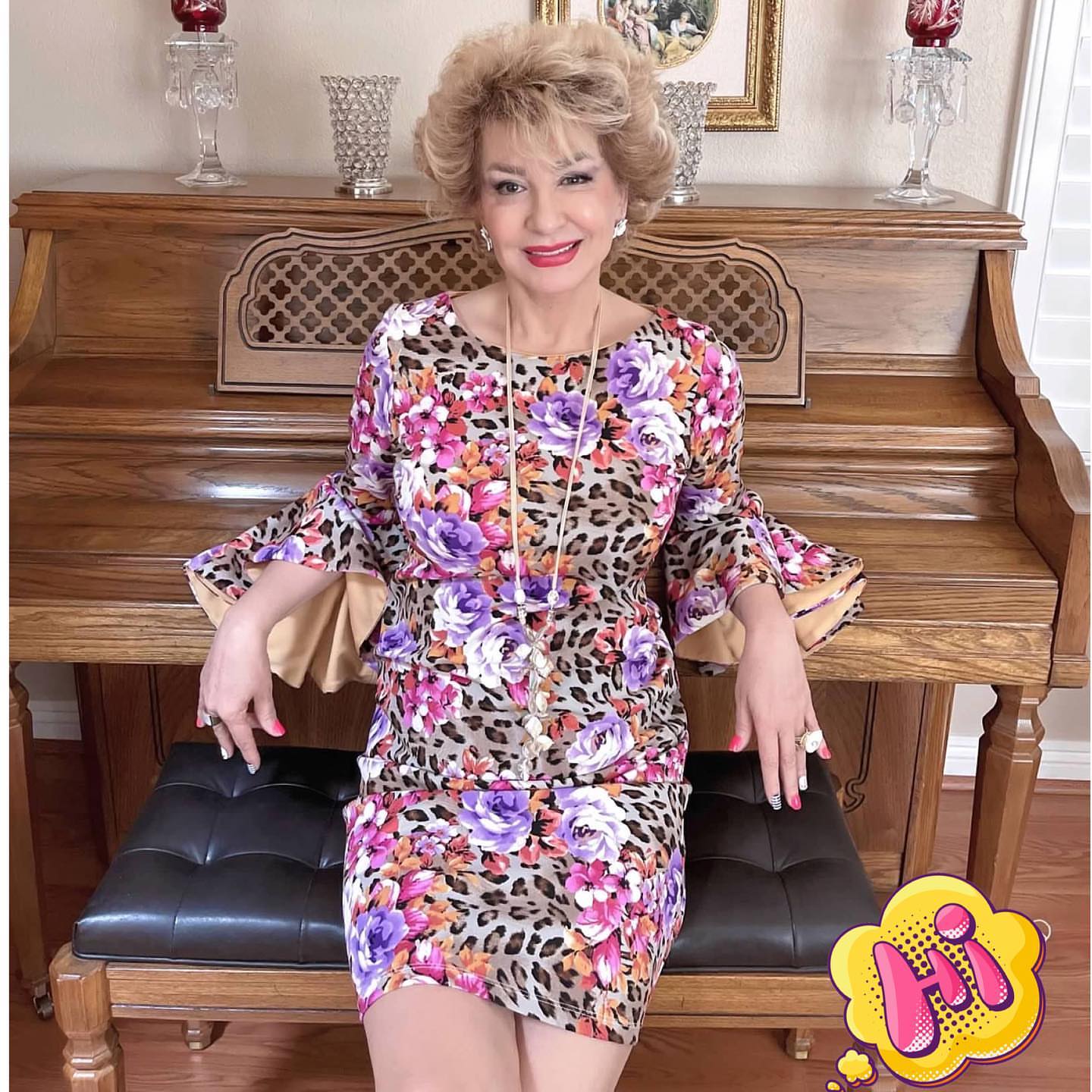 If you have the legs for a shorter dress, then this fitted silhouette is one of the most flattering styles for women with a balanced body shape.
It's actually a copy of popular 1970's dresses, with charming flares on the sleeves lined with a contrasting color.
However, the fabric is totally contemporary as roses mixed in with a modern animal print are a typical rule-breaking idea.
And the boat neck is a good shape for woman over 60, as it avoids being too high and frumpy or too low and revealing!
7. Striped Shirt & Flouncy Floral Skirt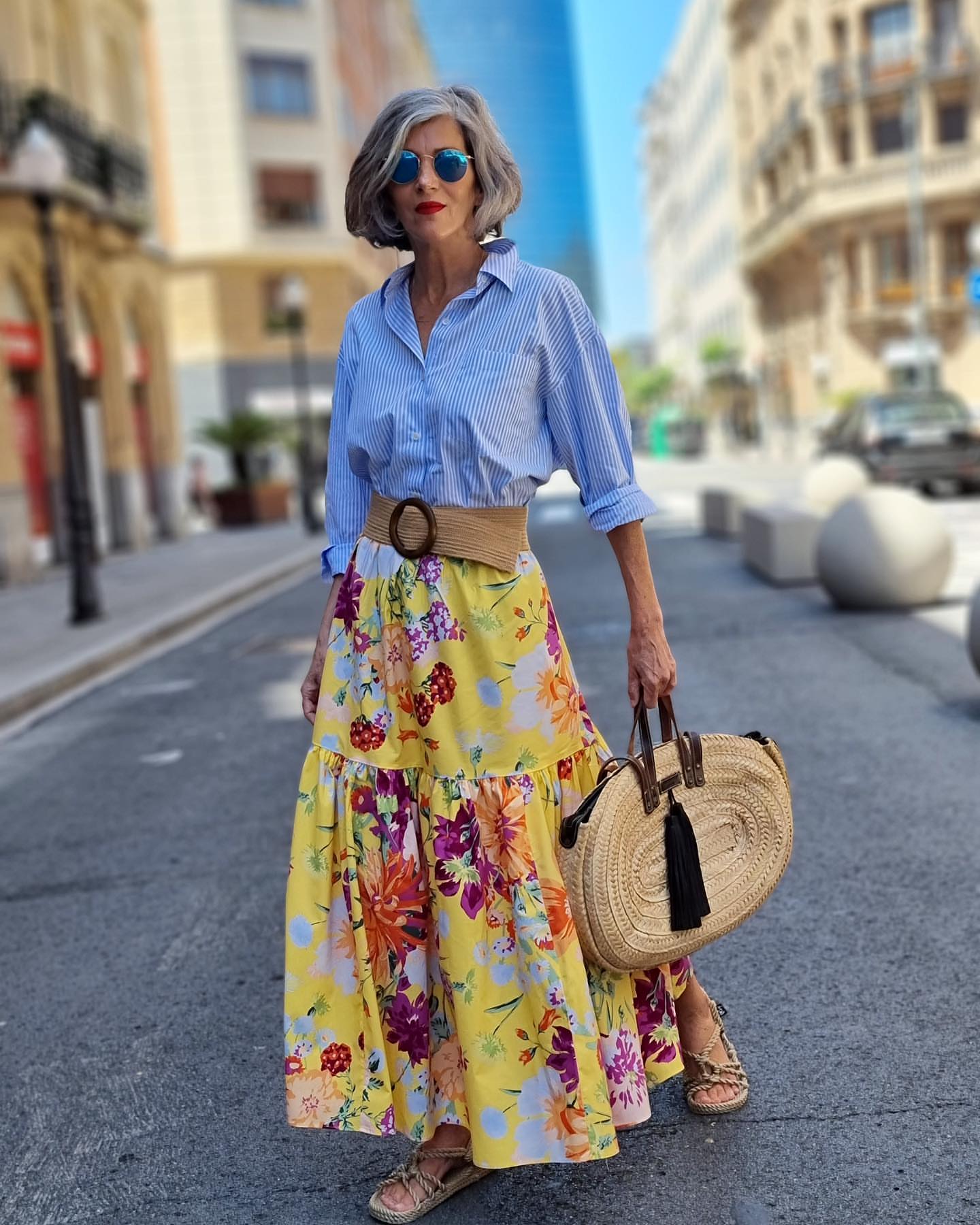 Here's a wonderfully shocking new twist for your blue and white blouses – wear them with a floral patterned long skirt!
This smart blouse that many women love has been given a new lease of life as the complement to boho and cottage-core skirts and trousers.
The combination of blue and yellow is a lovely eye-catching mix, and the wide belt helps define your waist beautifully.
Use matching accessories – in this case all made of natural fibers – to pull the look together in a casual, summery ensemble!
8. Chic Boho Summer Day-Dress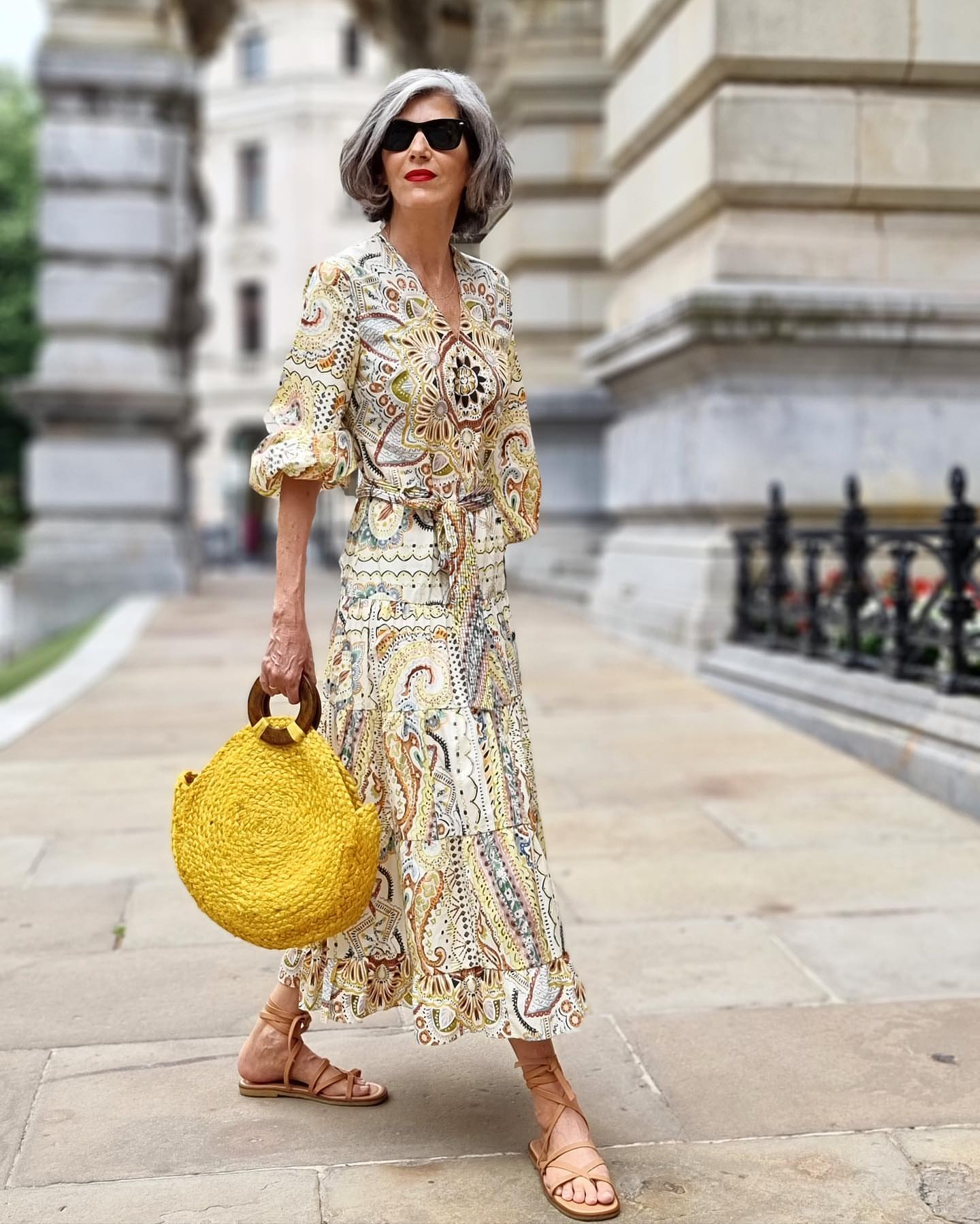 I love this Bohemian-style day-dress for its gorgeously subtle, natural color palette!
The print is lively, creating lots of movement, but the colors are muted and totally on trend.
And although it has typical boho or cottage-core flounced skirt, it's an updated shape that's less voluminous to create a slimmer silhouette.
A tie-belt helps define your waist and the fabulous, bright-yellow raffia and wood handbag emphasizes the print colors.
Maxi-dresses are a huge trend and one of the coolest and most comfortable garments in high temperatures.
9. Sophisticated Urban Dress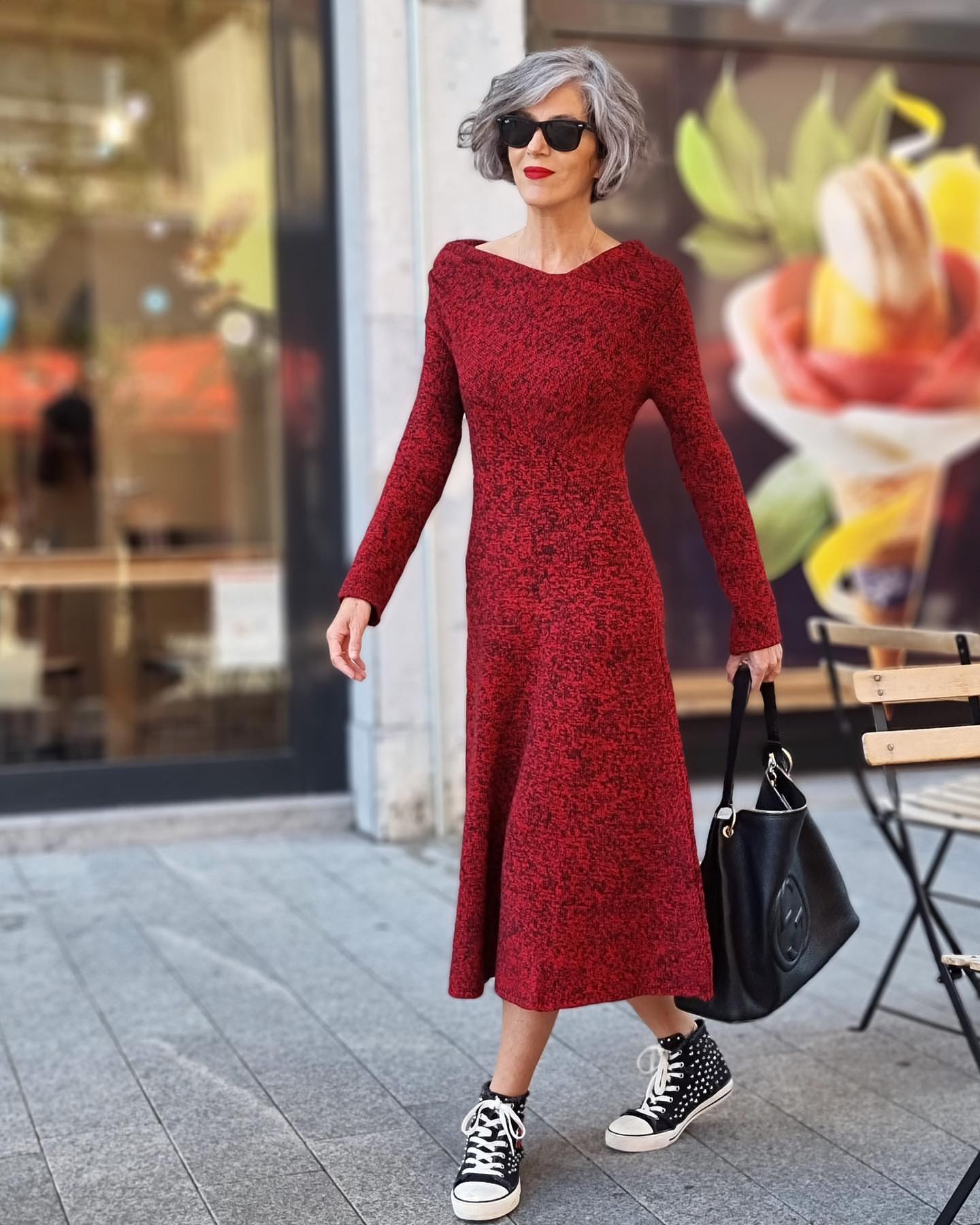 This is a wonderful silhouette to look out for as it elongates your body line and shows off a slim or shapely figure!
It's a minimalist design, with a trendy asymmetric vibe at the neckline and a mottled red/black color that adds interesting texture.
And to wear this versatile dress in a casual style, add some fun sneakers like these cute, navy and white spotted baseball boots!
10. Printed Shirt-Dress Worn Over Wide-Leg Jeans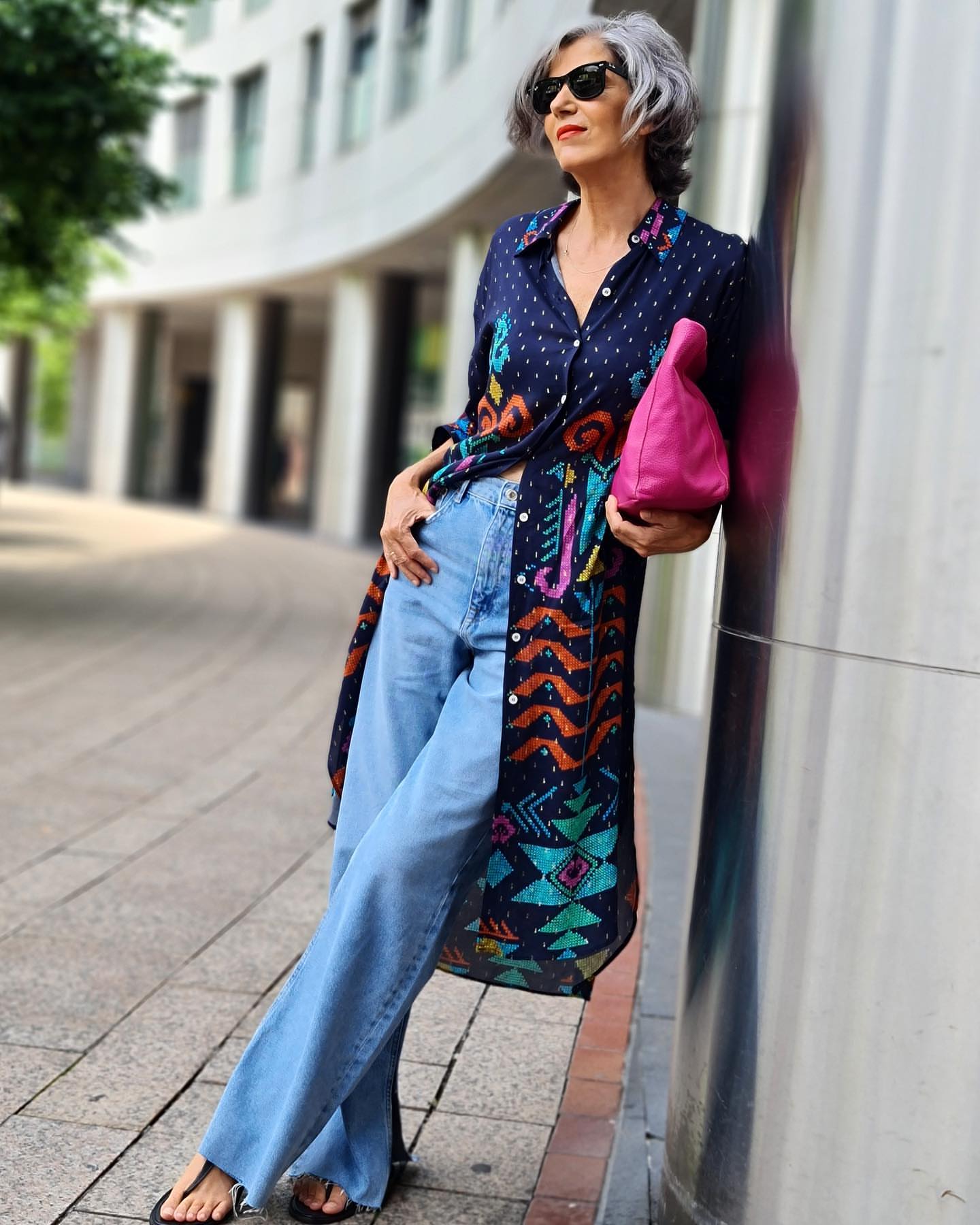 Vary your outfits by experimenting with a shirt-dress worn over wide-leg jeans with a fashionable, ragged hem.
This is a great look for those who like their arms and legs to be covered and mixes bright, ethnic patterns  with homely blue jeans to make a totally new look!
Pick out a color from the dress for a statement handbag and enjoy the compliments your new outfit is bound to bring!
11. One-Shoulder Asymmetric Monochrome Blue Dress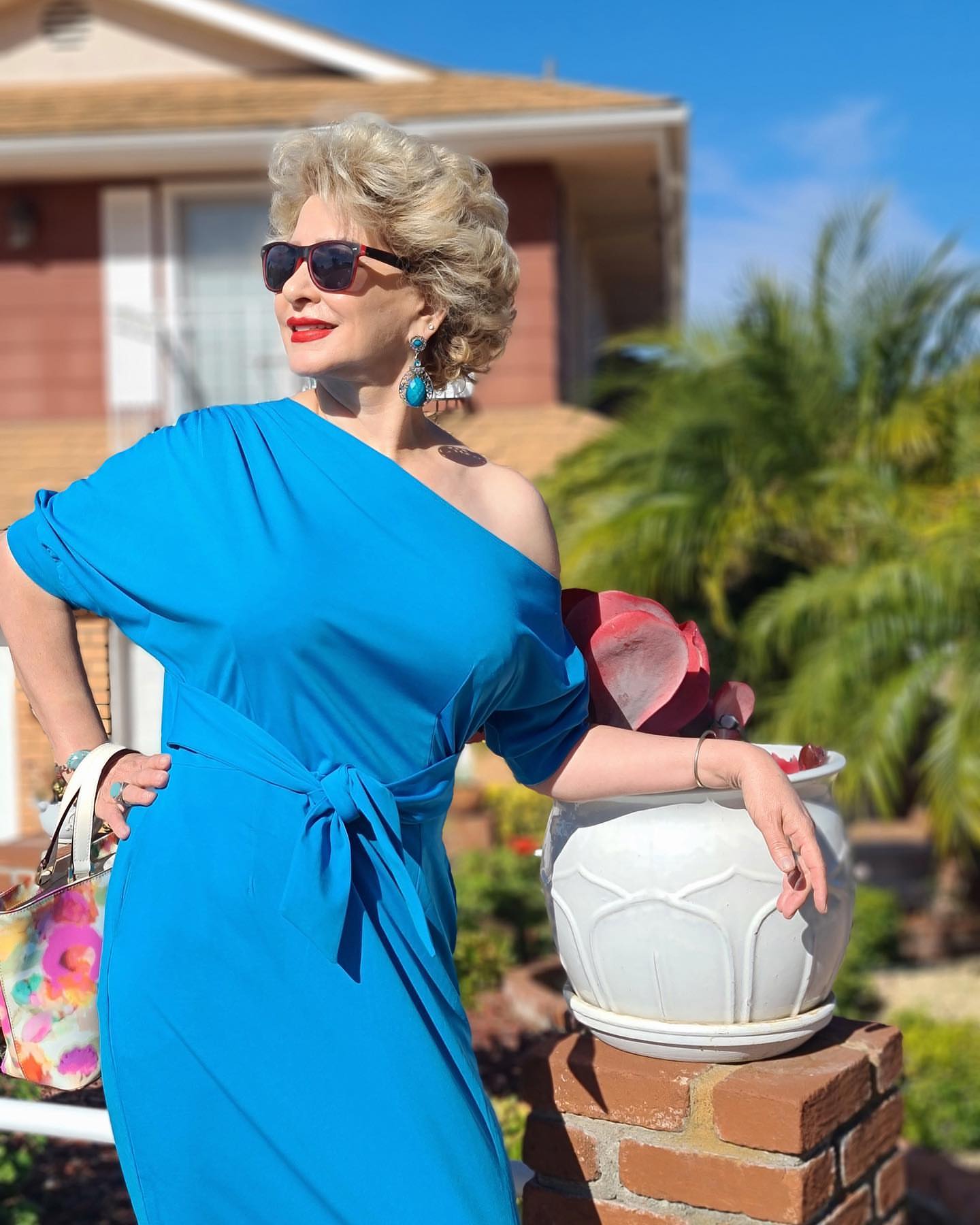 Medium-blue shades are also in fashion this year and a color-blocked dress like this is flattering and versatile.
The asymmetrical neckline and one exposed shoulder make the look glamorous, but not too revealing, so it's comfortable to wear.
And the tailored top accentuates the bust and creates a lovely waistline, emphasized with a pretty, tie belt.
In addition, the statement hand-bag is an attractive blend of modern shades that will always complement a color-block outfit!
This cute and trendy dress type will take you to lunch, dinner, dancing and theatre engagements in excellent style!
12.  Trendy Asymmetric Beige Tunic-Top & White Trousers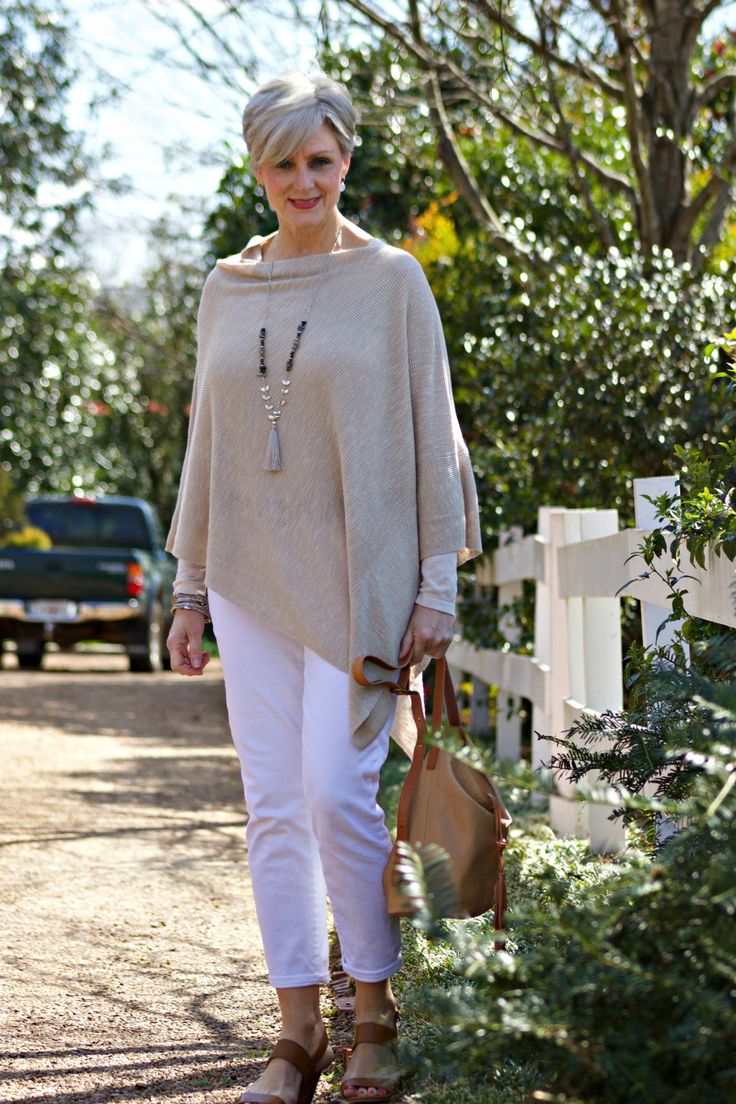 Asymmetry is a hot look this year and some designers have brought back the, 'poncho', shape to inspire their new season garments!
Assymetrical hems that make a diagonal across the body are great for making your body shape appear slimmer.
And you can't beat a loose, poncho-tunic top for comfort and ease of movement!
You can wear this neutral beige shade with many different jeans and trouser colors, so it will give great value for money, too.
13. Hot-Pink Batwing Sleeve Blouse & Black Jeans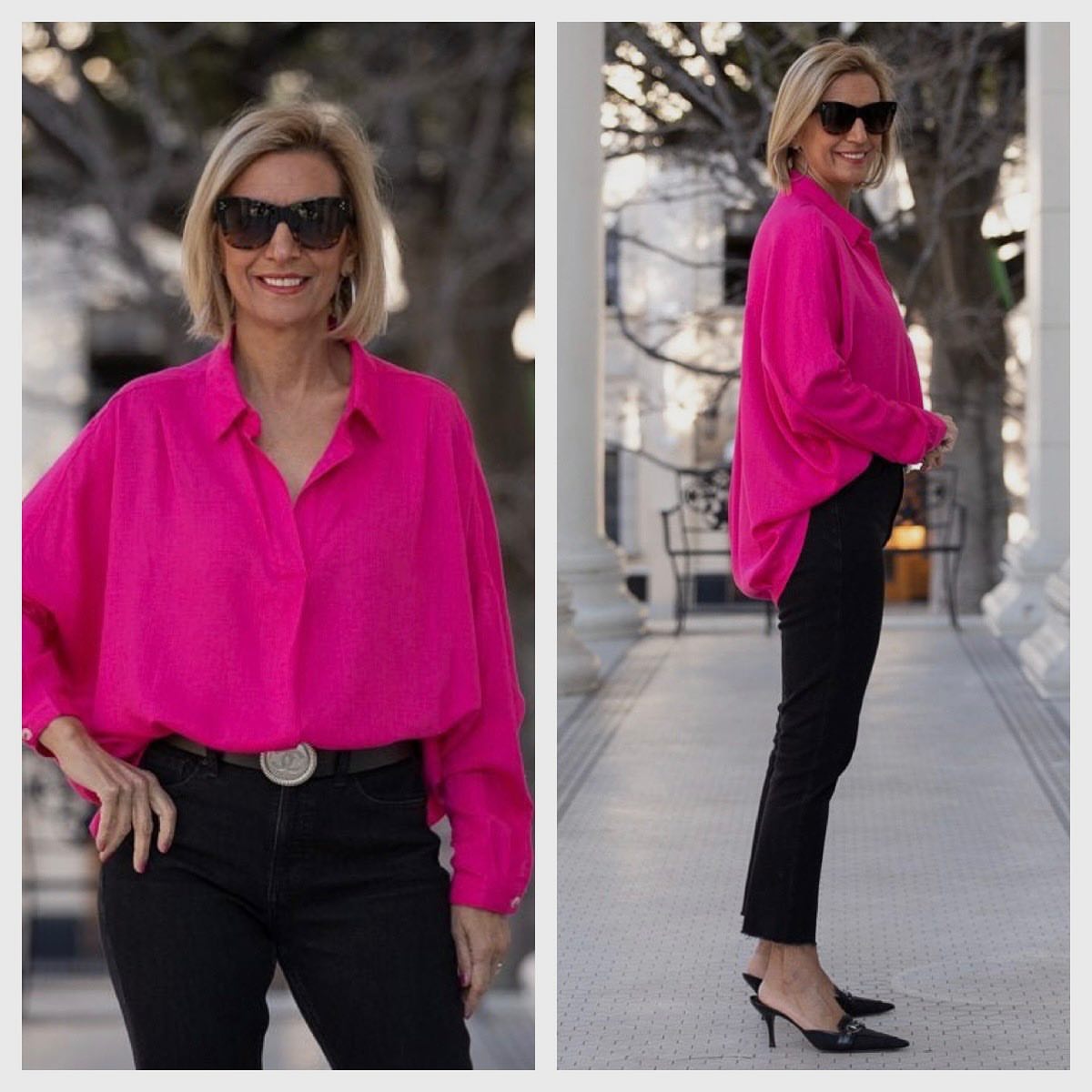 Feel casual and extremely stylish in this loose-fitting, hot-pink shirt!
It stands out perfectly against an equally strong shade in the model's black jeans and can be dressed up with a pair of sophisticated, pointed stilettos.
Or you can dress the outfit down with sneakers, sandals etc.
Tuck it in at the front to give you a new silhouette that shows you have a waistline, defined with a belt with a decorative buckle.
Or wear untucked, but with the belt still defining your waistline for a contemporary look!
14. Print Scarf Over Blue & White Striped Shirt & Jeans
This look can be adapted to style any blue chambray, denim or blue/white striped shirt in a modern way.
You just need a printed scarf in colors that suit your skin and have enough cool colors to complement a blue shirt.
Tuck-in the blouse all around to show off a slim figure or wear untucked, but belted, rather than with a baggy silhouette.
Just add white jeans and you've got another easy, modern outfit with a fashionable new twist!
15. Cute White Tunic Over Rolled-Up Jeans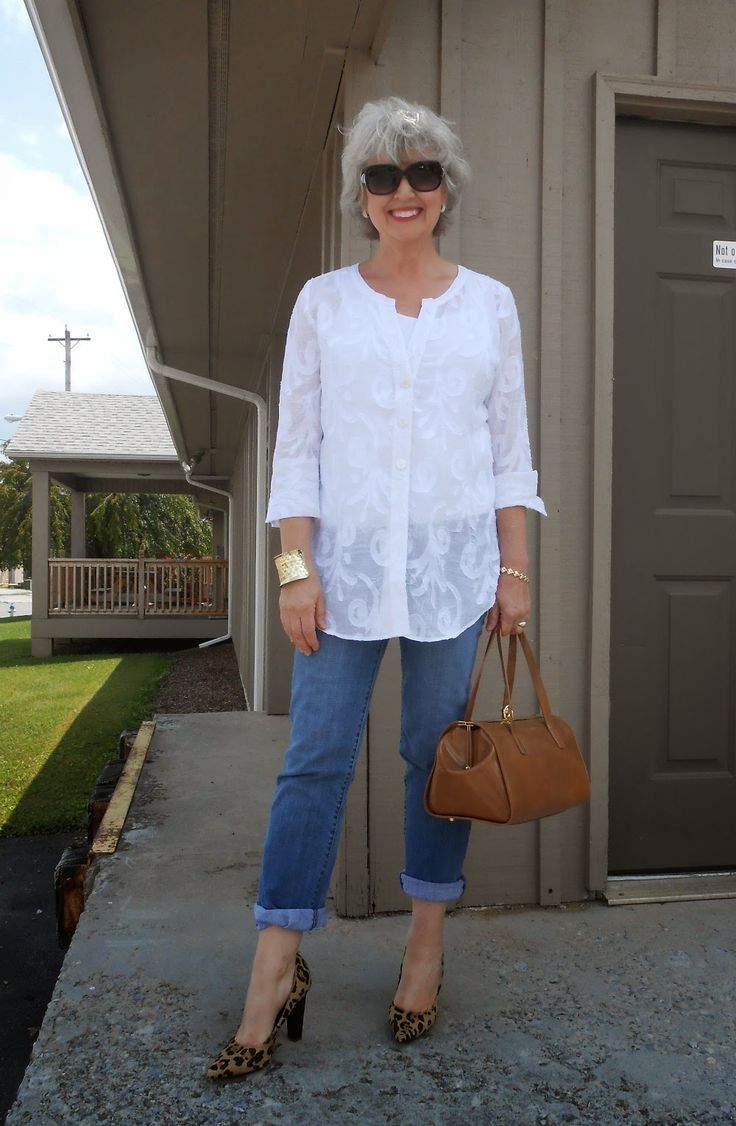 This is an attractive, figure-flattering outfit, which has been dressed up with a pair of heeled animal-print shoes and some simple, gold jewelry.
The collarless, white, tunic-top with a figured pattern is a classic and modern look that always looks crisp and chic.
And the rolled-up, slim-cut jeans show you're completely up-to-date with the latest ways to wear denim.
Complemented by a neutral tan handbag, this smart-casual outfit is suitable for many relaxed occasions!
16. Classic Black Blouse & White Jeans Outfit
Reverse the usual color order of light top and black trousers to get a modern twist on your blouse and jeans outfits.
This look will reduce the volume of your bust-line and add volume to narrow hips, so it's a good way to balance a top-heavy body shape.
Zip-up side slits give jeans extra personality and wedge heels will create extra height and make your legs appear longer!
And pretty, turquoise earrings add a touch of color to your face.
Finish off with a bright, clutch bag and enjoy this youthful new look!
Take a good look at all of the above ideas and decide which one are best for your body shape, so you can do your clothes shopping with full outfits in mind.
Faced with stores full of wide-leg jeans and so many different blue-denim shades, it can be impossible to decide what's best for your age-range and wardrobe colors.
Most women over 60 look good in slim-cut jeans, and white jeans are very trendy this year, so you may decide to follow this trend and stop agonizing over all the other options!
But if you prefer wide-leg jeans, the way to get the right look is to buy a pair that fit you perfectly around the waist and hips.
Use my gallery to inspire experiments with wearing the clothes you already have in different combinations, and to make your shopping trips targeted and successful!
The most important thing to remember is that you should have fun with fashion and use it to reflect your individual personality!
Celebrate being over-60 with outfits that highlight all your good points and make you feel trendy, comfy and flirty!