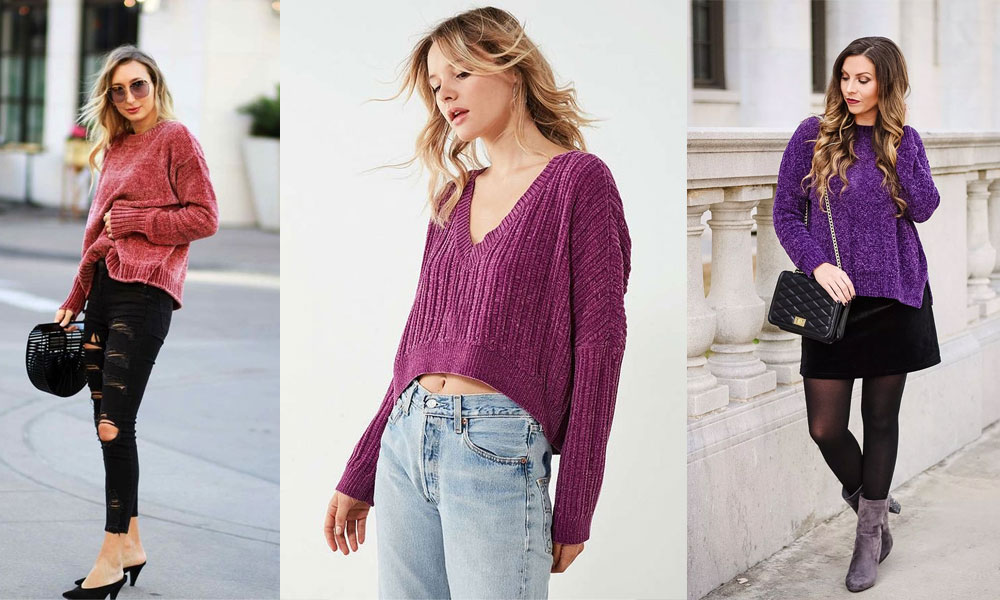 Chenille sweaters are currently one of the hottest trends for fall and winter. These soft and cozy sweaters were common in the '90s, but their popularity faded after the turn of the century. Now chenille sweaters are back to the top of the trend charts. It's no wonder that these sweaters are back in style. They're incomparably comfortable and cozy to wear, carefree and sleek at the same time, and simple enough to make an ideal cold-weather wardrobe staple.
If you're not already taking advantage of the revived trendiness of chenille sweaters, you should head to your nearest mall ASAP. You won't have to look far to find one of these cozy pieces; they're stocked in almost every women's clothing store. One problem with the newfound immense popularity of chenille sweaters is that their commonality makes it difficult to create looks with them that aren't basic or overdone. Fortunately, putting together on-trend outfits centered around a chenille sweater is easy; all you need is a little bit of inspiration.
1. Mix Textures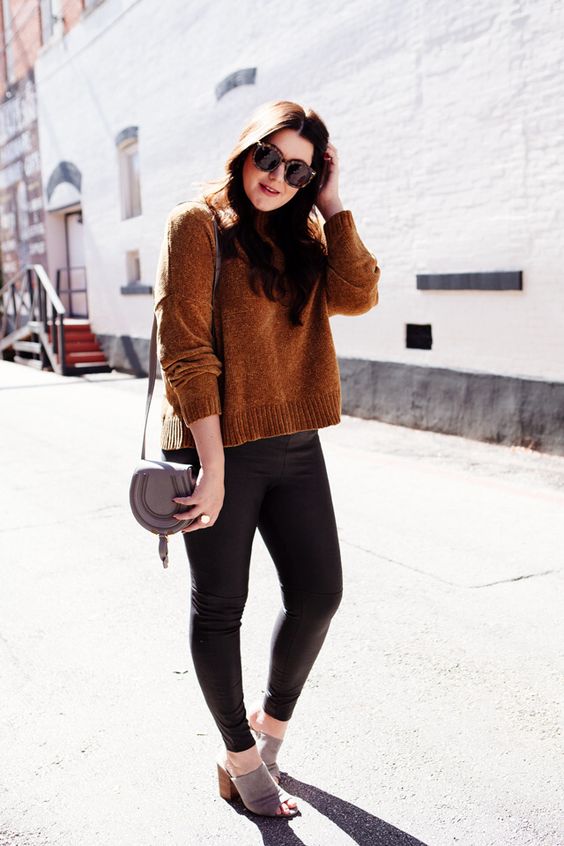 The most stand-out part of a chenille sweater is its texture. The thick, soft yarn used to make chenille material gives these sweaters a natural textured finish that adds instant interest. You can create a unique and eye-catching look with a chenille sweater by mixing multiple textures together in one look.
Try pairing your sweater with leather leggings and suede booties to create a chic look with a touch of edginess. Wear a lace bralette underneath an oversized V-neck chenille sweater and let it peek out for an unexpected delicate, feminine finish.  If you wear your sweater with jeans, pick distressed jeans to balance out the texture of the sweater.
2. Embrace the '90s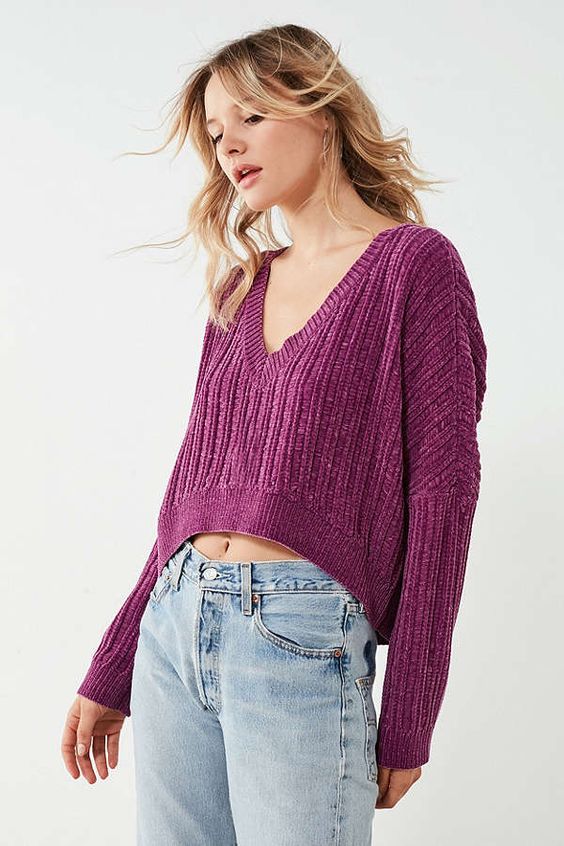 The 1990s were the setting of the first time chenille sweaters became popular. Even though these sweaters are trending now, many people still associate them with '90s fashion. Instead of trying to modernize your sweater, embrace the '90s style through the rest of your look.
Pair a cropped chenille sweater with a button-down denim skirt–a classic style staple of the 1990s–for a cute and carefree finish. In colder weather, wear light-wash jean in a relaxed fit to create an effortless casual look with subtle '90s vibes. If you can find embroidered jeans–which shouldn't be too hard since embroidered denim is another trend from the 1990s that underwent a recent revival–wear them with your chenille sweater to add a playful, whimsical dimension to your look. Complete your '90s-inspired look with lace-up combat boots or white high-top sneakers.
3. Switch It Up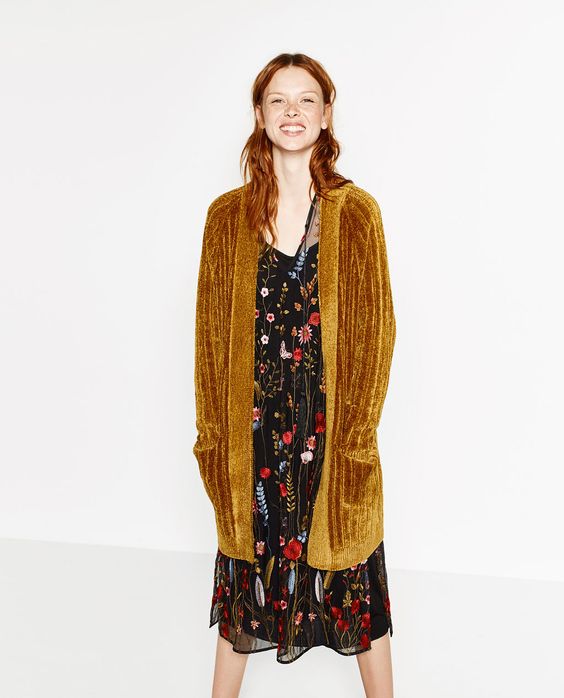 Sweaters aren't the only wearable chenille pieces on the market. The recent upsurge in the popularity of chenille sweaters has motivated many brands and designers to create other pieces made from chenille for fall or winter wear. Wearing alternate chenille pieces that aren't sweaters allows you to take advantage of the cozy chenille trend without worrying about looking basic.
Chenille cardigans are warm and stylish. Wear one of these soft cardigans over a tied tee and leggings or a fitted white shirt and distressed jeans. You can even wear a chenille cardigan over a short dress paired with tights and lace-up booties to add femininity to your look. Chenille sweater dresses look just like their standard sweater counterpart, but they are longer and can be worn without bottoms as the main focal point of your look. Wear a chenille sweater dress over classic black tights or leggings and thigh-high boots for a chic and alluring finish.
4. Stay Simple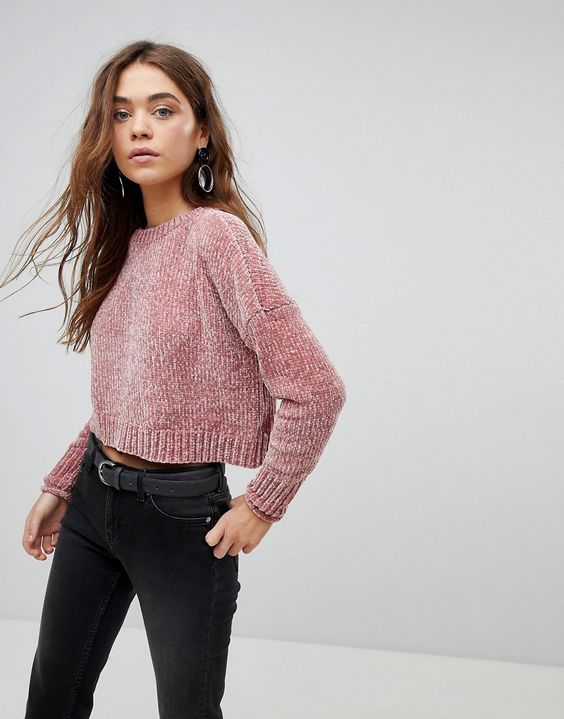 Make your chenille sweater the focal point of your outfit to create a no-nonsense look that is both classy and eye-catching. Keep the rest of your outfit simple and let your sweater take center stage.
Pair your sweater with slim black jeans and lace-up booties or combat boots. For a sleeker, sophisticated look, choose a sweater in a dark or neutral color. If you want a more playful, casual look, wear a brightly-colored sweater instead.
5. Play With Colors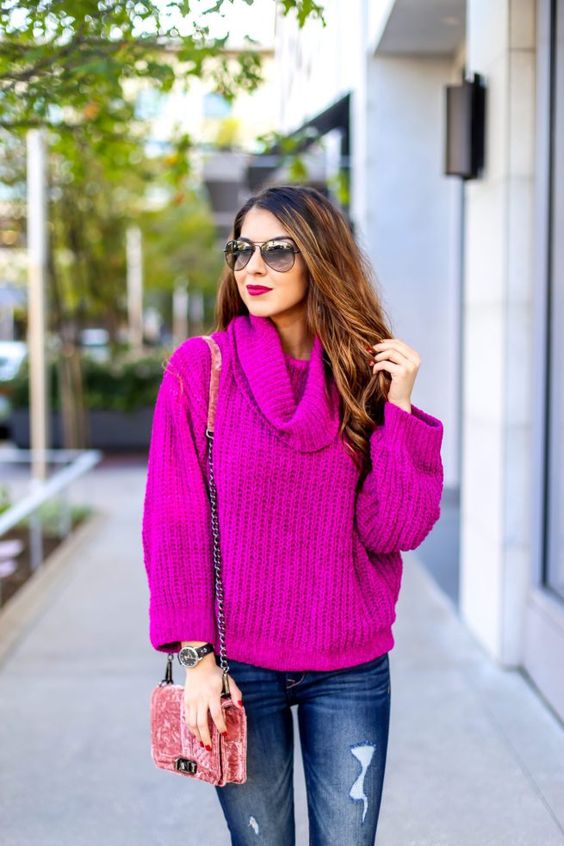 Chenille sweaters are available in an endless range of color choices. Wearing a colorful sweater automatically gives even the drabbest, simplest look interest and flair.
If you want your sweater to stand out more on its own, pair it with neutrals like black jeans that don't steal too much attention. Or, add even more color and whimsy to your look by wearing your colorful sweater alongside leggings or accessories in coordinating stand-out colors.
6. Pay Attention to Necklines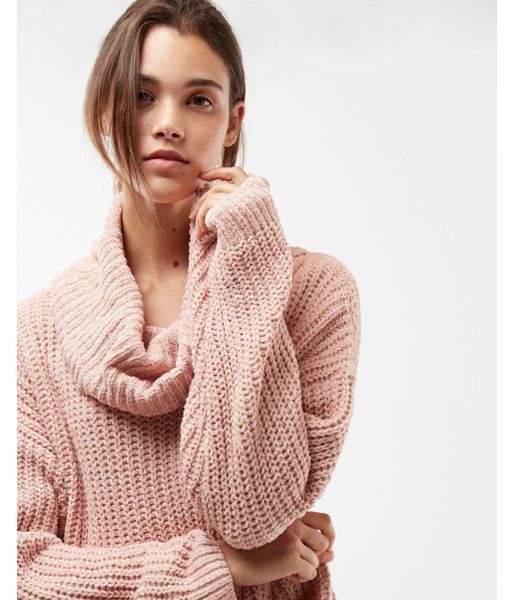 Like all other sweaters, chenille sweaters are available with multiple different necklines. Wearing a sweater with an unexpected neckline adds interest to your look. The neckline of your sweater can be a surprisingly effective way to set your look apart from those of other trend-followers.
Try a sweater with a loose cowl neckline to draw more attention to your sweater and add warmth to your outfit. You can also find chenille sweaters in a cropped style. Pair one with high-waisted distressed jeans and sneakers to create a flattering, casual look.
7. Take Risks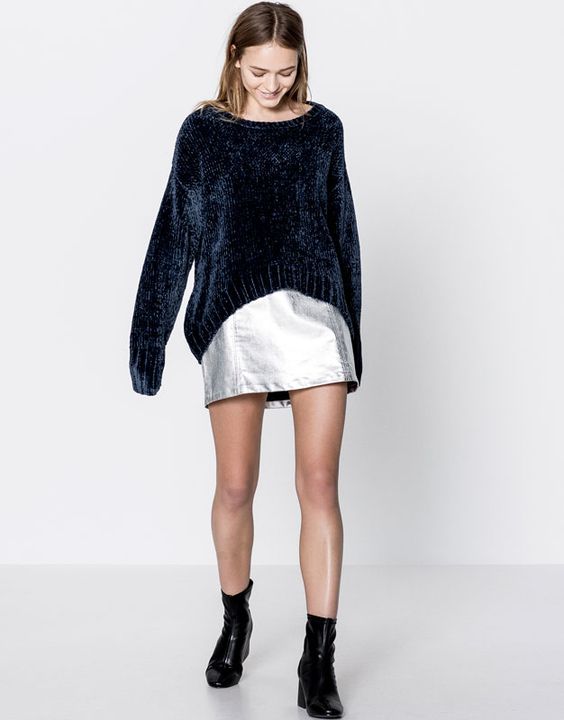 In and of themselves, chenille sweaters are whimsical, playful pieces. As a revived piece from the 1990s, these sweaters are somewhat of a fashion risk despite their newfound extreme popularity. Use your chenille sweater as an excuse to experiment with the looks you create to match the carefree vibe of the sweater.
Try pairing your sweater with bold patterned pants. Match your sweater with a coordinating color in the pattern of your pants to ensure a put-together finish. Or, wear a cropped sweater over a miniskirt to add instant femininity to your look.
Chenille sweaters are fun and carefree pieces. Don't take them too seriously and don't stress too much about how to create the perfect outfit with yours. Consider the ideas in this post and use your favorites to help you put together your own trendy, unique look with your chenille sweater. Then just relax and enjoy wearing an outfit that's as cozy as it is stylish.