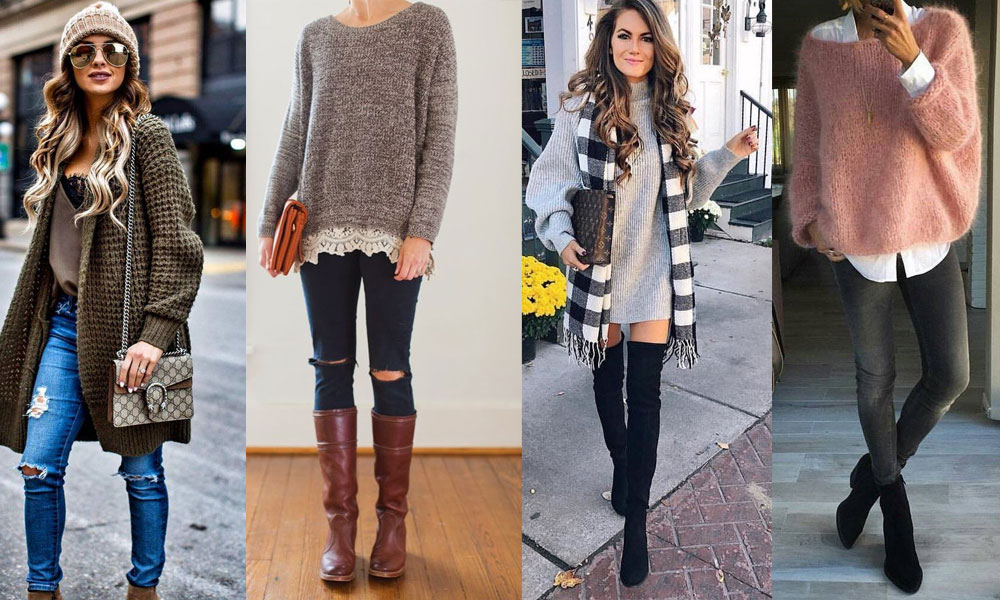 It's easy to look cute and keep all of your outfits on-trend when the weather is mild in spring or summer. You don't really have to think about what the weather is like outside as you peruse your wardrobe every morning. At worst, you might feel a bit too hot if you decide to wear your oversized denim jacket on an unexpectedly warm spring day.


via
When the weather starts to get colder as fall and winter arrive, choosing stylish daily outfits becomes more of a challenge. During the colder seasons of the year, the weather severely limits your clothing options. Also, especially cold weather often makes multiple layers of bulky clothing necessary on certain days. When you're feeling suffocated underneath three sweaters and a scarf, it's easy to feel like your fashion sense is suffocating too. Believe it or not, there are ways to look cute, stylish, and warm at the same time. Styling your cold-weather looks right keeps your figure visible and your outfits fashionable no matter what the temperature is.
1. Wear Unexpected Materials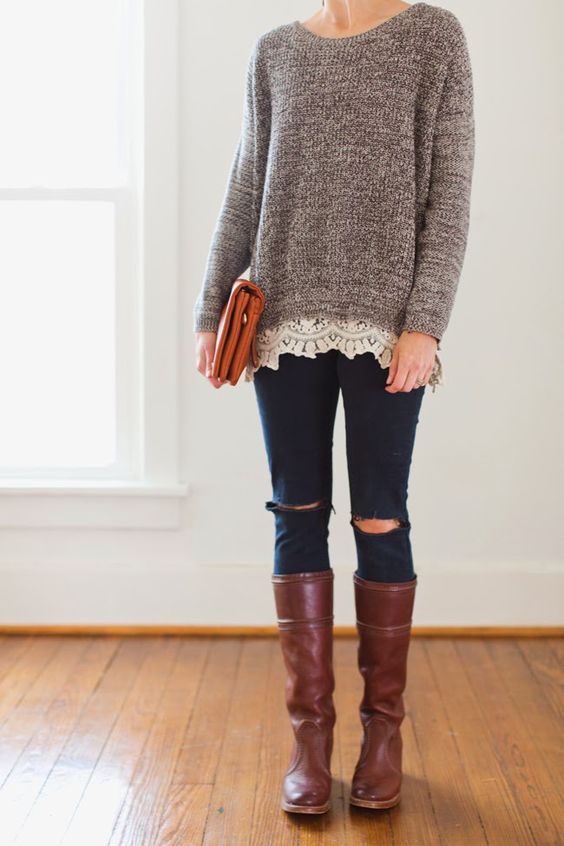 The cold weather that fall and winter brings significantly narrows your choices when it comes to clothing materials. By mid-January, most people are already used to seeing extraordinary amounts of fleece, thick knits, and that horrible shiny, slippery fabric that lines the outside of most big puffer jackets. Introducing materials into your winter wardrobe that most people don't wear in cold weather will draw instant attention to your looks.
Wear a silk shirt with skinny jeans underneath a thick trench coat to create an elegant, sophisticated look. Find a lace-detailed sweater and pair it with solid leggings and boots for a delicate, feminine finish.
2. Play Up Your Denim

Sometimes, the air is just too frigid to even think about putting on a pair of distressed skinny jeans. On the cooler days when you don't feel like your knees are in danger of freezing, though, you can use your favorite denim pieces to add interest and style to your looks.
It's almost impossible for an outfit to look boring if it includes a remarkable denim piece. Interesting denim is subtle and versatile, which makes including it in your cold-weather looks a great way to add an eye-catching finish to your outfit that isn't too overwhelming. Try wearing a pair of distressed boyfriend jeans underneath a solid sweater to avoid looking top-heavy. Or, throw on an oversized embroidered denim jacket to add interest and balance to a solid turtleneck and leggings combo.
3. Add Statement Accessories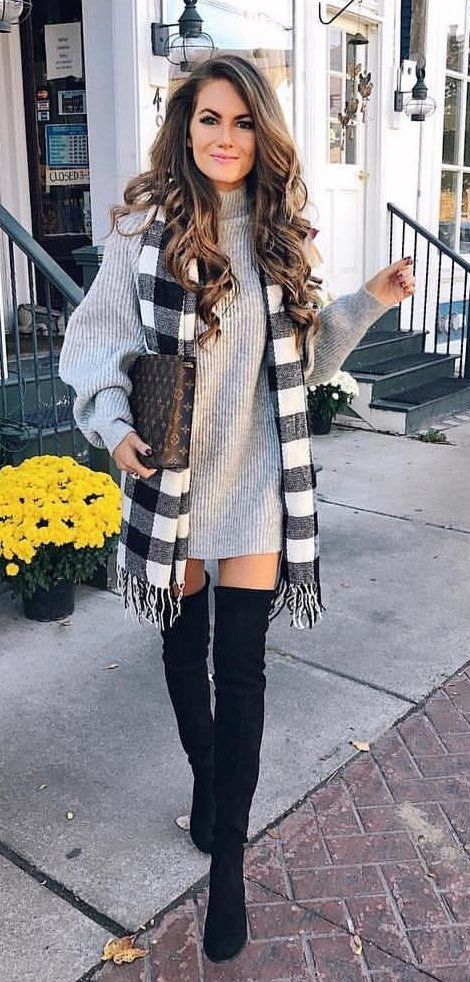 Sometimes the easiest way to create warm, stylish looks is to embrace the cold weather instead of fighting against it. Many of the accessories designed to be worn in cold weather are very stylish. In these cases, winter clothing options enhance your style instead of hinder it.
A very simple way to take advantage of wintry statement accessories is to buy a matching set of gloves and a beanie. Choose a set in a color that you know will complement many outfits you already own. Wear the matching set to stay warm and add instant coordination to your looks. Another transformative cold-weather statement accessory. You can wear a patterned scarf with a dull outfit to make it more interesting. Or, wear a scarf when you're wearing lots of layers to add balance to the bulkiness of your look.
4. Take Advantage of Tights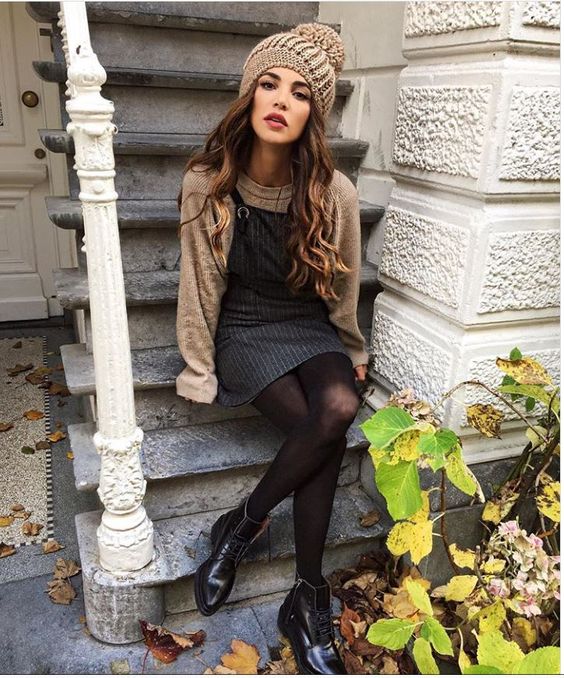 Even though leggings are magnificently comfortable and flattering, you might get tired of rotating the same three pairs every day all winter long. If you need a break from wearing leggings on a daily basis, try tights instead.
Tights don't provide as much warmth as leggings do, but they work as a subtle and stylish alternative on days that aren't too cold. Try layering a pair of tights underneath a dress paired with heeled booties and a knit cardigan for a chic finish. Or, wear tights underneath a combo of a mini skirt and sweater to add balance and warmth to the bold look.
5. Pick Surprising Colors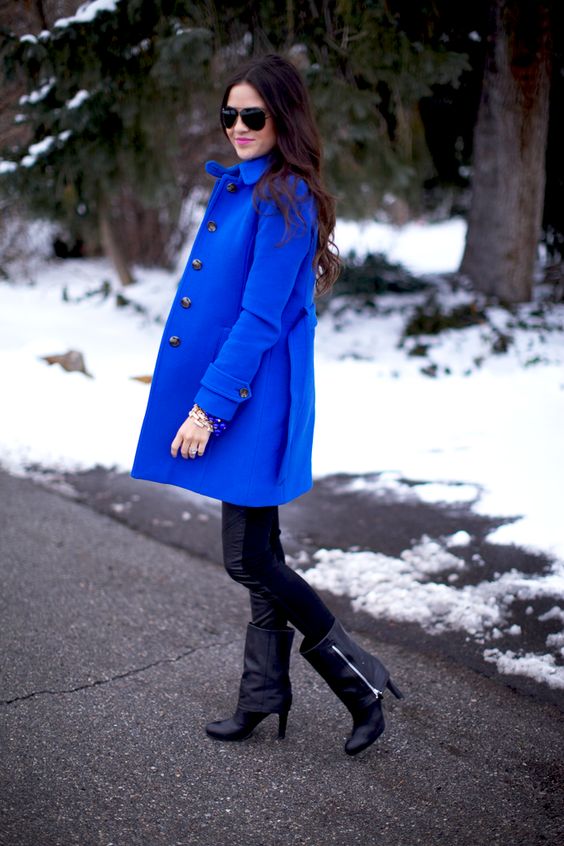 As the weather gets colder and the days get darker, clothing options get darker too. Most cold-weather clothing options come in dark or dull shades of black, gray, nude, or navy. Wearing bright or light colors in cold weather will brighten your look and make you stand out among the dark shades everyone else is wearing.
Try to find classic winter pieces, like coats or knit cardigans, in bright colors. Pair your colorful coat with a neutral sweater and jeans combination. If you can't find any traditional winter clothing that isn't a dark color, add splashes of color to your look in other ways. Add a bright, patterned scarf to your look. Or, layer a colorful tee underneath a neutral thick cardigan.
6. Go Oversized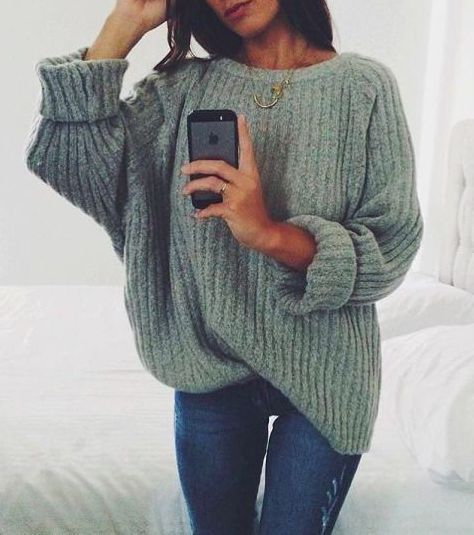 A stylish and comfortable way to embrace cold-weather fashion is wearing an oversized sweater. These sweaters are warm, trendy, and incredibly easy to style.
Start with a simple combo of sweater and leggings. Wear knee-high boots or booties for a casual finish or thigh-high boots to create a sleek and streamlined look. The simplicity of this look can be refreshing, but accessorize it as you like with fashion scarves, beanies, and other wintry statement pieces.
7. Layer Strategically

Bulky layers are what kill the trendiness of many cold-weather outfits. However, if you layer strategically, you can get away with wearing your favorite warm-weather pieces without freezing.
When you want to wear your favorite pair of jeans when it's too cold outside for denim, layer a pair of leggings or tights underneath your jeans before leaving the house. Or, extend the seasonal lifespan of your favorite summer tops by wearing them in fall and winter over a turtleneck or thin sweater in a coordinating color.
The arrival of winter and the frigid weather it brings doesn't mean you. should start mourning your trendy style or gearing up to risk hypothermia until spring arrives. There's no reason that you can't have the best of both world and look stylish while staying warm. Use the tips in this post for cold-weather style inspiration the next time the temperature starts to drop.