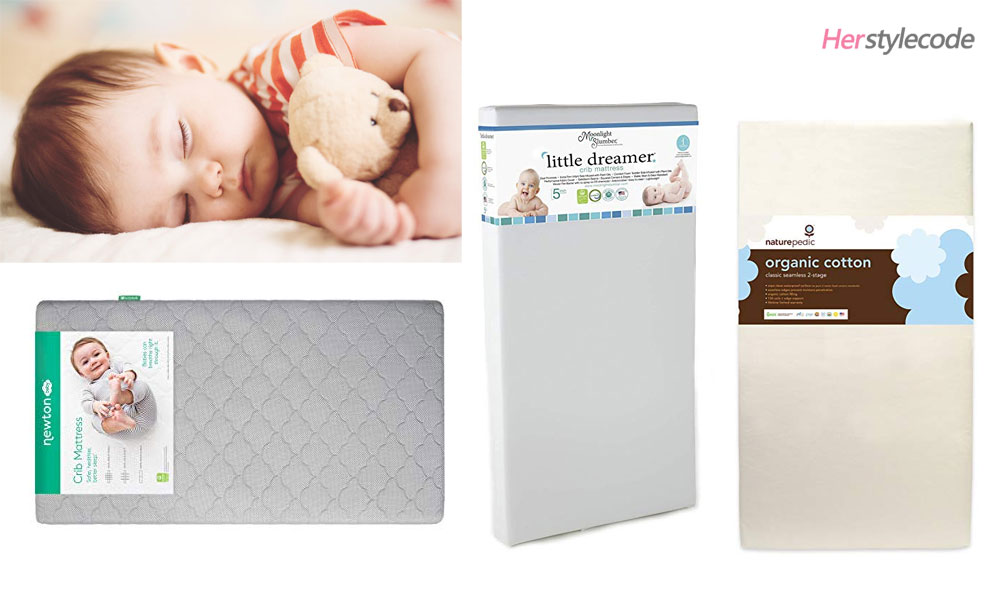 The mattress you choose to buy to put into your baby's crib is one of the most important decisions you'll make in terms of basic necessities you purchase for you child. Babies spend the majority of their time sleeping, so it's important that their crib mattress keeps them safe and comfortable while they rack up their much-needed daily rest. Your baby's crib mattress plays a major role in your child's safety, comfort, happiness, and quality of sleep for the first few months or years of their life.
In addition to basic factors like safety and comfort, there are also slightly more complicated issues to consider when it comes to choosing the ideal crib mattress for your child to sleep on every night. Emission of volatile organic compounds (aka VOCs) is one important factor that many new parents don't consider when choosing a crib mattress for their baby. VOCs refer to a category of man-made and naturally-occurring chemicals that can be harmful to human health when ingested. Some crib mattresses emit high rates of VOCs, which can lead to serious health problems for your baby.
Fortunately, these six crib mattresses are the best of the best on the current market. First off, they are safe and comfortable with plenty of ventilation. They are also ultra-durable and long-lasting. Some of these mattresses transition smoothly to last your child safely and comfortably through their babyhood and into their years as a toddler. Plus, these six crib mattresses are eco-friendly and do not emit harmful levels of VOCs. These six top-quality crib mattresses give you peace of mind about your child's safety and comfort at both nap-time and bedtime and help both you and your baby sleep peacefully every single night.
1. Newton Baby Crib Mattress and Toddler Bed
Non-toxic, hypoallergenic, and completely washable, this crib mattress from Newton is ideal for sensitive babies. Its surface material and core are free of any foam, latex, glue, or other allergens and are hypoallergenic to prevent any discomfort or irritation. The eco-friendly, 100% recyclable mattress also contains a very low level of VOCs for your baby's health and safety. Its washable surface material prevents dangerous bacterial growth and makes clean-up quick and easy for new parents. This long-lasting two-stage transition mattress is designed to safely support and promote peaceful, high-quality sleep for babies from infancy through toddlerhood.
To maximize your baby's comfort and encourage them to sleep through the night peacefully, this crib also features special temperature regulation. The mattress regulates its own surface temperature to prevent overheating and minimize uncomfortable sweating. It also features special Breathe-Thru technology that expertly ventilates the mattress. This high-tech ventilation system minimizes suffocation risk and prevents your baby from re-breathing CO2, which can also be dangerous. The mattress includes two layers of ultra-breathable quilted spacer fabric that is both soft for comfort and well-ventilated for safety.
2. Moonlight Slumber Little Dreamer Dual Sleep Surface Crib Mattress
Free of vinyl, polyethylene, PVC, phthalates, and lead, this crib mattress is designed with your baby's health, safety, and comfort in mind. Side-stitched seams and a medical-grade knit fabric surface help this hypoallergenic, ultra-durable, and odor-resistant mattress repel bed bugs and dust mites. The mattress is also waterproof and its easy-to-clean surface makes clean-up with a damp cloth or sponge quick and simple and prevents bacterial growth over time.
This mattress won't sag or lose its shape or firmness over time. Its nylon core is comfortable for your baby to sleep on, but it is also ultra-durable. You don't have to worry about replacing it before your baby outgrows it. The crib mattress has a dual-firmness design. One side of the mattress features extra-firm high-density foam that is perfect for infants, while the other side is made from slightly less firm, plush high-density foam that will help your toddler get a good night's sleep as they grow.
3. Babyletto Pure Core Non-Toxic Crib Mattress
Eco-friendly and non-toxic, this crib mattress is safe and healthy for your baby and for the environment. It includes only 100% non-toxic materials, including a fully recyclable polyester core and vinyl-free quilted cotton surface. The mattress is vegan, hypoallergenic and free of any harsh chemicals. It features only natural, non-toxic materials and is free of polyurethane foam, phthalates, latex, PVC, allergens, and dyes.
This crib mattress transitions effortlessly to help your baby sleep peacefully every night as they grow and develop. Its dual-firmness design features an extra-firm side for infants and a softer, plush side for toddlers.
4. Colgate Eco Clasica III Crib Mattress
This innovative, long-lasting mattress from Colgate is compatible with standard cribs and toddler beds. You don't have to worry about replacing it after your baby outgrows their crib. When your child moves to a toddler bed, this crib mattress will move with them. All you have to do is flip it over.
This thick, six-inch mattress is made from lightweight, breathable foam. It has a dual-firmness design. It features a flat, even side with maximum firmness for infants and a softer side with more give for toddlers. This safe, comfortable, and eco-friendly mattress features an organic cotton cover, a natural cotton inner flame barrier, and a plant-based eco foam core.
5. Naturepedic Organic Crib Mattress
This mattress for babies from Naturepedic features a non-toxic organic cotton surface and filling. It is completely natural. The mattress is free of any chemical flame retardants, polyurethane foam, and PVCs to keep your baby safe and healthy.
Designed to last for years, this crib mattress features a strong 150-coil spring core. This core makes this crib mattress one of the most long-lasting and durable options on the market. The mattress has a dual-firmness design with an extra-firm side for infants and a softer, more plush side for toddlers. Its polyester surface is non-toxic and easy to clean. All you need to do to remove any stains before they set in is gently wipe the surface of this mattress clean with water and soap. Plus, this mattress is waterproof, so you don't have to worry about inner bacterial growth over time.
6. Emily Organic Cotton Crib Mattress
Made with organic cotton and natural wool, this crib mattress is eco-friendly and all-natural. It is free of any polyurethane foam or other toxic materials or harsh chemicals. Its 150-coil innerspring core makes this crib mattress ultra-durable. This core gives it the longevity to last your baby as long as they need it.
Unlike other crib mattresses on the market, this top-quality crib mattress mimics the look and feel of a real mattress for adults. It is in no way flimsy and doesn't include any vinyl cover. Instead, it features real stitched seams, a durable core, an organic cotton quilted cover, and organic cotton batting. Plus, it is double-sided to allow you to flip it over every few months to increases its longevity–just like with your own mattress. However, this mattress does include key features that suit it perfectly for use by babies and toddlers. It features a high-performing perforation ventilation system that allows your baby to breathe freely throughout the night.