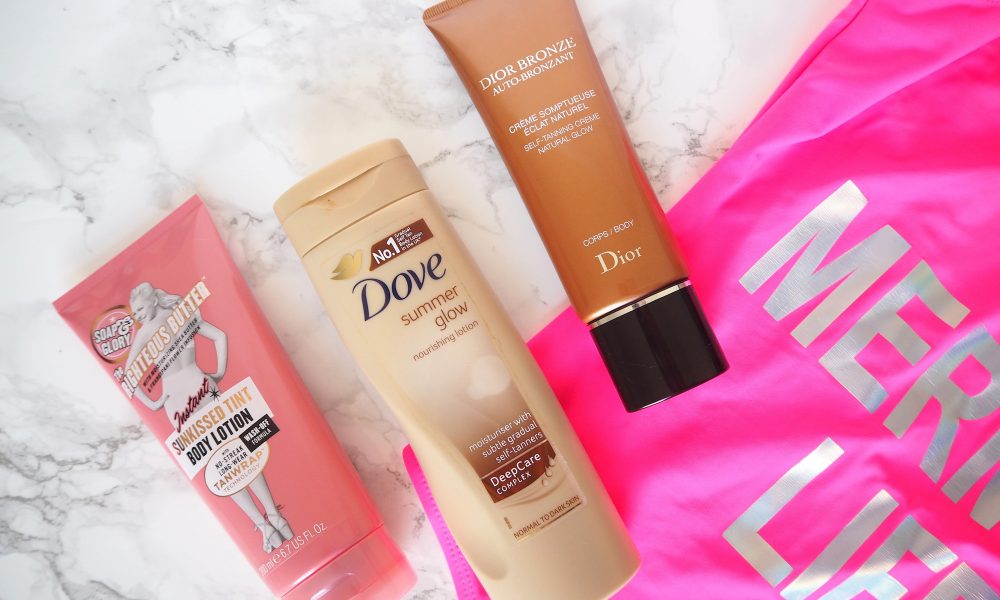 Tanning can provide you with a natural, sun-kissed glow that warms up your skin for a bright and sexy finish. However, the abundant unprotected exposure to the sun that tanning requires can cause irreversible and dangerous damage to your skin. Fortunately, there are many fake tan products available on the current skin care market that offer the aesthetic benefits of tanning without the danger and eventual wrinkles. Read the following Fake Tan Products reviews to discover the top seven best long-lasting fake tan products currently available.
7. Beauty by Earth Self Tanner
This fake tan lotion from Beauty by Earth is a high-quality and long-lasting product. It is formulated without dye or colors specifically to prevent streaking and unnatural orange undertones. The lotion is infused with a blend of natural ingredients, including aloe vera, shea butter, coconut oil, argan oil, jojoba oil, witch hazel, and green tea in order to condition your skin to leave it feeling soft, smooth, and instantly refreshed.
The Beauty by Earth fake tan lotion darkens to a beautiful, bronzed glow on your skin within four to six hours after one application. This natural-looking tan lasts for four to seven days and fades subtly like a natural sun tan without lightening to an unpleasant orange hue.
6. St. Moriz Instant Self Tanning Mousse
This fake tan from St. Moriz is a mousse formula rather than a lotion or spray. This unique formula is creamy and velvety and provides your skin with a bronzed glow that feels soft and gentle when applied rather than itchy and dry like many other fake tan products.
The St. Moriz fake tan mousse dries quickly with no streaks in order to avoid getting tanning stains on your skin. It is an extremely lightweight formula that never feels heavy on your skin and has a light and pleasing fragrance. This fake tan mousse is specifically formulated to last a long time to provide you with a semi-permanent warm glow.
5. St. Tropez Self Tan Bronzing Mousse
This fake tan mousse from St. Tropez provides long-lasting, streak-free warm color to your skin immediately. It dries incredibly fast in only sixty seconds to allow you to apply your tan and get dressed and out the door without worrying about streaks or stains.
The fake tan darkens into a beautiful glow within four to eight hours after initial application. Your darkened skin will last without fading for several days even after daily showers and exposure to water and moisture.
4. Jergens Natural Glow Daily Moisturizer – Fake Tan for face and body
This fake tan lotion from beloved moisturizer manufacturer Jergens is a daily moisturizer that provides you with a beautiful fake tan that lasts flawlessly until your next daily application. When applied every day, the glowing moisturizer builds up on your skin and darkens fully within one week.
The lotion is infused with a blend of natural botanical ingredients, including antioxidants and vitamin E. These ingredients condition and nourish your skin to leave it feeling soft, smooth, and moisturized after application.
3. L'Oreal Paris Sublime Bronze Properfect Salon Airbrush Self-tanning Mist
This fake tan mist from L'Oreal Paris is a special lightweight formula that cleans and exfoliates your skin as it tans. The light mist provides you with an even, streak-free, all-over tan that leaves your skin with a smooth, airbrushed finish straight out of a magazine.
The L'Oreal Paris fake tan product is extremely buildable and long-lasting. You can apply thin layers of it daily and allow it to darken to its full glow before applying again. Simply continue misting your skin evenly every day until you have reached the level of tan that you want.
2. Banana Boat Self-Tanning Lotion – best Fake Tan for legs
This fake tan lotion from Banana Boat provides your skin with an instant rich, highly pigmented warm glow that makes you look like you've spent hours baking in the sun. The lotion is free of any oils to prevent greasy build up and residue on your skin. It is also infused with natural aloe vera extract and vitamin E to condition and moisturize your skin while it tans for a soft and smooth finish.
The lotion is long-lasting and dries extremely quickly after you apply it. It is a streak-free formula that distributes evenly to your skin and leaves you with a smooth, natural finish that is free of any orange undertones.
1. Fake Bake Flawless Darker Self-Tan Liquid – Best Fake Tan for pale skin
This fake tan liquid from Fake Bake provides your skin with an instant deep tan that lasts longer than almost any other fake tan product on the market.
The fake tan product comes in a smooth, lightweight liquid formula with a light tropical scent that is easy to distribute evenly onto your skin. It comes with an application mitt and gloves in order to prevent you from excessively tanning your hands during application.
Fake tan products can be scary; you never want to end up with streaks or an uneven orange finish. By using the top seven best long-lasting fake tan products described in this list, however, you can achieve a seamless sunless tan that is long-lasting and looks completely natural. Do you love these face tan products? And you can find more beauty product reviews and beauty tips on herstylecode.com