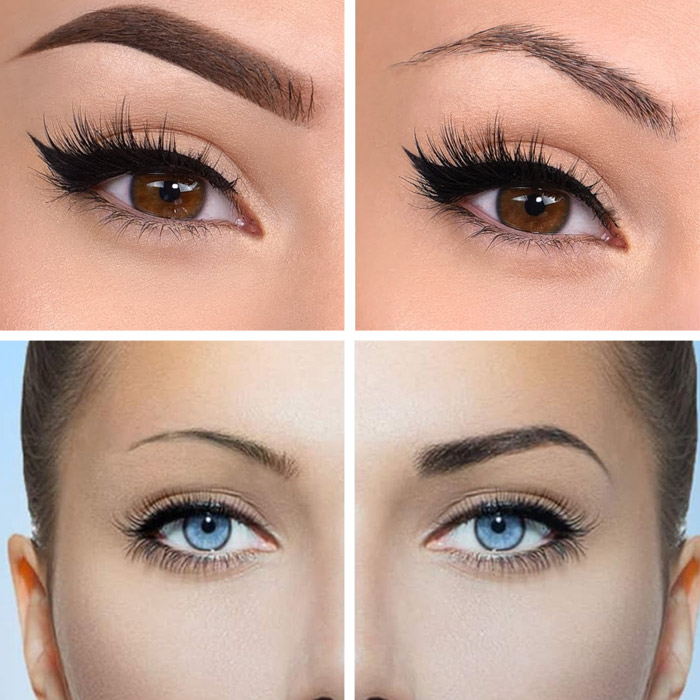 Lots of '90's fashion trends have made a come-back recently, but there are some retro-trends that are best left in the past. And one of these is eye-brow plucking to make your brows look like the Spice Girls! Because those of us who fell into the eye-brow plucking trap in the past, still need to find a way to retrieve this vital face-balancing asset! And the burning question is, 'Is there any way to make eyebrows grow back quicker?'
And the plain answer to that is, 'No, you can't speed up the rate of growth of your over-plucked eyebrows!' This information really ought to be taught in our schools, because plucked eyebrows come and go in fashion and we need to be aware of the agony we're storing up for the future when we over-pluck them. LOL!
But you can improve the thickness and condition of your brows by following a sensible nutrition and conditioning regime! So there's plenty to discover about how long it will take to get your brows back and what you can do to make your brows full and healthy-looking when they return!
Exactly how long does it take for brows to re-grow?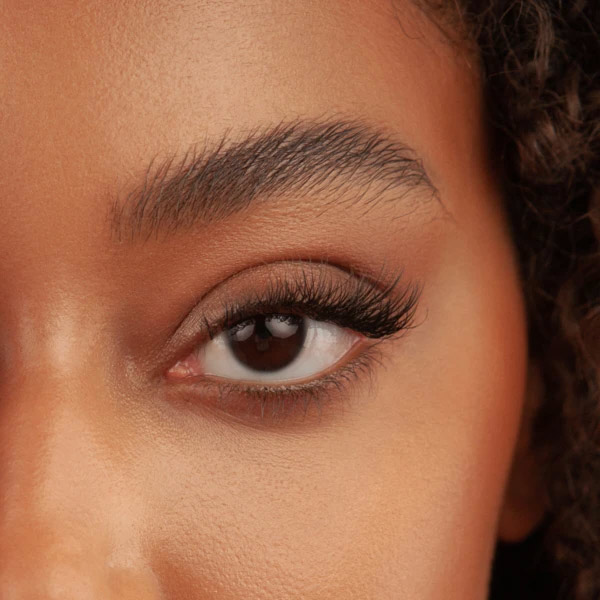 We all know the impatience you feel when waiting for a cut-too-short fringe to grow back. But I will never understand why the hairs we don't want – legs, upper lip and chin – grow noticeably day by day! And the hairs we do want to grow fast such as eyebrows, eyelashes and head hair, just dawdle along at their own slow pace!
Anyway, your eyebrows have a life-cycle of approximately 3 – 4 months, so some women can grow new eyebrows in about 12 weeks and others have to wait a little longer. And on those with the least hair to begin with, red-heads and natural blondes, the rate of growth can be up to a whole year.
So this means you should give the eyebrow tweezers a good, long rest, and leave the whole area alone to let the hair follicles recover and re-grow.
Is there anything at all you can do to help the eyebrow re-growth process?
Yes, you can help the process by using an eyebrow growth serum that feeds the hair-roots and keeps them healthy while they recuperate.
Eyebrow serums are modern products that contain vitamins, biotin, antioxidants and peptides, which boost keratin production and lengthen the life-cycle of brow hairs. This makes the hairs you already have grow to a longer length than they would normally reach. And longer brow hairs give the look of thicker brows.
So although your plucked hairs aren't growing faster, your brows will look thicker and better while you wait for new hairs to grow! And the serum contents create the best conditions for healthy, new growth.
How often do I need to apply eyebrow serum to promote healthy re-growth?
Using an eyebrow serum is something you need to do consistently, applying it every day for noticeable results, over a few months. But it's worth the effort to get the thick, upward combed look currently winning the eyebrow trends on Instagram.
How do you choose an effective Brow Serum?
First and foremost, look out for keratin, which is a natural way to help your hairs re-grow. Then check for biotin, which generally strengthens hair-follicles. And amino acids are important, as they make the hairs more flexible, so they won't break off.
In addition, a good brow serum should contain a conditioner, such as castor oil, to moisturize and strengthen the hairs. And as always, hyaluronic acid is useful to increase hydration and make your brows look fuller and glossier.
And if you feel an eyebrow serum is beyond your current budget, use Castor Oil, which has been used for thousands of years to condition eyebrows. You can also use Extra-Virgin Olive Oil or Vaseline to condition, 'feed', and hydrate your skin and hair-roots.  They are traditional, natural moisturizers that contain vitamins and nutrients that keep the hairs looking shiny and healthy. And here are some great eyebrow products for you to choose from.
Does a special diet help your eyebrows grow better?
Yes, definitely. So if you're just eating processed foods, even if they are vegetarian, your body will probably lack the essential nutrients needed for healthy hair growth! After all, our bodies are like cars that need the right fuel, and if you only give your body processed food, without basic nutrition, its repair processes just can't operate properly!
It doesn't sound as glamorous as massaging your brows with an eyebrow serum, but eating plenty of fruit, nuts, oily fish and vegetables is something that should always be your first check-point to getting your eyebrows back!
If you don't eat a healthy, balanced diet of natural, unprocessed foods your body won't have the basics like biotin, omega oils and vitamins A – E that we need to promote hair growth.
So here's a handy list of foods to include in your daily, eyebrow re-growth diet!
Almonds
Avocados
Broccoli
Brussels' sprouts
Carrots
Kale
Mackerel
Olives
Salmon
Spinach
Sweet potatoes
Tomatoes
Walnuts
And try to step away from sugar in all its processed forms.
How can you shape brows without plucking them?
If you feel your brows are looking untidy during the re-growth period, be patient and resist the urge to tidy them up with your tweezers. The individual brow hairs will grow back at a different pace, until they finally make a complete brow with no gaps.
But if you tweeze out hairs randomly, you may leave an uneven shape with little gaps when the process is finished. If necessary, use Brow-Shaping scissors to trim any annoying hairs that are sticking out awkwardly.
What's the best way to enhance eyebrows with color while they re-grow?
Products like the KIMIKO Super-Fine Eyebrow Pencil are low-oil, so they won't cause blockages of the skin pores and hair follicles. And as this eyebrow pencil is designed to create really fine pencilled-in hairs, it's a great way to fill in and shape recovering eyebrows – for a well-groomed, fuller look.
In addition, clear or colored brow gels can help improve the appearance of brows that are recovering from over-plucking, without causing any damage to your skin or hair-follicles. You just brush the gel in a vertical, upward direction to help fill in any gaps and leave your brows looking fuller until you remove your makeup.
What's the most fashionable eyebrow trend right now?
It's definitely brow lamination. Brow lamination is a pain-free, semi-permanent treatment that lasts about 3 – 4 months. It perms your brows into an upward brushed shape that lasts until the hairs finish their life cycle and are replaced by new growth.
So the message is hang in there and give your over-plucked eyebrows time to recover and re-grow. Keep your body, hair roots and follicles nourished with a healthy diet, plus a brow serum or a daily, natural-oil massage.
And cover the gaps with a super-fine brow pencil or brow gel until your brows are back to their full volume and ready for styling by a professional brow artist!
It's well worth being patient because with good care your brows will come back to be beautifully shaped frames for your eyes that give your face a lovely 'lift' and better definition!
Uncommon eyebrow styling mistakes!
And just to show that we all make mistakes – who's brave enough to share their worst eyebrow plucking disasters? I'll start the ball rolling by embarrassing my sister, who'll probably be very angry with me for this. 🙁 Sorry, sis!
The first time my teenage sis plucked her eyebrows she got the thin end and thick end mixed up. So she ended up with brows that were thinnest near the nose – and became thicker as they fanned out to the sides. LOL! And sitting around the dinner table that evening – trying not to notice how weird she looked – was a real 'try not to laugh' challenge!
What happened to you and what did you do to cover your error while waiting for the tortuous re-growth period to pass by? Don't be shy – we love hearing from you!
And when you're ready to get your brows properly styled, read my recent article, Trendy Brow Lamination – A Complete FAQ Guide to Brow-Beauty Without Tears! which explains this simple, pain-free process and includes all the most important FAQ's! Subscribe to get more beauty tips on herstylecode.com(HSC)!