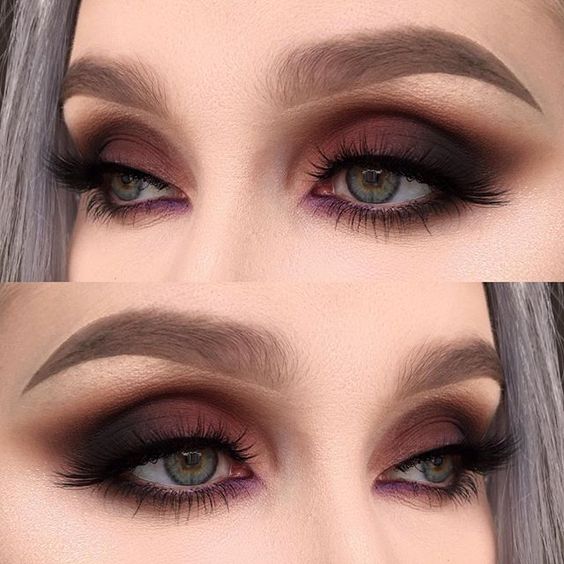 A smokey eye is one of the most classic makeup looks. At one time, women generally reserved their smokey eye looks for special occasions. However, smokey eyes are now an extremely popular eye makeup look for everyday wear as well as for more formal events. The smokey eye look has gained so much notoriety among makeup lovers everywhere that several prominent makeup brands–including Urban Decay and bareMinerals–have released eyeshadow palettes designed specifically to help women create the perfect smokey eye.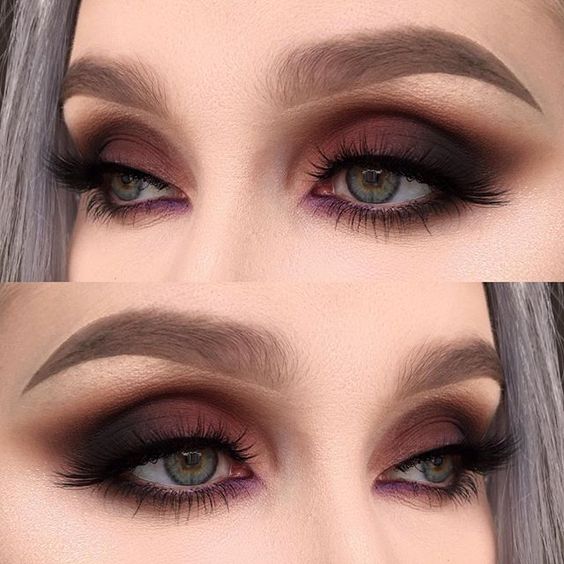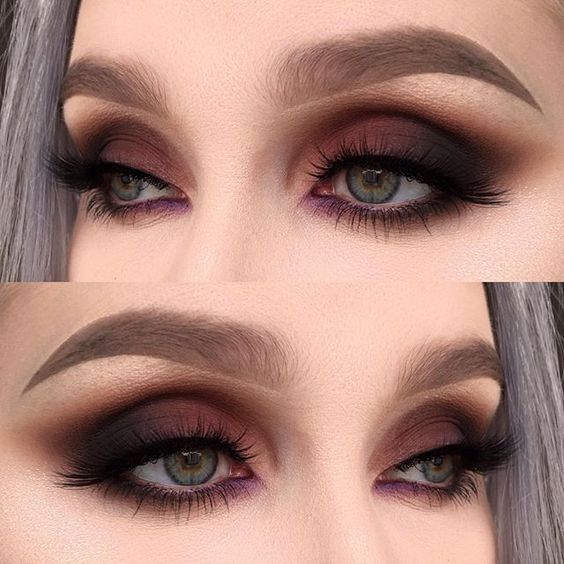 There is absolutely nothing wrong with a classic smokey eye. However, tried and true smokey eyes have become so popular that some women feel that this look is overdone. If you want to set yourself apart from the countless other smokey-eyed women, you can pronounce your individuality by putting subtle spins on a classic smokey eye look to make it uniquely your own.
1. Create a Cut Crease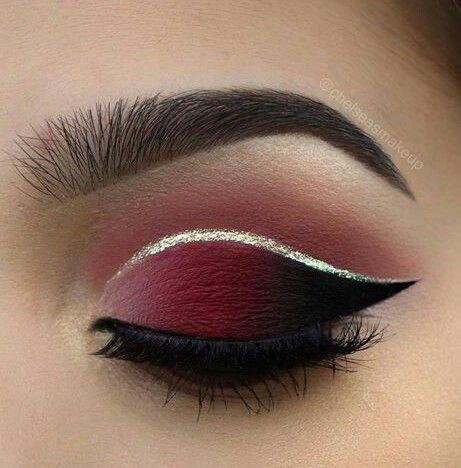 Cut crease smokey eye looks let you combine two major eye makeup trends into one look while still setting you apart from the women who opt for one look or the other. With cut crease smokey eyes, you can be unique and trendy. What could be better than that?
To create a cut crease smokey eye, use light shades of white or gray on the lower part of your eyelids. Blend a darker shade of gray or black up from the crease of your eyelids toward your brow bone. Finish off this dramatic look by applying black liner on your top and bottom lash lines to enhance your eyes and make them appear wider and brighter.
2. Get Colorful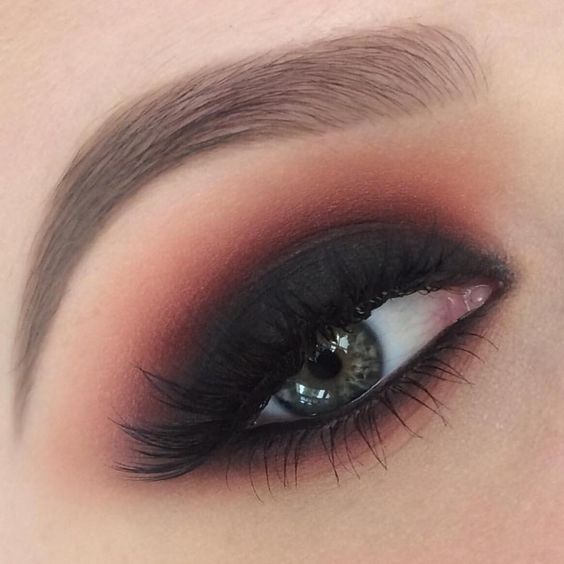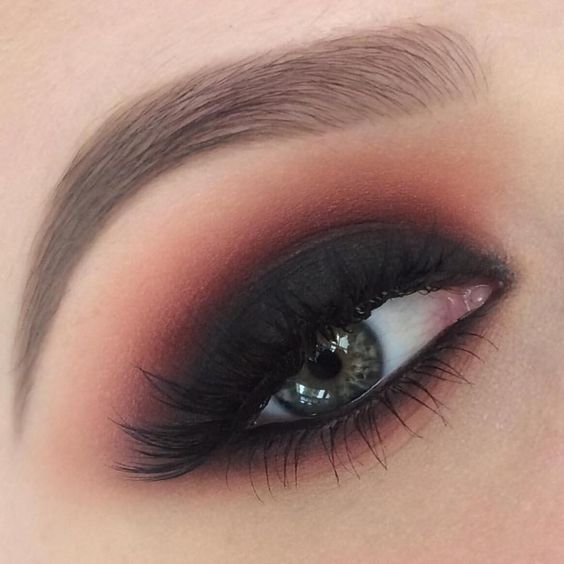 Traditional smokey eye looks usually consist of black and shades of gray or silver or dark brown and gold. These colors enhance your eyes and make them look brighter and stand out. However, dark brown or black smokey eye looks can get dull and boring after a while. If you want to try something new, consider adding some color into your smokey eye palette.
You can create beautiful colorful smokey eyes using a gradient of complementary colors in both light and dark shades. Experiment with red, pink, and gold shadows to create a smokey sunset look. Or, go bolder with a blend of contrasting colors, like blue and orange. Remember that your colorful smokey eye should be the focal point of your look. Keep the rest of your makeup simple and neutral to avoid looking silly or clownish.
3. Customize For You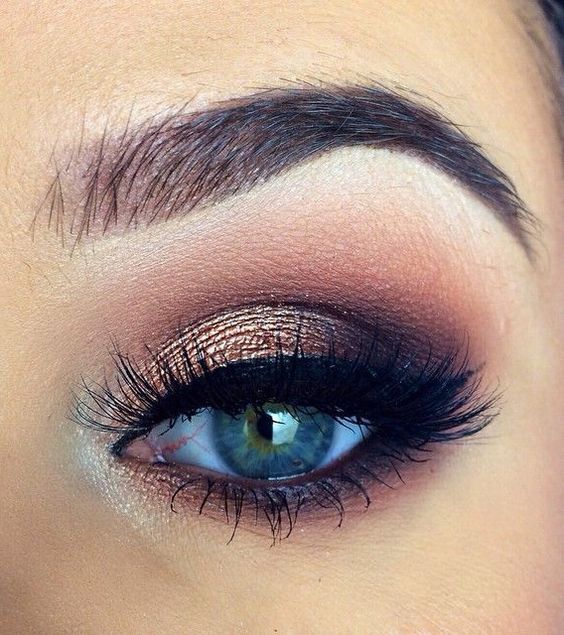 One effective way to individualize your smokey eye look is to customize it specifically for your eyes. Many women who wear classic smokey eye looks don't consider altering the look to better complement their unique eyes. Every woman's eyes are different, and the shape and coloring of your eyes can make a significant difference in how your smokey eye makeup looks.
Rather than just settling for a standard smokey eye, consider what kind of smokey eye makeup would look best with your eyes. Bold smokey eyes complement prominent wide eyes, while lighter shadow shades help make smaller eyes look wider. Shimmery smokey eyes enhance the appearance of almond eyes and darker shades accentuate round eyes. Gold, gray, and plum smokey eyes bring out the warmth of hazel eyes; brown and green shades make green eyes look brighter; plum and metallics create a gorgeous contrast against blue eyes.
4. Make it Monochrome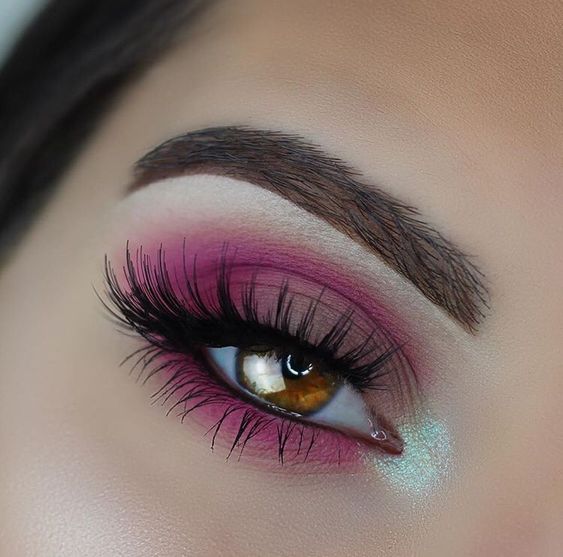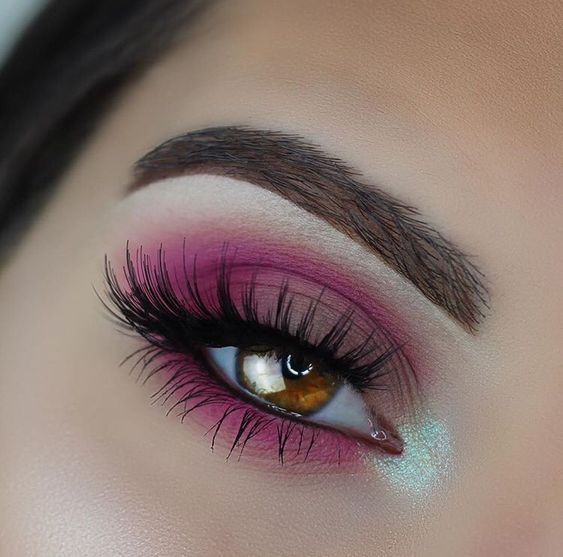 You can create stand-out smokey eye looks using three different shades of the same color. Monochrome smokey eyes are easy to apply and stand out from standard smokey looks while enhancing your eyes in the same way.
Monochrome smokey eye looks can be based on virtually any color, as long as it only includes lighter and darker shades of the same color. Darker colors like brown and gray make for more dramatic monochrome looks, while subdued shades of pink create a softer finish.
5. Tone it Down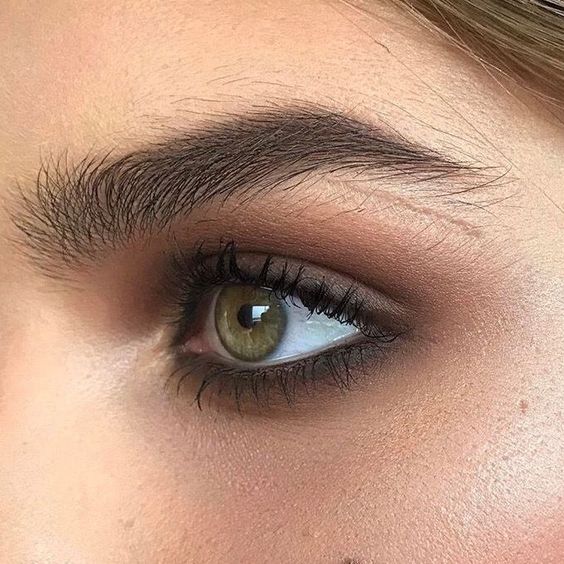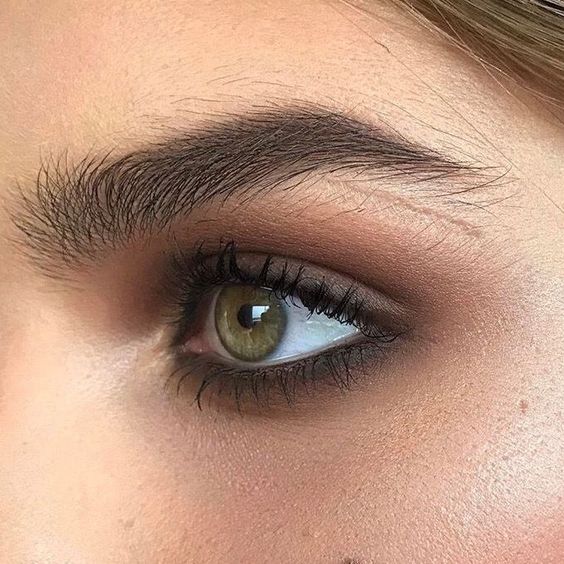 Although smokey eyes are traditionally a bold and dramatic look, sometimes less can be more. If you want to make your smokey eye more appropriate for a wider range of casual occasions, you might want to consider toning down the look.
To create a more casual smokey eye look, keep the bulk of the eyeshadow you apply below your crease. Restrict the darkest shade you use to the outermost third of your eyelid. Use lighter shades as you approach the inner corners of your eyes. Shades of pink create a beautiful smokey eye look for more casual occasions. Blend the shadows thoroughly and finish your look with soft, smudged brown liner on your bottom lash line.
6. Go All the Way Up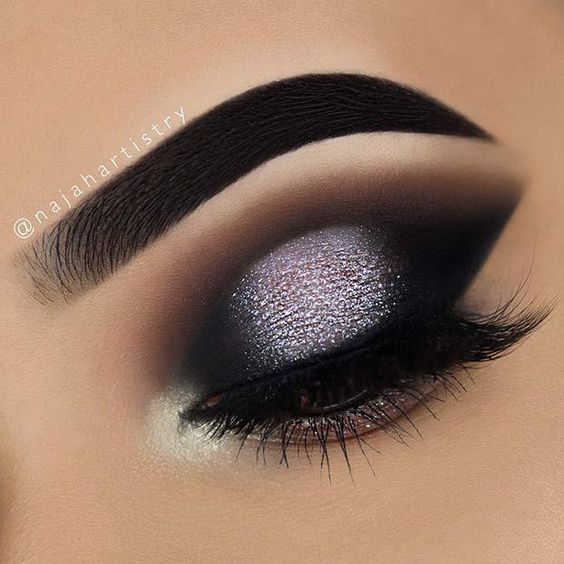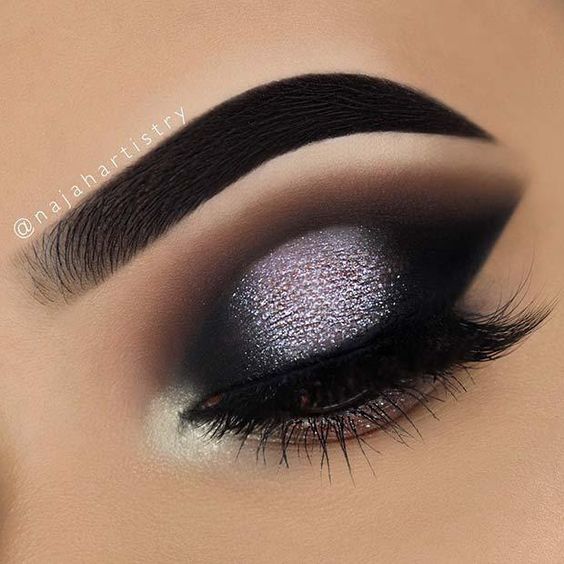 If you want to create a very bold smokey eye, consider crossing the boundaries of where you normally apply your eyeshadow. Most women restrict their eyeshadow to the area of the eyelid below the brow bone. Applying shadow further up the brow bone is risky, but it can create a glamorous, bold smokey eye look if done correctly.
The key to this dramatic smokey eye look is blending. Blend the lightest shade you're using in your look up onto your brow bone. Leave a small space between the bottom of your brow and your eyeshadow. Blend the shadow into a round shape and define your brows boldly to help them stand out from your eye makeup.
7. Go Glittery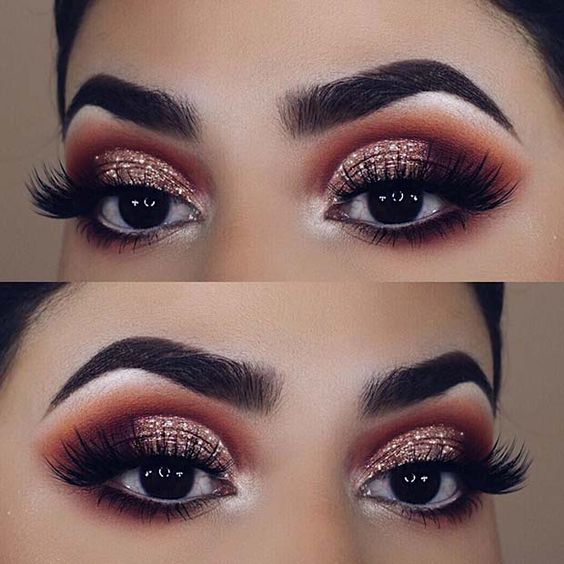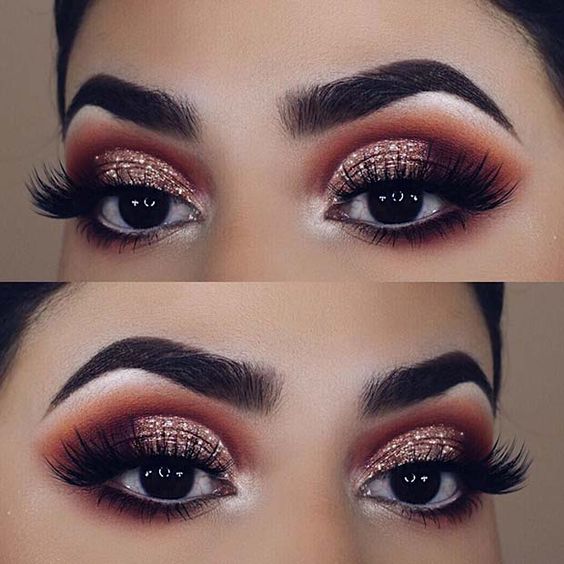 A little bit of sparkle can go a long way in a smokey eye look. Incorporating eyeshadows with a sparkly or shimmery finish into your smokey look adds instant interest and glam. Try blending darker shades that have a matte finish with lighter shimmery shades. Or, brush loose fine sparkle dust over your entire eyelid after you've applied eyeshadow.
If you're not a fan of sparkles, you can also use the highlighter to accentuate your smokey eyes. Finish off your smokey look by highlighting along your brow bone and around the inner corners of your eyes.
Expand your horizons and rethink what a smokey eye can and should look like. Revolutionize your standard smokey eye and create head-turning looks by using some of the fun and trendy tips in this post in your own makeup routine. Find more beauty tips and latest hottest hairstyles on herstylecode.com