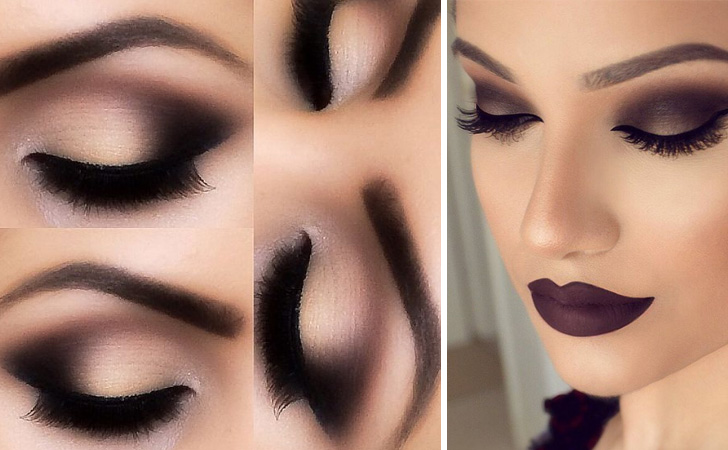 Smokey eyes are one of the most popular and trendy current makeup looks. They traditionally include three different shades of eyeshadow: a dark, medium, and light shade. These different shades blend together to create the perfect contoured and dramatic look. This dark style is a perfect choice for a party or a date night out. Traditionally, smokey eyes are renowned as a gorgeous nighttime makeup look. This eye makeup style is generally considered to be formal and elegant.
However, smokey eyes don't need to stay confined to nighttime hours after the sun goes down. Classic smokey eyes are extremely dark and involve colors like gray, black, and dark brown. Creativity goes a long way when it comes to smokey eye makeup. There are many different variations of smokey eyes that make this style perfect for a wide variety of occasions beyond the classic fancy night out. You shouldn't have to feel like you can't rock a smokey eye just because it's three in the afternoon. All you have to do is add a bit of creativity to the look to make it fit any occasion.
Simple Smokey Eye for Beginners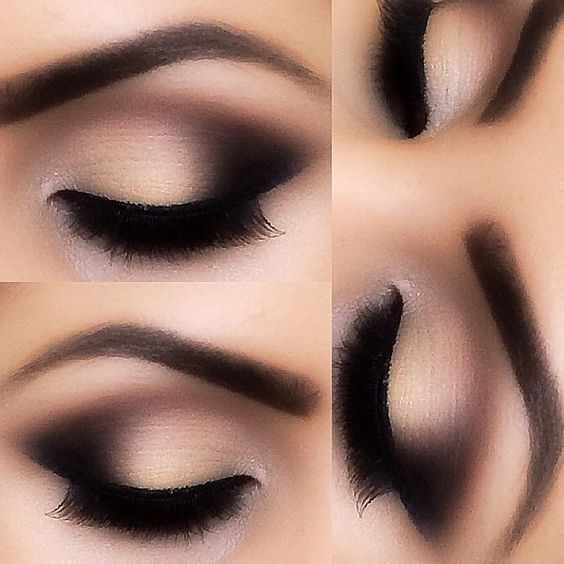 via pinterest
This smokey eye is close to a classic version of the look. However, it is a bit lighter and more versatile than the traditional smokey eye. This style keeps the eyeshadow at a light nude shade until it introduces a darker shade right at the outer corner. Plus, the dark eyeshadow stops right at the crease of the eye in order to keep the browbone light.
Simple Smokey Eye for Brown eyes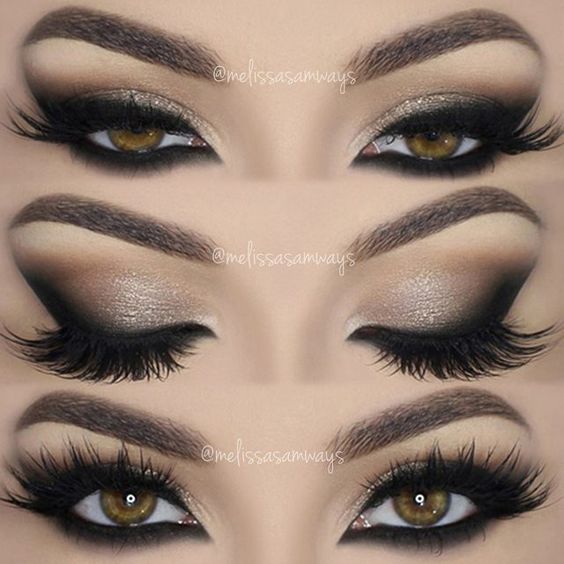 This uber-dramatic smokey eye look combines shimmer and thick winged eyeliner with a classic smokey eye for extra pizazz. To achieve this look, use a shimmery nude instead of a matte shade for the inner corner and center of your eyelid. Also, apply thick winged liner and blend it into the darker shade in your outer corner for a smooth, dramatic finish.
Classic Black Smokey Eye – Smokey Eye makeup ideas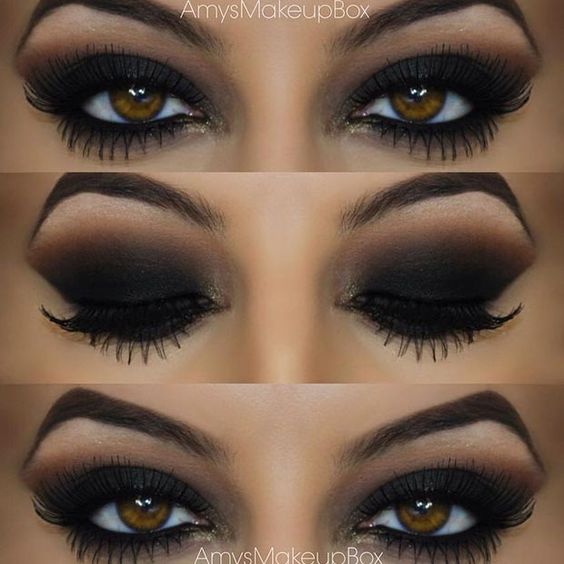 This smokey eye look is about as dark and dramatic as possible. Unlike other smokey eye looks that get progressively darker from inner to outer corner, this look uses black eyeshadow across the entire eyelid. Then, it blends upward into a lighter color near the browbone for a smooth finish.
Simple easy Smokey Eye with glitter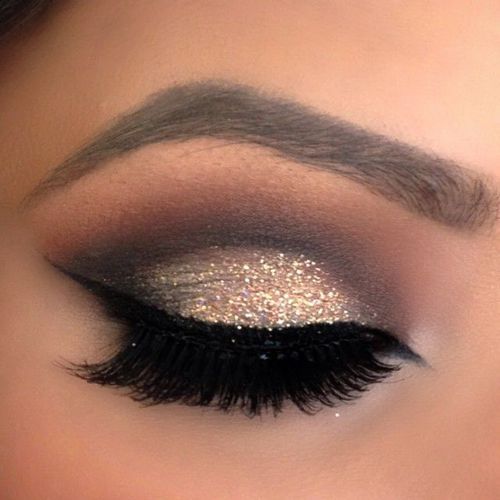 This intricate look combines a classic smokey eye with a trendy cut crease. It uses a dark shadow above the crease of the eyelid and a light shimmery shade across the center of the eyelid to create a gorgeous, dramatic contrast.
Smokey Eye makeup – Smokey Eye color ideas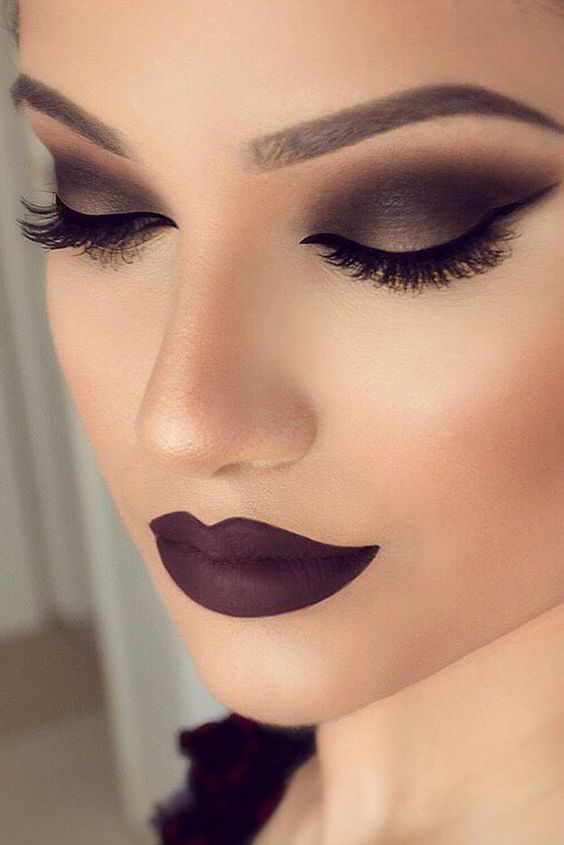 Not all smokey eye looks consist of the same formula of light and dark shades. The look above, for example, uses a light shadow along the lash line and blends upward into a darker shadow. This twist on the traditional look helps your eyes appear wider and brings them forward rather than allowing them to recede into your head.
Golden Smokey Eye makeup ideas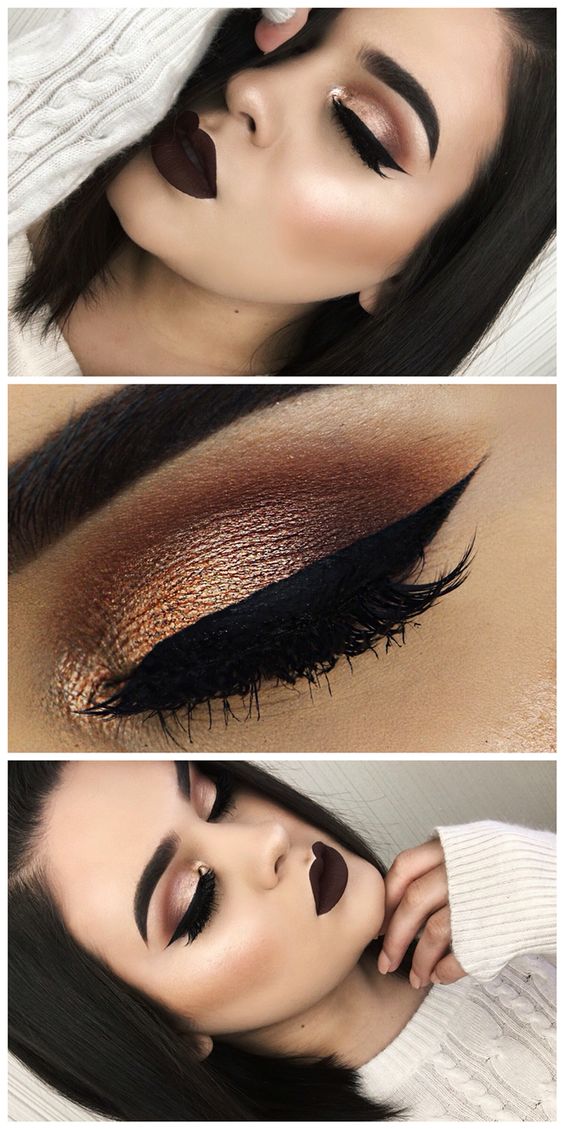 A gorgeous, shimmery copper smokey eye look is perfect for the autumn and winter months. Because it doesn't use extremely dark shades like gray or black, it works well for daytime occasions that are less formal. The shimmery copper colors pair well with a dark red or purple lipstick like the one above.
Purple smokey eyes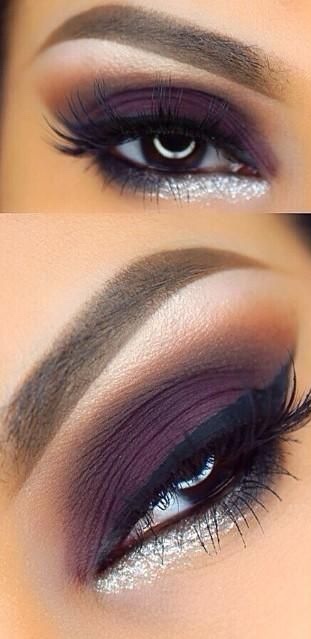 Different shades of purple are frequently used in place of black or brown for smokey eye looks. Purple is a great choice of shade because it adds color to the look while keeping it dark and dramatic. The look above demonstrates a gorgeous plum smokey eye. It also includes a line of light shimmer along the bottom lash line to brighten up the eyes and help them appear wider.
Simple easy brown smokey eye makeup idea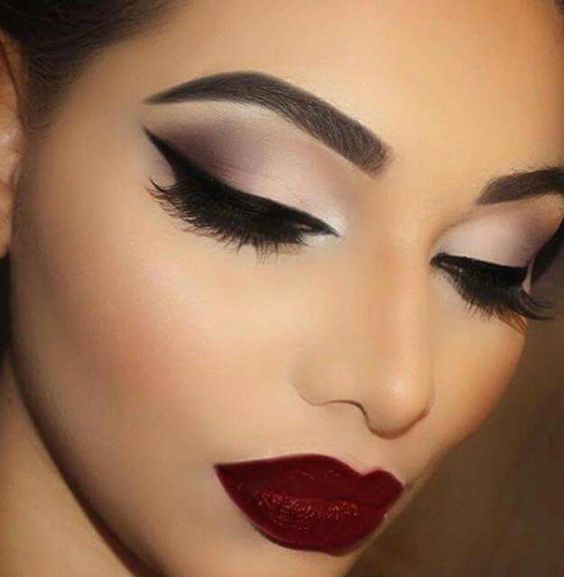 The look above is a perfect example of a light and versatile look that still falls under the category of a smokey eye. It involves a progression of shades from light to dark like a classic smokey eye. However, the colors it uses include white and lavender. These color choices make this smokey eye look perfectly presentable for any daytime event.
Trendy easy dark smokey eye makeup idea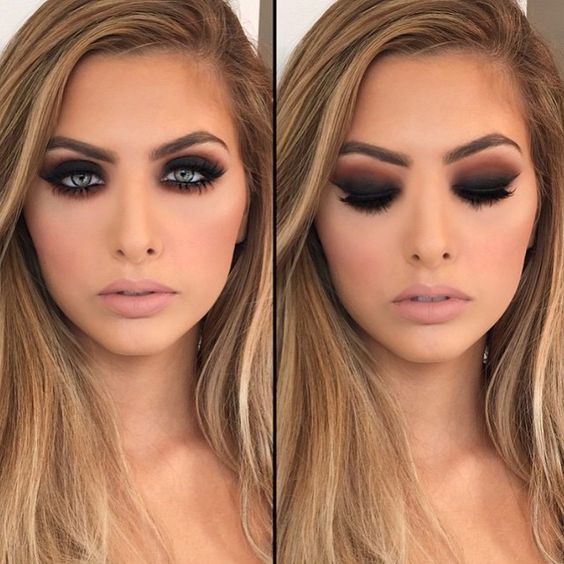 Smokey eye looks don't have to include different shades of just one color. Like the look above, they can involve multiple different colors and still look beautiful. This look includes a black shadow that blends upward into a beautiful shade of reddish-brown. The blend helps the look appear more elegant and less dramatic and gothic.
Easy step by step smokey eye tutorial for beginners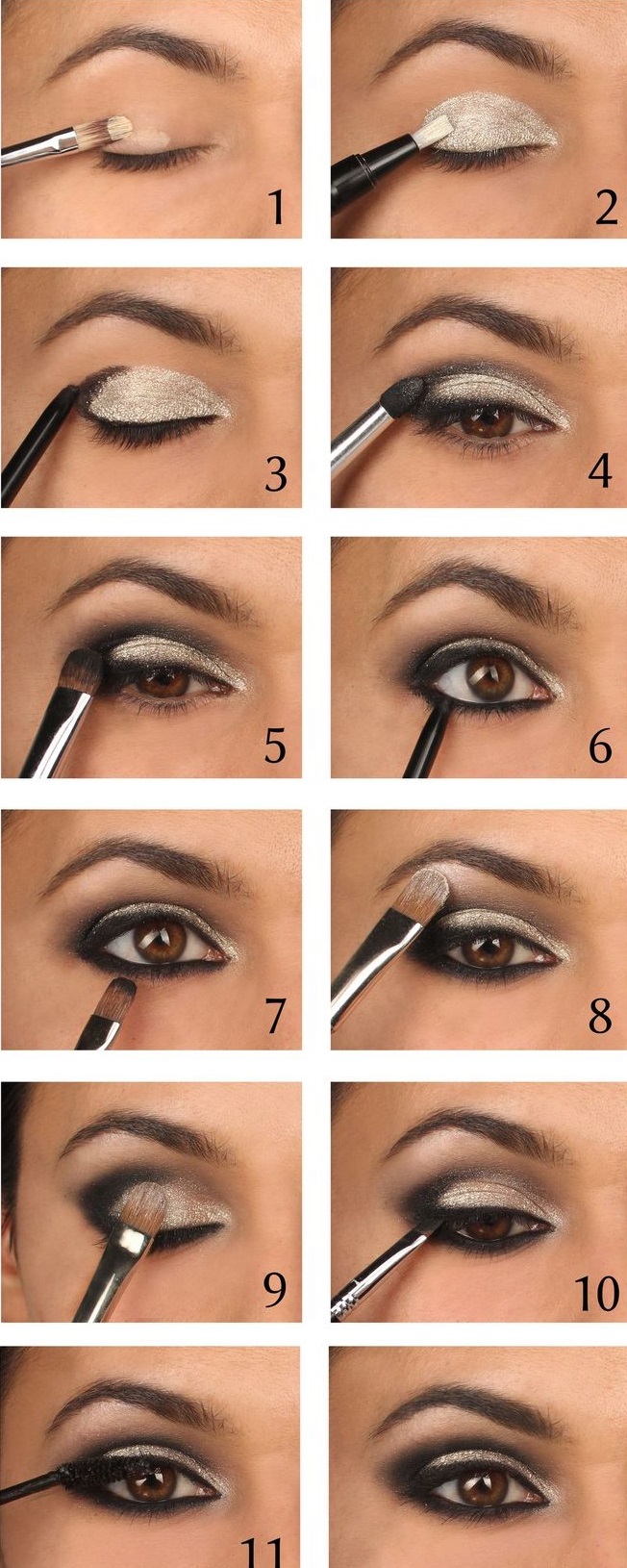 The above tutorial shows a perfect step-by-step method for achieving the perfect classic smokey eye look. Smokey eyes are a daunting style, but they don't have to be intimidating. Use a traditional formula like the one above to create a gorgeous smokey eye that never fails to impress.
How to Apply Smokey Eyeshadow Step by Step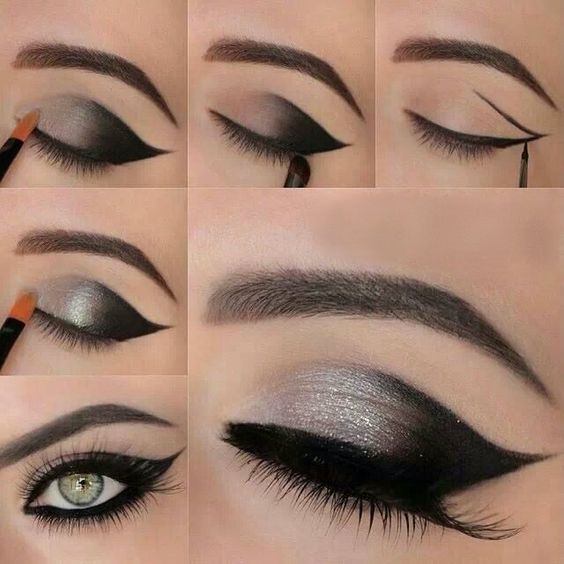 Soft Look for Hazel Eyes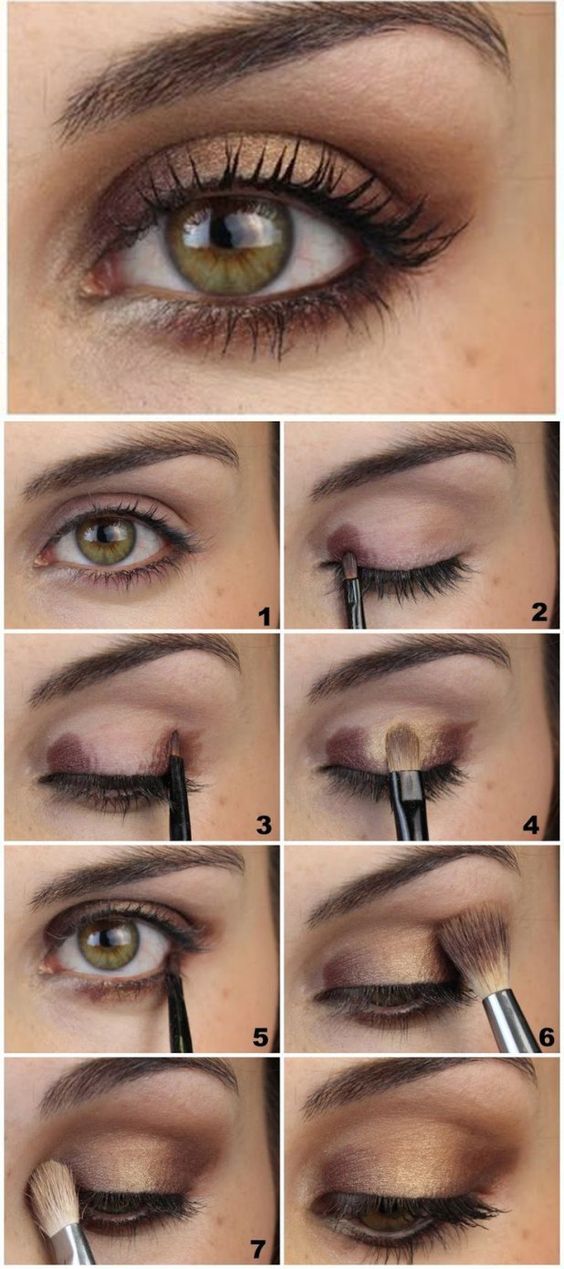 Smokey eye tutorial for brown eyes

Easy step by step smokey eye tutorial for beginners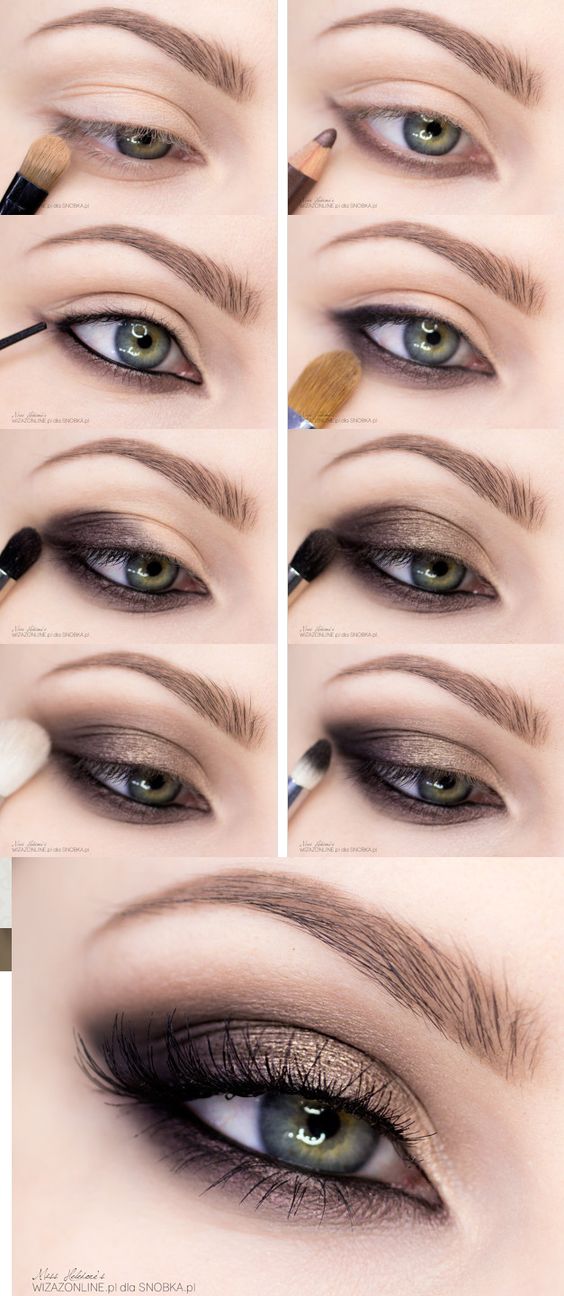 via lulus.com
How to do a smokey eye for blue eyes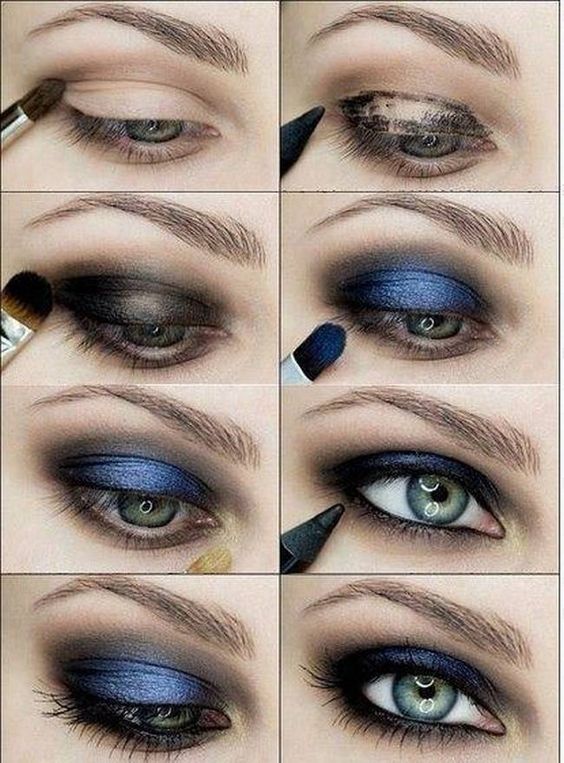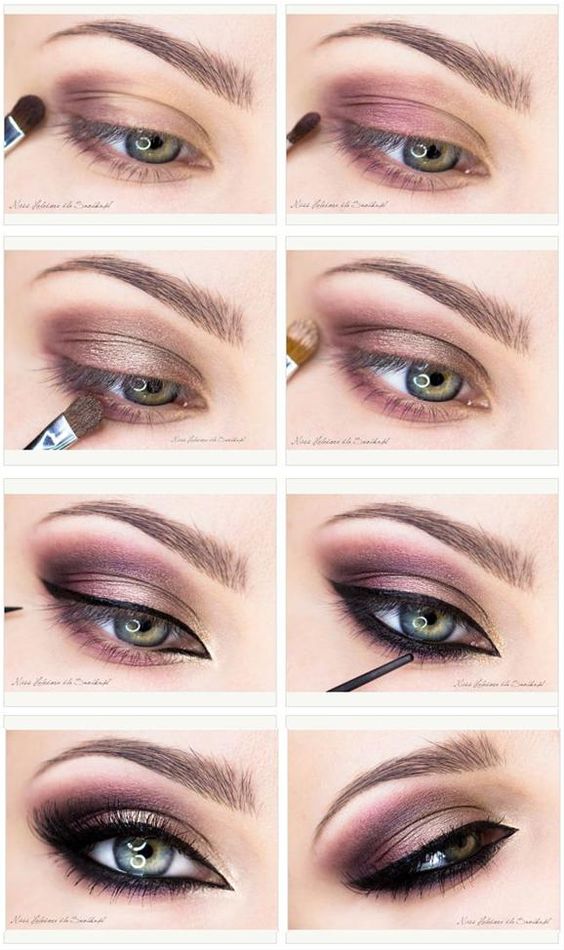 Step By Step Makeup Tutorials for Beginners: Graduating Blue Smokey Eye

Natural smokey eye tutorial for beginners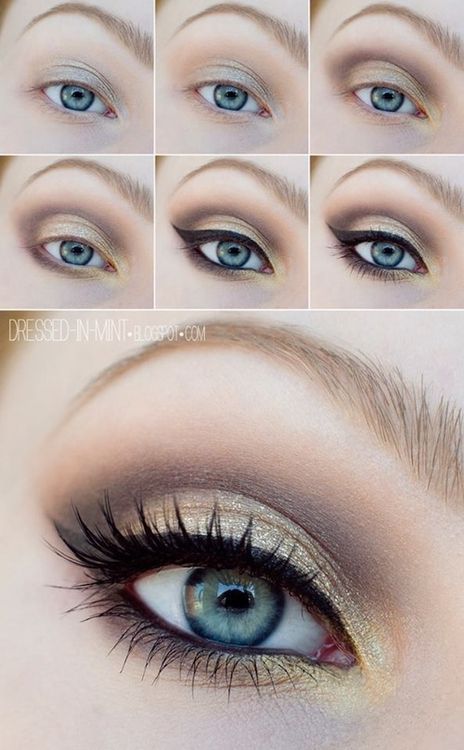 How to do smokey eye makeup for beginners

Easy simple step by step dark purple smokey eye tutorial for beginners

Easy step by step dark blue smokey eye tutorial

Easy smokey eye tutorial for beginners

Easy step by step green smokey eye tutorial

How to: Step by step light Smokey Eye makeup tutorial for brown eyes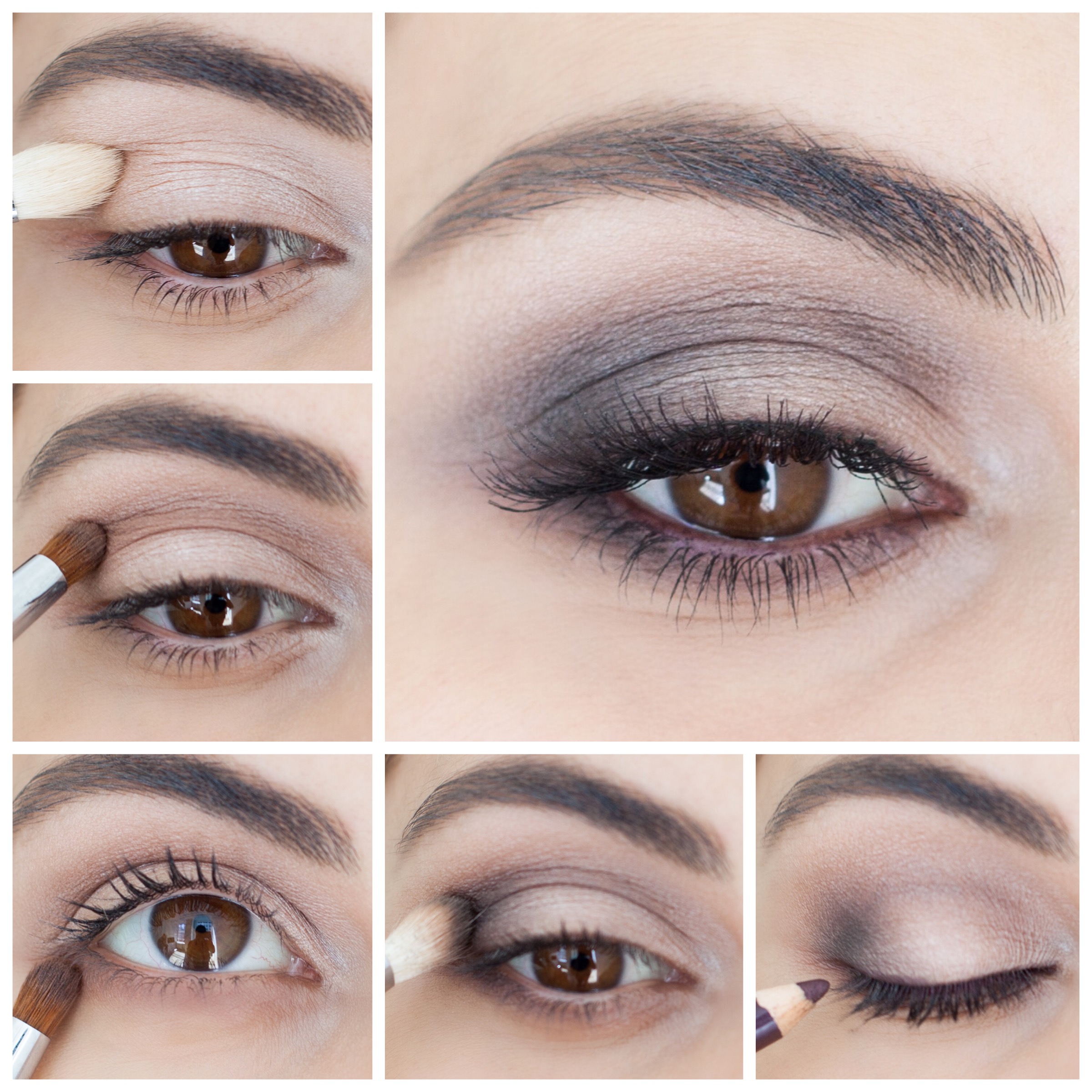 And here are more smokey eye makeup ideas, enjoy.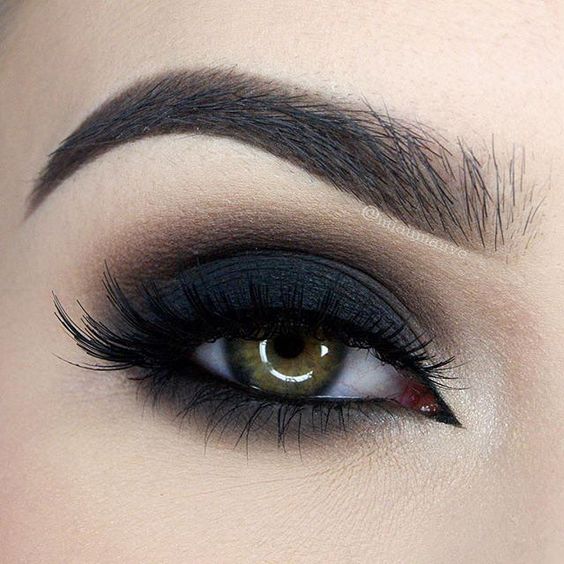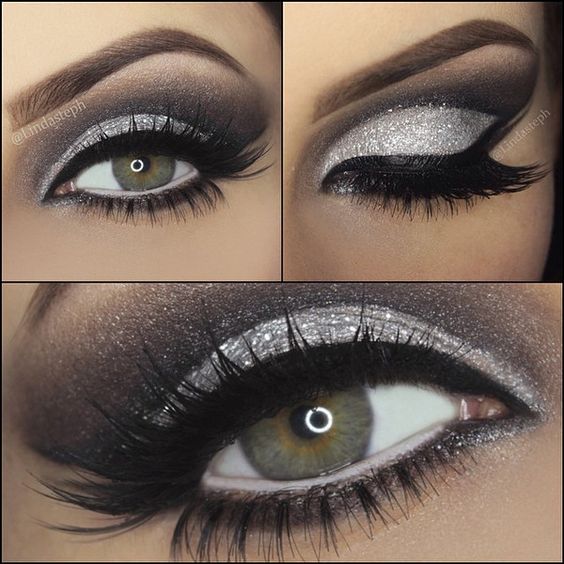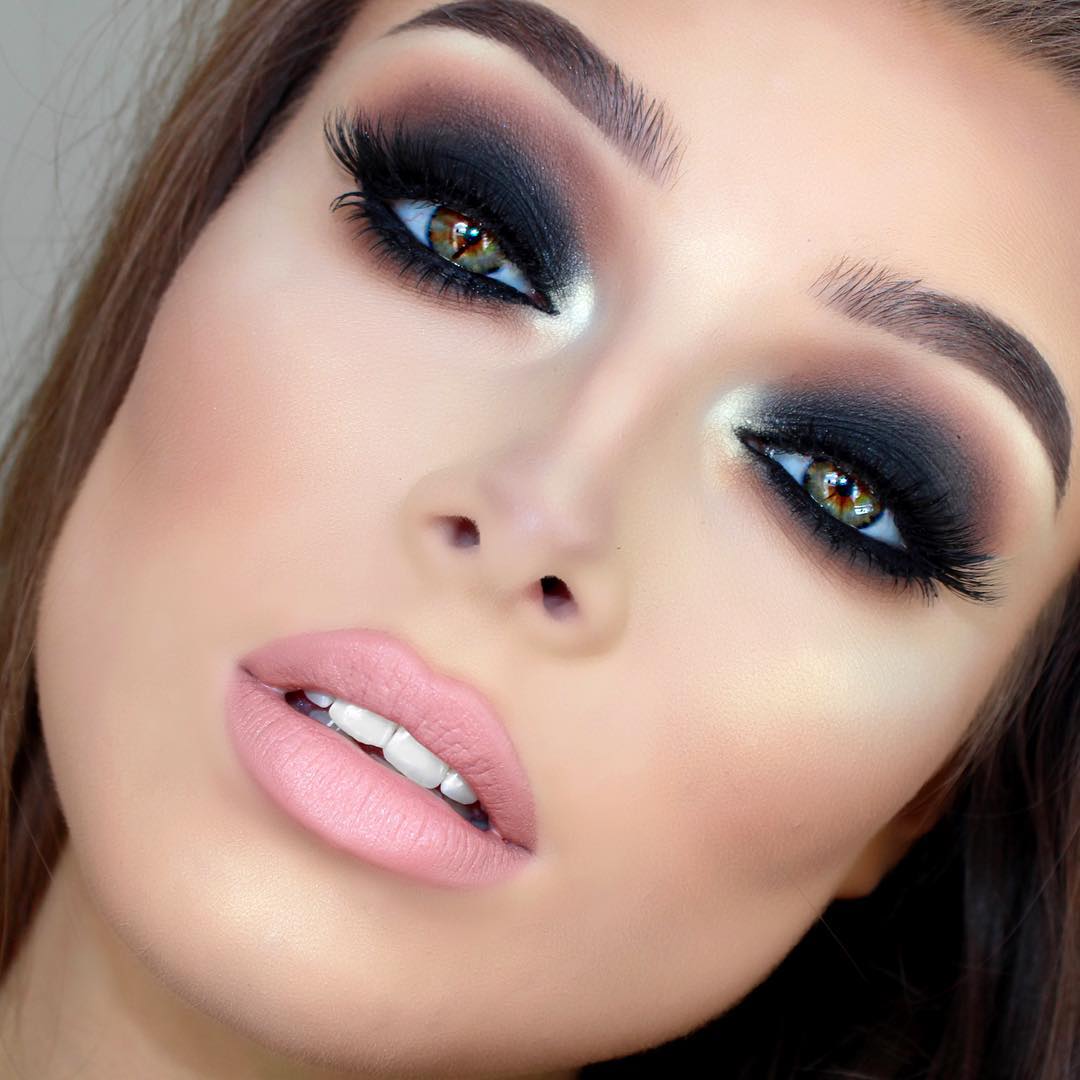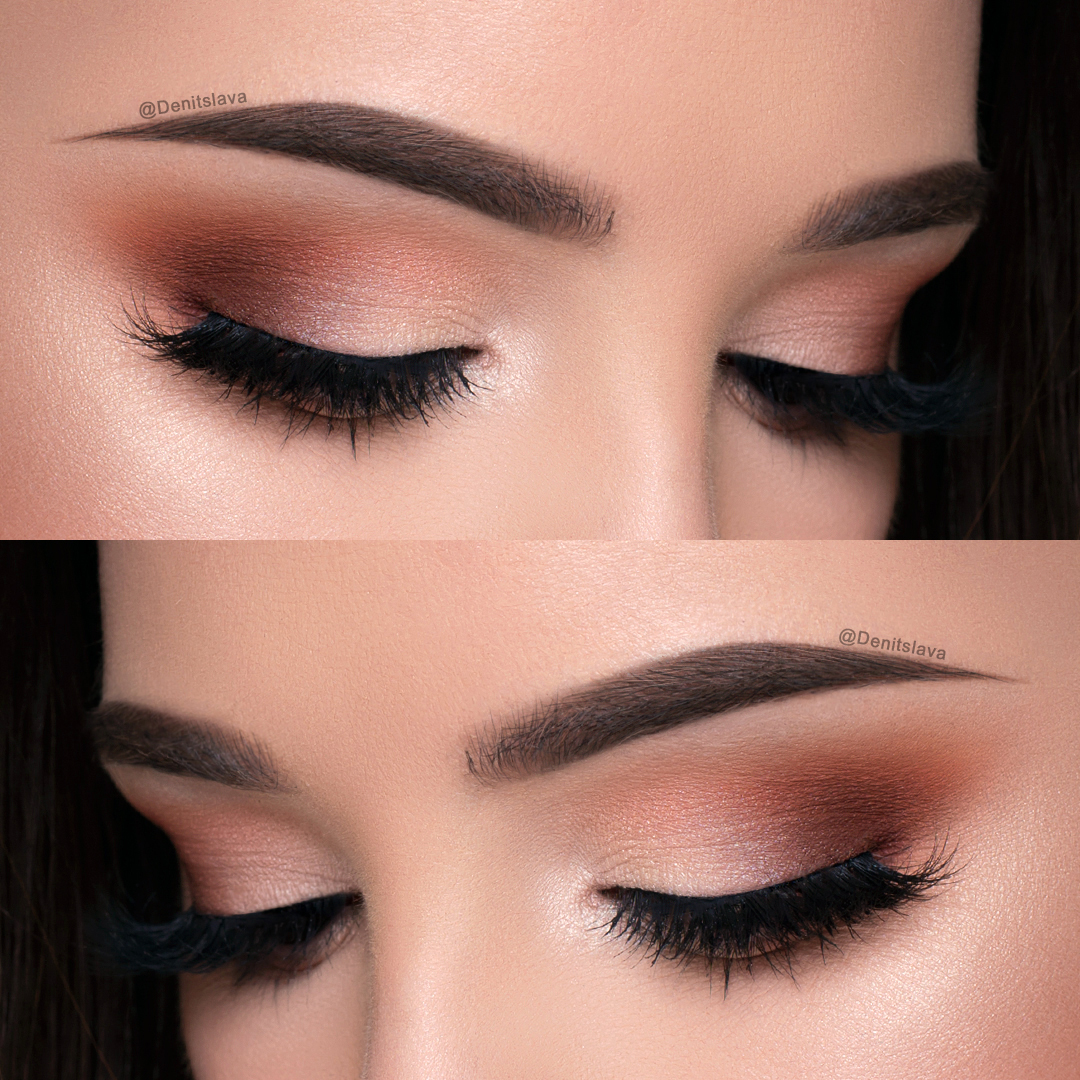 Purple smokey eyes
Light smokey eye for blue eyes