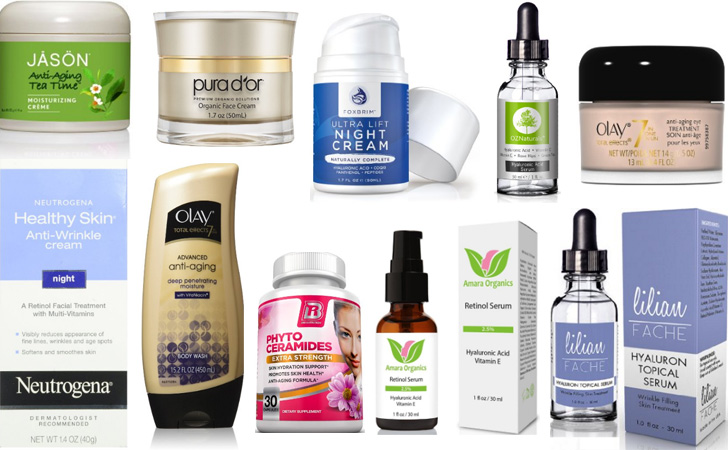 Aging is a perfectly natural part of life. However, showing visible signs of aging on our face and skin is something that most of us dread as our thirties and forties pass us by. Wrinkles, fine lines, crow's feet, sagging, and age spots are not necessarily the most attractive skin adornments we could attain, but developing them is natural all the same.
If you're sick of feeling self-conscious and unconfident about your visible signs of aging, however, keep reading the following anti-aging product reviews to discover the top ten best anti-aging products that can help you look and feel younger.
10. Neutrogena Healthy Skin Anti-Wrinkle Night Cream
You don't want to have to apply a thick, intensive anti-aging cream during the daytime, when you'll have to contend with makeup application and greasy residue all day long. In many cases, it's better to apply an anti-aging night cream instead and let it work its magic while you get your beauty sleep.
A great anti-aging night cream to try is this cream from Neutrogena, which is infused with  firming retinol and a blend of rejuvenating multi-vitamins. Along with quickly reducing the appearance of fine lines, wrinkles, and age spots, this cream also intensely hydrates your skin in order to leave it looking and feeling bright and supple when morning comes around.
9. Beautifully Radiant Phytoceramides
How many times have you looked in the mirror, sighed, and wished you could just pop a pill to eliminate your visible aging signs once and for all instead of investing in painful and expensive treatments to get rid of them? If you're like many aging women, your answer to that question is likely, "more than I can count".
With this special anti-aging formula of phytoceramides that use a blend of plant-derived extracts to restore your skin's collection of rejuvenating ceramides, you can effortlessly restore your skin to its original youthful appearance. Infused with vitamins A, C, and D, these phytoceramides naturally and safely hydrate, firm, brighten, and rejuvenate your skin while eliminating your wrinkles and fine lines.
8. Lilian Fache Hyaluronic Acid Topical Wrinkle Erasing Serum
Heavy creams and moisturizers aren't the only topical skincare products that can work wonders for your aging skin. Lightweight serums can also be effective at reducing visible signs of aging without weighing down your skin or clogging your pores.
This topical anti-aging serum from Lilian Fache is infused with an abundance of hyaluronic acid, retinol, and vitamin C, all of which are special ingredients used in many anti-aging products to eliminate wrinkles, restore your skin's elasticity, stimulate the production of fresh skin cells, and soothe your skin with anti-inflammatory properties. This blend of ingredients leaves your skin looking and feeling bright, fresh, and young.
7. Jason Natural Anti-Aging Tea Time Green Tea Crème
You might think of green tea as solely something you drink for its renowned health benefits. However, green tea can be an extremely effective ingredient in anti-aging products as well, as it helps renew and rejuvenate your skin while combating additional development or aging signs.
This face cream from Jason Naturals is infused with a special blend of green tea and vitamins A, C, and E in order to hydrate, moisturize, rejuvenate, brighten, and restore your skin to its original youthful glow. Formulated without harsh ingredients such as petrolatum, phthalates, sodium laurel sulfates, and synthetic dyes, the cream is completely natural and is safe and gentle to use on even the most sensitive skin.
6. Olay Total Effects Advanced Anti-Aging Deep Penetrating Moisture Body Wash
It might seem far-fetched to you that simply washing your skin with a special body wash can really help you eliminate your wrinkles and other visible aging signs. Can washing off your wrinkles really be as easy as it sounds?
With this moisturizing body wash from Olay, the answer to that question is a simple yes. Infused with a blend of intense moisturizing ingredients, the body wash intensely hydrates the skin all over your body and leaves it feeling firm, bright, restored, smooth, conditioned, and free of fine lines.
5. FoxBrim Ultra Lift Night Cream
You might concede that some anti-aging products can be effective at reducing the appearance of wrinkles and fine lines. But only expensive and painful treatments can lift up and restore your aging skin that has sagged, right?
Fortunately, that misconception is entirely wrong, and this night cream from Foxbrim proves it. Infused with natural ingredients like hyaluronic acid, panthenol, vitamin A, and peptides, the gentle cream actively works to effectively and noticeably thicken and firm your skin to help it appear less loose and saggy and more lifted and restored in no time.
4. Amara Organics Retinol Serum
Another great, lightweight anti-aging serum that eliminates the need for pesky, intense creams that can feel too heavy or greasy on your skin is this retinol serum from Amara Organics.
In as little time as just twelve weeks of using this serum that is infused with powerful retinol and hydrating jojoba oil, you can see undeniably noticeably improvement in the appearance of your fine lines, wrinkles, and other visible signs of aging. After regular use for at least a year, the serum not only helps minimize your wrinkles and fine lines, but it also reduces the visibility of your acne scars, blemishes, and pores.
3. PURA D'OR Anti-Aging Premium Organic Argan Oil Day & Night Face Cream
Wrinkles and fine lines aren't the only adverse effects of the natural aging process that show on your skin. Over time, as you age, your skin can also decline in texture and brightness to appear dull and rough.
This organic face cream from PURA D'OR can fix that problem in a flash. Along with minimizing the appearance of wrinkles in the skin on your face, it also helps your skin appear more radiant, brighter, less dull, less saggy, and all-around rejuvenated to its youthful glow after regular use.
2. OZ Natural Hyaluronic Acid Serum
One of the most effective ways to reduce signs of aging in your skin is to find a product that plumps and firms your skin to leave it looking and feeling supple as well as smooth. This lightweight anti-aging facial serum from OZ Natural can effortlessly help you achieve that goal.
Infused with natural hyaluronic acid and no harsh ingredients or synthetic chemicals, the serum adds dewy moisture to your skin as it fills in wrinkles and fine lines and plumps your skin in order to leave you with a soft, supple look reminiscent of the natural vibrant glow of youth.
1. Olay Total Effects Anti-Aging Eye Cream Treatment
When it comes to fine lines and wrinkles, the area around your eyes are often the place that is most severely affected. It is also unfortunately a very delicate area to which most women are least-likely to liberally apply potentially irritating anti-aging creams.
This eye cream from Olay, however, is specifically designed to be applied around your eyes to target visible signs of aging as well as dullness and roughness in your skin. Rich with a blend of vitamins, it brightens your eyes to help restore them and the skin around them to their youthful glow and vibrancy.
Investing in anti-aging products can do wonders for your self-confidence. When you look in the mirror, you'll be able to focus on your beautiful eyes rather than the fine lines and wrinkles that surround them. If you're not sure where to start when it comes to choosing products that can noticeably reduce your visible signs of aging, use this post to learn about some of the best anti-aging products on the current skincare market.