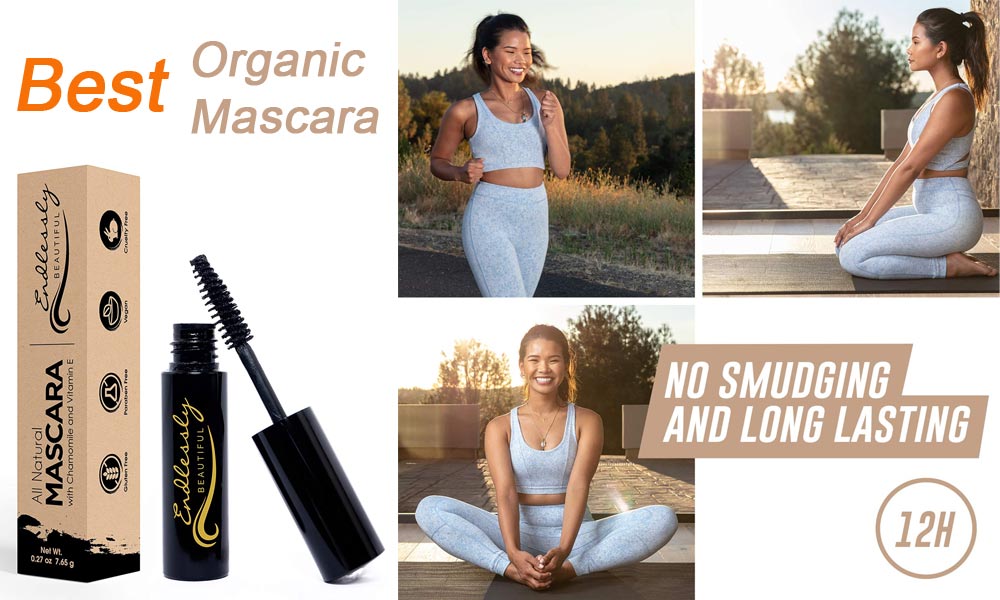 Endlessly Beautiful Organic Mascara enhances your natural beauty by lengthening and darkening your eyelashes. This is the best organic and vegan mascara on the market today. They offer a range of natural mascaras at great prices.
Review of Organic Mascara by Endlessly Beautiful
SHOP NOW
Their black mascara is widely loved by makeup lovers in the United States and other countries. Endlessly beautiful offers top-notch and quality natural mascara that works (and even smells!) different from other drugstore brands. The reason that their products are made with all-natural ingredients is to provide health conscious customers with a non-toxic mascara alternative. Their products are free from preservatives, artificial fragrances, and artificial colors. Most importantly, their lengthening mascara contains 100% natural and 85% organic ingredients.
Furthermore, this vegan mascara is free from any type of harsh chemical that might harm your eyes. The natural ingredients in their cruelty-free mascara include Chamomile, Coffee Powder, and Vitamin E. These gluten-free ingredients not only nourish your lashes but also condition them to increase lash growth. 
Their mascara comes in both black and brown variants; you can use either color for a beautiful look. Similarly, a combination of both black and brown mascaras can be a great gift to your loved ones. Their organic mascaras are perfect Mother's day, Birthday gifts, and even make great Stocking Stuffers!
Long and Full Lashes:
This voluminous mascara applies easily without clumps, smudges, or flakes. Organic Mascara by Endlessly Beautiful appears to be the best mascara for lengthening and thickening eyelashes. 
All-Natural Ingredients:
This black mascara from Endlessly Beautiful is free of harmful and non-toxic chemicals. It is among the best mascaras on the market for contact wearers and sensitive eyes. This vegan mascara is gentle, moisturizing, and safe. Most importantly, it's paraben and gluten-free; it's also 100% cruelty-free.
Long-Lasting:
This mascara will last all day and the best part about it is that it's sweatproof and water-resistant. Unlike other mascaras on the market, this is one of the best vegan mascaras for volume and length. It's also easy to apply and remove at the end of the day.
An Overall Great Vegan Makeup Product:
Who doesn't want full, soft, healthy lush lashes? Like other top-notch mascaras in the market, this vegan mascara provides the highest level of quality and comfort to your eyes. You can gift this mascara to your beloved grandmother, sister, friend, niece, friend, or daughter. Endlessly Beautiful offers a 30-day money-back guarantee to all their customers.
Loved By Contact Wearers:
Endlessly Beautiful notes that most of their customers who have sensitive eyes or wear contact lenses absolutely love this product. The reason is that their product is made up of 100% natural and 85% organic ingredients that make your lashes healthy, lengthy, soft, and beautiful and it even smells good!
Ingredients and Safety:
It's important to know about the product you're using. Endlessly Beautiful uses 100% natural ingredients to ensure the highest safety of your eyes. The natural ingredients used in this product include Vitamin E, Chamomile, Thyme, Oregano, Coffee Powder, Rosemary, Grapefruit, and Cinnamon. These ingredients help with conditioning lashes and stimulating lash growth. The owners of Endlessly Beautiful are vegan and animal lovers; therefore, they ensure that all of our products are 100% cruelty-free and 100% vegan.
A Product that Everyone Loves:
This product not only gives your lashes a beautiful look but it's also great for everyday use. You can apply this product while working, doing yoga, at the gym, and going to the market. You can even apply more layers for a more dramatic look to wear when out on the town. In a nutshell, this mascara is a versatile product that can be used for any occasion.
How To Use It?
Step 1:

Check your curler, ensure that the pad and cage lines are in place. Then, gently apply the product over your lashes but remember don't pump the curler because it might not provide effective results. Just hold the curler for at least 15 seconds to get the first coat easily.

Step 2:

This non-toxic mascara is not as wet and goopy as other mascaras. As it's a bit drier, you might need a couple of coats so make sure to apply the second coat right after the other BEFORE the first one dries. Otherwise, you might not see the desired results.

Step 3:

For removal, you just need to use some oil-based makeup remover. You can also use coconut oil, or just plain old soap and water.
Pros:
Natural and organic ingredients

Good for sensitive eyes and contact wearers

Long lasting and good for everyday use

Easy to apply and easy to remove

Non-smudging and non-flaking

Vegan and not tested on animals

Made in the USA

Compact and travel-friendly

Environmentally friendly packaging

30-day money back guarantee
Cons:
Small size (although the company explains that the amount of product in the tube is on par with other commercial mascaras).

Some customers report that the mascara irritates their eyes

Some people might find the price too high