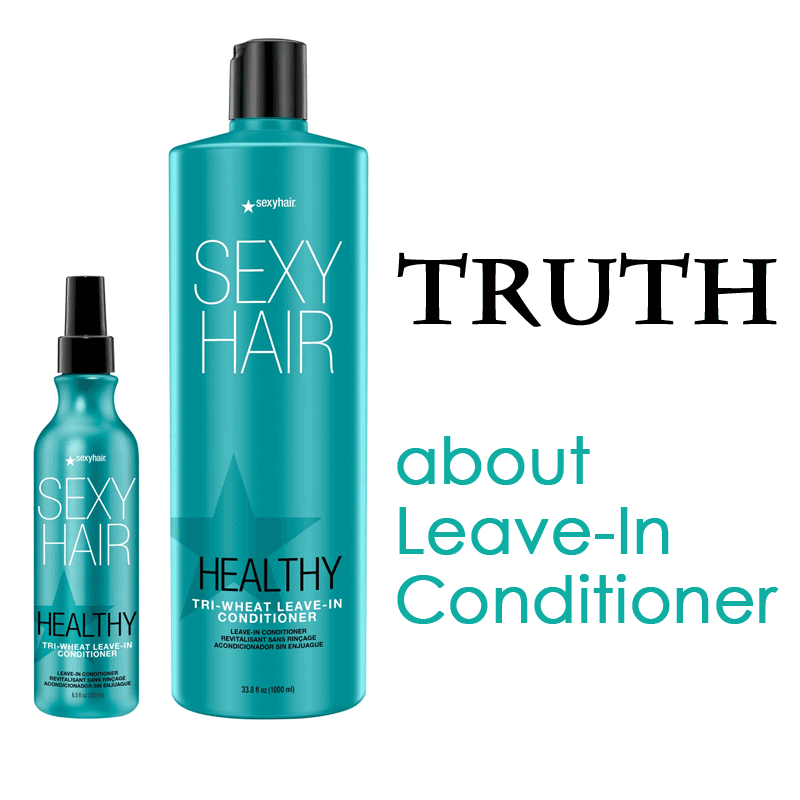 Leave-in conditioner is not only easy to apply, it also provides your hair with immediate moisture and work-ability. It's quick, you don't need to rinse it out, and it makes styling so much easier. Leave-in conditioner offers many advantages that other products may not, but depending on the look you are after, your hair may need more than leave-in conditioner to be healthy and manageable. Let's break down the truth about leave-in conditioner, what its capabilities are and whether or not it's the answer to your next hair snafu.
Leave-In Conditioner from SexyHair, Hair care hydrates, nourishes & strengthens to nurture hair back to health and protect from damage.
1. It De-tangles
Leave-in conditioner can make hair that tangles and knots easily a lot more manageable. Simply put enough in your hands to moisturize your scalp and run from the root to the tip of your hair, let set for 2-3 minutes and comb out. A great leave in conditioner for tangles is It's a 10 Leave-In Product Plus Keratin.
Caution: If you are depending solely on your leave-in conditioner to de-tangle your hair, you will have to make it a part of your daily hair regimen. To keep your hair from tangling, you should also braid it at night.
2. It Adds Shine
Leave-in conditioner adds shine and softness to your hair with daily use. Apply leave in conditioner before blow-drying your hair, and you will immediately notice your hair has a shiner appearance and a softer texture.
Caution: Depending on your hair's natural oil content and the ingredients of your leavin-in conditioner,adding it solely for shine can make your with a soapy, slippery feeling. It may be more effective to use a pomade, or a serum like Sebastian Liquid Gloss.
3. It Tames Frizz
For naturally frizzy hair, leave-in conditioner can make it instantly easier to comb and style. If your goal is to go from straight to curly, apply leave-in conditioner to damp hair, comb through, blow dry and straighten. Adding the leave-in conditioner before hand will help "stay" your style.
Caution: If taming frizz is all you need to do, invest in a shampoo and rinse-out conditioner that specializes in this. Then, after you towel dry your hair, apply leave-in conditioner and blow dry or air dry. Leave-in conditioner alone for taming frizz only has temporary benefits.
4. It Controls Breakage
Leave in conditioners, like your regular rinse-out conditioner or deep conditioner, are great for moisturizing your hair which makes your hair stronger, controlling breakage and split ends.
Caution: If you have serious problems with breakage, leave-in conditioner may not be the most effective option. Instead, consider deep conditioning your hair once a week or going to get a salon for a deep keratin treatment at your salon.
We hope that these tips show you how to get the most out of your leave-in conditioner. We love leave-in conditioner because it's fast, easy and provides immediate benefits to your hair. Don't forget however, that the benefits are temporary. Leave-in conditioner is perfect if you need a quick fix to a tangled hair situation. Find more beauty tips on Her Style Code.