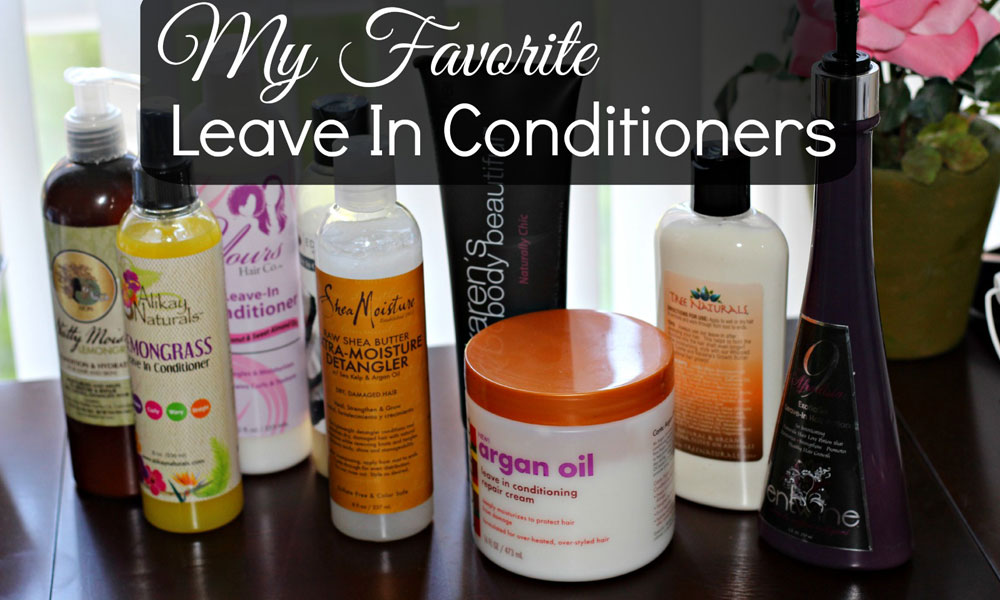 Over time, hair tends to sustain damage. Many women who frequently use heat on their hair end up with dry, damaged strands that are difficult to manage. However, even if you don't often torture your hair with a flat iron, your hair is probably not in perfect condition. In fact, many factors, such as the weather or your health, contribute to the condition of your hair. Dry or damaged hair is often very difficult to deal with, style, and maintain.
A great and simple way to soothe and repair hair that is damaged for any reason is to use a leave-in conditioner. Leave-in conditioner is a heavy-duty hair product that you apply to your hair after washing and leave in until the next time you shower. These products are designed specifically to repair damaged hair and restore it to its original shiny, soft, and smooth glory. However, not all leave-in conditioners are the same. There are some on the market that are of higher quality than others. If you want to invest in a leave-in conditioner to repair your strands, it's important to choose a top-quality product.
8. Bed Head Ego Boost Leave-In Conditioner

A little bit of this leave-in conditioner from Bed Head goes a long way. All you need are a few pumps of the treatment to restore and repair your damaged hair. The conditioner minimizes the split ends and frizz that often become a problem within damaged hair.
The leave-in conditioner has a light, pleasant scent that is not overpowering. It works well for all types of hair, no matter whether your strands are thin, thick, straight, curly, or something in between. Just smooth a small amount of the product through your hair when it's wet and leave it in to achieve soft and tame hair without any sticky residue.
7. Aveeno Nourish and Conditioner Leave-In Treatment

This leave-in treatment from Aveeno is designed specifically for dry hair that has sustained damage. Whether your hair is naturally excessively dry or has become dry over time due to damage, this treatment is the one for you. It helps your hair look and feel shinier, softer, and overall healthier.
The treatment is infused with a natural combination of wheat germ oil and wheat protein. These natural ingredients work together to strengthen your hair and repair any existing damage that is present. This treatment also includes multiple conditioners and moisturizers that hydrate your hair and make it softer and easier to manage.
6. Renpure Coconut Whipped Creme Leave-In Conditioner

This natural treatment from Renpure is everything you've ever dreamed of in a leave-in conditioner. It has a light, delicious scent of sweet coconut and cream that remains in your strands all day long. The treatment itself includes infusions of natural coconut waters that smooth, hydrate, and repair your hair but don't leave any type of sticky or oily residue.
This leave-in conditioner is completely natural. It does not include any parabens, sulfates, sodium chloride, or other harsh chemicals that can do more harm than good for damaged hair. The conditioner absorbs instantly into your hair and restores and rejuvenates it from the inside out to leave you with smooth, manageable strands that are completely free of any frizz or breakage.
5. Aussie Hair Insurance Leave-In Conditioner

As its title suggests, this leave-in conditioner really does act as insurance for your hair to keep it protected at all times. The conditioner is in the form of a standard spray. It is extremely easy to use; all you have to do is spritz the treatment into your hair after washing to reap its restorative and conditioning benefits.
This conditioner is designed to rejuvenate all types of hair. It carries a light, delicious scent of oranges, grapefruit, and lime that leaves your hair with a pleasant citrus fragrance all day long. Lightweight and gentle, the conditioner instantly increases the smoothness, softness, and manageability of your hair.
4. Garnier Fructis Sleek & Shine Leave-In Conditioner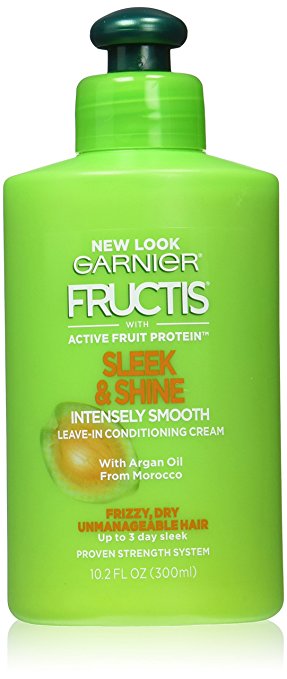 Argan oil is known to be an extremely restorative, nourishing substance for your hair. The natural oil absorbs into your hair and gently conditions it in order to leave it looking and feeling softer and smoother in no time. This leave-in conditioner is infused with pure Moroccan argan oil that leaves your hair shiny and soft.
This conditioner also includes natural apricot extracts. Its blend of natural ingredients absorb into your strands and help you achieve the smooth, manageable hair you've always wanted. Your hair might start out dry and frizzy, but it soon transforms into sleek and shiny locks with this leave-in conditioner.
3. Sexy Hair Concepts Leave-In Conditioner

Many restorative hair products are harsh and cannot be used on color-treated hair. However, color-treated hair is often incredibly damaged and especially in need of products that are able to repair and rejuvenate it. This leave-in conditioner from Sexy Hair Concepts is gentle enough for use on hair that is artificially colored or dyed.
The conditioner is a dual product: it acts as a standard leave-in conditioner and a gentle protein reconstructor. It features a blend of natural proteins and ingredients that absorb into your hair to detangle, soften, and smooth it. Also, the treatment does not leave behind any residue. You cannot feel or see the conditioner in your hair once you've smoothed it through your strands.
2. Shea Moisture Leave-In Conditioner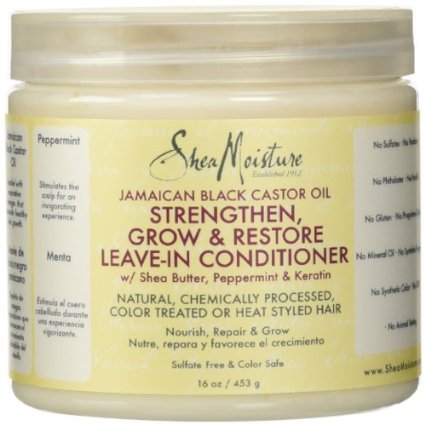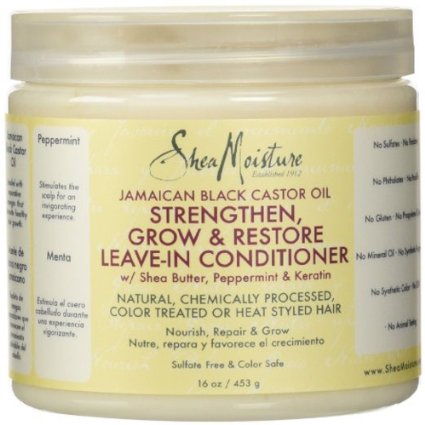 This leave-in conditioner is a natural product. It contains no sulfates or other harsh chemicals that can cause added damage to your hair. The treatment repairs and restores hair that has been damaged by chemicals, dyes, or heat over time.
The conditioner includes a blend of natural ingredients, including Jamaican black castor oil, peppermint extract, shea butter, and keratin proteins. These ingredients work together to penetrate your hair and leave it looking and feeling soft, smooth, and hydrated.
1. It's a 10 Leave-In Conditioner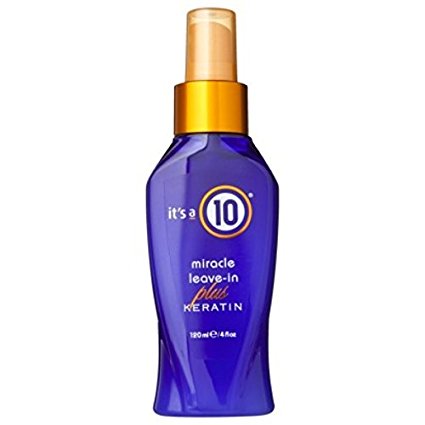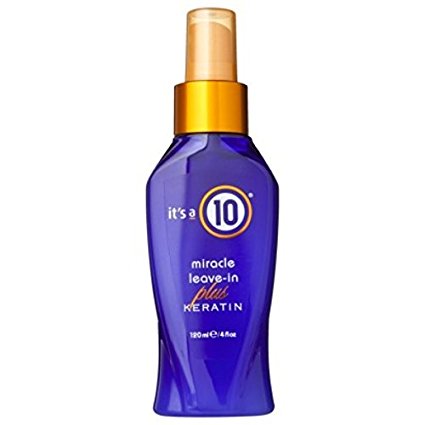 This leave-in conditioner is infused with an abundance of keratin protein. The keratin within the conditioner helps it rejuvenate your hair in order to repair damage inflicted by dye or heat over time. The conditioner makes your hair more manageable and less frizzy and works on all hair types.
The treatment not only repairs existing damage in your hair. It also protects your strands from sustaining additional damage in the future by sealing it against harm from heat. It seals the cuticles of your hair, which protects your hair and causes it to look and feel silkier and more smooth. This keratin-infused conditioner restores balance to your hair and leaves it with the perfect amount of non-oily hydration and moisture with no sticky residue.