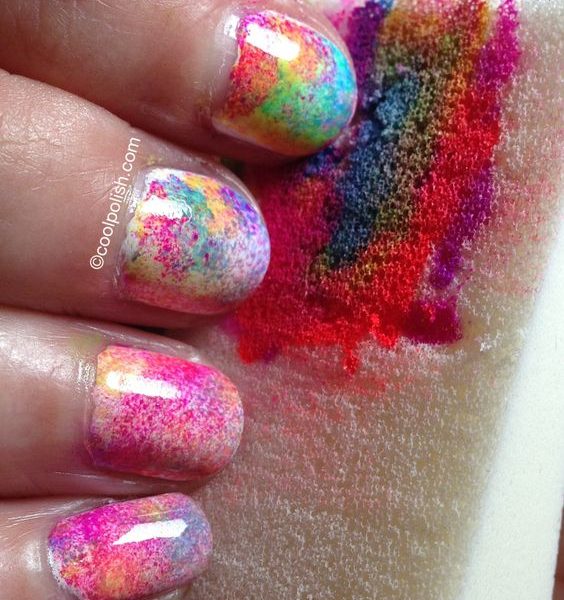 Tie dye is often thought of as a hippie look, and if that is the case then I am a proud hippie. The cool look has a lot of history behind it and is still a popular trend to this day. The look didn't start in the sixties, but actually, has ancient roots. Besides the interesting facts about the start of the fashion trend, there is a lot to love about the style. From t-shirts to Volkswagen vans, the look symbolizes freedom in a classic way. Another reason to love tie dye is the many ways to wear the look.
With rainbow colors being extremely popular, we've seen tie-dye everywhere. No longer just for clothes, tie-dyed hair is a thing. If you are into this trend like I am, you will love these nail designs to match the rainbow fashion. The best part is, most of the designs on this list are easier than they look. You can achieve tie dye nails at home with ease. There is not just one way to achieve the rainbow look of your dreams, so you are sure to find one you will be able to do.
1. Create Tie Dye Nails With A Sponge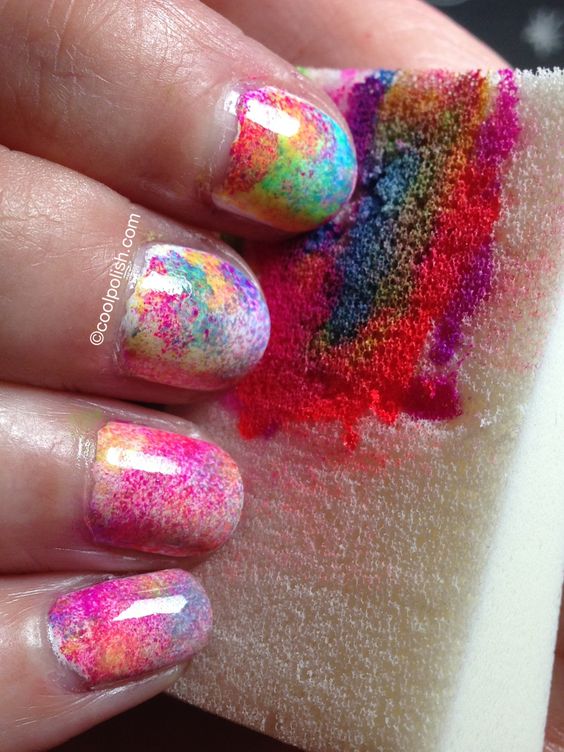 A sponge can make for an easy do it yourself design. First, paint the colors you want in your tie dye look onto the sponge. Next, dab the sponge onto your nails. Finish by cleaning up around the nail with polish remover for a perfect look. This look is quick and easy, making it especially great for busy women on the go.
2. Smeared Tie Dye Design- Colorful Nail Art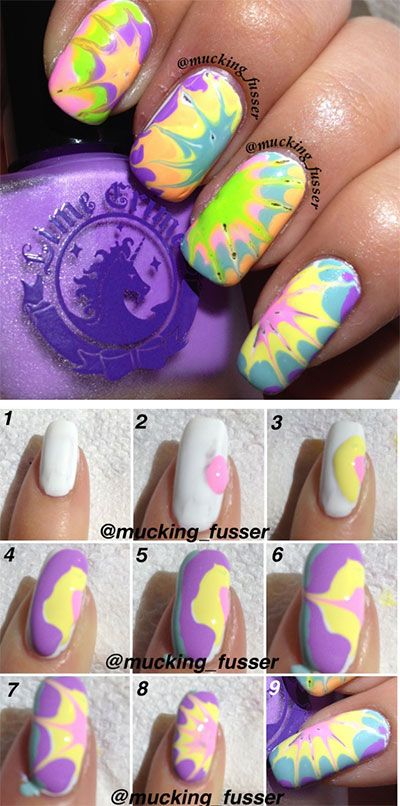 This colorful design can be done with a toothpick or a small brush. Use the tool of your choice to smear the colors across your nail in an even pattern. While this design looks great on long nails, it would also compliment shorter natural nails as well.
3. Dark Drip Paint Over Tie Dye Polish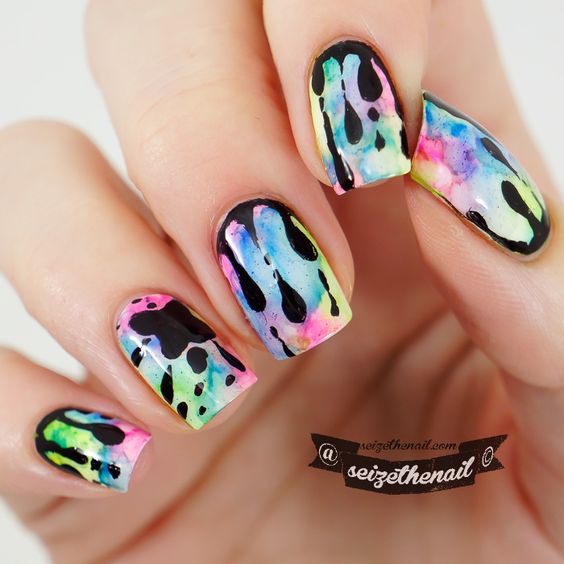 A drip design over your tie dye can make for a unique design. Black works well to contrast the bright colors of the base. Bright colors will work just as well but give off a brighter vibe. You can even use a color that is in your design to make that color stand out amongst the rest and blend the designs together.
4. Do It Yourself Tie Dye Nail Tutorial

This simple tutorial is very easy to follow, making it perfect for someone trying out the tie dye look for the first time. Though it takes a little time to get all the colors onto your nails, the result is definitely amazing. If you haven't got the time to do each nail, or don't want something this dramatic, you can paint your nails one color and add an accent nail on each hand with the design.
5. Tie Dye French Manicure Nail Art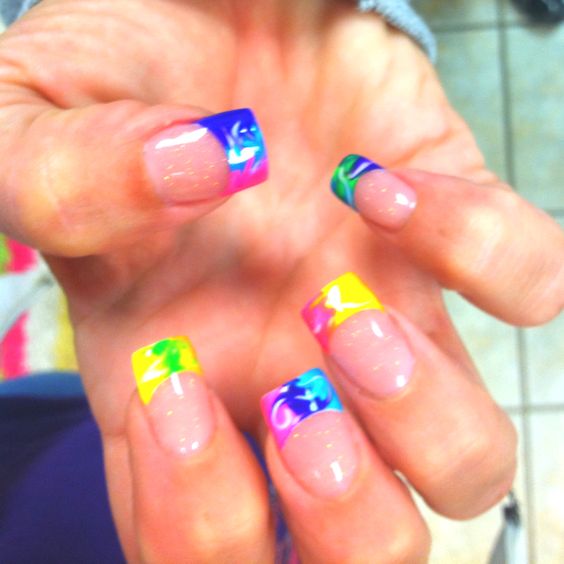 Another fun way to take on the design without having your nails completely tie-dyed is having just the tips polished. This modern take on a French manicure strays from the traditional white tips. The rainbow paint gives it a fun new look while the design makes it classy enough to wear to the office.
6. Tie Dye And Dotted Nail Polish Ideas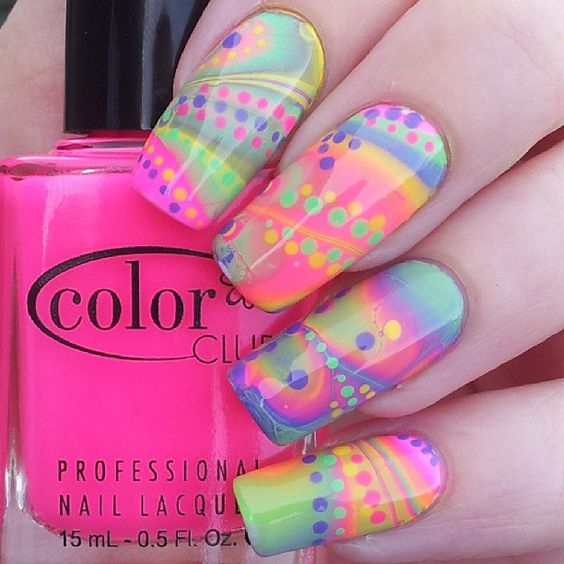 This fun take on the tie dye look mixes things up. By combining two designs, the outcome is not only pretty but a free spirits dream nail. Though this look may not be easy for a beginner to do at home, a nail salon could definitely help you achieve this design.
7. Ombre Tie Dye Nail Art Design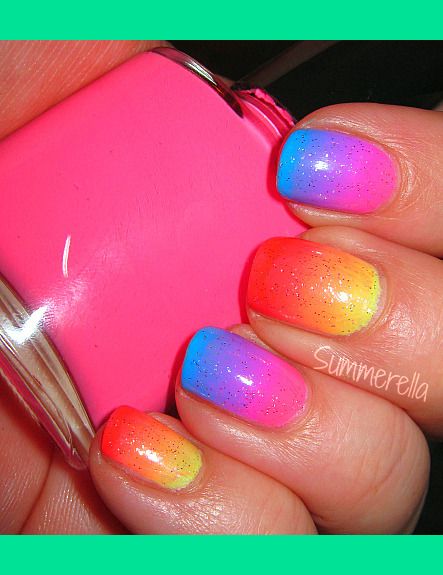 Rainbow ombre designs are another way to try out the look. Ombre designs are one of the hottest looks right now, so why not put your free spirit into this trend. While the rainbow colors in this look are bright, a pastel version would also make for a great design.
8. Rainbow Marbled Nail Design For Women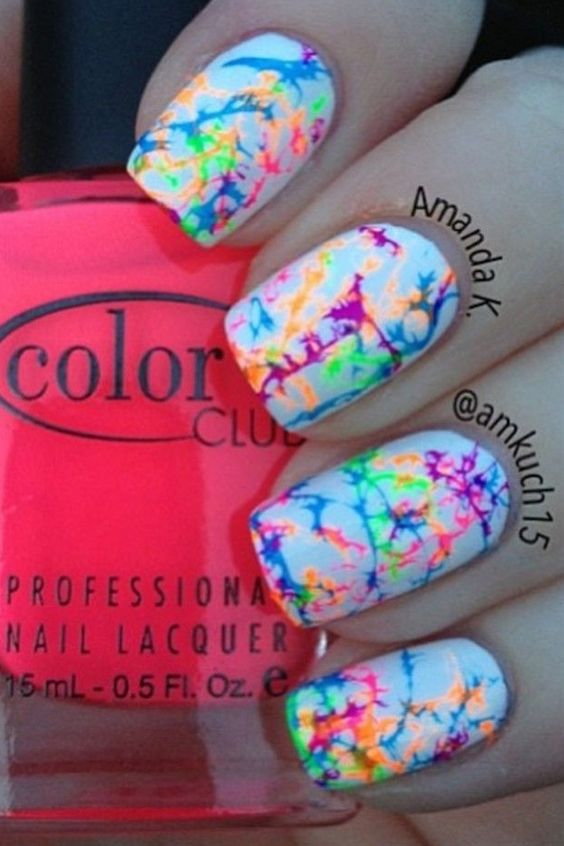 Marbled techniques in rainbow shades tone the look down in a fun way. The white base color shows through a lot more than most of the designs on this list, but the look is far from boring.
9. Black And Tie Dye Nail Art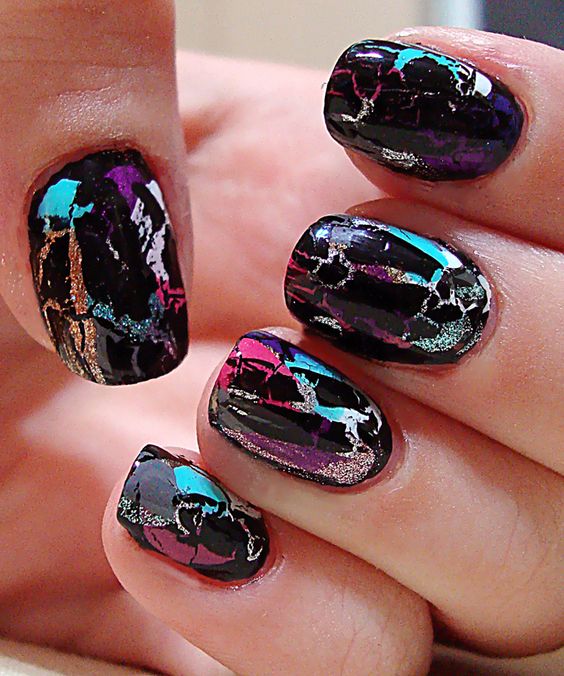 Use a crackle nail polish over brightly painted nails to achieve this design. A dark color makes your design unique and adds an air of mystery to your favorite look. Another way to add a similar effect to your design is by choosing a dark polish as a base coat.
10. Easy Smeared Tie Dye Nail Design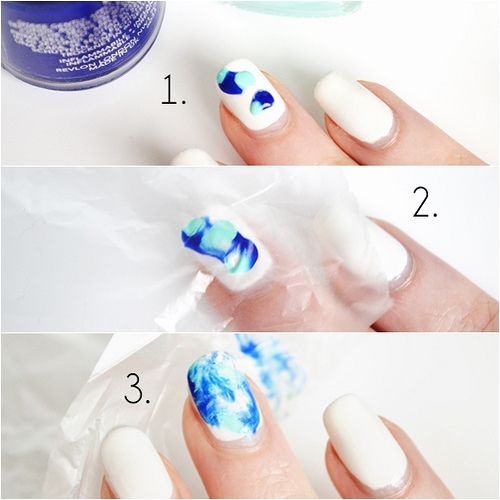 Another simple way to do your own nails can be seen in this easy three step method. You can use a plastic bag to smear the dots of polish on your nail to recreate this pretty look. Finish by adding a top coat to hold your design in place.
11. Accent Nail Art Ideas For Free Spirits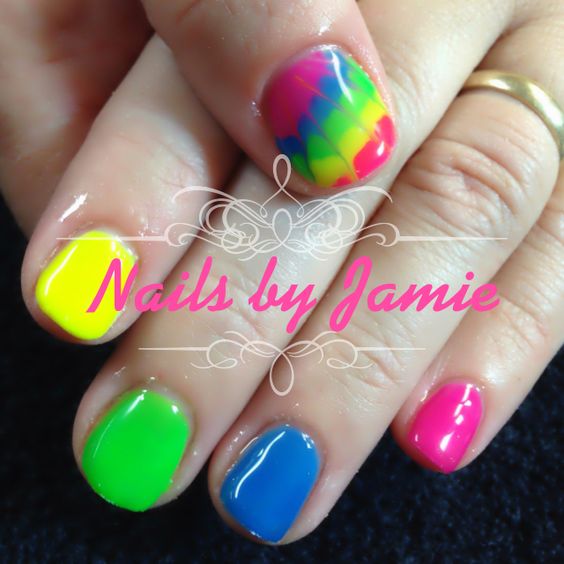 Colorful nails are brought together by a rainbowed tie-dye accent nail. You can so this on your thumb or go with any finger you like. Accent nails are a cute way to downplay the tie dye look.
12. Two Color Tie Dye Nail Art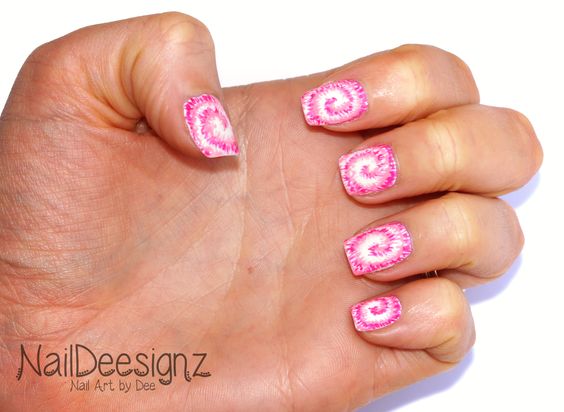 You don't have to use every color of the rainbow in your nail design. This two color look only uses a base polish and an accent color to achieve a pretty tie dye effect.
13. Tie Dye Splatter Nail Polish Design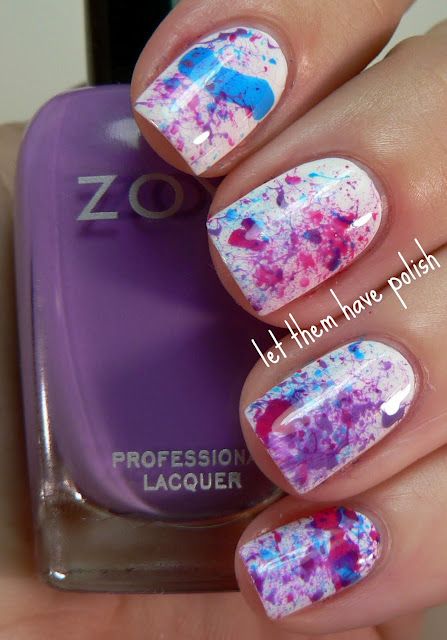 Splatter your nails with color to achieve this design. Black or white base coats both would work and look amazing.