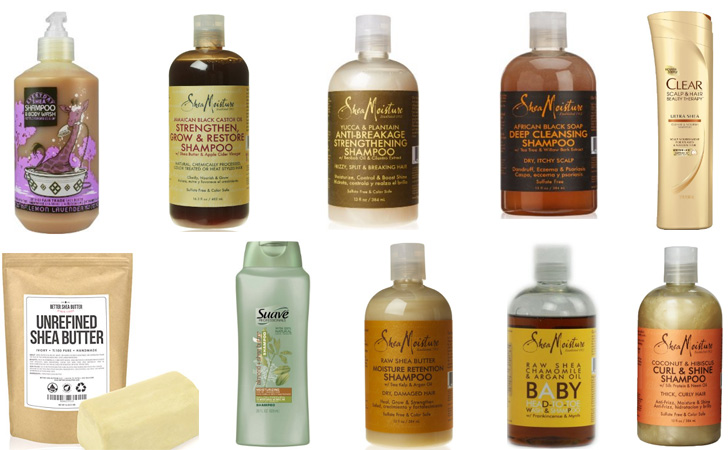 If you have dry or brittle hair, it can be difficult to find a shampoo that moisturizes and conditions your hair without stripping it of its natural oils in order to leave it feeling soft and smooth after washing. Shampoo that includes shea butter, which is a naturally active moisturizing ingredient, can help nourish you hair during washing to leave it soft and strong without removing its volume or adding excess oil.
If you're looking for a shea moisture shampoo to hydrate your dry hair, please keep reading the Shea Moisture Shampoo reviews to learn more about the top ten best shea moisture shampoos available.
10. Shea Moisture Coconut Hibiscus Curling Shampoo
Shea moisture curl and shine shampoo – Infused with organic, all-natural shea butter, coconut oil, and sweet hibiscus, this shea moisture shampoo is designed to restore hydration and moisture to your hair. The multi-use, versatile shampoo detangles your hair, rejuvenates it with added hydration, and reduces frizz in your hair for a smooth finish.
Designed for curly hair, this shampoo helps soften and smooth your hair to help you achieve flawless bouncy curls that don't appear messy or frizzy just by washing your hair. Crafted with only the best, all-natural ingredients, it is free of any sulfates that can damage or weaken your hair.
9. Shea Moisture Raw Shea Butter Chamomile & Argan Oil Baby Head-to-Toe Wash & Shampoo
Organic, all natural, and free of any potentially damaging sulfates, this shea moisture shampoo is a healthy product you can trust. Infused with organic shea butter, this multi-use product can be used as a gentle body wash as well as a shampoo that won't irritate your skin or damage your hair.
Along with ultra-moisturizing shea butter, the shampoo also includes argan oil and chamomile. Argan oil includes an abundance of vitamin E, which helps moisture and hydrate your skin and hair. Chamomile has anti-inflammatory properties that soothe skin and hair as well as reduce redness and existing irritation.
8. Shea Moisture African Black Soap Deep Cleansing Shampoo
If you regularly use styling products such as gel, mousse, or wax, you likely have greasy buildup and residue accumulated on your scalp. This residue and buildup from chemical products can lead to skin irritation that can cause your scalp to become flaky and itchy.
This shea moisture shampoo can help soothe a damaged, irritated scalp by gently removing all buildup and residue from styling products that has accumulated on it. Infused with high-quality ingredients, including an abundance of shea butter for gentle moisture and hydration, this shampoo is a natural product formulated without harsh and potentially irritating sulfates.
7. Shea Moisture Yucca & Plantain Anti-Breakage Strengthening Shampoo
If you have dry and brittle hair, it is likely weak and prone to breakage. Hair breakage can be painful and can lead to split ends and unattractive patches of hair that are not even. You can prevent your hair from breaking off easily by using this shea moisture shampoo.
The shea butter included within this shampoo formula works by itself to moisturize and hydrate your hair in order to soften it and prevent breakage. However, this specific shampoo formula is also infused with yucca and plantain extracts that help strengthen your hair to bind split ends and keep your ends from breaking off. Baobab oil and cilantro extract are also included within this shampoo formula to rejuvenate your hair and add a subtle shine to it that never looks greasy or oily.
6. SheaMoisture Jamaican Black Castor Oil Shampoo
Castor oil is an ancient ingredient that has been used throughout history for its moisturizing properties. Along with an abundance of hydrating shea butter, this shea moisture shampoo is also infused with pure and natural castor oil that adds extra moisture to your hair. The castor oil within the shampoo also helps eliminate buildup and residue that has accumulated on your scalp.
Designed to strengthen and restore your hair, the natural blend of castor oil and shea butter within this shampoo work tirelessly to rejuvenate your hair, promote quick growth, and reverse damage for a strong and healthy finish.
5. Clear Deep Cleanse and Nourish Shampoo, Ultra Shea
Proven to seal moisture into your hair and scalp, this shea moisture shampoo from Clear is designed to combat dry hair and scalps to leave them feeling soft and smooth. Infused with the innovative Nutrium 10 Moisture Lock which includes an abundance of pure shea butter, it offers long-lasting nourishment to your hair and scalp.
Along with nourishing and hydrating your hair, this shampoo also functions to remove any buildup from styling products from your hair in order to leave your scalp clean and able to breathe and remove dull residue from your hair to restore it to its natural shine. This shea moisture shampoo also available at walmart.
4. Suave Professionals Almond + Shea Butter Shampoo
Almond and shea butter are both two ingredients that are renowned for their moisturizing qualities. This shampoo from Suave includes both of these ingredients within one ultra hydrating formula in order to leave your hair feeling and looking soft, smooth, and healthy.
Proven by professional salons to act as a remedy for dry, brittle hair by adding needed moisture to it, this shampoo infuses your hair with hydration from one hundred percent natural active ingredients that are neither harsh nor synthetic and will not damage your natural hair.
3. Shea Moisture Raw Shea Retention Shampoo
Do you have a history of bleaching or dying your natural hair? Do you attack your tresses with a flat iron or curling wand every day or smother your locks in an abundance of heavy styling products to get it to stay put all day long? If so, your hair is likely stressed, damaged, and over-processed.
This shea moisture shampoo solves the problem of over-processed and damaged hair by soothing it and restoring it back to health. Infused with pure shea butter, it cleanses, hydrates, and repairs your hair to eliminate damage and rejuvenate your strands effortlessly.
2. Alaffia Everyday Shea Shampoo & Body Wash for Babies and Up Lemon Lavender
Formulated specifically to be gentle enough for use on the sensitive scalps and hair of babies, this all-natural shea moisture shampoo and body wash combination blend is one you can trust. Infused with hydrating unrefined shea butter and moisturizing virgin coconut oil, it softens and smooths your skin and hair and restores them back to health.
This shampoo, which has a light and pleasant lavender fragrance, also includes lemon balm, neem leaf, and lavender essential oil. These natural ingredients blend together to soothe, cleanse, and soften your hair to leave it looking healthy and smooth.
1.Unrefined Shea Butter by Better Shea Butter
When it comes to shea moisture shampoo, you really can't beat the real thing. This unrefined shea butter is pure, organic, and all natural. It can be used by itself to moisturize your skin and hair, or it can be infused within DIY shampoo products for easy and convenient use.
Cruelty-free and vegan, this shea butter is one you can trust. If the idea of hand-crafting your own pure, all natural shampoo using unrefined shea butter seems daunting to you, don't worry. The shea butter comes with an included e-book that teaches you how to make a wide variety of skincare recipes, including shampoo.
Shea moisture shampoo can be a transformative addition to your daily haircare routine. By naturally strengthening, softening, and smoothing your hair, shampoo that is infused with shea butter nourishes and conditions your hair to eliminate dryness and weak brittleness. Use the list in this post to find some of the best shea moisture shampoos that can hydrate and soften your hair effortlessly.