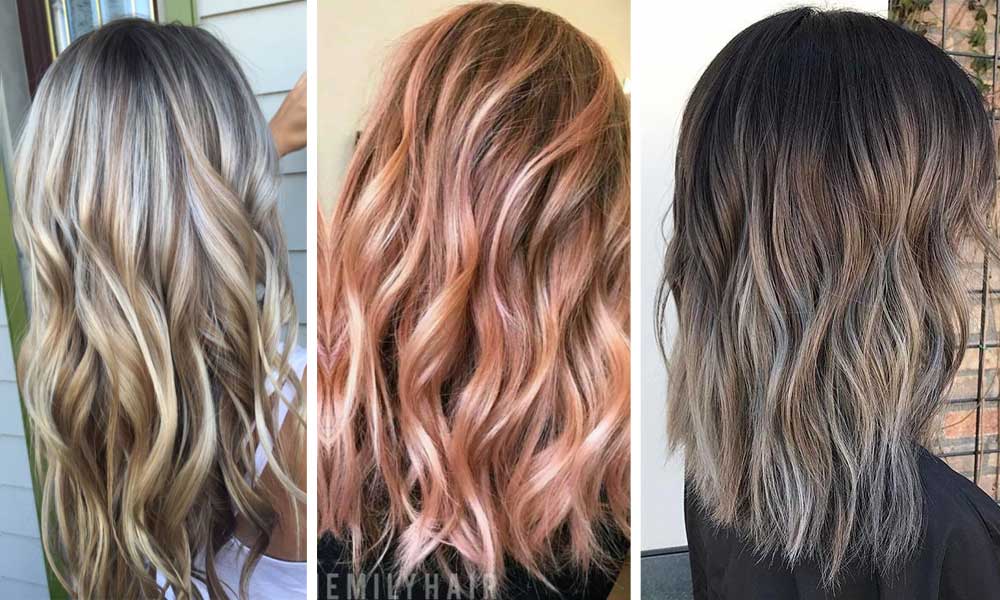 As the seasons come and go, matching your hair color to the current season is a fun way to enjoy the excitement of the new weather each one will bring with it. Not all hair color changes have to be a bold one. A minor change can leave you feeling fresh and ready to take on anything. With the summer only weeks away, now is the time to get yourself ready to enjoy the hot sun. Whether you'll be at the beach, kicked back at the pool, or sipping lemonade on your porch, a hair color change can keep you feeling as hot as the weather.
This year has brought with it so many fun and beautiful trends. While you may want to try one of these, classic styles will always be a great go to. Where hair color is concerned, you may feel like adding just a few balayage highlights or going for a full head of an oh so chic rose gold color. Color possibilities are nearly endless. Before you pack your bags for vacation, check out this list of hair color inspirations to find the one you'll want to rock for all your summer plans. Summer is supposed to be fun, right? So let your hair reflect that.
1. Ombre Vs. Balayage: Knowing the Difference
This balayage color is a great choice for someone not wanting a dramatic change. While an ombre leaves the ends a fully different color than the roots, a balayage is a technique that leaves a similar effect. The ends still contain some darker pieces when this technique is used. The result is a more natural looking highlight, that is easier to care for.
2. Summer Highlights And Lowlights: Ombre Style
This ombre utilizes multiple colors to enhance the effect. The look is gorgeous but would take more maintenance than the balayage. By adding highlights and lowlights into the hair, the contrast of the colors makes for a look that will catch the sun. This is a great way to prevent a washed-out look for those with an ivory skin tone who want to try ombre hair.
3. Rose Gold: Summers Hottest Hair Color
If you are a trend setter, then rose gold is for you. The color has won our hearts in everything it touches, So why not try it for your hair. The result is nothing short of stunning. This can be done on a full head of hair or placed in highlights. You could even try it in a balayage or ombre! If you are looking for something new and fresh, definitely consider trying this one out.
Hair color ideas for short blonde hair
This look uses rose gold on the roots for a less dramatic, yet still gorgeous look. The drawback to choosing this color is the maintenance it requires. The summer sun will fade the pink shade, so you'll need to wear a hat and protective spray to prevent damaging your color. You can ask your stylists for tips on keeping up with the bright pastel shade.
4. Dramatic Ombre – summer hair color ideas for brunettes
A dramatic ombre is a beautiful and popular choice that has been in style for a few years now. The look is hot and has quickly become one of the classic looks we love. A dramatic ombre will leave the ends much lighter than the dark roots. You can opt for just a few shades lighter if you don't want the color change to be as noticeable.
5. Platinum Summer Hair
Platinum hair color is a shade of extremely blonde hair that will take a large amount of maintenance, especially for those with naturally dark hair. Keeping up with platinum locks most often means you will need a toner to prevent warm colors like yellow. The salon will tone the color for you, but you should also invest a shampoo made for ultra blonde shades and follow the instructions carefully.
6. Bright Summer Colors – summer hair color ideas for dark hair
Colors like blue and purple are considered cool colors and live up to the name. There are many different shades you can choose from to keep your hair looking cool, and the result doesn't need to be extremely bright. A few strands of hair swept with some cool colors will have a big impact on the look but not change your hair completely.
Warm colors like red and orange are most often thought of as fall colors but can make for a great summer one. Orange is hot this year in all things fashion. You can go for a bold look like this ombre, and match your lipstick color with it for ultimate fun.
7. Dark Highlights – summer hair color ideas for medium length hair
Some highlights just a few shades lighter than your natural color can really add dimension to your hair. The look is perfect for someone who doesn't want a huge change to their normal color. The result will be noticeable, but just enough to add a boost of confidence. Try this look in balayage fashion to keep the look trendy.
Summer hair color ideas for short hair
Don't be afraid to get out there and have fun this summer with your hair color. The perfect look for you is just a trip to the salon away.
This is really a fabulous medium hairstyle for hot summer!
Do you love this long ombre hair?