Electronics
Top 5 Best Smart Thermostat 2019 – Programmable Thermostat Reviews
The temperature in your home can make or break its comfort. When your house is consistently too hot or too cold, it can get very uncomfortable for yourself and your guests. Unfortunately, heating and cooling your house to stay at a comfortable temperature at all times can skyrocket your electric bill and maximize your carbon footprint.
A programmable thermostat can help you strike a balance between comfort and energy- and cost-efficiency. These high-tech thermostats offer intuitive, customizable temperature control that helps you keep the temperature in your home at a comfortable level while using as little energy as possible. In fact, having a programmable thermostat in your home can even lower your monthly electric bills and reduce your carbon footprint while increasing the comfort of your home. Save money on your electric bills, maximize your comfort, and make your life easier by investing in one of these programmable "Smart" thermostats for your home.
Here are the Top 5 Best Smart Thermostat 2019 – Programmable Thermostat Reviews
1. Nest 3rd Generation Learning Thermostat 
Don't worry about spending hours programming this thermostat. It takes less than thirty minutes to set up initially, and almost no time or effort to maintain. In fact, it quickly learns from your habits over time and automatically adjusts the temperature in your home based on your patterns, requiring minimal manual intervention on your part. You can control this thermostat anywhere, anytime by linking it with the Nest app that allows you to monitor and adjust the temperature in your house whether you're home or not.
Designed for hands-free use, this programmable thermostat is compatible with your Alexa device. You can control it entirely through voice commands. Plus, its special Farsight feature makes this thermostat motion-triggered. It automatically lights up and shows you the time and the current temperature as soon as you walk into the room. This programmable thermostat was the first thermostat to be certified by ENERGY STAR as an efficient, energy-saving device.
Pros
 Learns from you to automatically program itself
 Features Farsight for a hands-free light-up display whenever you walk in the room
 Proven to save energy and ENERGY STAR-certified
Compatible with Alexa for voice command control
 Links with the Nest app for easy control from anywhere on any mobile device

2. ecobee4 Smart Thermostat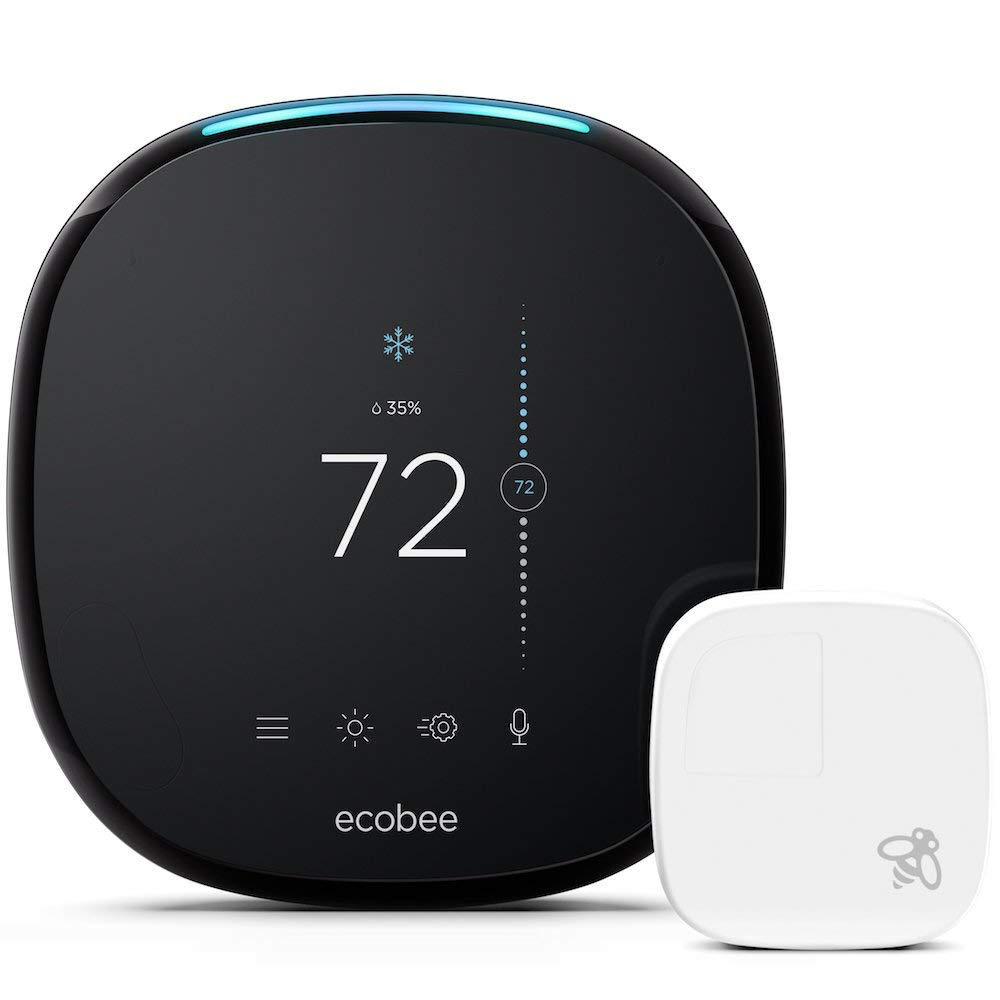 This programmable thermostat does much more than just adjust the temperature in your home. It is designed with a built-in Alexa Voice service that has more than 10,000 unique skills. You can ask this thermostat for the time, a current news report, a funny joke, etc.–just using your voice–and it will offer you a prompt response.
The ecobee app makes using this thermostat even more convenient. You can use this app to turn the thermostat on and off or adjust its temperature directly from your iOS or Android mobile device–whether you're home or not. Plus, when you're not home this thermostat uses very little energy to help you save money and reduce your carbon footprint.
If there is a certain area in your house that always feels either too hot or too cold, just place the room sensor that comes with this programmable thermostat in that area. This sensor automatically monitors and balances the temperature of the air around it to maintain maximum comfort throughout your home at all times.  If there are multiple hot or cold areas in your house that you want to monitor, you can purchase multiple room sensors separately and link them to your single thermostat.
Pros
Comes with built-in Alexa Voice service
Monitors and balances the temperature anywhere in your home with its included room sensor
Automatically saves energy when you're not home
Links with the ecobee app for easy control from your mobile device

3. Emerson Sensi Wi-Fi Thermostat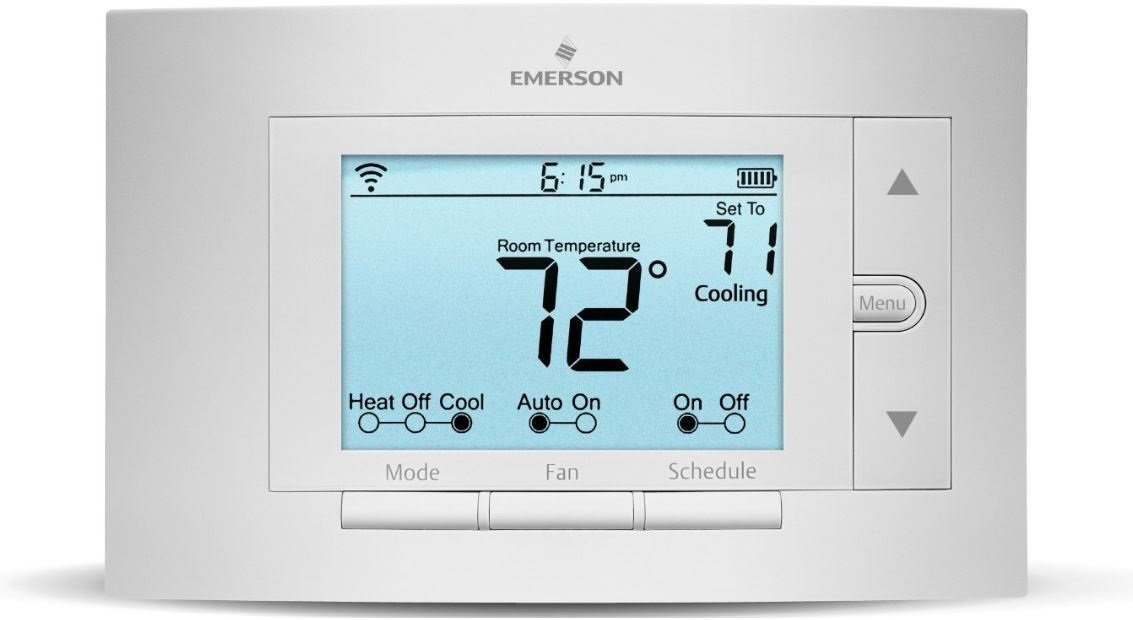 Setting up this programmable thermostat couldn't be more simple. It links with a special instructional app that walks you through the installation process as quickly and frustration-free as possible. Plus, it is compatible with the majority of heating and cooling systems because it does not require a common wire. Once you set this thermostat up for the first time, you can control it hands-free through voice commands just by linking it with your Alexa device.
GeoFencing is built into this programmable thermostat. This special feature offers location-based, customizable temperature control that heats and cools your house based on the weather in your area. It also allows you to create an intuitive temperature schedule up to seven days in advance. This seven-day temperature scheduling helps you stay comfortable when you're home and save energy while you're away. Plus, it eliminates the hassle of turning off your thermostat or readjusting its temperature when you leave your house and turning it back on when you return.
Pros
Ensures easy setup with an instructional app
Links with Alexa for easy hands-free voice control
Features GeoFencing for customized temperature control based on your location
Offers 7-day temperature scheduling to save energy when you're not home

4. Honeywell Lyric T5 Smart Thermostat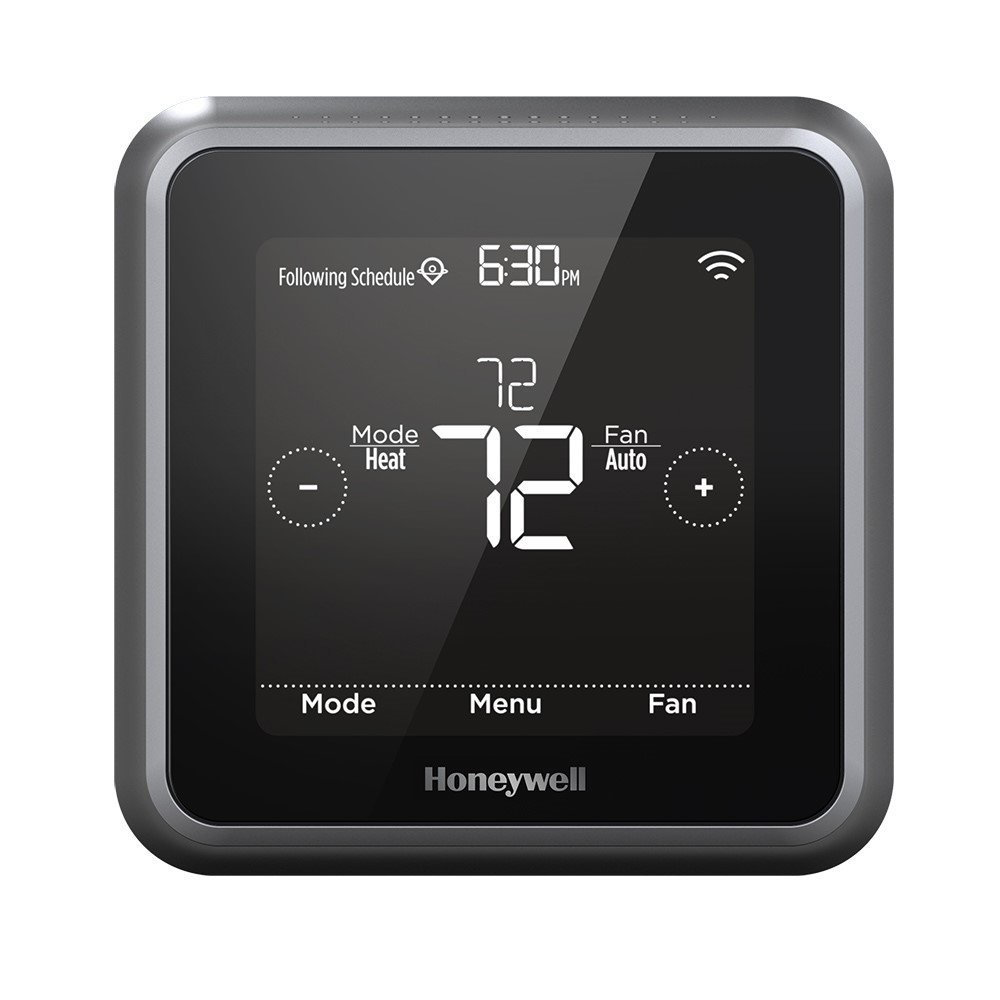 Different houses heat and cool more efficiently depending on their setup, construction, and design. Over time, this programmable thermostat employs adaptive recovery to learn exactly how long it takes for your house to heat up or cool down. It then uses this information to automatically and intuitively adjust the temperature in your home. Controlling this thermostat is effortless through hands-free voice commands using Alexa.
GeoFencing helps this thermostat save energy heat and cool your home more intuitively. It automatically monitors the weather and temperature in your area to provide customized, location-based temperature control. It also uses GeoFencing to track the location of your smartphone or other connected mobile device to automatically readjust the temperature to save energy when you're not home. This thermostat is certified by ENERGY STAR to save energy in your home.
Pros
Links with Alexa for easy hands-free voice control
Offers GeoFencing location-based temperature control
Automatically readjusts temperature to save energy when you're not home
Learns from your home and habits to offer more intuitive heating and cooling
Proven to save energy and ENERGY STAR-certified

5. ecobee3 lite Smart Thermostat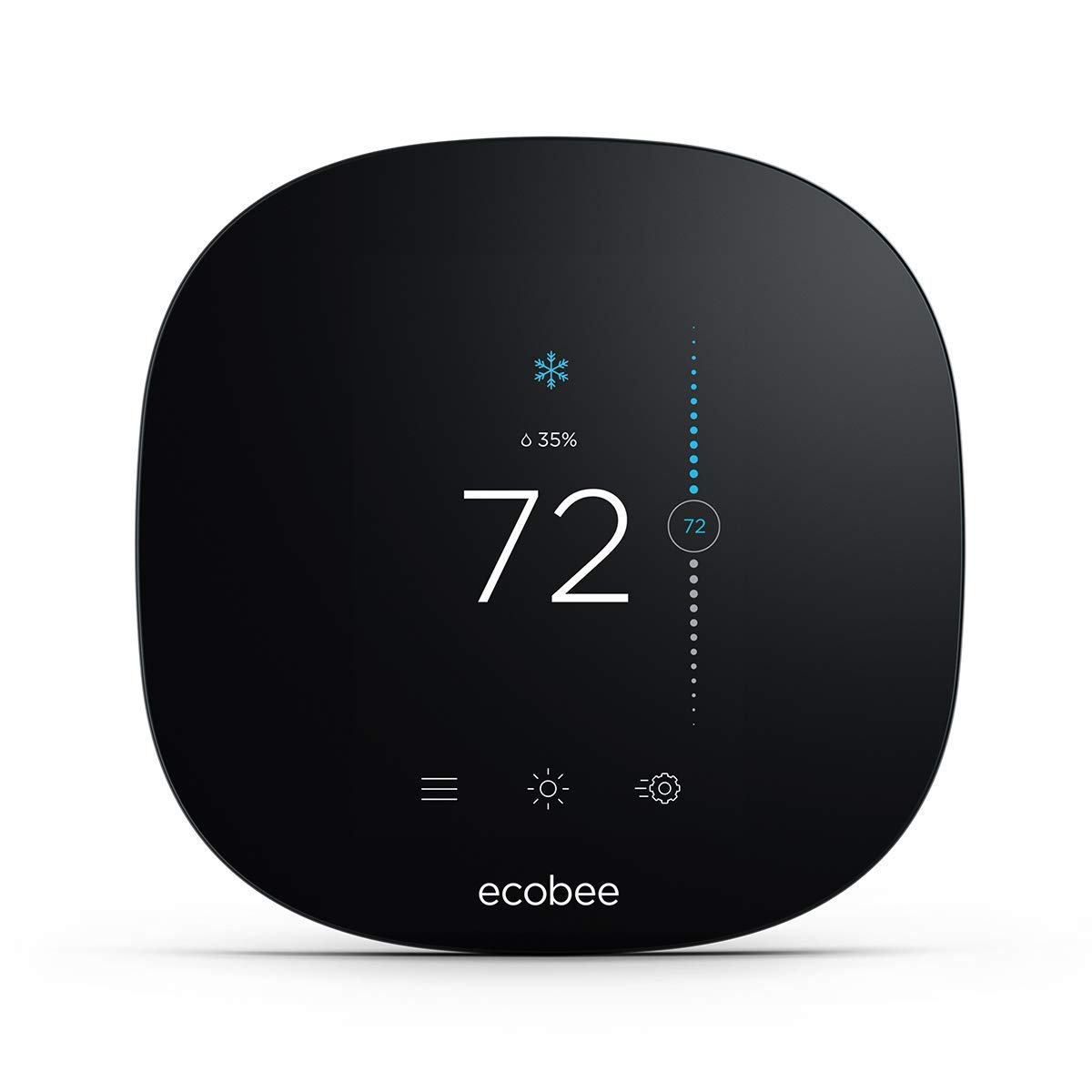 Start using this programmable thermostat in thirty minutes or less. Install it and set it up easily using the ecobee app on your smartphone, tablet, or other mobile device. This app features an in-app step-by-step installation guide that walks you through the thermostat's initial installation and setup process. It also allows you to control the thermostat directly from your mobile device when you're home and when you're away. You can also use voice commands for hands-free control through Alexa. This thermostat is compatible with Alexa as well as many other popular platforms such as Wink and Samsung SmartThings.
Maintain a comfortable temperature throughout your whole house–even those frustrating rooms that always seem to be too hot or too cold–with the room sensors that are compatible with this programmable thermostat. Place these small, unobtrusive room sensors in any room to monitor and balance the temperature in a specific area of your home.
Pros
Works with Alexa for hands-free voice control
Compatible with room sensors for intuitive all-over temperature control
Links with the ecobee app for easy control from any mobile device
Offers an in-app installation guide for quick and easy setup

---