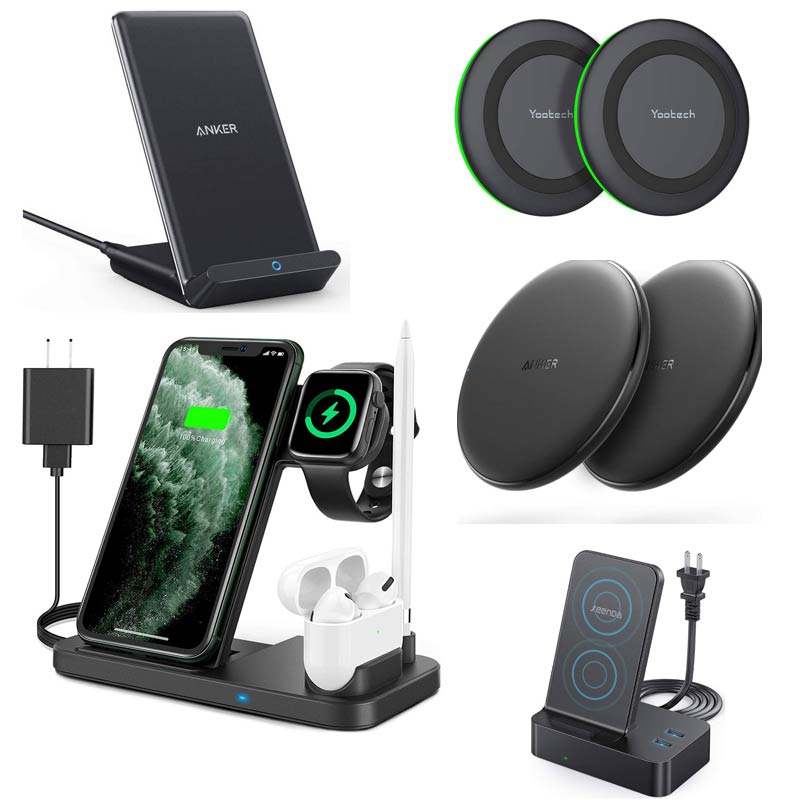 With the introduction of the iPhone 8 and iPhone 8 plus, Apple launched a wireless charging technology to make it easier for us to charge our phones. Each new iPhone which includes iPhone 11, iPhone SE 2020, to the newly announced iPhone 14, has been equipped with wireless support. Although the sad part is that you won't get a wireless charger with your iPhone, you will have to buy it separately.
Bear in mind that investing in a wireless charger is always a good idea. They are a bit slower than the standard wired charger, but they offer a very convenient way to charge our phones. Read this guide before you buy wireless chargers for iPhone.
Inductive Charging – and Qi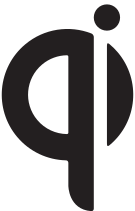 AirPods and iPhones rely on a wireless charging technology called Qi (If you are wondering it's pronounced as "Chee". Cool right, even we thought the same). That means if you want to buy a wireless charger then you will have to find the ones that are Qi-compatible wireless chargers.
You might wonder, "Well aren't all the wireless chargers the same, why should I buy a Qi-certified charger?" Let us put it in this way, if you don't get a Qi-certified charger then that could prove to be incompatible with your phone or it could even damage your new iPhone. If you want to know more about Qi technology, you can check out this page (https://www.wirelesspowerconsortium.com/qi/) by Wireless Power Consortium, a standards development group that checks and approves Qi tech.
Note, Qi charging is based not on direct contact, but the technology of magnetic induction. Your phone should be able to charge if it is within a few millimeters of the charging pad. So, if you use a case for your iPhone then bear in mind that Qi charging should work with any silicone, leather, or any non-metal case with a 3mm or less thickness. Metals could interfere with the charging process so; you would have to opt for other materials.
How to Choose Wireless Chargers – Things You Need to Consider Before You Buy A Wireless Charger
Purchase one with a style that you like, and can afford the price. There are mainly two types of Qi chargers: Stands and Pads. Pads are great for when you just want to put your phone down and go to sleep. Make sure you choose ones with not too bright LEDs.
We don't want you to ruin your sleep because of the bright lights. If you spend a lot of time on your desk working then you should opt for a charging stand, one that supports your phone so you can quickly unlock your phone with Face ID and see the screen while working. In a Qi-certified charger, what characteristics do you look for? You can get started with the following:
Wall Plug
A Wireless charger doesn't mean it can generate power out of thin air. You will need to connect your wireless charger to a wall plug. The charger must have the power to charge your iPhone and that power comes from a cable that is normally connected to a USB port. It is important to note that some wireless chargers don't come with a wall plug. You will either have to buy a wall plug or use a spare one at your home. You can even connect the cable to the USB port on your laptop but remember that is going to drain your laptop's battery really fast.
Rubber Grip
A pad-embedded rubber ring will help prevent your phone from sliding around. Without the rubber ring, your phone can be knocked out of balance by one small bump, which will disrupt the charging process.
Coils
Your phone can start charging with a single charging coil, but you will see some chargers with two or more coils. The difference between a single-coil and a multi-coil charger is that a multi-coiled charger allows you more space on the pad, which means that when you lay down your phone, you don't have to be precise with laying it down.
If you decide on getting charging stands then it's better to have extra coils since there are various heights for different types of iPhones, you want to make sure your phone would connect properly.
All the following chargers have the following device compatibility: All Qi-enabled devices specifically: iPhone 14 mini, iPhone 14, iPhone 14 Pro, iPhone 14 Pro Max, iPhone SE (2020), iPhone11, iPhone 11 Pro, iPhone 11 Pro Max, XS Max, XR, XS, X, 8, and 8 Plus.
Product Name
Type
Weight & Dimensions
Anker Wireless Charger 10W A2503
Charging Pad
2.4 ounces and 3.94 X 3.94 X 0.39 inches
Powlaken 4 in 1 Wireless Charging Station
Charging Stand
10.1 ounces and 6.7 x 1 x 5.8 inches
Anker Wireless Charger A2524
Charging Stand
3.87 ounces and 3.15 x 2.68 x 4.49 inches
Yootech Wireless Charger
Charging Pad
7.4 ounces and 3.72 x 3.72 x 0.48 inches
Seenda Wireless Charger ICH-62
Charging Stand
14.8 ounces and 5.7 x 5 x 3.1 inches

A table of the best wireless chargers for iPhone
Best Wireless Chargers for iPhone 14
Anker Wireless Charger:
Model: A2503
Type: Charging Pad
Weight and dimensions: 2.4 ounces and 3.94 X 3.94 X 0.39 inches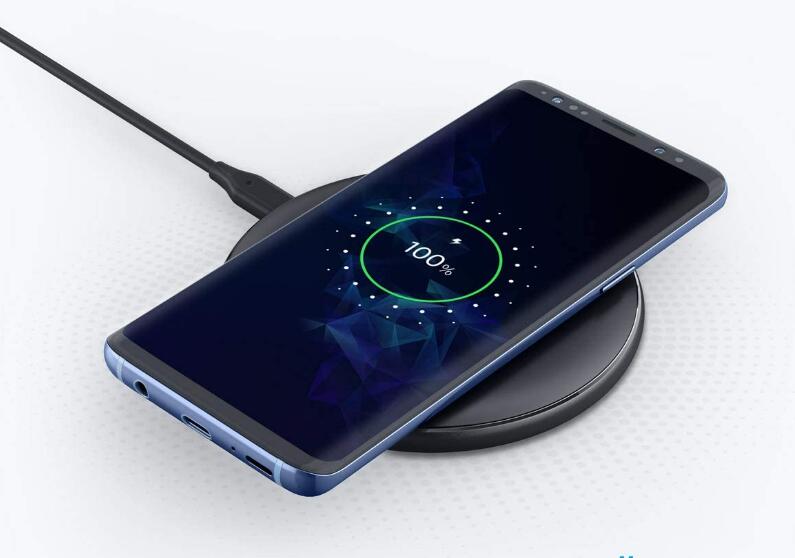 When it comes to charging technology, Anker is a reliable name. The following makes it a treat to use this wireless charger:
PowerWave Technology: It has the PowerWave that provides charging power directly across cases of even 5 mm thickness. So, you don't have to take your phone cases off for wireless charging, even the Otterboxes. However, having magnets, cards, or grips on the cases can interfere with the charging
User-friendly: This charging pad has different LEDs lighting turned up to inform you about its current status e.g. it has a blue light flashing if it detects a metal obstruction on the charging area and a constant blue light is on when a device is being charged and so on.
Safe: This pad makes sure that your devices stay protected while charging them wirelessly. And for this reason, it comes with foreign object detection, short circuit protection, temperature regulation, and more.
Looks great: It looks very slim and aesthetically pleasing, bringing style to wherever it is kept. It also has a TPU material on it, that prevents it from slipping.
This Anker wireless charger has some solid validation: it was named "Best Wireless Chargers" and "Best Wireless Charging Pads" by Buzz feed and iMore, respectively.
Powlaken 4 in 1 Wireless Charging Station:
Type: Charging Stand
Weight and dimensions: 10.1 ounces and 6.7 x 1 x 5.8 inches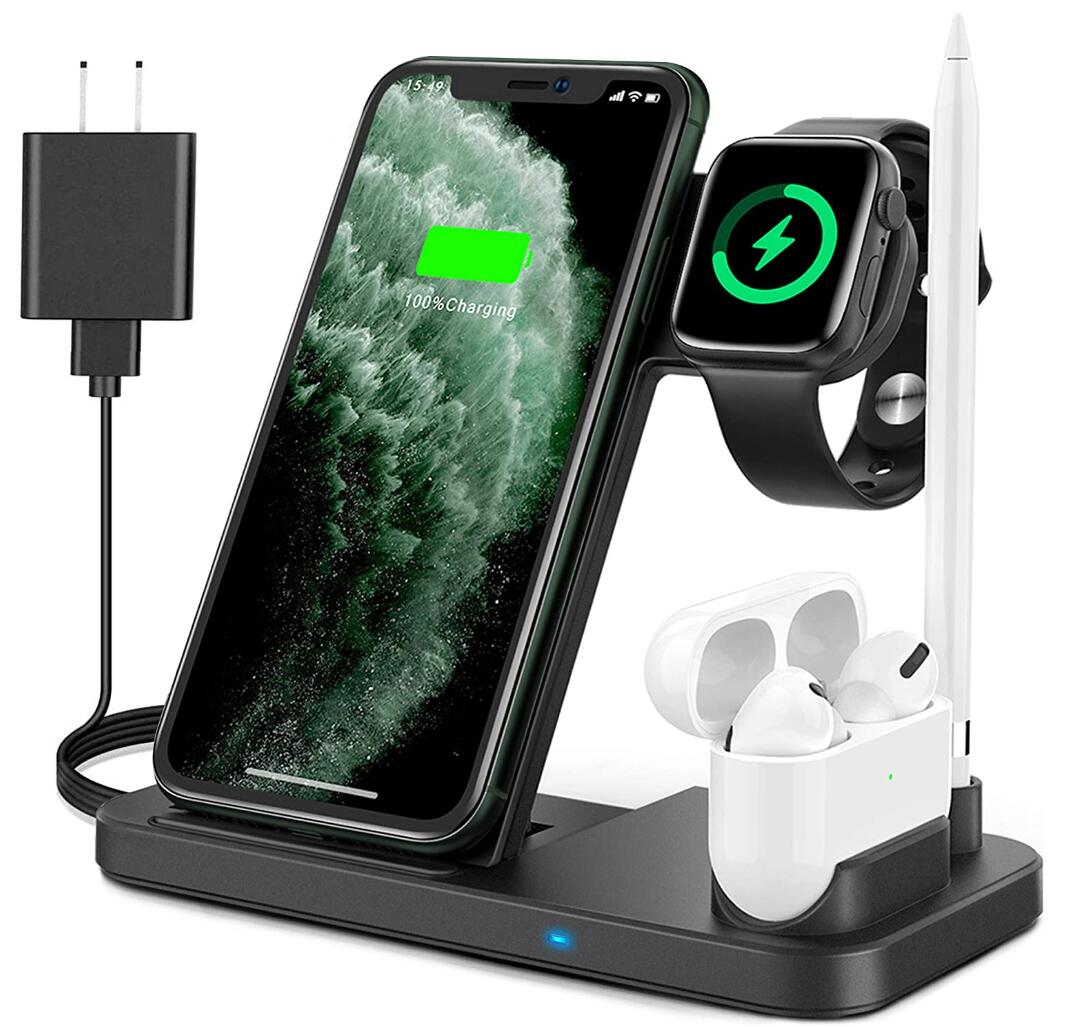 This wireless charger by Powlaken really makes sure you don't have a mess of wires lying around you. The following are the pros of this charging station:
Aesthetically pleasing: You don't just get to charge all your devices at the same time but also get a way of arranging them in a way that looks good and convenient.
Safe: It has a built-in overcharge, overcurrent, and overvoltage safety and temperature regulation as well, protecting your devices from damage.
Easy to use: All you need to do is place your devices on the charging station and forget about them. You don't need to take off your phone covers, however, magnetic covers and other metallic accessories can cause some interruption in charging.
Devices can be charged at an angle: Because it comes with 2 coils you can place your phone on the stand at a portrait or landscape angle, which will make it easy for you to watch videos, listen to music, make calls or send messages during the entire charging period without interruption.
Anker Wireless Charger for iPhone 14
Model: A2524
Type: Charging Stand
Weight and dimensions: 3.87 ounces and 3.15 x 2.68 x 4.49 inches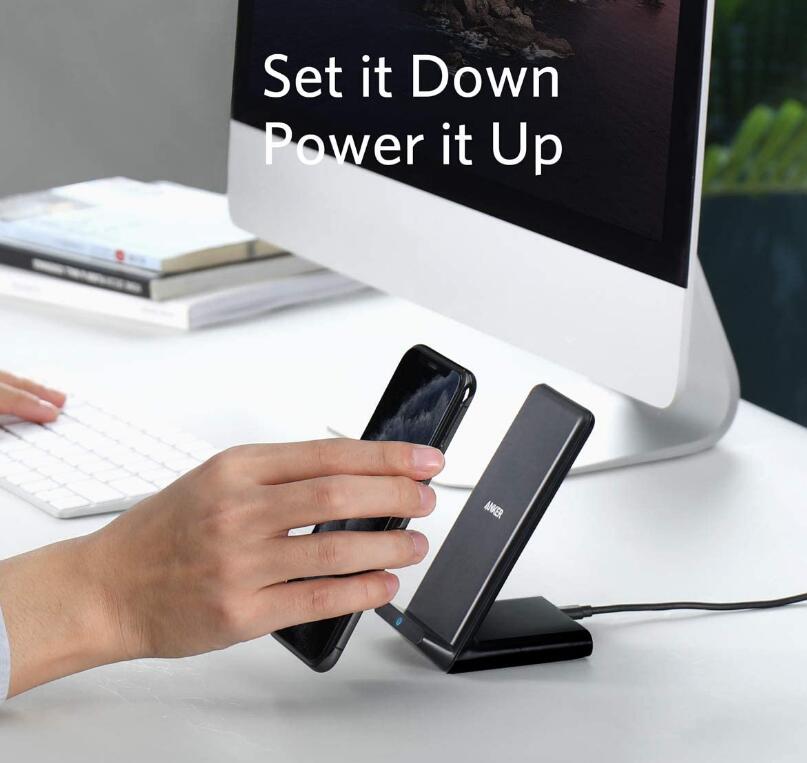 Another of Anker's excellent wireless charger is this A2524 charging stand. It charges the iPhone at a 10% higher speed as compared to other iPhone chargers with better devise protection. Besides this, the following are the things which make the A2524 irreplaceable:
Easy to use: Like all Anker chargers this is extremely easy to use, with PowerWave technology, preventing the hassle of removing phone covers, for charging.
Improved Charging: Depending on the power needs of your gadget, the PowerWave automatically toggles between 10W and 5W charging modes, optimizing the process of wireless charging.
Safe: This Qi-certified charger stand ensures your peace of mind while you leave your devices on a charge. These stands have foreign object detection, short circuit protection, temperature regulation, and more.
Device can be charged at any angle: You can charge your phone while keeping it horizontally, making it easy to watch video while the phone charges or vertically, to make facial recognition possible without having to pick your phone and interrupt charging.
Yootech Wireless Charger for iPhone 14
Type: Charging Pad
Weight and dimension: 7.4 ounces and 3.72 x 3.72 x 0.48 inches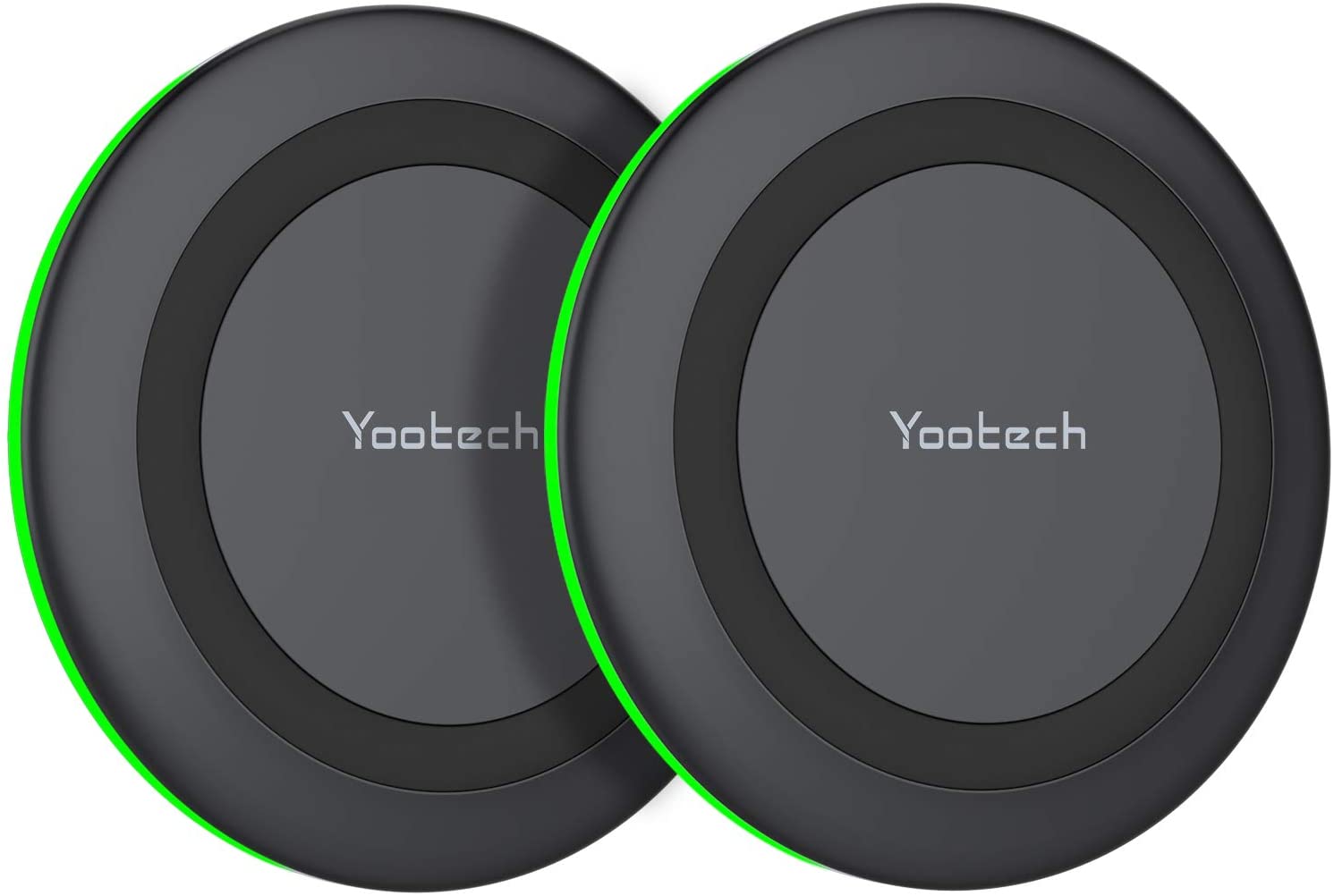 Yootech wireless charging pad comes in a pack of 2 charging pads, giving you more room to charge different devices at the same time. The following benefits distinguish these wireless charging pads from others available in the market:
3 Charging Modes: It has a charging mode that supplies 7.5 W for charging the different iPhone version it's compatible with. Then it has a 10 W and a 5 W charging mode, which is for Samsung and other Qi enabled devices, respectively.
Ultra-Safe: Yootech is Qi-certified and has taken special care to make your wireless charging experience safe and damage-free. For this reason, they have taken measures to regulate temperature, prevent short circuits, and protect from power/voltage/current surges. To be extra safe they have made the charger of a fire-resistant material called ABS.
Warranty: These charging pads come with lifetime guarantee and express customer service.
Case-friendly: Devices can be charged without any issue with covers made of rubber, plastic, and TPU, which are up to a thickness of 4mm.
Sleep-friendly: Once the pad realizes that you placed the phone on it for charging, the LED light on the charging pad will turn off to keep the charging experience sleep-friendly.
Seenda Wireless Charger for iPhone 14
Model: ICH-62
Type: Charging Stand
Weight and dimensions: 14.8 ounces and 5.7 x 5 x 3.1 inches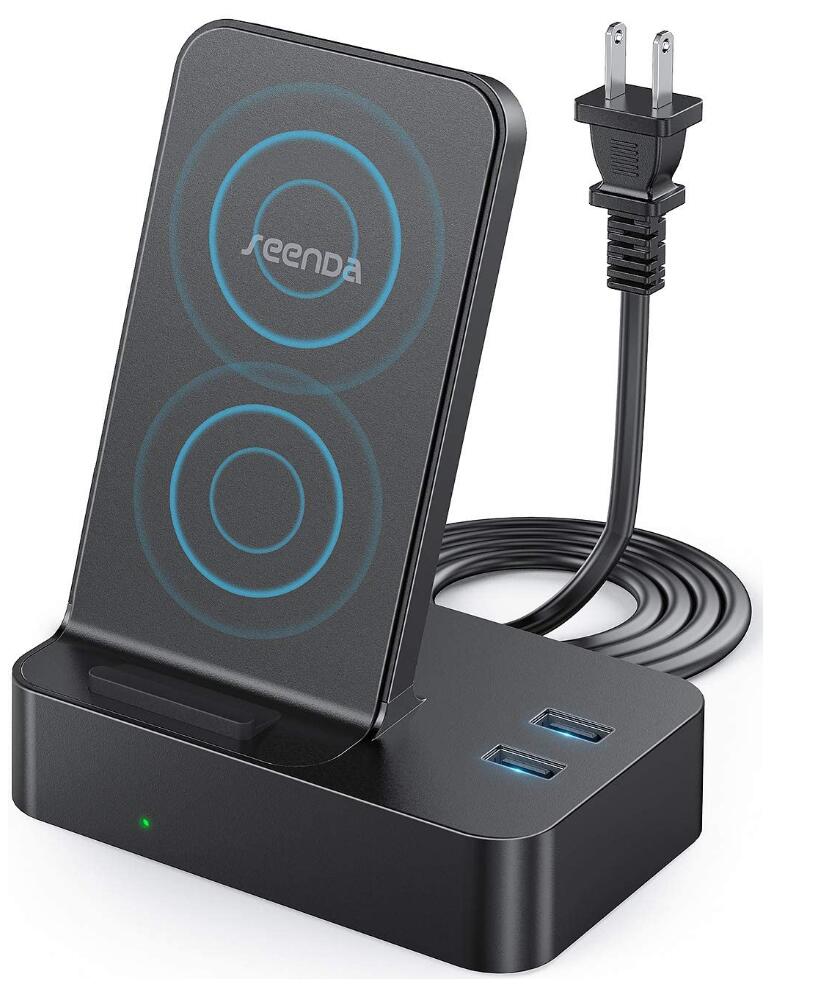 Seenda's Wireless charging stand comes with two additional fast-charging USB ports, which can be simultaneously be used to charge other devices, while your phone charges wirelessly on the stand. The following are the benefits to look out for when you purchase Seenda's wireless charger stand: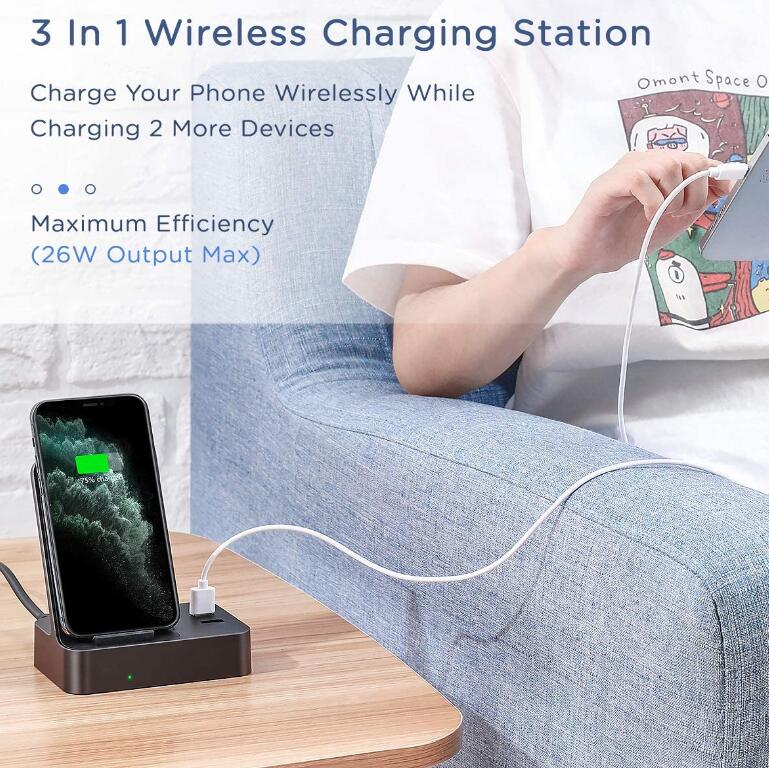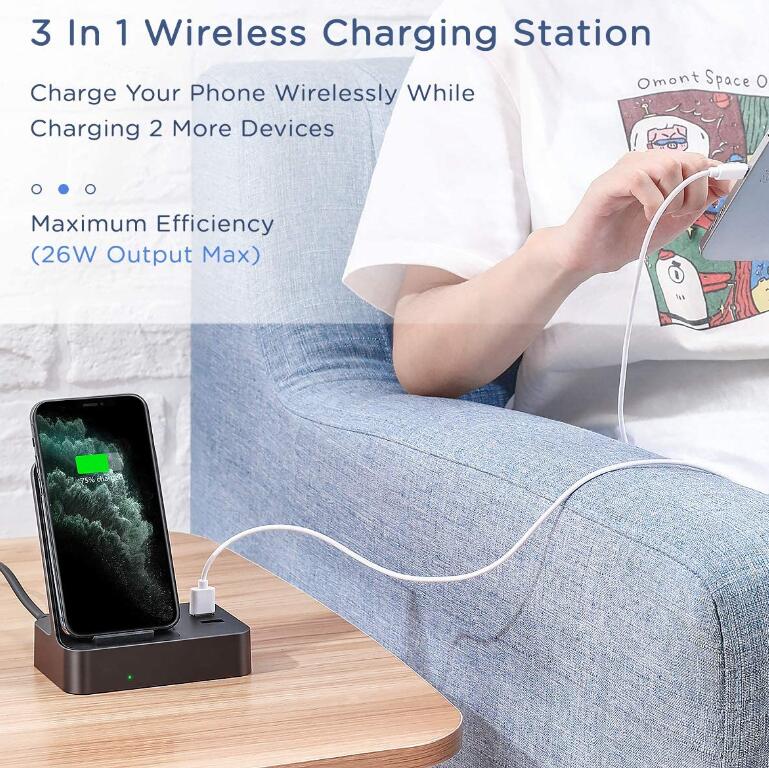 3 Charging Compatibilities: The charger is capable of identifying the type of device placed on it and provides the power suitable for that particular device: It will provide a 7.5 W for charging the different iPhone version it's compatible with and a 10 W and a 5 W for Samsung and other Qi-enabled devices, respectively.
Safety Ensured: In addition to the standard over surge protection, this charger has a smart chip installed, that regulates current and voltage and shut off the power if the temperature reaches 104 Fahrenheit.
LED Indication: The LED communicates the different statues of the stand. For example, the green light turns on when your phone is charging, and the red light turns on when an obstruction is detected in the charging area of the stand.
Conclusion
So, there you have it, our top wireless charging station picks for you. Gone are the days when you would have to find a wire to connect your phone for charging. With the latest wireless charging technology, it is easier for us to charge our phones. Hopefully, our tips could guide you along your way of searching for the perfect wireless charger.