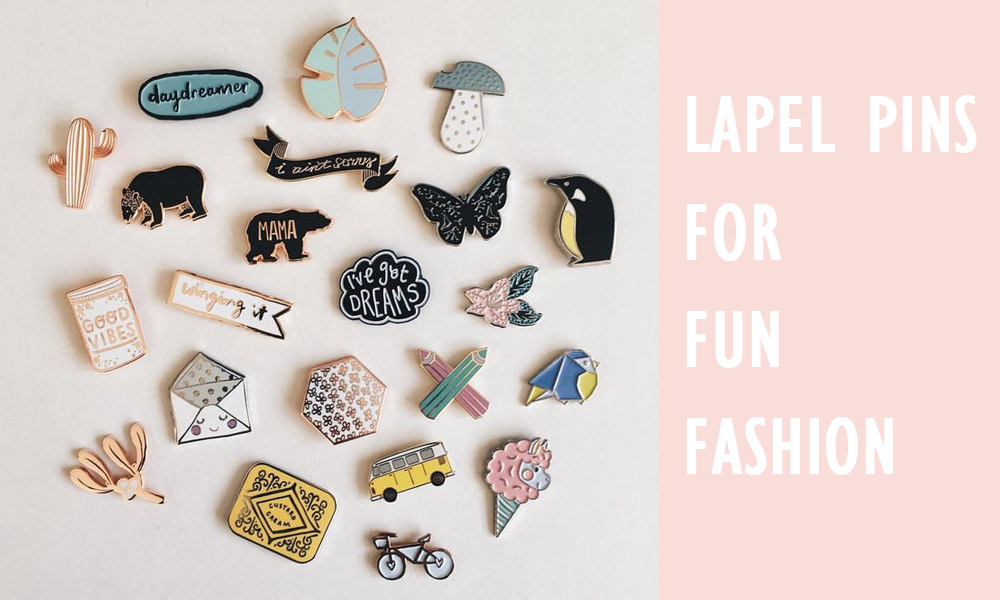 Here's another exciting new idea that can transform your fashion style and add that special vibe that makes you stand out for your personal style! Lapel pins are a fun fashion that may be totally new to some, but I was really 'into' enamel pins as a kid at junior school!
So I'm pleased to see that fun, little fashion items are making a long-delayed comeback. And the beauty of this interesting trend is that the range of enamel pins is so wide you can use your lapel badges to make a political point or reflect your hobby, or just to add Boho, urban, hippy, chic, Goth or romantic style to your outfits!
1. What is an enamel pin?
Also called badges in British English, an enamel pin is a small 2-dimensional shape that can be any image. For example, there are lapel pins in the shape of fruit, cute flowers, or cartoon sail-boats for keen sailors, cats, dogs and all sorts of animals to show your love of pets. And there are hobby and sporty pins, to show new acquaintances how you spend your leisure time. The cute golden pin below isn't strictly speaking an 'enamel' pin, but it's from the same fashion category. And it's pretty, original, trendy and invites other plant lovers to chat with you, too!
And if you're an advanced runner, or just an athletics fan, hoping to meet other people who share your interest, this running woman pin is perfect for attracting kindred spirits!
Looking for a tennis partner or just like to look fabulous at the Tennis Club? This tennis pin is a very pretty accessory and a splendid gift idea!
Love sewing, or perhaps you run your own machine-sewing workshops/classes. What could be more appropriate than this cute enamel sewing-machine pin to subtly advertise your classes?
Enamel is famous for producing clear, bright colors with a glassy finish that catches the light. It's actually made from powdered glass that's layered and tinted before being shaped into attractive enamel pins. They used to be a formal indication of your religious, political or business association membership, but like so many things in this new century, their 'look' and purpose have been totally overhauled to make them the opposite! So today's enamel pins are generally informal, and crazy, and fun, ways to decorate a jacket, blouse or dress in a new and interesting way!
2. How to wear an enamel lapel pin on thin fabric
On a blouse or dress, some fabric is too fine to take the weight of an enamel pin. So you can prevent it damaging your clothing by cutting out a small square of thin cardboard. Place the card on the inside of your garment, behind the spot where you're going to attach the pin. And then insert the pin through the fabric and through the card. Then add the butterfly-clip and the card will carry the weight of the pin and protect your fine material from tearing.
3. How to 'fashion style' your fun enamel pins!
This article is focused on fashionable ways to wear the new enamel pins, so we don't have to follow any rules and can be original and outrageous if we choose! So let's decide what you want to achieve by wearing your new enamel badges.
As they have sort of taken the place in women's fashion of 3-dimensional brooches, use them to brighten up a plain outfit.
Make a political, personal or social statement in an informal way.
'Advertise' your leisure activities and hobbies, such as sewing, sports, cats and dogs, animal conservation, photography, travel, dancing, music, wine appreciation, beer-making and whatever else you enjoy.
And one of the most important benefits of cute enamel pins is to make it easy to start conversations with new people. Pins can help you find kindred spirits, or people who just love your style, but they are definitely going to attract attention and comment from the people around you. And making new friends, with whom you have something in common, is one of life's greatest pleasures!
And finally, we wear them for fun!
So from making a stand for veganism, full human rights for everyone, anti-nuclear wars, how much you love your pets, or just that you love ice-cream, an enamel pin is more than a fashion statement, it's a mini-profile of you.
4. Different types of enamel pin fasteners
There are three main types of pin fasteners:-
Butterfly-clasp enamel pins are traditional and give a secure attachment to your garment. They are popular for flag pins, school pins of various types and for trendy novelty shapes.
Screw and nut enamel pins are designed to be totally secure and they are used for pins worn by physically active people, including sports fans, as they can't become dislodged and fall off.
Magnetic-clasp pins are the newest type of fastening and work best with finer fabrics than a thick lapel. They are great for wearing with fine fabrics that would be damaged by a heavy pin fastener, as the magnetic force will never pull on the fabric.
5. When should you wear your enamel pins?
Anywhere and anytime you like! They are just a fun way to add trendy style to whatever you are wearing and as there are thousands of different enamel pins on the market, you'll find it very easy to source badges that enhance all the different work, leisure and fashion garments you wear.
6. Where can I buy lapel pins from?
All fashion accessory and jewelry shops on and offline are fully stocked with this new trend that's really exploded onto the market! Like lots of other accessories, rings, earrings, necklaces, bracelets etc. the trend starts off with you wearing one fashionable pin and then escalates until you are wearing several, or even large groups of enamel badges! And you can even have custom pins made, which feature your personal choice of image and the recipient's name. You can feature a favorite pet, a cartoon version of you and your friends, a pretty flower or your wedding bouquet! They make super, personalized gifts.
7. Funky urban enamel pins
Show your rebellious side with these edgy, funky enamel pins that are perfect for adding extra personality to your leisure wear. They look equally good on denim, leather jackets or black T-shirts and are great conversation starters. If you like facial piercings and tattoos, add a set of these bright and fun accessories to your clothes!
Let people know you're a musician with this cool set of guitar enamel pins. People love talking to musicians – hoping they're famous or live exciting lives!
8. Enamel pins on denim jackets
Of course, denim jackets and enamel pins go together really well, as they both have a relaxed, youthful vibe. I've no idea what that, 'Gotta hole in my soul' message means, but I expect it will draw loads of curious people to ask you about it! And you can tell them a different meaning every time, depending on your mood! LOL!
This pretty enamel pin suggests the wearer is a high-achiever, with just a touch of neurotic vibe – so approach with care. But it's just a fun remark and the attractive pastel colors on the pin look great against the dark-blue denim!
Cats and dogs are our favorite animals, and they look absolutely adorable on a plain, casual jacket. You won't be able to go more than 5 minutes without someone telling you how great they look!
Grouping a themed set of enamel pins together is one of the trendiest ways to wear enamel pins, and you can also do the opposite and group together a load of totally different pins! Your jacket – your style!
9. Random way to wear enamel pins
If you haven't really decided upon your particular style, keep the look general and it will still be trendy. Mixing and matching random fashion items is a major fashion trend and you'll still look 'edgy' and up-to-date!
10. Goth – Emo – Punk enamel badges
There are fabulous enamel badges available for every possible fashion style, so don't hold back from searching out your particular tribe. You'll find some very 'dark' and original images in the Goth, Emo and Punk ranges of enamel pins! And they are a very economical way to accentuate your fashion style, without having to buy a whole outfit.
And any modern feminist would love this clever and funny re-wording of a traditional stereotype! It gives a clear message that she's not to be messed with – which some potential partners would view as an attractive challenge!
And here's another way to announce your rebellious nature in a light-hearted, fashionable way!
This inspired mix of gruesome images along with a cute cate and pretty flowers shows exactly how to wear contrasting enamel pins together for fantastic impact!
11. Silver & pewter lapel pins as gifts
This isn't made of enamel, but it's super trendy and as cute as a cat with wings can be! You can wear this silvery-pewter lapel pin on a semi-formal jacket to add cute class! And it has more class about it making it suitable for wearing with a dress-jacket. Silver jewelry is very popular for young women right now, so this would match your current necklaces and earrings. And it would make a lovely gift for maids of honor or friends.
12. Quirky beige animal pin sets
And your fashionable new enamel pins don't have to have any specific message attached to them, either. These sweet animal pins in soft beige colors will just give out an image of a gentle nature and a love of fun accessories. And they'll harmonize with lots of fashion outfit colors, too. And they're suitable for kids, teens and women of any age.
13. Optimistic message pins
Encourage yourself and those around you to be positive and kind by wearing this set of fabulous enamel pins. They give out a Californian sunshine/surfer vibe to me and that makes me feel relaxed and positive straight-away!
14. Collectable enamel pins
I love vintage fairy illustrations like this image that I used to find in old children's books in my grandmother's house! And this type of enamel pin from the 1920's onwards is a very collectable item. So if you're looking for a new hobby, vintage pins may be something worth looking into.
And this vintage Russian Fairy-tale enameled pin would make a very special Christmas gift. But it's not only suitable for Christmas-time wear, it's perfect for wearing with a red or green dress or jacket any time from autumn to spring.
15. Anime enamel pins
If you love anime and fantasy hair colors you must add some cute anime characters to your jackets. You may have to share them with younger relatives – but you'll gain a mountain of trend-setting style!
16. Decorate your backpack with enamel pins
Show every aspect of your individual style by building up an enamel-pin gallery on your school backpack and be the envy of all!
So I hope you've enjoyed seeing this gallery of a fabulous new trend that we're going to be wearing for a few years to come! And that you've gained some inspiration about how to wear enamel pins to suit your personal style, or even completely change your fashion look to be a lot more interesting! Subscribe to get more fashion guides on herstylecode.com!