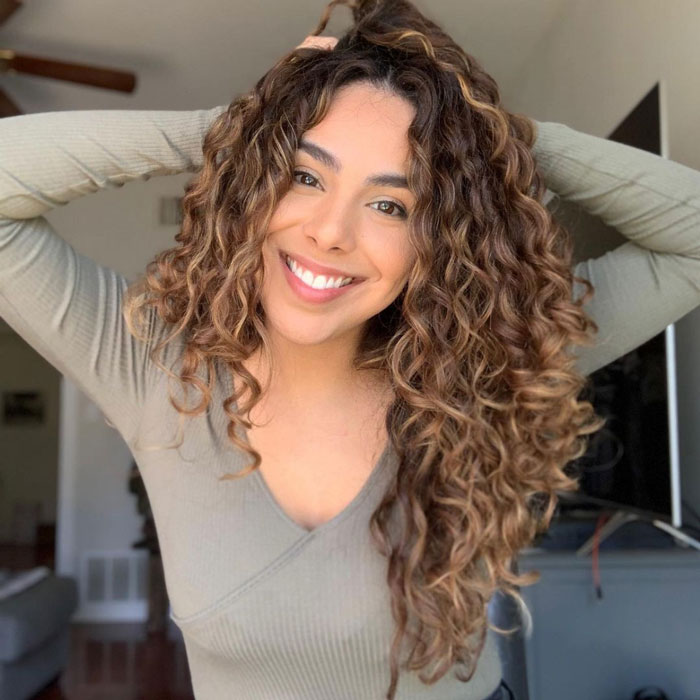 Flat irons, curling irons, hot rollers, curling wands – with all the heated curling techniques out there, what's a girl to do? Where's a girl to turn? What equipment does a girl even need to make her hair curly?
Fortunately, most types of hair curl with a little product (depending on your hair type) and whatever curling device you happen to own. If you're looking for a different type of curl than what you're currently getting, however, it might be time to start shopping (and who'd complain about that, right?).
Over the past week, I've tried out and documented heated curling devices just for you, dear reader. Use this comparison guide to find the curling device that suits you!
The Curling Iron
The curling iron is probably the most well-known and most-used heated curling device around. For this picture, I used a regular 1″ curling iron (try a Babyliss curling iron like their Pro Ceramic Spring Iron) just did a regular spiral curl. Curling my hair section by section, I gently combed out the curls so they weren't stuck in that 1800s-esq spiral state.
The curling iron is good for fairly quick curls, but if your hair texture is on the finer side like mine, it's going to take a decent amount of curling product and hairspray to get it to hold. Case in point: My curls fell out about an hour later.
The Flat Iron
Using a flat iron to make your hair curly takes a little bit of practice, but in my experience, it keeps curls in place longer. Why? For one, a flat iron gets a lot hotter than your run-of-the-mill curling iron, so your hair "listens" to it better. Additionally, when curling your hair with a flat iron, you generally curl it in a direction it isn't used to going, so it's more likely to stay in that direction.
For this look, I again gently combed out the curls to make them look more natural. As the day goes on, my flat iron curls usually turn wavy – but in a good way.
Hot Rollers
A little more vintage, hot rollers are great tools for volume more so than actual curls. They do, however, require a good deal of patience.
My set of hot rollers come in two sizes, large and medium. After waiting for them to heat up (about 15-30 minutes, depending on your set) and rolling your hair, you need to wait until they're completely cool before taking them out – which is generally around 45 minutes. If you try to cheat or rush and take them out prematurely, hear me now: Your 'do will not stay. (Trust me, I know this from experience. I've even tried sticking my head in the freezer for a few minutes to try to flash-chill them; it was a failure. Just be patient.)
With a good dousing of hairspray, this style can last all day – and if you roll your hair up correctly, you'll get volume to last you through your second day hair.
The Curling Wand
Finally, we come to my new favorite, the curling wand.
The curling wand differs from your regular curling iron because it doesn't have a clamp – which means you can curl your hair from root to tip.
Like the flat iron, using a curling wand takes some practice – and understanding that they provide a heat-protection glove for a reason (seriously, wear it. Those things burn like a mother.) However, as they're at a higher temperature than curling irons as well, curling wand curls stay in place for a really long time – like two or even three days.
Some wands are like a curling iron in shape, with the same-width barrel from tip to bottom. Others are conical curling iron wands/cone shaped curling iron wands, which means it's wider at the base and tapers thinner toward the top. Use whichever one you prefer for your hair!
Try a Sultra curling iron wand like a Sultra Bombshell curling iron wand.
For this style, I used the medium-sized barrel, .7-1 inches. Use a smaller size (.4-.7 inches) to channel Taylor, or a bigger one (1-inch total) for beachy waves.
On my hair, any type of curl typically works better on second-day hair – but if curling on freshly-washed hair, use a round brush while blow drying (with a Babyliss Pro hair dryer for best results! My fave is a Babyliss Pro Ferrari dryer.) to start adding shape and shine to your strands.