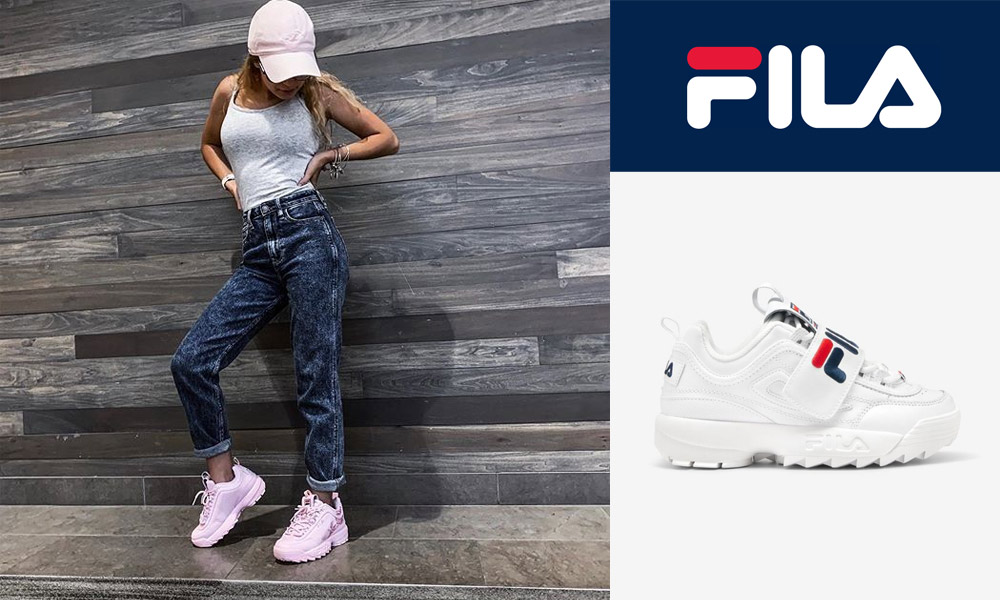 Fila Disruptor trainers are a massive trend for women and if you haven't already bought a pair or two, you'll certainly need to this year. The increase in dual-purpose, athleisure fashion clothes, inspired lots of new ideas about how to wear sneakers. And the Fila Disruptor has definitely risen to the top of this unexpected fashion twist.
Fashionable women in just about every country have gone crazy for wearing their Fila shoes with any outfit. And the trend for daring combinations created outrageous examples of 'mix and match', which needed the perfect, chunky sneaker as the seal of style on completed outfits.
Wide new Fila color range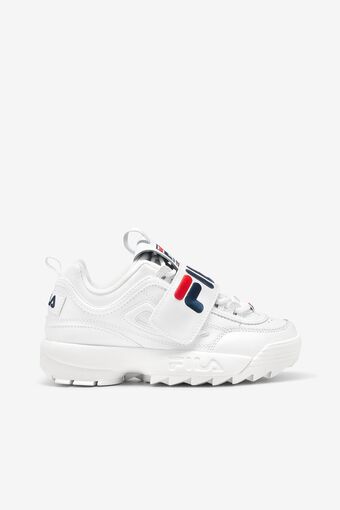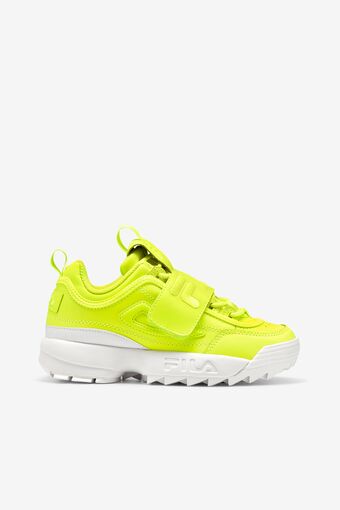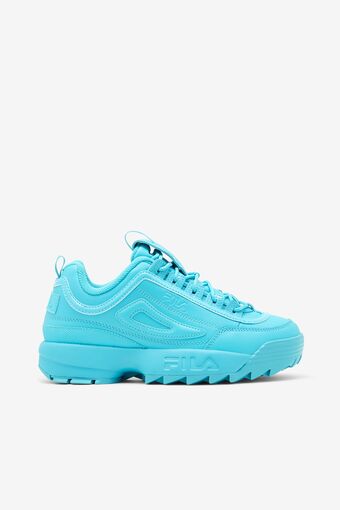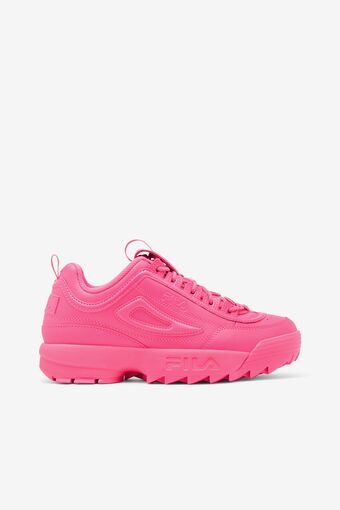 ---
Whether you favor the white Fila Disruptor, which goes with everything or prefer to be bolder, you can now choose from lots more extreme colors for Fila Disruptors. So you can match them with the trendy winter clothes in deep purples, burgundy, forest green, deep blue, multi-colors, red, brown and mustard yellow.
And when summer comes to your location, you'll be able to match them with the summer colors, which are all gorgeously soft, pastel colors like lavender, pink, soft moss-green, aqua, light-brown and beige, and soft yellow. So it's no wonder that high-fashion gals can't get enough of these comfortable, stylish and affordable trainers!
And if you're looking for fabulous ways to wear Fila Disruptors this year, read on to see new and exciting styling ideas! From fancy pants suits, through hip-hop, English countryside, cheeky checked tennis mini-skirts, slip-dresses, wide jeans and biker shorts – it's all here and ready to go!
Wide-leg jeans & Fila thick-soled sneakers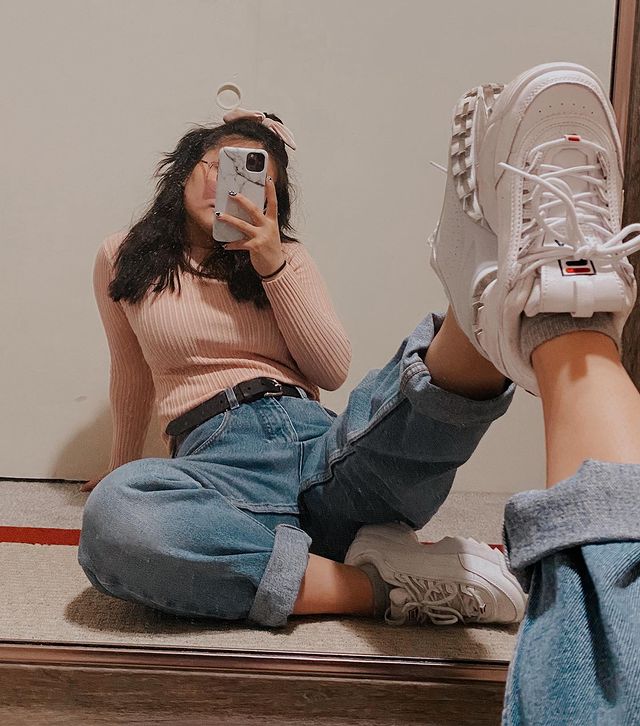 Of all the attractive footwear trends for this year, the solid-looking, chunky Fila is just getting more and more popular. Athleisure and 'dad' shoe-trends have boosted its trendy versatility and anyone who wears this year's variety of wide-legged jeans should be balancing out the width with a pair of Fila Disruptor chunky trainers. Wide-legged jeans, pants and dress trousers, need a chunky shoe to balance out your silhouette.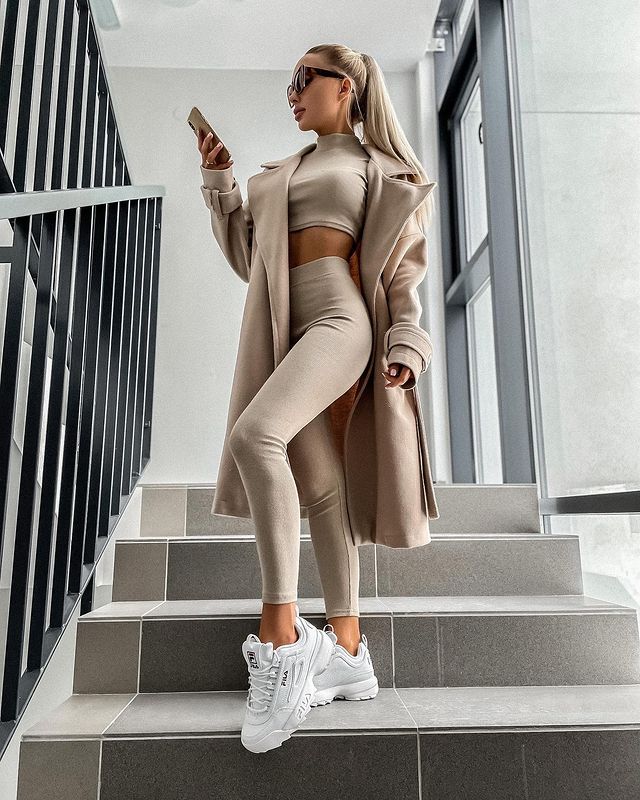 And if you want a flattering look, you really must have some extra height from your shoes to make your legs look longer – unless you're quite tall. Otherwise, shorter women will find their legs look too short in proportion to the width of the jeans. So whatever your favorite Disruptor style is, remember that they are extremely thick-soled shoes, which will give you a good 43 cm. or 1 ½ inches of extra height!
For the office wear a chic blouse or shirt and a pair of the new wide-legged style jeans with your Fila Disruptors and you'll have a groovy new look in an instant! And Fila Ray Low Sneakers have metallic stripes to match your trendy silver jewelry, for a smart-casual workplace outfit.
Hip-hop black & white Fila chic
If you love hip-hop and Aaliyah, you'll love this Fila Disruptor outfit. Choose a black hoodie, with Aaliyah printed in white down the sleeve and her image in orange shades on the front. Then add a pair of white, wide-leg, pants which button-snaps down the outer seam. Undo the snaps, so you have a slash, showing your calf up to just past the knee. And finish off this fabulous, street look with your white Fila Disruptor II and a black bag!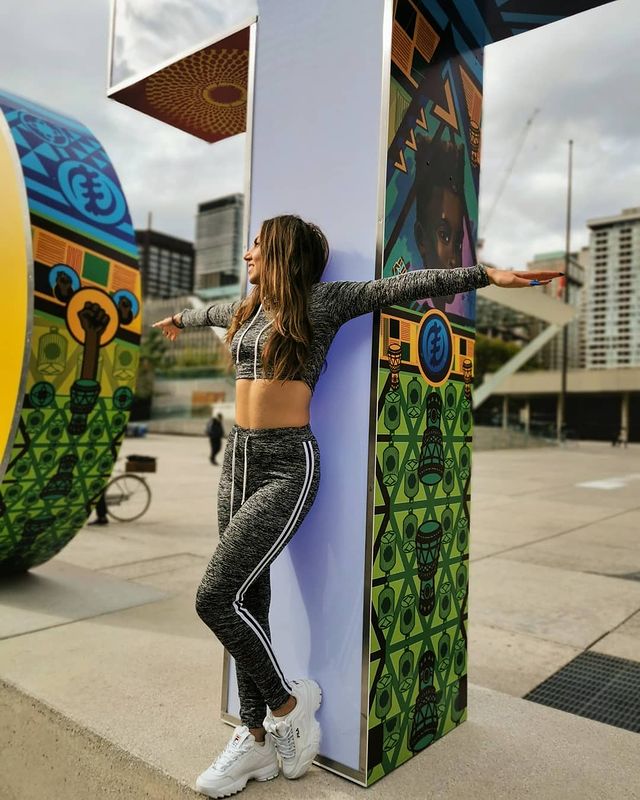 What about a cropped, white top over black cargo pants gathered in at the ankles, your white Fila Disruptors and a jaunty red beret? It's a casual, minimalist look, worn without a handbag to look 'street' and independent! Well, you don't need a handbag, really, with multi-pocket cargo pants!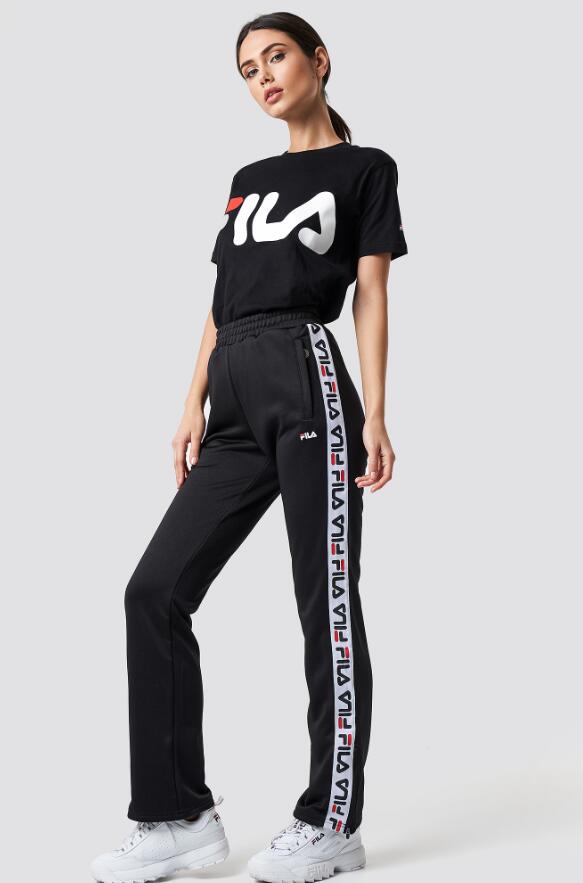 90's spaghetti-strap tee-shirts are back in fashion this year, so you can easily put together a retro-look with snap-seam sport's pants, in navy and white, a navy, zip-up hoody, (worn as if it's sliding down off your shoulders) and your chunky Fila trainers.
Countrywoman style with Fila Disruptors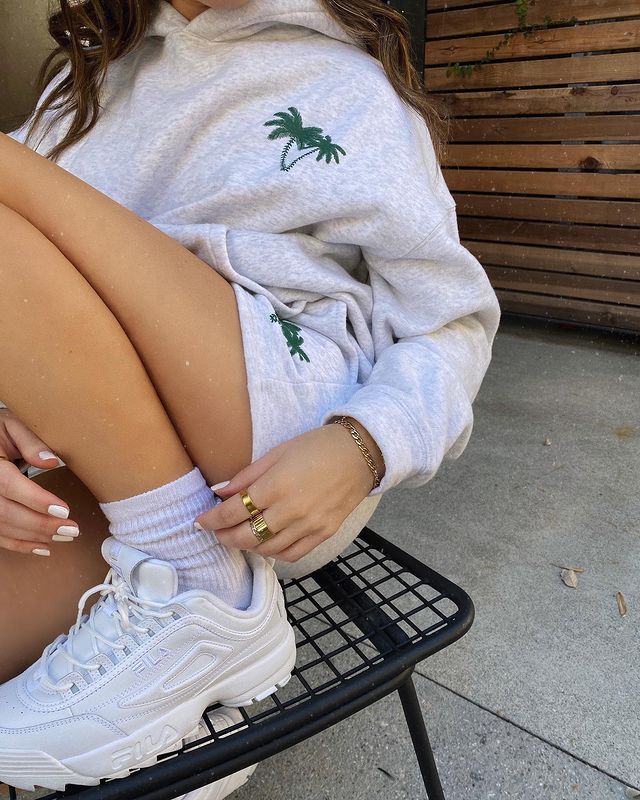 And at the opposite end of fashion styling, you can create an English countrywoman look with a chunky, cream cable-knit sweater, and tapered, pale-gray, knee-ripped jeans with cuffs. Drape a super-fashionable brown, beige and black checked trench-coat over your shoulders; add a black clutch bag and your versatile Fila's! Accessorized with golden, double hoop earrings and simple gold necklace, this attractive look is perfect countryside-chic!
Biker shorts & Fila Disruptors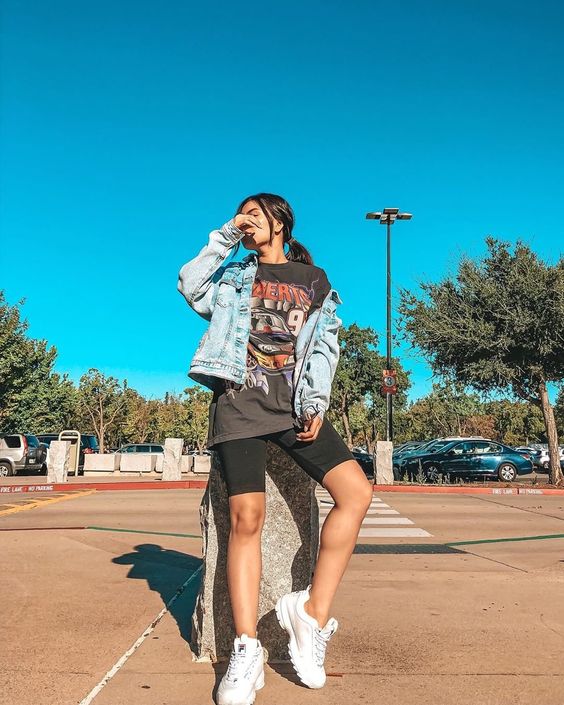 photo credit: shelbynguyenn
Wear your Fila Disruptors as an everyday fashion item that matches just about everything you own. For example, if you have already caught on to the enormous trend for wearing biker shorts as daily fashionwear, (or even if you haven't), try wearing one of the new, cardigan-coats in bright colors and a fancy pattern, with your Disruptors. Add a bright shoulder bag that goes with your cardi-coat and you'll have a super, new athleisure look for this year!
Fila Disruptors with dresses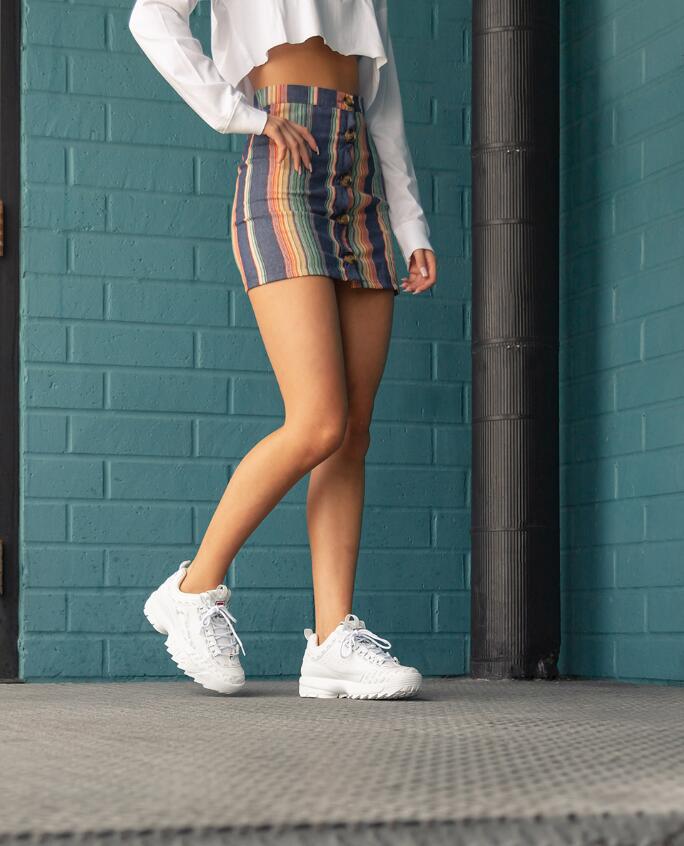 Some of us are so used to comfy sneakers we just can't bear to go back to dress shoes! The biggest fashion fans are accustomed to wearing their sneakers with their Fila Disruptors, so why not give it a try yourself? If you're off to the beach or local shopping in warm weather, a short, white, stretchy, tube-dress and a large white tote-bag look suitably casual, when you add your Disruptors.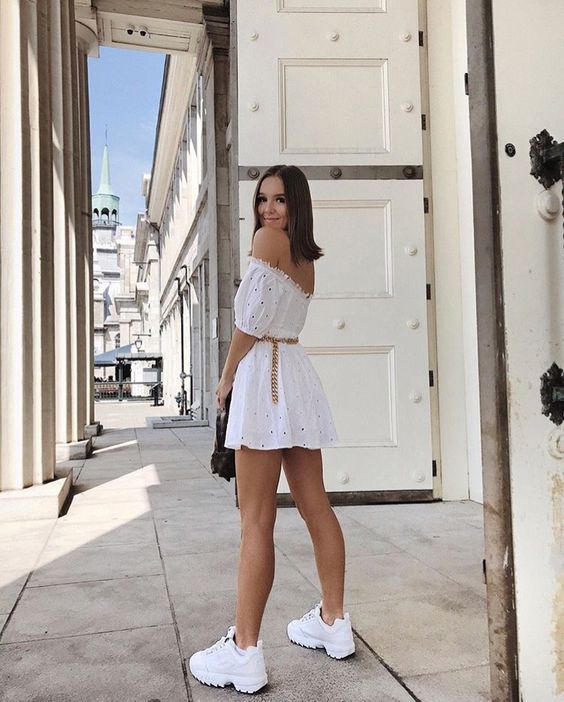 High-heels and dresses will always be a classic look, but not every dress or occasion needs smart leather sandals or shoes. Take, for example, the Little Black Dress, you can now wear it with a white blazer, a belt-bag, white socks and white Fila Disruptors and prove that both the LBD and Fila Disruptors look great for any event! And a black midi dress, with a black belt and a large tan handbag looks a lot more fun and Boho when teamed with pink Fila's and gray ankle socks.
Or if you're off for a night-out in cold weather, create a trendy contrast by wearing a simple, bright slip-dress and chunky sneakers, under a faux-fur coat. And in warmer weather choose a fashionable, fitted, checked mini-dress in one of this year's trendy pastel colors and finish off the look with your bright, white or pastel-colored Fila Disruptors.
Styling Filas with leather minis & tennis skirts
Whether you're wearing a leather or patterned mini-skirt, or a dress, or a long, floaty romantic creation, wear your white Disruptors and be extra comfortable and very stylish! There are lots of short, pleated, checked and plaid, tennis mini-skirts in the shops now, all ready for summer and those who live in warm climates. Chunky Fila Disruptor Hi-Tops look perfect with tennis skirts and add just the right touch of girly fun, when high-heels could look a little over-the-top with a micro-skirt.
Autumn is a good time to wear longer, floral skirts in the latest fashion colors of brown, sand, gray and tan.  And with a tan or gray handbag and your trusty Fila Disruptors, you'll walk comfortably through those irritating piles of dead leaves! And in the winter, enjoy warm and comfortable walking in the worst weather, in your Fila Disruptors, a puffy-coat and sweats.
Wear a zany suit with Fila Disruptors
Since suits became unisex, women have worn some outrageously conservative and some madly quirky Boho/Scene suits. So whether you want to look boyish or girly, try wearing a suit that draws attention to you and your super Disruptor 2 sneakers. For example, a camel and gray trouser suit with wide leg trousers and an over-sized blazer looks great with androgynous Disruptors.
Light blue, camel and a taupe/light-brown checked blazer-suit with narrow, cropped legs look fabulous together, even though you've probably never even thought of that combination before! Try wearing the suit with pastel-blue Fila Disruptor 3, a medium-length strap, black, square handbag and a super-cute camel-colored beret! Embrace unexpected, but complementary color combinations and have fun with exciting, rule-breaking looks – all pulled together neatly by your Disruptors!
Or you can make your own trend-setting plaid/check suits by combining two different check patterns, which share most of the same colors. For example, a tan, white and black blazer worn with a white polo-necked top, tucked-in to tan and black checked pants with wide legs. With a pastel blue clutch bag, with the new hand-strap, and your disruptors matching the white top, this is a fabulous new look.
And if you're an arty-fashion type, how about teaming a red and gray wide-brimmed hat, with a funky red and pink women's suit! This vivid and feminine suit has a blazer jacket and narrow, slightly-cropped legs, you can team with pink socks and a cute, little rectangular handbag.
More than half of the fun of new fashion is the afternoons you spend at home trying out new shapes and color combinations. And that includes the pleasure of finding different looks with new clothes and your wardrobe staples! So enjoy this year's new experimental trends, in the knowledge that you'll always know which shoes go best with each new look!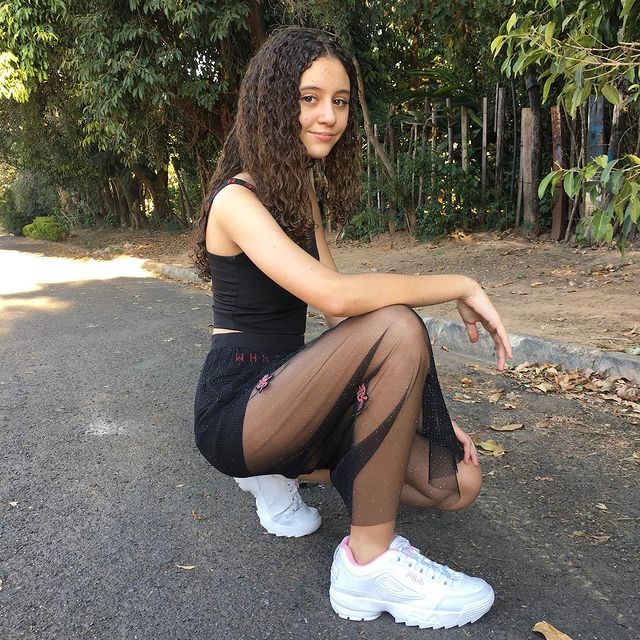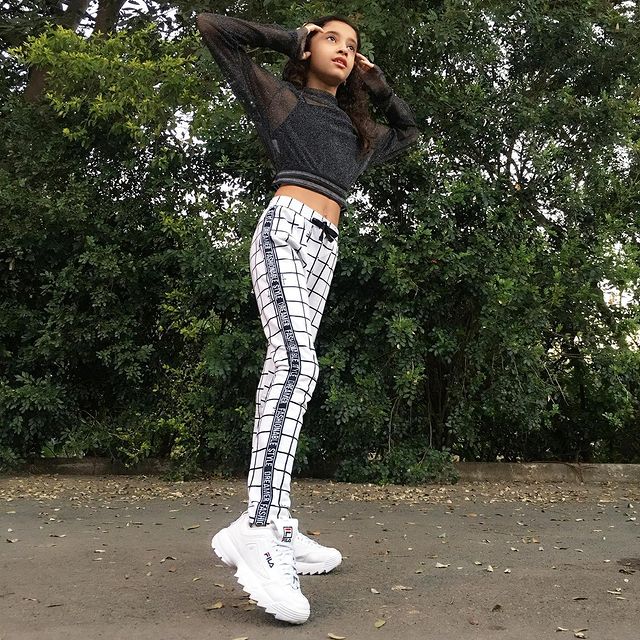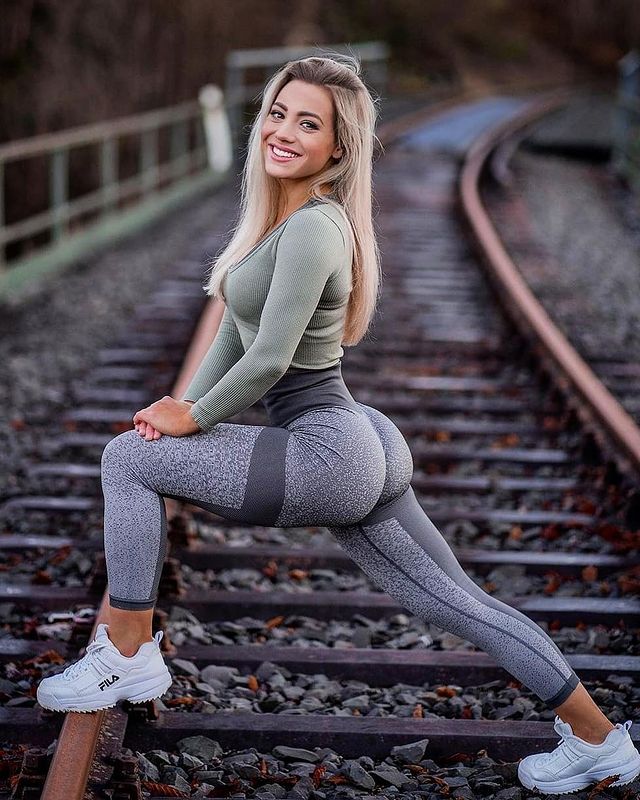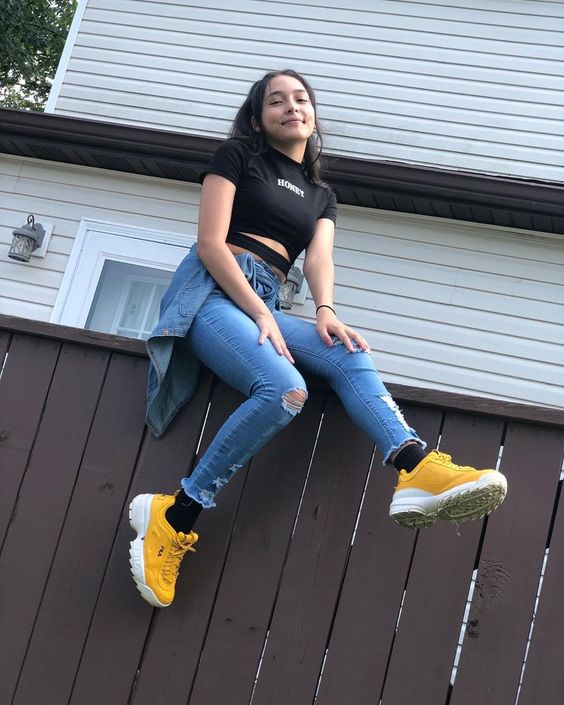 Fila Disruptor 2 Yellow — photo credit: @ ithzelp07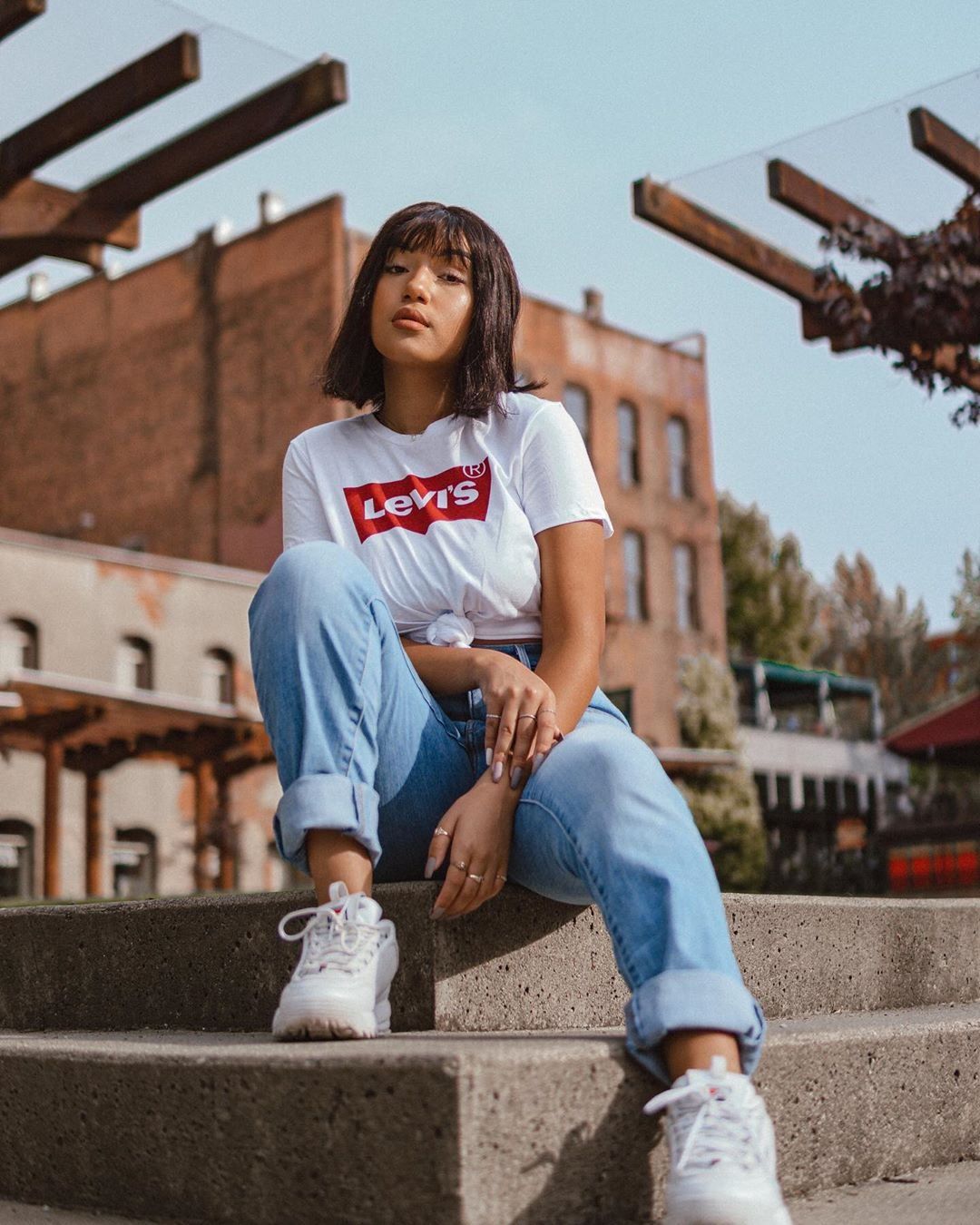 Womens Fila Disruptor 2 Premium Athletic Shoe – White JOURNEYS | Fila Disruptor II photo credit: shawn_mb + caribbean_beachdoll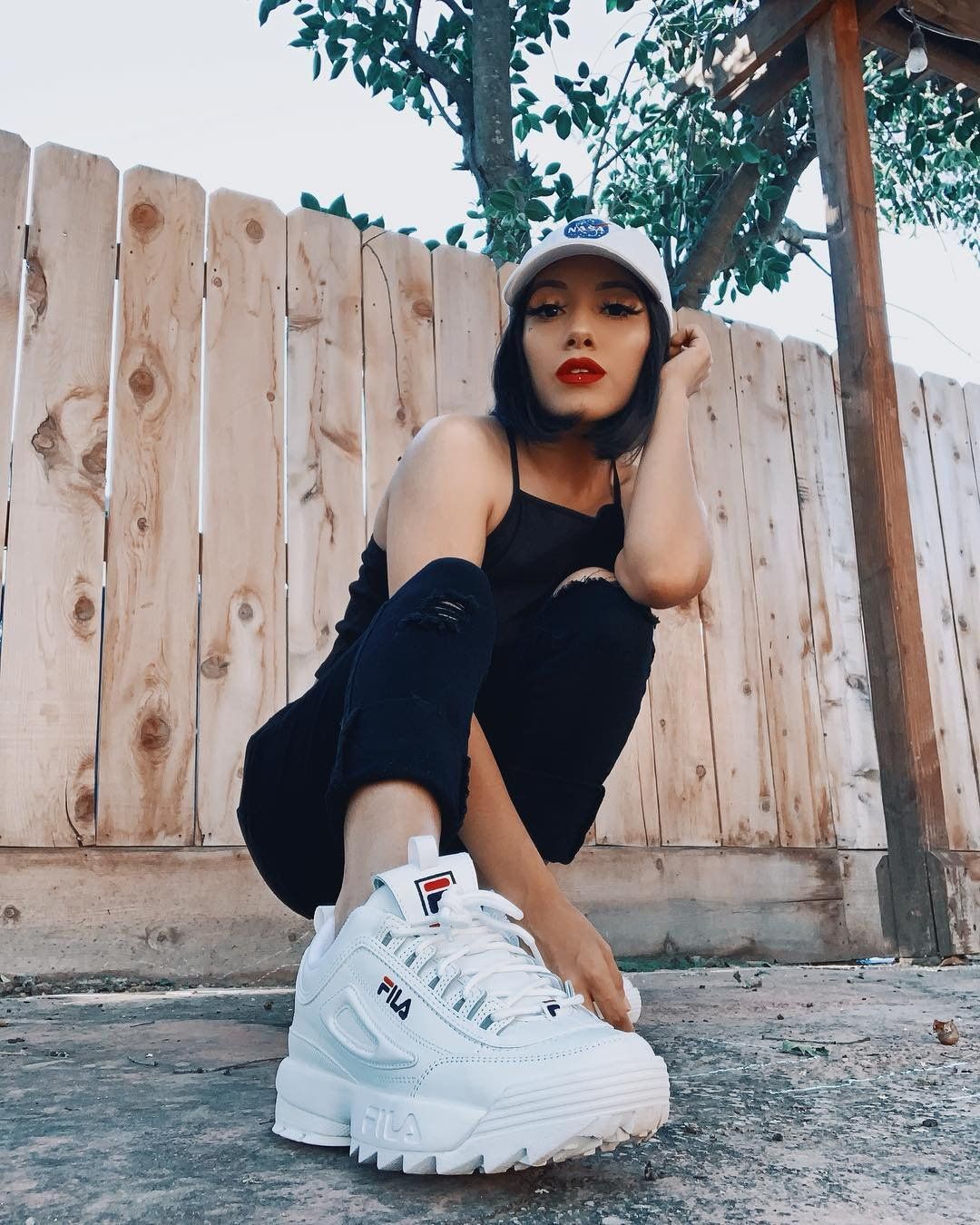 Fila Disruptor II — photo credit: bryanaaaaaa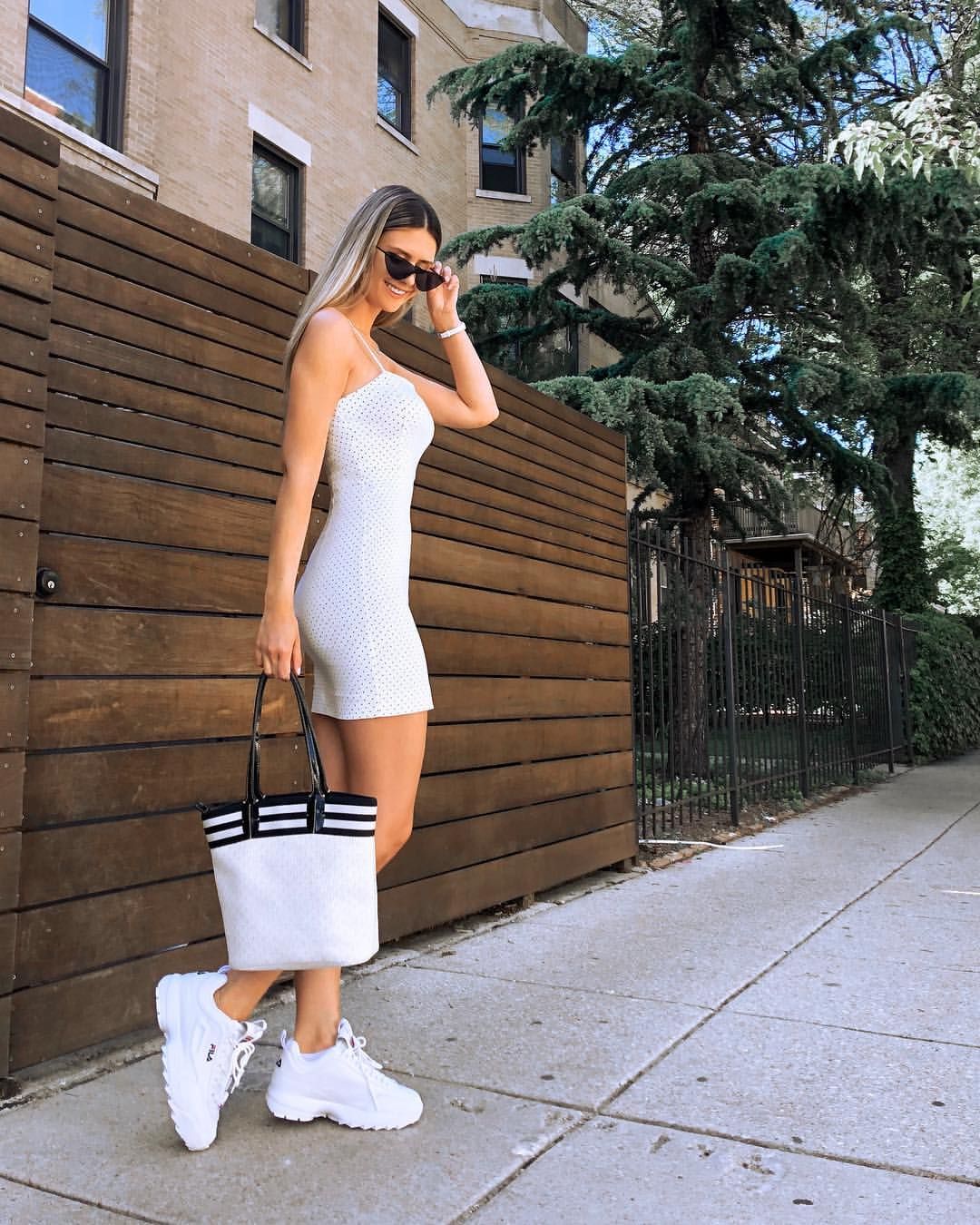 fila disruptor with dress