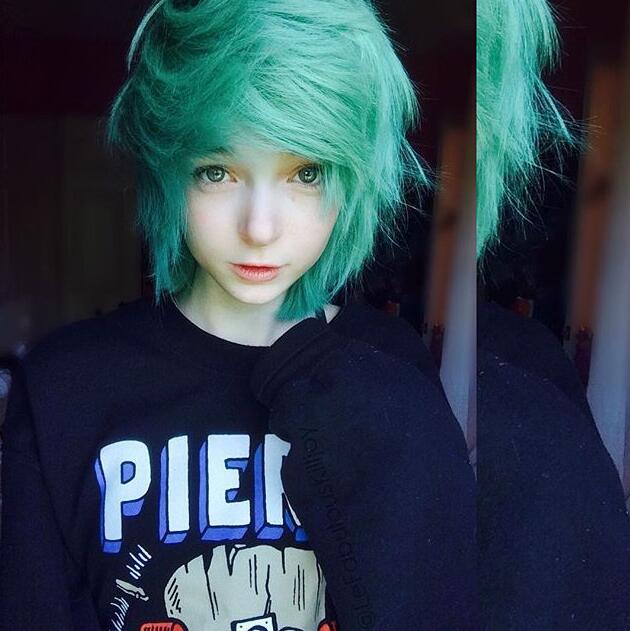 The Emo fashion tribe has usually been linked with teens who have strong feelings of emotional sadness. But the contemporary Emos are not all into feeling sad and separated from mainstream social norms. The latest type of Emo can be introverted by nature, highly sensitive and given to strong emotional responses – but there's also a broad strand of creative Emos who love to wear rainbow colored, fantasy hair colors.
So Emo hairstyle colors vary from all-black to platinum-blonde and vivid colors. And they can be traditionally layered and covering the face or bright and big, with lots of teasing to create amazing volume! The name that covers both classic and contemporary hairstyles is Emo/Scene and this guide will explain and show you how to style Emo hair for both looks!
Latest Emo hairstyles for girls & women
If you don't want to stick to an old-school, jet-black Emo look with shaggy edges and an extra-long fringe, plus thick black eye-liner, here are some new ideas:-
1. Experiment with the new rainbow hair colors especially unexpected, vivid colors in the 'cool' color range, like crimson red, shades of green, Canary yellow and blue. You can still have an Emo girl base color of black or silvery-white blonde, but add shocking colors in unusual highlight patterns.
2. Let your creative side loose and add something new and surprising to the basic style of volume around the face and a long, angled fringe. Wear 'fishtail' ends or have an elaborate side pony-tail in a completely different color, for an update of your loose, down Emo hairstyle.
3. Get really quirky with different textures, special Emo accessories, fabulous coon-tails and neon highlights to create a style that everyone will recognize as your own, original look.
How to Add Texture to Short Emo hairstyles
Emo hairstyles can be varied by adding lots of special texture with wax or pastes that control and allow you to define and separate special sections of your hair. To define and add a piecey texture to strands of hair in your long fringe, put a small amount of product into the palms of your hands and rub them together to get it on your fingers. Then comb your fingers through the layers in a downward movement. If you have product left on your fingers, use it to point-style your fringe. This will help your style stay in shape for long periods of time.
The modern Emo Mullet
Short Emo haircuts are based on rocker hairstyles from the 70's and feature a long, black mullet with a long, spiky side-swept fringe. You need the haircut to be top-heavy, with a full-on, fringe that completely covers the eyes and is styled straight and onto the face. There must be lots of razored layers for a raggedy texture on the longer sections, which normally either just touch the nape or are long enough to brush the collarbone. This is a great hairstyle to make it plain to everyone you meet that your are an Emo!
Black or espresso brown with asymmetric vivid highlights
Black hair, or sometimes darkest coffee-brown hair, are super Emo hairstyles. But why not shake up the original style with contrasting rainbow hair colors like deep pink and royal blue. Keep the streaks of color to one side to accentuate the asymmetrical look of your unconventional style. As Emo black is usually a cool shade, it's best to use cool rainbow colors to create the contrasting. However, if your skin has warm undertones, it may be more flattering to have your base color in darkest brown and add trendy, warm orange streaks to complement your skin-tone.
Platinum-blonde with face-framing streaks
If you are naturally blonde or fair-haired, you can get your hair lightened to platinum-blonde, but don't try to lighten darker hair by this many tones, as it will damage it and your hair may break off.  Limit the amount of heat you use to style bleached hair and always apply a protective product first. And to get the most impact from fashionable, neon highlights or streaks, place them in your fringe and the layers framing your face.
Blow-dry an uneven Emo bob at an angle for daywear
If you want to look less 'out there' for school or work, you can easily neaten up a raggedy-edge short bob-cut by blow-drying. For instance, to make your long fringe lie smooth and flat, simply blow your hair dry in a down direction at an angle. And then finish off the rest by quickly moving the nozzle all around your head, (known as 'power-drying'), until it's almost completely dry. Then add your texturizer to the fringe and sides and spritz with a hairspray to fix the style.
Purple braids with flat fringe for long, fine hair
Using hair from the back of your head, plait two school-girl braids, and wear them forwards over your shoulders. Leave out chunks of choppy hair from the sides to frame your face and link up with your full side-swept fringe. This is a quick style to do and it's good for fine hair. You get extra texture from the braids and it looks great in shades of purple and gray, with a hint of green toner. There are lots of experimental Emo hairstyles that feature braids and fantasy colors, so have a hair styling 'try-out' day with yourself or with your friends!
Shocking pink roots & white ombré Emo waves
A soft ombré in dark pink at the roots that lightens to shell-pink at the ends is a very feminine Emo look that looks great against contrasting black clothes and tattoos. You can choose any color to get this contemporary look. And if you don't want to fiddle around with heated waving wands, just put your hair up into a tight bun at night and you'll have loose, waves by morning! Always try to avoid heated hair tools on bleached or dyed hair, as they will dry it out and cause damage.
Double head-buns on pink to platinum Emo ombré
If you want to look super-cute and a little bit Japanese doll, try a double bun look. Leave your fringe and hair from the sides to frame your face. Divide the rest into two sections and make two small ponytails set high up the head, on each side of the crown. Then pin each little pony securely into a bun with hair grips and lastly mess up the cute buns with your fingers. This Emo hairstyle looks fantastic with pastel colored hair that has an ombré that lightens the ends to platinum blonde.
Emo pixie cut with long straight sections
A more traditional Emo hairstyle is the pixie/medium-length cut with extreme disconnected layers between the two sections. It's a look that identifies you immediately as a committed Emo and has a pixie cut with long, straight pieces underneath the short top layers. This hairstyle needs to be done by a stylist who has some training and experience with Emo hairstyle cutting. So ensure you look at your stylist's portfolio or ask for recommendations from Emo friends before going ahead.
Canary yellow long Emo hairstyles
An all-over Canary yellow hairstyle is fabulously contemporary and totally eye-catching. And in a fancy hairstyle, you'll always stand out amongst your Emo friends. An acid yellow color creates a futuristic look. So on long hair experiment with new hairstyles, like two little buns on either side of the crown, with face-framing long braids and some of the back draped down over your shoulders. And keep the finish messy for a modern vibe.
Smoky-gray medium-length Emo bob
Another super-cool and 'dark' Emo look is to wear dark brown roots that transform into gray balayage on a medium-length bob cut. Add dark-brown under-layer lowlights amongst the light gray-blonde tips. This makes a fabulous alternative to platinum blonde that is not suitable for brunettes. And you'll see that it's much more edgy and original than a pastel colored look for a more authentic, melancholy Emo look. With smoky eye-make-up and a very dark, plum lipstick this is a highly sophisticated look.
Authentic Emo haircut in blue shades
All-over blue shades, which range from dark to light blue highlights and include gorgeous sea-blue balayage look fantastic on an Emo haircut. Blue on straight, long hair with a deep side-parting and hair swept right across the forehead is a popular and easily recognizable Emo hairstyle. Or switch it up with lighter roots changing to darker ends in a reverse ombré! To create a thick, bulky fringe, tease the crown and then spray the teased roots, and then the top layers, with hairspray to fix the shape. It's better to spray lightly several times, letting the hairspray dry between sprays, than to overspray and make the whole thing collapse under the weight of wetness.
Emo scarf accessories on black haircut
If you prefer to stick to an all-over black emo hairstyle, you can ring the changes with a touch of Italian retro by adding a bright accessory. We love to see small neck-scarfs made into a hair-band that's tied asymmetrically on top of the head. The simple tie adds flattering height and you can choose any cool color to make a super contrast with your black hair. This style looks great with a low-slung, side ponytail over one shoulder and traditional choppy layers and a thick side-swept fringe. And keep the finish messy and texturized.
Silver-white long waves & black cat's ears hairband
The girl's Emo look is centered on contrasts between darkness and light, and projecting an image that's split between innocence and mischief. Therefore, if you like to wear mostly black clothes and make-up, you can get a really stunning look by contrasting it with trendy, silvery-white hair. Too much black can just make you unnoticeable, but if you fancy an attractive 'angel or devil?' look, why not try this on long hair with a black cat's ears headband?
How to keep Emo hairstyles healthy
Emo hair is often treated with strong chemicals, from bleach and black hair dyes, to matte texture products. And it may have a teased, messy finish. And that's a great look, but it shouldn't be allowed to ruin the condition of your hair. So try not to overdo the straightening iron use, as heat – plus dry hair – is a recipe for brittle, broken hair that you'll find impossible to style. So really take care of your hair with a good conditioner every time you wash it, to moisturize your hair and keep it from getting damaged when you style it!