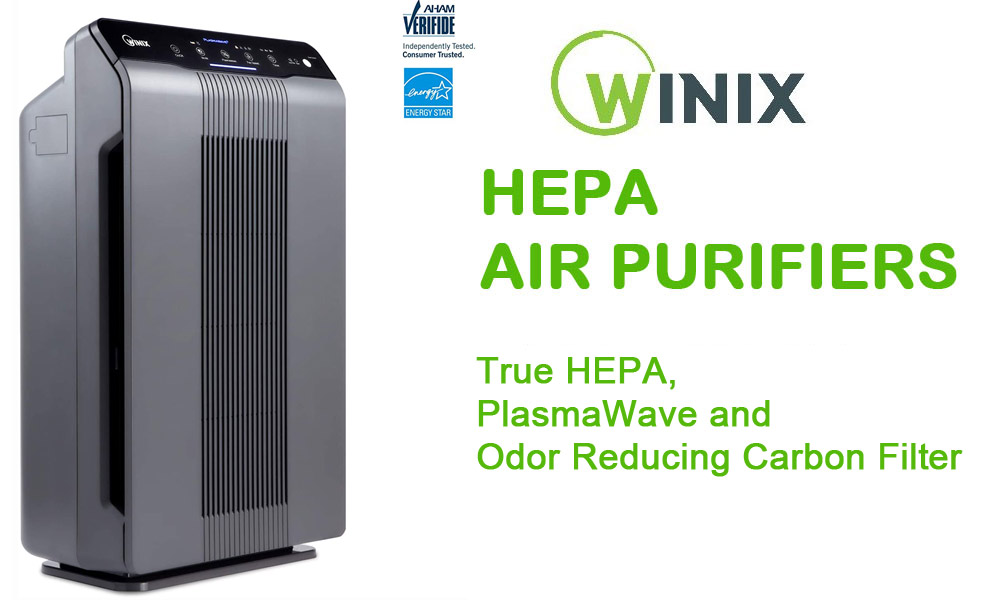 Best HEPA Air Purifiers – Winix PlasmaWave 5300-2 Air Cleaner Model Review
There are multiple reasons why you may be in need of an air purifier. Maybe you are affected by allergies like myself or you live in a heavily polluted. Or maybe you have asthma but a family member smokes. There could be multiple reasons why you may be in need of an air purifier. However, various air purifiers come with a hefty price tag which may not be convenient for all of us. After much research on the very best air purifiers on the market, I have found the Winix PlasmaWave 5300-2 Air Cleaner Model.
The Winix PlasmaWave 5300-2 Air Cleaner is the very best air cleaner on the market for a reasonable price. This air cleaner works just as great as the pricer air cleaners that we have examined. Here is the reason why the Winix PlasmaWave 5300-2 Air Cleaner is the best bang for your buck.
PlasmaWave Technology
Before you decide to buy an air purifier, it is always a good idea to know exactly what the air purifier can do for you. One of the biggest selling points for this air purifier is its unique PlasmaWave Technology. The PlasmaWave Technology eliminates issues that are often connected with ionizers. Ionizers are particularly efficient at dealing with airborne particles but, they also produce ozone which can be harmful.
The PlasmaWave Technology breaks down any particle in the air and makes it microscopic. By making all particles microscopically small the PlasmaWave is ensuring ozone isn't produced into your air.
3 Stage Filtration System
All air purifiers come with a filtration system which allows you to effectively remove all harmful allergies, pollutants and odors from your air. This air purifier has a 3 stage filtration system. The first stage begins with particles being trapped in the pre filter which contains activated charcoal. This is the stage when large particles such as hair and dust as well as most household odors are eliminated.
The second stage consists of collecting all small particles which get collected by the HEPA filter. The HEPA filter can collect particles up to 0.3 microns which includes pollen as well as other allergens that may be in your air.
The third and final stage includes the use of Ionizers. Ionizers remove impurities with negative or positive chargers. Which are subsequently filtered through the last filtration stage. There has been research done that starts that ionized particles when inhaled can cause health issues. Fortunately, this air purifier uses the weakest charge of ionizers to remove the contaminants from the air you breath. This makes it completely safe to have in your home.
Completely Silent
One of the main questions you may have when it comes to purchasing an air purifier is knowing the level of noise that it makes. Air purifiers have an integrated fan inside of them which helps with ventilation. This is one of the main reasons why most air purifiers tend to make some sort of noise. The Winix 5300-2 Air Purifier is completely silent. It features 4 fan speeds which include sleep and turbo mode.
This allows you to select which speed works best from the room you have it in. The sleep mode is perfect as it features the lowest fan speed which cleaning your air according to the pollutants that it detects. It is one of the quietest air purifiers on the market.
Performance
The Winix 5300-2 Air Purifier is a mid-powered air cleaner that not only has great features to clean your air effectively.  But it also goes anywhere with an even better price tag. The CADR on this air purifier is among the best on the market. CADR stands for clean air delivery rate. The CADR rating for dust is 248, for smoke its 235 and for pollen its 251 which means it is able to deliver that many cubic feet of filtered air per minute. Giving you consistent clean air every time you use it.
In Conclusion
In conclusion, the Winix 5300-2 Air Purifier is equipped with plenty of bells and whistles such as a filter change indicator, built-in air quality sensor and a handful of other perks that are well worth the price. It comes with a non-harmful ionizer filter which helps filter out even the smallest molecules that may be in your current environment.
Nonetheless, this air filter offers a lot for the price and it is fully recommended as it is built to last a lifetime. We fully recommend this air purifier because of how well it does its job of giving you consist clean air while being affordable. If you have been looking into getting an air purifier the Winix 5300-2 Air Purifier should be on the top of your list.