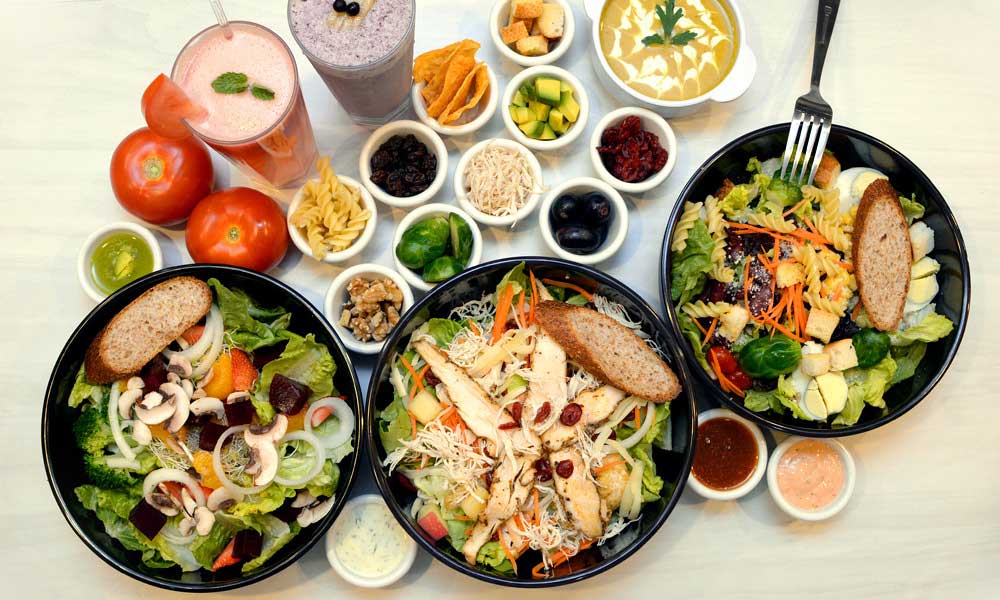 If you don't have time for a relaxed lunch-break, it's easy to fall into the habit of grabbing unhealthy, convenience foods that will ruin your plans to lose weight!  There's a well-known, direct link between feeling stressed at work and craving fat- and sugar-packed foods.   So today's diet program is focused on healthy, low calorie lunches that are also filling.  Join the trend for D.I.Y Lunch Jars and lose weight without feeling hungry!
Protein prevents sugar-cravings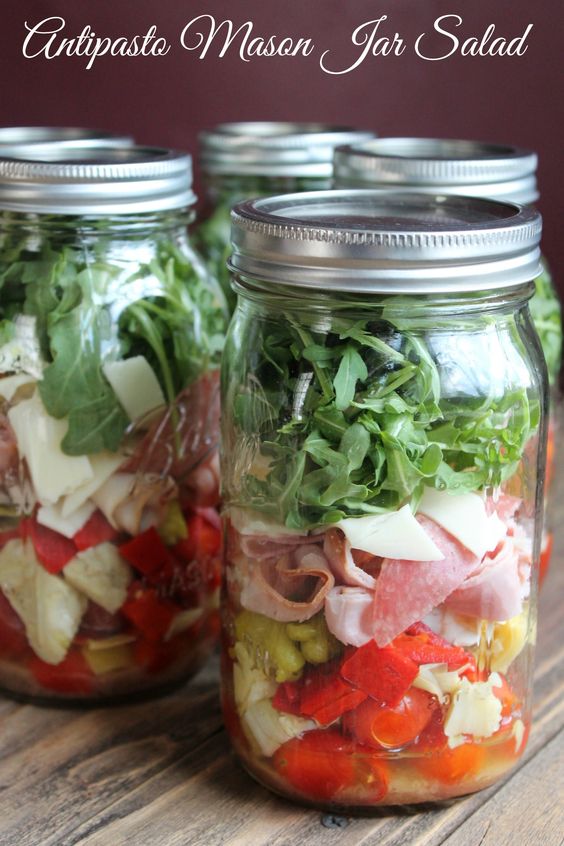 Mediterranean salad with bell-peppers, sausage and cheese

The best lunches must include a portion of protein as fuel for your body and brain. And because protein takes longer to digest it keeps you feeling full for longer!  To avoid those diet-busting sugar cravings in the late afternoon, always include protein at lunch.  Good low-calorie protein sources include:
Lean meat, eggs, fish, tofu, cottage cheese, low-fat natural yogurt and goat's cheese, which gives the most protein of full-fat cheeses
Vegetarians can get good protein from eggs, and dairy products, if you have a stressful job
Legumes or dried beans have fat-free protein with just a little starch and these include lentils, chickpeas, red, white and black beans etc.
Nuts are good sources of protein for strict vegans, but remember they are high in fats, so small portions are essential if you want to lose weight
Prepare work-lunch at home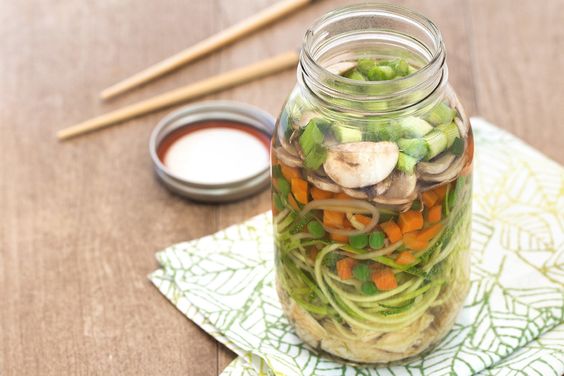 Courgette 'noodles' with chicken and vegetables
Different-sized glass jars (recycled from your kitchen) are the modern way to pack your lunch.  And adding the food in layers, gives you a simple way to judge portions. To lose weight with the Lunch-in-a-Jar method, you'll need to change your habits and make some effort to plan and shop for healthy, low-calorie ingredients.  However, a lot of lunch food can be left-overs from dinner the night before, so you probably only need to buy more vegetables and protein.
All of your weight-loss salads should include protein and cold-cooked vegetables, for a solid meal that's more satisfying than just lettuce, tomato and cucumber salads. If you can't give up potatoes altogether, buy tins or jars of small, new potatoes. They are the lowest calorie, boiled potatoes you can get and no washing or peeling necessary!  Keep everything fresh during your commute with a small 'cool bag' and a 'freezable block'.
Low-cal lunch ideas & tips
These healthy lunch ideas fit-in with most low-cal diet programs:
Prepare and cook extra vegetables when baking or making dinner, so you can fill your lunch-jar fast in the morning.
Try roasted courgettes, egg-plant, bell-peppers, red onions and butternut squash to add lots of flavor and variety to your lunch.
Cook extra chicken breast, turkey bacon or fish like salmon or tuna to be your protein for lunch the next day.
Omelets can be cut in circles using the jar as a template, or just chopped-up roughly and added to your lunch-jar, to enjoy as a Spanish Omelet/Tortilla salad.
Chunky-cut or button mushrooms are easy to cook and a great ingredient for adding flavor and chewy texture without calories.
Make a dressing from wine-vinegar which has lots of flavor
Hearty low-cal 'soup-in-a-jar'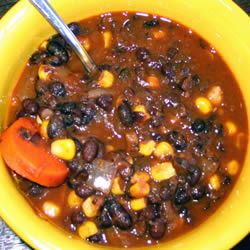 Vegan black-bean soup
Forget those awful 'Cup O' Soup' sachets of processed powder and make your own vegetables soups – it's so easy to do!  I'm not a keen chef by any means, but home-made soup is one of my favorite 'fool-proof' meal options. Whatever stuff I throw in, it always makes a tasty, low calorie soup!  And if I have a piece of fruit that needs eating up quickly, I chuck that in, too!  I've often made casseroles and soups with an added orange, apple, plum or nectarine and they fit right in with the flavors.  Soup is so easy to re-heat in a workplace micro-wave!
Experiment with new vegetable recipes!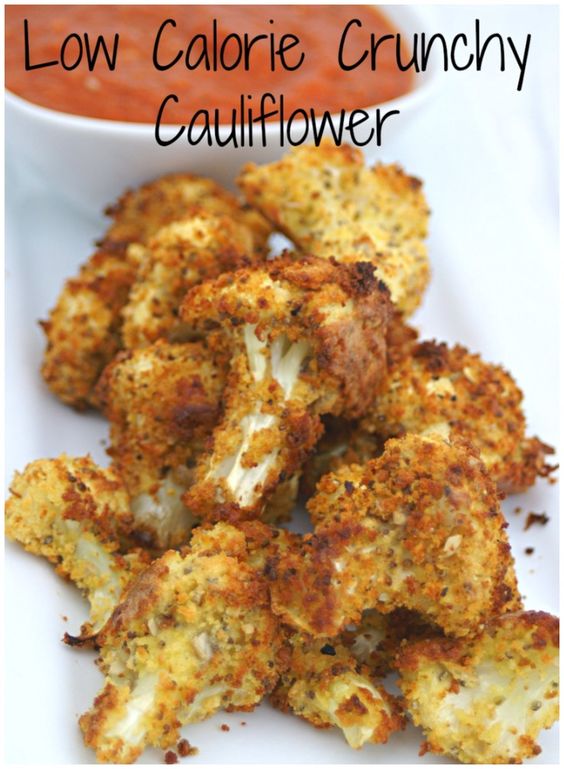 Via     Crunchy garlic cauliflower
We've all been failed by the fast food movement and the promise of freedom from cooking!  Snacks and processed ready-meals prepared in just a few minutes in a micro-wave are damaging our health and causing obesity.  The only way to lose weight and keep it off, is a return to eating a healthy balanced diet, prepared from fresh or frozen whole-foods. But you only need basic cooking skills to enjoy the yummy low-cal, whole-food diet recipes online!
If you think cooked vegetables aren't very appetizing, it's only because you haven't found the right recipe yet!  Start trying the new recipes for tasty, low calorie vegetable side-dishes or main meals, like ratatouille, and you'll soon change your mind! Crunchy garlic cauliflower and Parmesan-baked cauliflower are just two highly appetizing diet foods to try!
Easy fruit desserts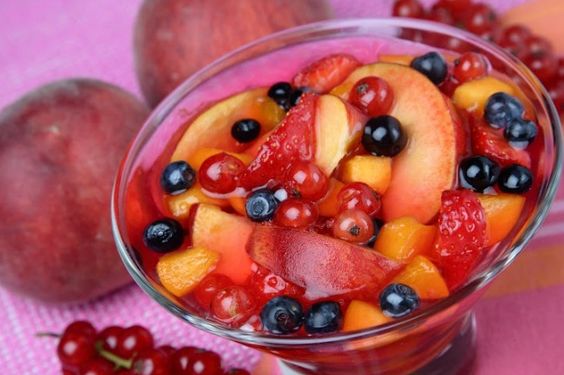 Fresh fruit is always a healthy alternative to sugary or over-sweet snacks packed with artificial sweeteners.  However, there are also lots of delicious fruit compote recipes online for you to try.  These are lovely mixed-fruit desserts, which can be eaten cold or warmed up in a workplace microwave to be a satisfying snack or main dish at lunchtime.  You can use apples, pears, rhubarb, nectarines, peaches, plums, raspberries, blueberries, blackberries and whatever fruit or spices are available!
Here's how easy it is to prepare a fruit compote:
Easy Fruit Compote Recipe
3-cups fresh or frozen fruit (e.g.1/2 strawberries, 1/2 cherries or other fruit)
3-tablespoons orange juice
Optional extras
¼- tsp ground cinnamon
¼- tsp fresh or ground ginger
1-tsp sugar
A few fresh chopped nuts for crunch (add after cooking the compote)
Equipment
Small saucepan, wooden spoon and clean jam jar or other storage container
Instructions
Place fruit and juice in the saucepan and heat up on 'medium' setting.
When it starts to bubble, reduce the heat slightly and use the wooden spoon to stir, break-up and mash the fruit.
Continue cooking on medium-low heat for 10-12 minutes, stirring and mashing the fruit.
Remove from heat and wait a minute or two for it to cool slightly, before spooning the fruit into a clean glass-jar or container to cool completely.
Store in the 'fridge and serve cold alone, or with natural yogurt, or hot oat porridge.
You can add more than two fruits, as it's a real mix and match dessert idea that fits in with any diet program to lose weight!
So have I convinced you of the benefits of the latest whole-food, lunch-in-a-jar, healthy weight-loss program?  I hope so, because millions of fit and healthy folks eat this way every day and wouldn't dream of eating processed food ever again!