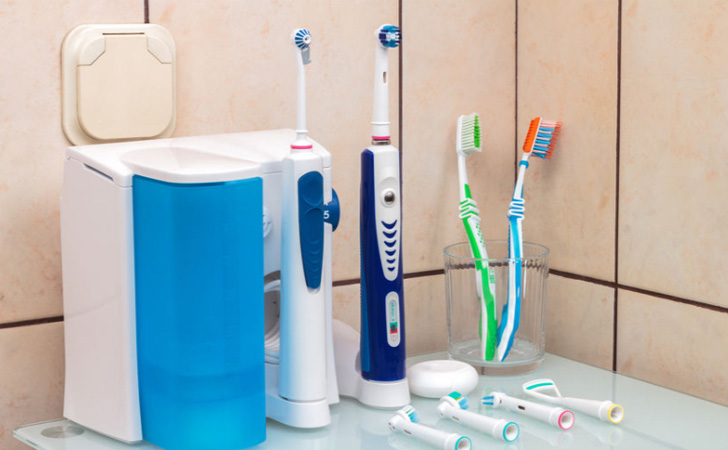 Brushing your teeth is an extremely important part of maintaining oral health and hygiene. Electric toothbrushes can help you clean your teeth more thoroughly than a standard toothbrush. An electric toothbrush moves in circles on its own and scrubs your teeth gently to prevent damaging your enamel while cleaning food and residue off of your teeth effectively.
If you don't feel like your traditional toothbrush is thoroughly cleaning your teeth, keep reading the following electric toothbrushes reviews to learn more about the dentist recommended electric toothbrushes on the market (all available at amazon).
10. Sterline Sonic Electric Rechargeable Toothbrush and Holder
This super fast-acting and effective electric toothbrush provides thirty-one thousand brush strokes per minute. These fast brush strokes allow you to quickly deep clean your teeth several times per day to eliminate stains and yellowing caused by food and drink residue.
The toothbrush features three separate brushing modes: clean mode, soft mode, and massage mode. The clean mode is best for everyday use; the soft mode works well if you have sensitive teeth and gums; and the massage mode specifically stimulates your gums and is great for occasional use to promote overall oral health and hygiene.
9. iBrush SonicWave Electric Toothbrush with UV Sanitizer
Designed with three different operating levels, this electric toothbrush is perfect for anyone no matter what the sensitivity level of their teeth and gums is.
Two minutes is the optimal amount of time to brush your teeth to clean them effectively without damaging your enamel. This electric toothbrush has a timer that automatically turns off after a period of two minutes to help ensure that you always clean your teeth for a sufficient amount of time. As an added bonus, the toothbrush includes a special UV sanitizer that effortlessly destroys more than ninety-nine percent of microbes and viruses from your teeth.
8. 

Philips Sonicare Essence Sonic Electric Rechargeable Toothbrush
This electric toothbrush from Sonicare is sure to make a difference in the quality of your teeth for your next dental checkup. Its deep vibrations remove more than two times more harmful plaque than a standard non-electric toothbrush.
With a lifetime of two weeks or more, this toothbrush does not need to be recharged every night like many other similar electric toothbrushes. It features special dynamic fluid action that cleans the places in your mouth that can be hard to reach, such as between your teeth and along the line of your gums.
7. 

Oral-B Vitality Floss Action Rechargeable Electric Toothbrush 
Featuring innovative MicroPulse bristles, this electric toothbrush from Oral-B cleans the places in your mouth between your teeth that are difficult to reach in order to remove a maximum amount of plaque that can harm and dull down your teeth.
The round brush head of this toothbrush is designed specifically for easy cleaning of each of your individual teeth in order to ensure that you thoroughly clean every tooth. Created with a built-in timer, the toothbrush signals you to turn it off after two minutes to help you remember to brush for the amount of time that is recommended by oral health professionals.
6. Oral-B Pro 5000 SmartSeries Power Rechargeable Electric Toothbrush with Bluetooth Connectivity
This electric toothbrush from Oral-B is the newest technological breakthrough of the oral hygiene world. Featuring the ability to connect to your smartphone through Bluetooth connectivity, it offers you feedback on your brushing every time your finish brushing your teeth. This feature allows you to review the length and quality of your tooth brushing habits to see what changes, if any, you need to make to ensure that you're getting the maximum amount of cleaning out of your brushing time.
Designed with special 3D cleaning techniques, this electric toothbrush moves in three types of motions: oscillating, rotating, and pulsing. These different motions help remove the maximum amount of plaque and residue from your teeth in order make sure that each and every one of your teeth receives the oral hygiene they need to remain bright, white, and healthy.
5. Oral-B Pro 7000 SmartSeries White Electronic Power Rechargeable Battery Electric Toothbrush with Bluetooth Connectivity
Another Oral-B electric toothbrush from the company's line of SmartSeries toothbrushes, this toothbrush also features smartphone connection capabilities through Bluetooth connectivity. After you brush your teeth, this connection between your phone and your toothbrush lets you know if you've been hitting the most important areas of your mouth sufficiently with your brush, whether you've been brushing your teeth too hard and potentially damaging your enamel, and even fills you in on helpful oral hygiene tips to use in the future.
The round brush head of this toothbrush is designed to move in different ways and is shaped to efficiently reach each and every one of your individual teeth easily. It also features special bristles that are positioned at the perfect angle to provide you with maximum cleaning efficiency and precision.
4. Philips Sonicare 2 Series Plaque Control Sonic Electric Rechargeable Toothbrush
This electric toothbrush from Philips Sonicare is designed specifically to target excess plaque on your teeth, break it up, and eliminate it to help you achieve a brighter, whiter, healthier smile. Featuring a gap between the handle and the brush head of the toothbrush, this toothbrush allows its brush head ample room to move around in your mouth and clean all of your teeth sufficiently.
For those who are worried about switching from a manual to an electric toothbrush, there's no need for concern with this toothbrush. It is equipped with a special easy-start feature that increases the power of the brush over the first fourteen uses to ensure that you don't experience any pain or sensitivity as your teeth and gums get used to the unique feel and pressure of an electric toothbrush.
3. Philips Sonicare DiamondClean Sonic Electric Rechargeable Toothbrush
Specially crafted to clean your teeth until they shine like diamonds, this electric toothbrush is renowned for its ability to eliminate one hundred percent more damaging and unattractive plaque from your teeth than any manual toothbrush.
After just one week of using this effective, fast-acting toothbrush, you will notice visibly whiter, brighter teeth. After two weeks of using the toothbrush every day, you can expect to achieve healthier gums with significantly reduced sensitivity.
2. Waterpik Complete Care Water Flosser and Sonic Toothbrush
This full oral hygiene set from Waterpik features both an electric toothbrush and an innovative water flosser device. The combination of electric toothbrush and water pressure flosser help you achieve healthier gums after just two weeks of daily use.
The water pressure from the water flosser and the pulsations from the effective electric toothbrush work together to thoroughly clean your teeth. This tag-team of oral hygiene products can effortlessly clean in the places that are hardest to reach, such as deeply in between your teeth to increase the health and hygiene of your teeth and gums.
1. Oral-B Black Pro 1000 Power Rechargeable Electric Toothbrush
Renowned for its ability to remove three hundred percent more plaque from your teeth than a manual toothbrush, this electric toothbrush is both gentle and effective.
It features a 3D cleaning technique that oscillates around your teeth to thoroughly and effectively clean each and every one by removing plaque and residue from food and drinks. As an added bonus, the toothbrush has a built-in signal feature that pulses every thirty seconds as a gentle reminder to move the toothbrush to clean a different area of your mouth.
Electric toothbrushes can clean your teeth much more effectively than any regular toothbrush. If you're having trouble with cavities or other oral hygiene problems, use the list in this post to find some of the best electric toothbrushes available.