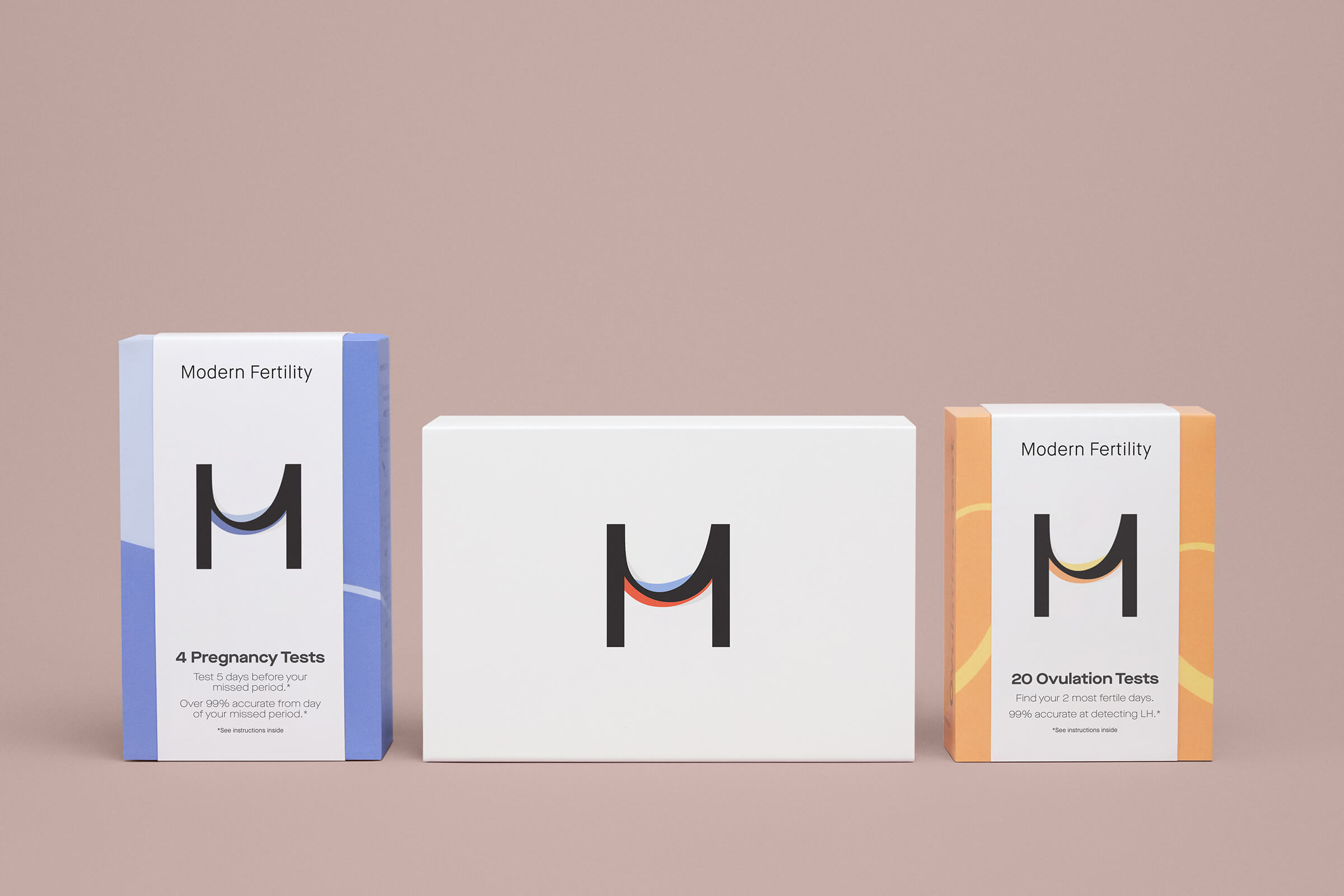 Deciding to have a baby is a huge step in any woman's life. It requires a lot from your mind and body, which is why you need to take extra care of yourself when you're ready to have a child.
One of the best ways to care for yourself during this time is to understand your reproductive health. Every woman's cycle is different—and so is her fertility, ovulation, and hormone levels at any given time. The more you understand these things about your body, the smoother your pregnancy journey will be.
Modern Fertility is a company that helps women figure out where they're at with fertility. With an array of tests, vitamins, and even a helpful app, it's easy for women to check on themselves throughout their journey of trying to get pregnant.
Overview of Modern Fertility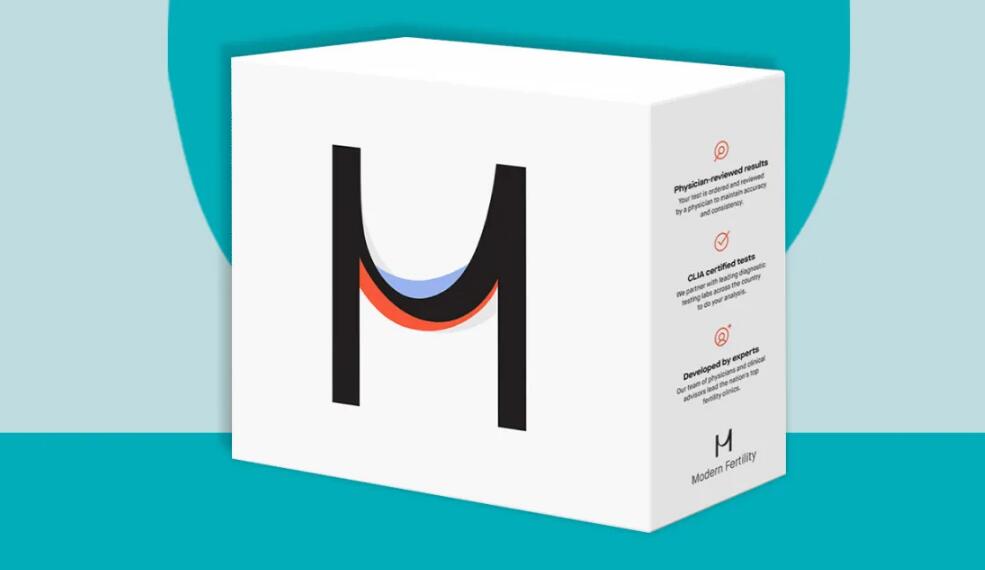 Modern Fertility is a woman-owned company that provides fertility and pregnancy essentials and reproductive health services for women at a more affordable price.
It was created by co-founders Afton Vechery and Carly Leahy when they realized how hard it was for women to learn about their bodies when they were trying to get pregnant.
The information about women's hormones isn't always readily available to them. And if it is, it's difficult (and pricey!) to get a hold of. Modern Fertility exists because of the belief that women have a right to know more about their bodies, especially at a very important stage in their lives: starting a family.
Modern Fertility carries a series of medical tests you can conduct at home to check on your reproductive health. They have a board of medical advisors, ranging from OB-GYNs to endocrinologists, to ensure the tests are safe and accurate.
All Modern Fertility tests are validated in CLIA- and CAP-accredited laboratories. The articles they publish about their tests' findings are also always medically reviewed.
In line with the brand's mission to allow more women the reproductive health info they need, Modern Fertility also has a blog to educate readers about the basics of conceiving. They have informational posts about things like ovulation, egg freezing, and more.
Why is Modern Fertility better than going to a fertility clinic?
Fertility clinics help a lot when it comes to understanding your body and how you can conceive a child. But it's expensive to book an appointment, especially when the doctor charges high fees.
Modern Fertility is a way more affordable option. You'll get the same results prepared and reviewed by doctors, without the high clinic price tag.
Getting a hormone test can cost you hundreds of dollars if you get your bloodwork done at the clinic. Plus, you have to pay for transportation to get there.
With Modern Fertility, a hormone test will only be about a quarter of the cost—a steal for something that is crucial to your pregnancy journey. And you don't have to worry about transportation. You can do the test in the comfort of your home.
The package also includes doctor reviews, one-on-one sessions with a fertility nurse, weekly webinars, expert recommendations based on your test results, and more. You even get access to the Modern Fertility community of women going through the same thing as you.
So not only do you save hundreds of dollars on your test. You also get all the backup you need for interpreting your results and improving your overall reproductive health.
1. Modern Fertility Hormone Test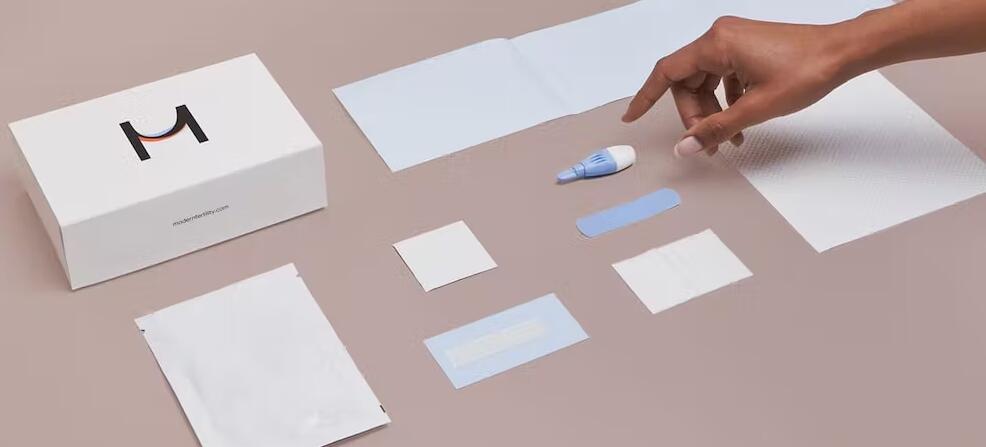 The hormone test is Modern Fertility's flagship product. It's the test that shows you comprehensive data on your overall reproductive health, including the levels of seven hormones that are essential for getting pregnant.
It's very simple to use. You just have to prick your finger with the provided tool to draw blood and then send the sample back to Modern Fertility for testing.
A doctor will interpret your results. In a few days, you'll have the data on your dashboard along with an easy-to-understand explanation of each result. If you have any questions or concerns, there's a fertility nurse on standby to talk to you one on one.
2. Modern Fertility Prenatal Multivitamin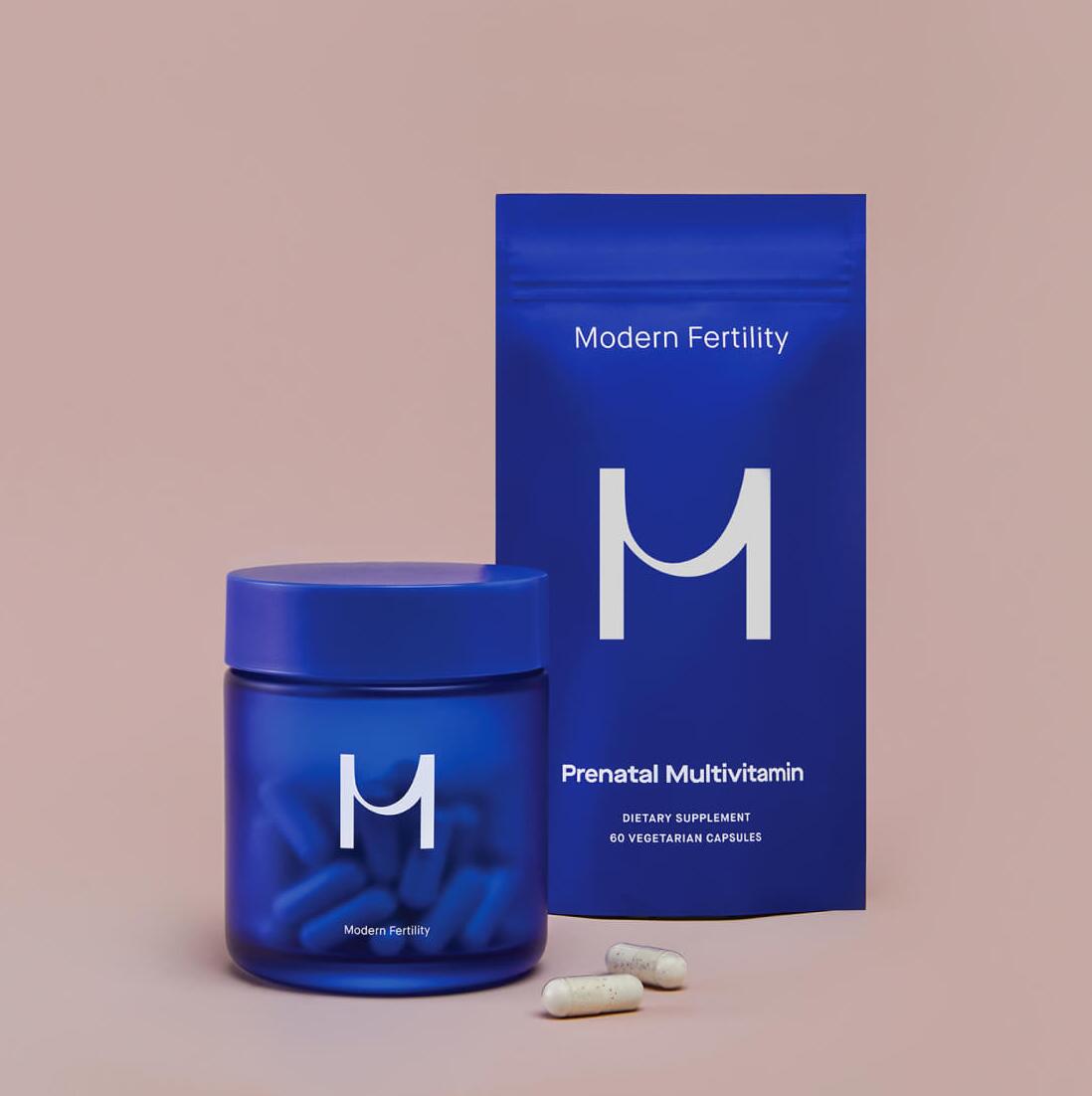 These vegetarian vitamins were created by OB-GYNs to help you nourish your body with the right nutrients so it's more prepared for future conception. Every capsule contains folate, choline, zinc, iron, and vitamins A, B12, C, among other vitamins important for expecting moms.
Although it's called "prenatal" multivitamins, you can take them to bolster strength in your body at any point in your pregnancy journey, whether it's before, during, or after.
Each bottle has 60 capsules, which is good for one month since you have to take two per day.
3. Modern Fertility Pregnancy Test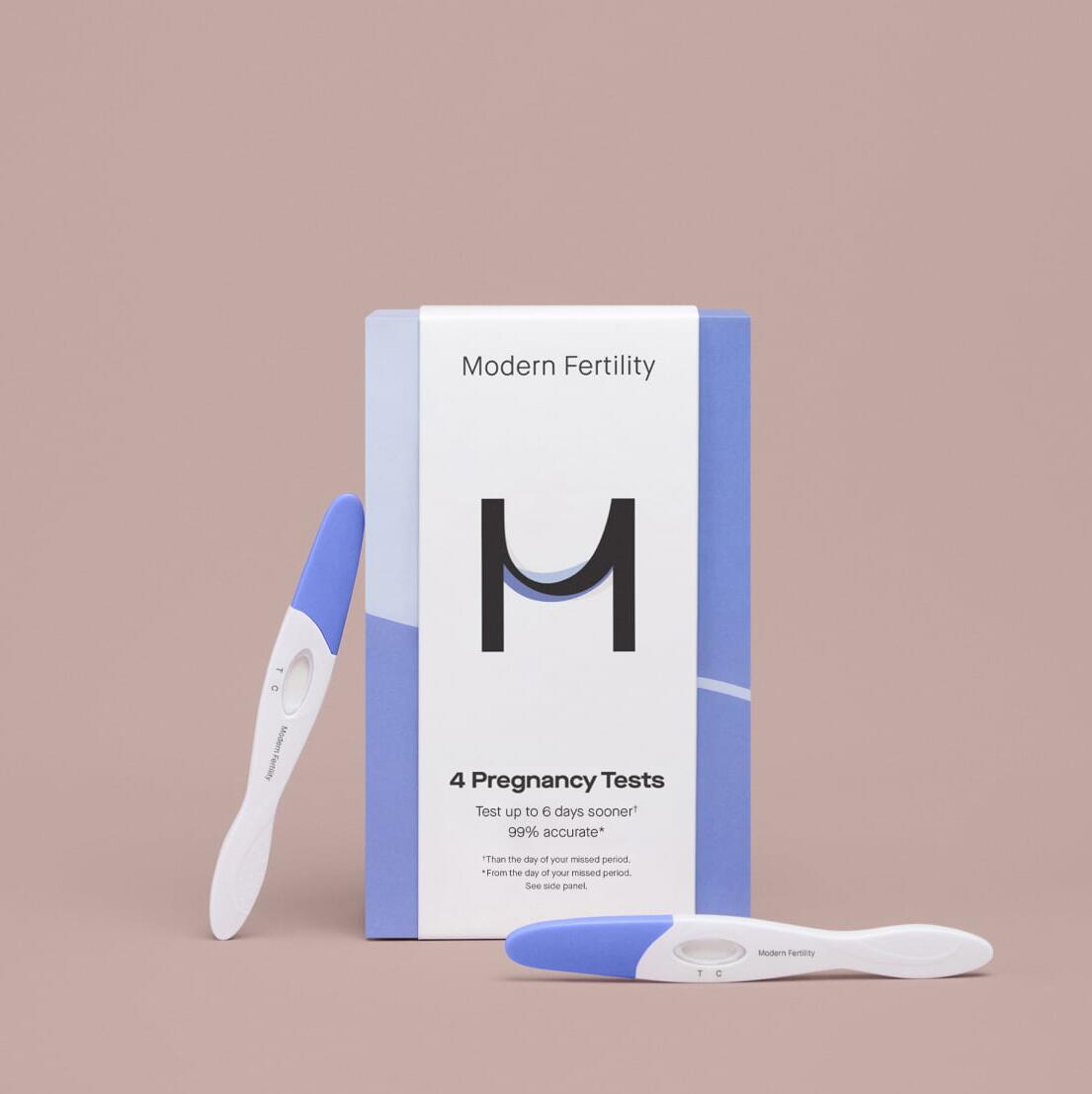 This pack of four pregnancy tests will come in handy when you need to know if your attempt at conceiving is successful. The test detects HCG levels in your urine to see if you're pregnant. It's 99% effective when taken starting from the day you miss your period.
These tests will be delivered to you in a discreet way, so you can avoid the stigma that comes with ordering pregnancy tests from the pharmacy.
It's great to stock up on these tests and keep them in your medicine cabinet to use over the next few months if you're trying to conceive.
4. Modern Fertility Ovulation Test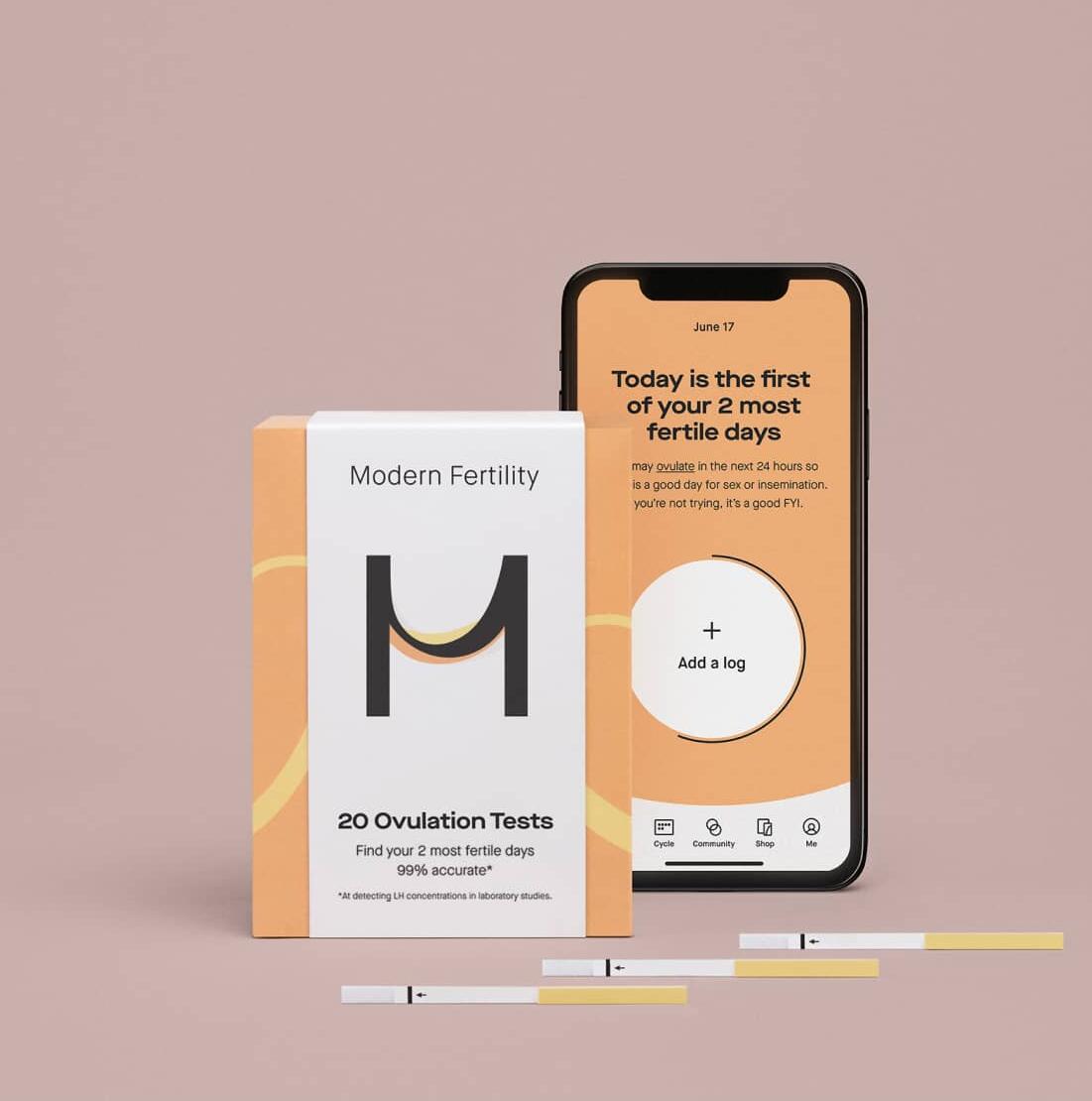 Conceiving a child heavily depends on when you and your partner try. If you're not ovulating, you likely won't get pregnant successfully. With these tests, you can check your most fertile days and plan your attempts around those.
All you have to do is dip these strips into your urine for 10 seconds and let it sit for five minutes or until a line appears. Hold your strip against the provided color bar to validate on what days you're ovulating, and try to conceive around those times.
5. Modern Fertility App
This free app serves as your cycle tracker so you can pinpoint the best days to conceive. It tracks your ovulation days, and if you have your hormone test results, it gives more accurate and personalized predictions. The app is also smart enough to suggest the best time for you to take your pregnancy test.
Even if you're not actively trying for a child, you can still use the app to track your period. That way, you can anticipate PMS symptoms and your first day of the cycle.
The app has no ads, so you can use it interruption-free. But unfortunately, the app is only available for now on iOS, so Android phones can't download it yet.
What customer reviews think of Modern Fertility
One YouTuber who had a pleasant experience with the tests is Michel Janse. "This is good to know, that everything is looking normal," she said after seeing that her results were great.
She also said that the results are making her consider going back on birth control now that she knows none of her hormones are "out of balance."
This suggests that Modern Fertility tests are useful not just for women getting pregnant, but young women who want to make decisions about their reproductive health.
Content creator Olivia Zapo also gushes about the data you get from your Modern Fertility tests. "You'll still have your answer saved from the first time, so you can actually track how your hormones are changing…that is also really cool," she said after learning that your dashboard can store historical data.
FAQs
Is Modern Fertility legit?
Yes, all their tests are backed by scientific research and have been published in medically reviewed articles. Your results are interpreted only by doctors and experts who will guide you through your next steps.
Are Modern Fertility tests FDA-approved?
Yes, they are all FDA-approved. It's important to Modern Fertility to adhere to the standards of quality and safety for their tests.
What's the approved age range for Modern Fertility's hormone test?
You can take the hormone test if you're anywhere between 21 and 45 years old.
What is the brand's return policy?
Unfortunately, Modern Fertility does not accept returns because the kits contain medical tools. If you don't feel right with the test given to you, dispose of it and ask for a refund instead. They accept refunds and will give you 100% of your money back if you request a refund within 24 hours.
How do I contact Modern Fertility if I have questions?
You can email them at [email protected], [email protected], or [email protected].
Is Modern Fertility worth it?
Yes, Modern Fertility is definitely worth it for any woman trying to conceive. Taking tests with this brand is way less expensive than going to a fertility clinic, where they'll make you take the same exact tests anyway.
Modern Fertility's tests, vitamins, and app are an easy and convenient way to care for and understand your reproductive health better without splurging so much. And because they're backed by medical research and a board of physicians, you know their products are safe, accurate, and effective.
With Modern Fertility, you don't just pay for tests. You get ease of mind about your reproductive health, plus additional help if you don't know what to do to improve your chances of fertility.