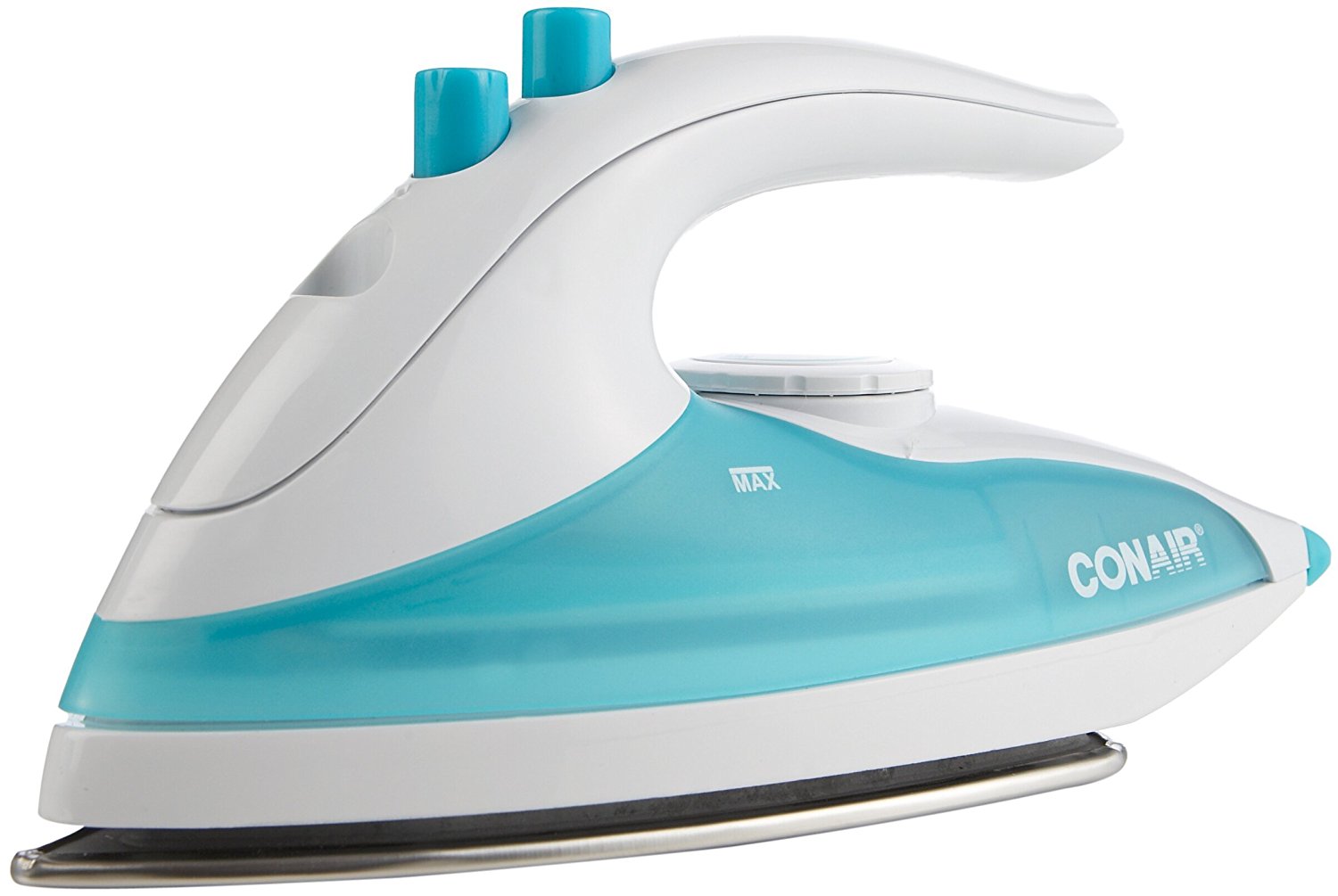 If you travel for business or go on other trips that require you to look presentable, wrinkly fresh-off-the-plane clothes aren't going to cut it. When you have an important business meeting or formal event out-of-state, you want to make sure that you look as presentable as possible. Your need for wrinkle-free outfits doesn't stop just because you leave your house. However, it can be a struggle to keep your clothes looking smooth and presentable when you're on the go.
Many hotel rooms have clothing irons available. However, these irons are often unfamiliar and can cause you to waste more time trying to iron your clothes or even result in you accidentally burning or damaging them. The best possible solution to these problems is a travel iron. Travel irons are clothing irons that re designed to be compact enough to fit in your bag or suitcase. Their small size allows you to bring them with you wherever you go. With a travel iron, you will always have a familiar, reliable iron to make sure that you look your best no matter where you are.
Read the following Travel Iron reviews to buy your favorite one.
8. Conair Travel Iron – small travel iron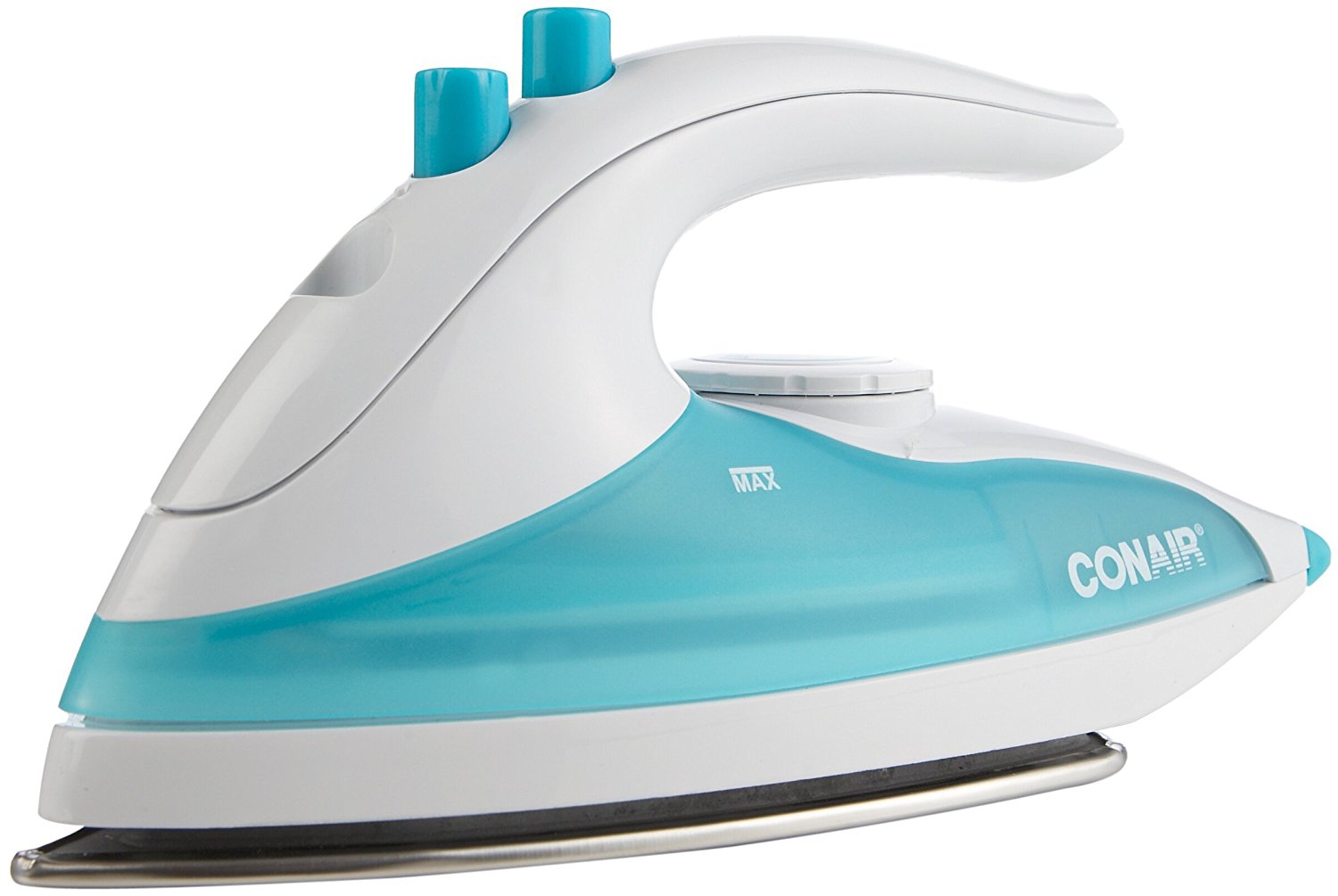 This travel iron features a stainless steel plate that ensures even and smooth ironing for even the toughest creases and wrinkles. The temperature is fully adjustable depending on the fabric you are ironing. The iron is eight hundred Watts and has dual-voltage capabilities for convenient ironing while traveling.
You can choose whether or not to use your iron as a dry iron or a steamer depending on the type of clothes you are ironing. The iron includes an eight-foot power cord so that you can iron wherever it is convenient for you.
7. Sunbeam Touch Up Travel Iron Kit – mini travel iron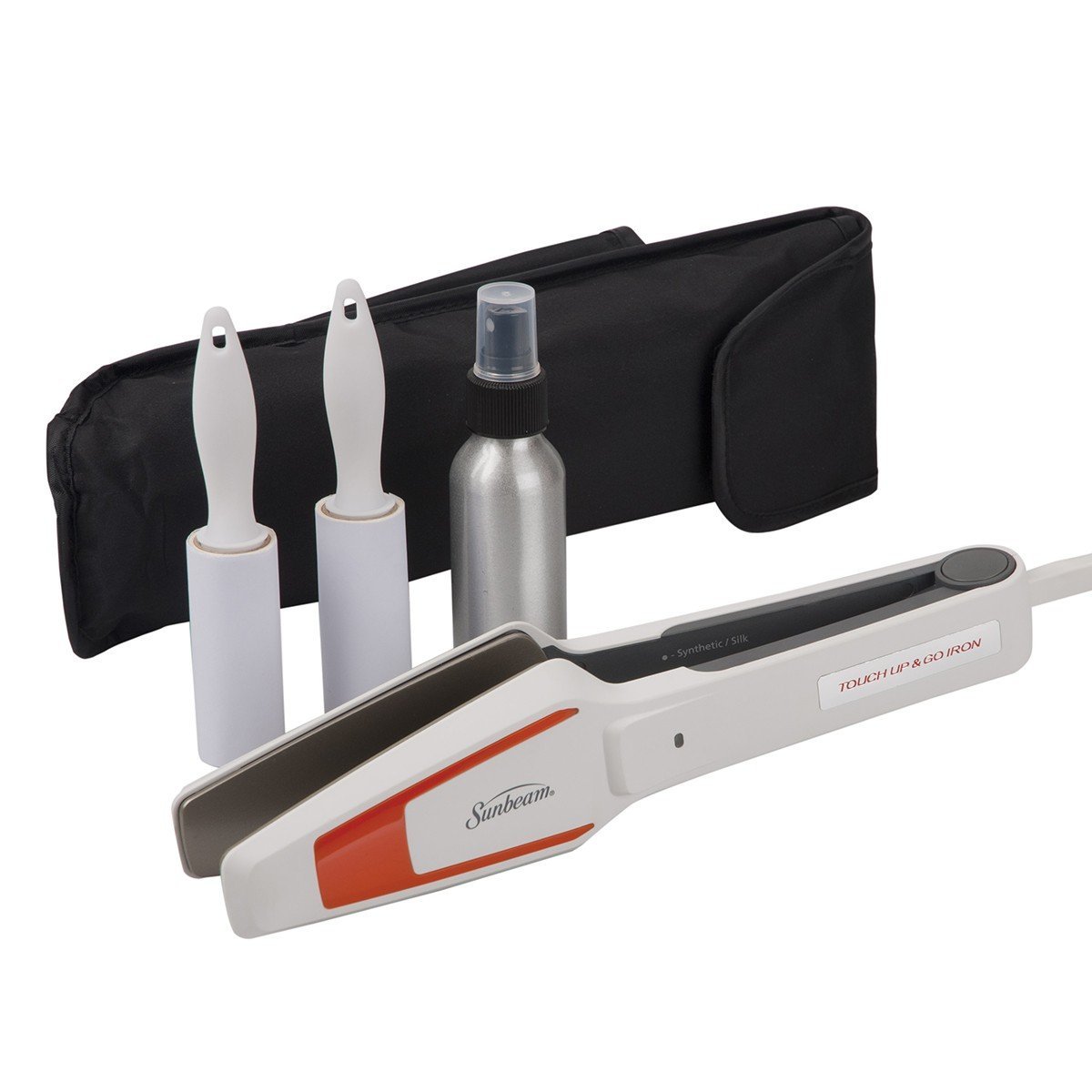 This compact travel kit includes everything you need for ironing while on the go. The travel iron itself is a handheld iron with dual ceramic plates. These dual plates allow you to iron your outfit in a fraction of the time it normally takes because you can iron both sides of a piece of clothing at one time. The iron features three different temperature modes that are designed for ironing specific fabrics.
An iron is not the only tool included within this full travel kit. It also includes a storage case for the hot iron, two lint rollers, and a metal spray bottle. Everything in the kit fits easily within a backpack or suitcase for convenient storage while you travel.
6. Eureka Travel Iron

This travel iron features both dry ironing and steaming capabilities. Its ceramic shield ensures even and smooth heating that won't leave your clothes with static. The iron is extremely compact. It includes a handle that folds down for convenient space-saving storage when needed.
The steaming feature of this iron helps you remove the toughest creases and wrinkles from your clothes. It shoots a continuous burst of steam with the touch of one button. You can also use the steam function of the iron from a vertical position for more convenient steaming of certain garments.
5. Steamfast Travel Iron – portable travel iron

This travel iron is a mini steam iron that is designed to get even the toughest wrinkles out of your clothing while on the go. The iron holds up to one-point-four ounces of water at a time for steaming. It heats up in less than fifteen seconds and features multiple heat setting that you can use depending on the type of fabric you are ironing.
The iron includes dual voltage for extra convenience while traveling. It has a nonstick ceramic plate for smooth and even ironing. This travel iron comes with a plastic measuring cup for water and a compact travel bag for effortless storage.
4. Sunbeam Steam Travel Iron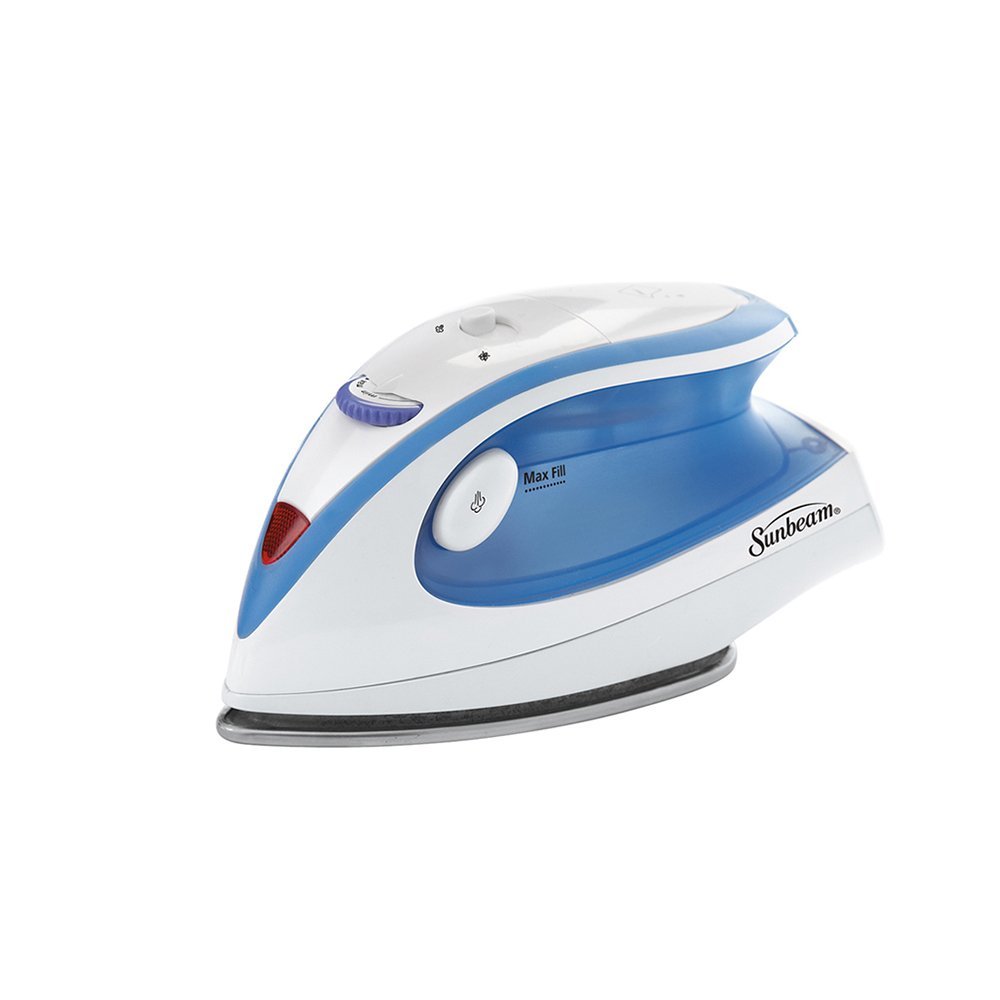 Featuring a dual-volt system of two hundred forty and one hundred twenty Volts, this miniature iron is perfect for the worldly traveler. It is both a dry iron and a steam iron that shoots out streams of steam when extra power for pressing tough creases and wrinkles is needed.
This iron includes multiple different heat settings that are designed for use on various types of fabric. It includes a convenient water reservoir for easy water refill. The travel iron also features an indicator light that conveniently informs you when the iron has heated up enough for you to be able to use it.
3. Maytag Travel Iron – lightest travel iron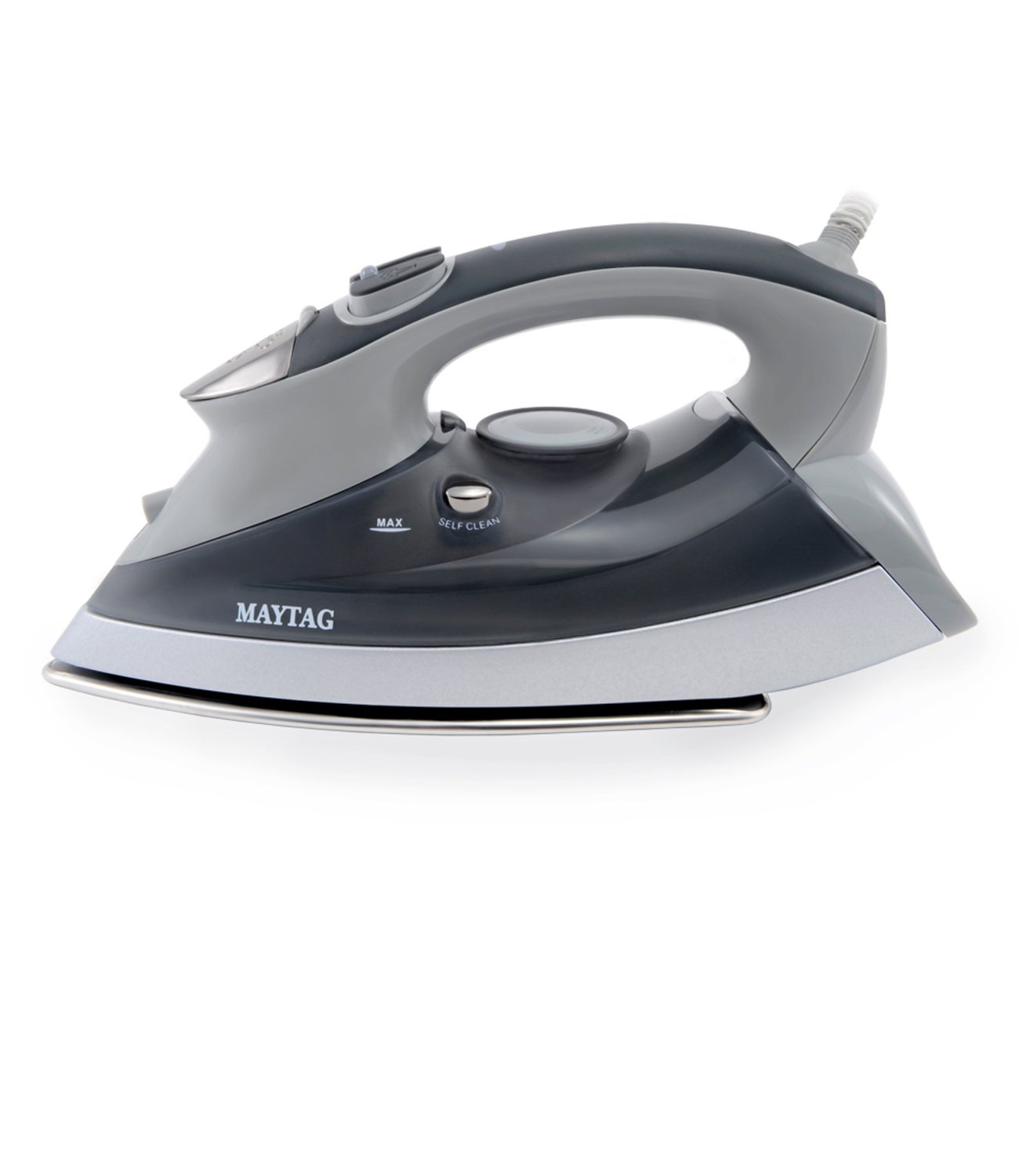 This travel iron heats up extremely quickly; it reaches its maximum temperature in less than sixty seconds. Along with dry ironing, the iron also has a steaming feature. The steam emits continuously from the iron in order to press out tough wrinkles and creases that can't be smoothed through just dry ironing.
Equipped with a stainless steel plate, this travel iron provides smooth and even heating. It is durable and will not be damaged when you travel. The iron also includes an anti-drip feature that improves the performance of the iron and ensures that the process is mess-free.
2. Ivation Mini Iron – Dual Voltage Compact Design, Great for Travel – Non-Stick Ceramic Soleplate – Dry or Steam Ironing – Extra-Long Power Cord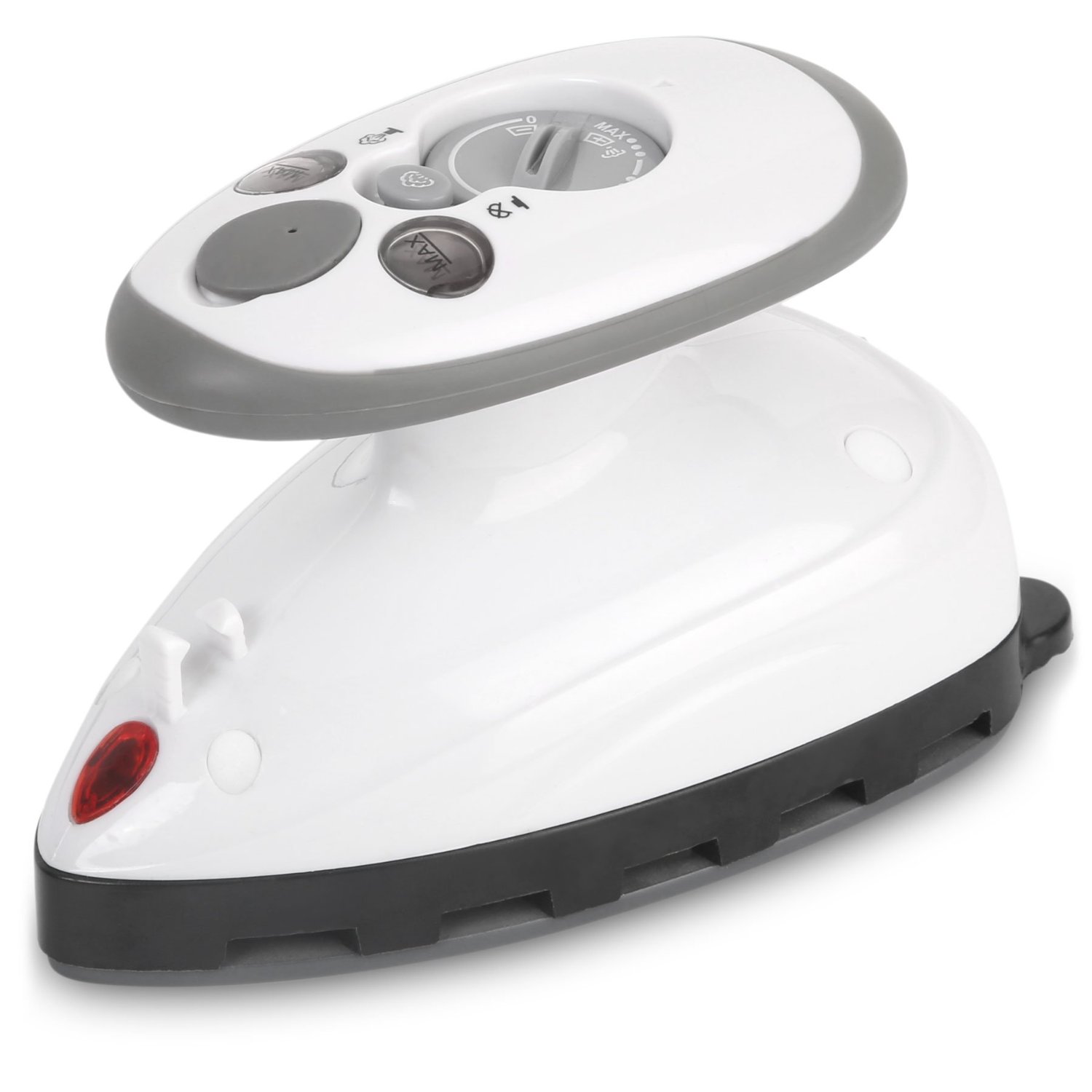 While this travel iron is very small, it's also extremely powerful. It is a four hundred-twenty-Watt iron that thoroughly and quickly removes all wrinkles from your clothing. The iron features a nonstick ceramic plate and three different heat settings.
It only takes fifteen seconds for this travel iron to heat up to its maximum temperature. This quick heat-up time significantly cuts down the amount of time you have to spend on your ironing process. The iron also features steaming capabilities. You can control the steaming feature of the iron with just one touch in order to get tough wrinkles out of your clothes when needed. As an added bonus, this travel iron includes an extra-long power cord for extra convenience that wraps and clips around the iron for easy storage.
1. Hamilton Beach Travel Iron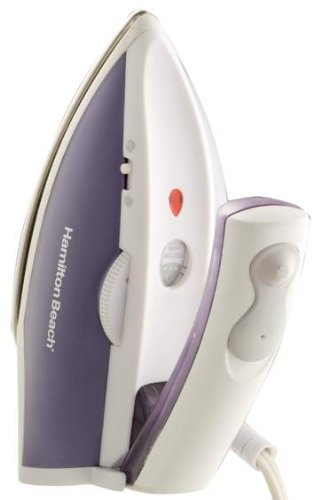 This efficient travel iron has a steam function and features a steam rate of nine grams per minute. This speedy steam emission allows you to get your clothes looking fresh and smooth as quickly as possible. Plus, the iron takes less than one minute to be ready for use after you turn it on. It holds up to seventy milliliters of water at one time for continuous steaming.
The iron is a dual-voltage device that is perfect for overseas travel. It includes eight hundred watts of power in order to iron your clothes quickly and thoroughly no matter where you are. This iron is compact and features a handle that folds down to make the device even smaller for packing and storage. It also includes a carrying pouch and fabric brush attachment for effortless storage and more efficient ironing.
Ironing generally isn't anyone's favorite chore, but it's important to iron your clothes in order to look put-together and presentable. When you travel frequently, ironing becomes much more inconvenient because you are forced to either go out with wrinkly clothes or use whatever iron you can find in your travel lodging. With a travel iron, the inconvenience and frustration of ironing outside of your home disappears. Travel irons are compact and lightweight so that they don't take up too much room in your suitcase, but they can be just as efficient as larger home irons at smoothing your clothes so that you can look your best.