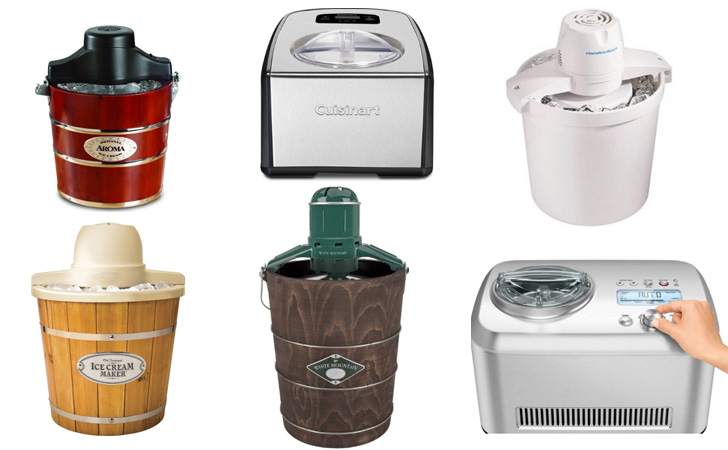 Making your own ice cream from home with a personal ice cream maker is a fun and satisfying activity you can enjoy by yourself or with family and friends. Owning an ice cream maker prevents you from having to go to the store or an expensive ice cream shop and purchase ice cream there. Plus, homemade ice cream is fresher, creamy more pure and natural, and tastes better than store-bought ice cream anyway.
If you're interested in purchasing an ice cream maker, keep reading the following Ice Cream Makers reviews to learn more about the top rated best ice cream makers available.
10. 

Aroma Housewares 4-Quart Traditional Ice Cream Maker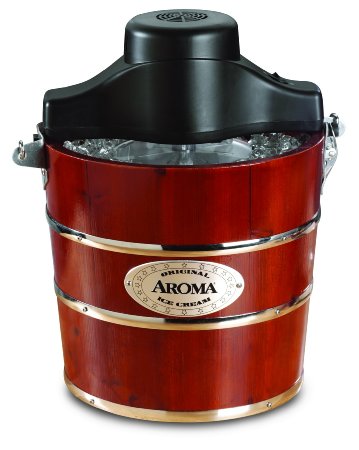 Designed with a traditional fir wood bucket but equipped with all of the technological perks of a modern appliance, this ice cream maker from Aroma Housewares is the best of both worlds. Including both an old-fashioned die-cast hand crank and an electric motor for effortless churning, it combines traditional elements with modern technology seamlessly.
This ice cream maker's mixing bucket has a four-quart capacity that is large enough to make ice cream to feed a whole family; the mixing canister is crafted from aluminum so that the ice cream freezes more quickly and stays frozen longer.
9. 

Yonanas Elite Frozen Healthy Dessert Maker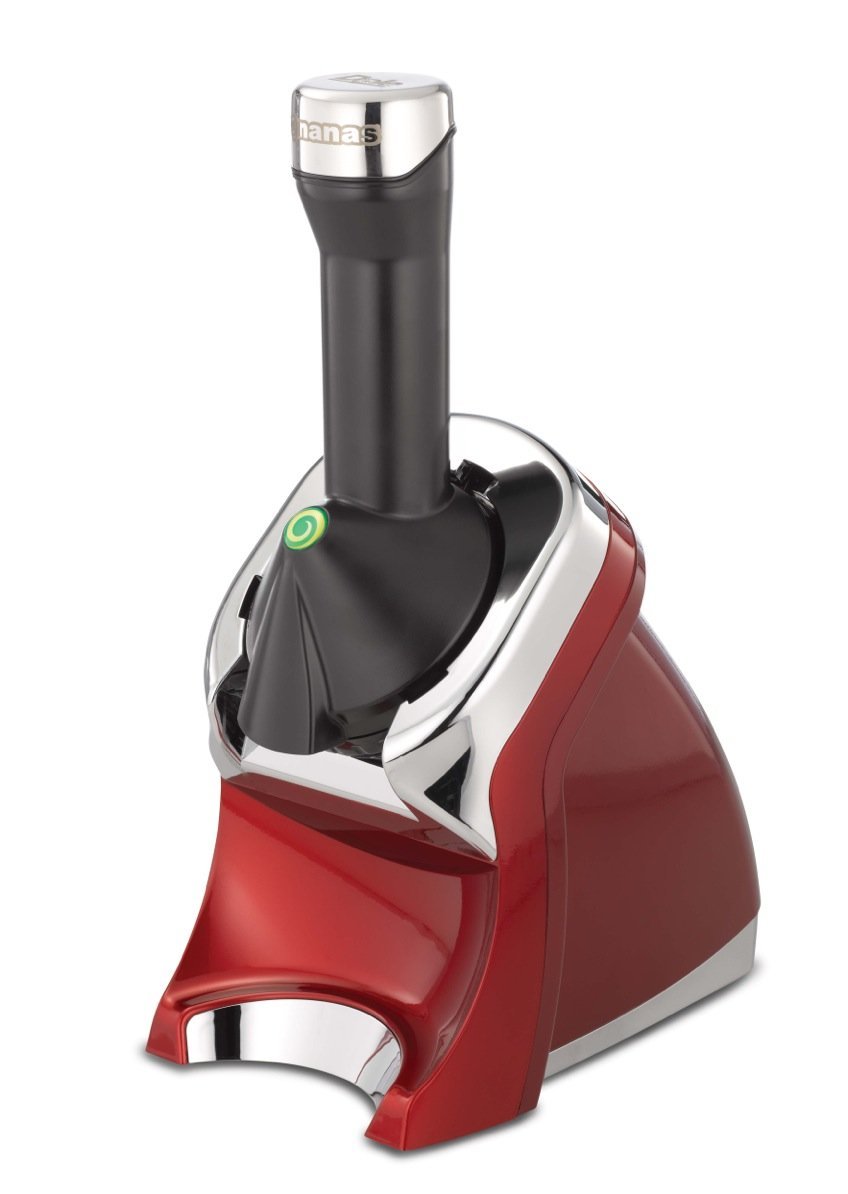 Delicious frozen desserts don't have to be made from traditional ice cream ingredients like cream and sugar that are fatty and unhealthy. You can make yummy, cold desserts that are perfect for a hot day using only healthy ingredients such as pure, natural fruits, and this innovative ice cream maker from Yonanas can help you do it.
Designed with a powerful motor and a convenient chute, this ice cream makers works quickly and efficiently to effortlessly blend fruits and even vegetables into smooth and creamy ice cream. All you have to do is shove any fruit of your choice, including bananas, avocados, mangos, or berries, into the chute of the machine and wait for your delicious, healthy, all-natural frozen dessert to be made.
8. 

White Mountain Ice Cream Maker with Appalachian Series Wooden Bucket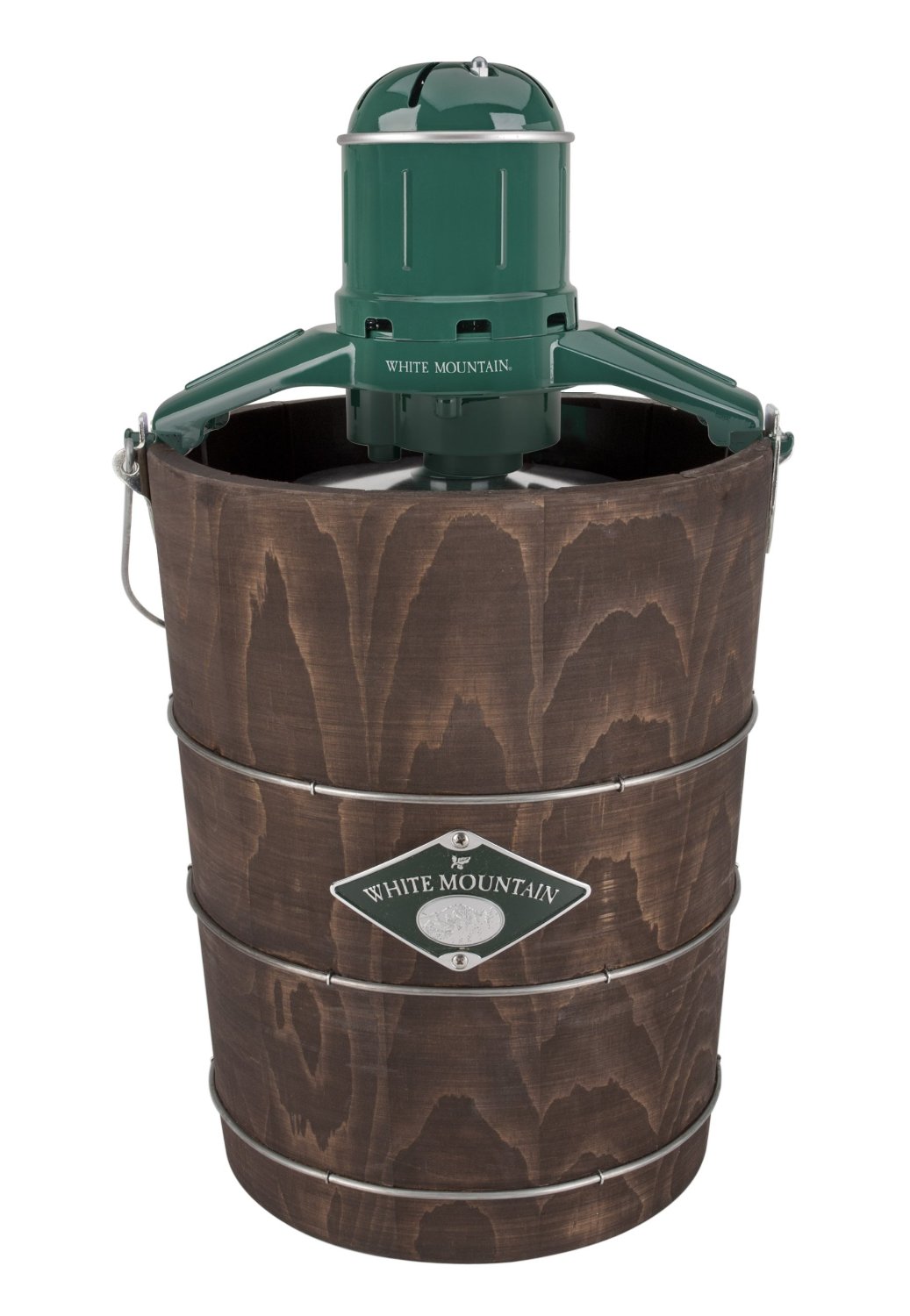 This ice cream maker from White Mountain combines a traditional, old-fashioned wooden bucket design with convenient modern technology. Its wooden bucket mixing canister has a capacity that holds up to six quarts of freshly made ice cream at one time, allowing you to churn enough ice cream for a whole party to enjoy.
Designed with a triple motion action dasher system and a 12,000 RPM universal electric motor, this ice cream maker is powerful enough to churn creamy, smooth ice cream in record time and requires little to no effort on your part.
7. 

Whynter Stainless Steel Ice Cream Maker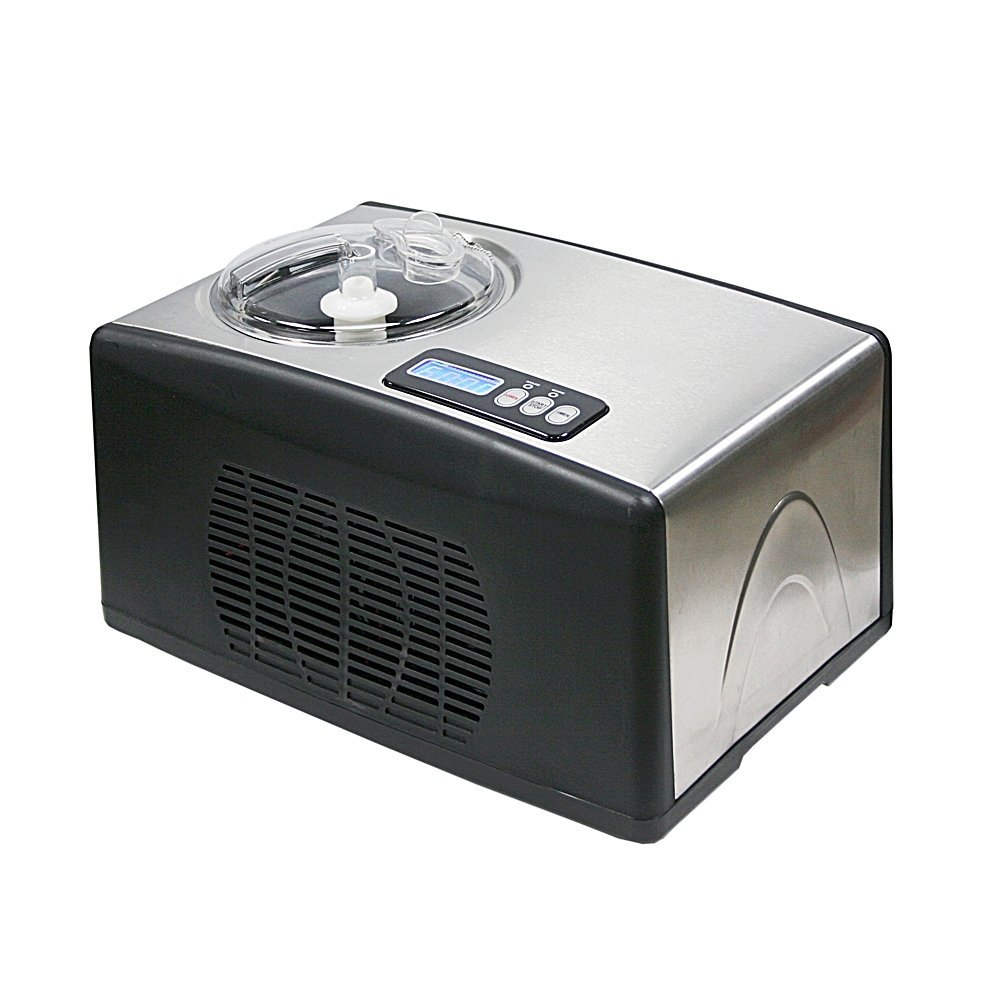 The time-consuming, inconvenient hassle of pre-freezing can become a thing of the past with this ice cream maker from Whynter, which is self contained and can create ice cream all on its own without requiring a pre-freezing process.
Designed with a removable bowl and churn blade, the ice cream machine can be stored and cleaned easily. It holds almost two quarts of ice cream at one time, which allows you to make ice cream for yourself and a few other people to enjoy. Plus, the ice cream maker is designed with a built-in audible timer that lets you know exactly when your ice cream is ready and a motor drive that shuts off automatically to prevent your ice cream from churning too much.
6. 

Hamilton Beach 4-Quart Automatic Ice-Cream Maker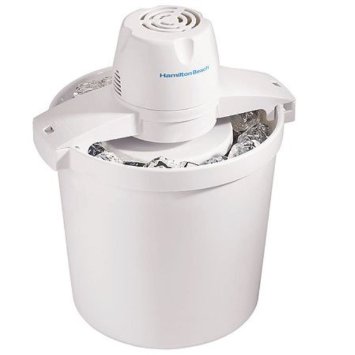 A completely automatic appliance, this ice cream maker from Hamilton Beach does not require any painstaking churning or cranking by hand or any other effort on your part. All you have to do is throw in the right ingredients, and the ice cream maker will blend it all together for you to create smooth and creamy ice cream right before your eyes.
Powerful and fast-acting, this ice cream maker can produce up to four quarts of ice cream at one tim in only twenty to forty minutes. Along with ice cream, it can also produce frozen yogurt, custard, sherbet, and gelato to add variety to your options for frozen desserts.
SHOP NOW
5. 

Conair Cuisinart 1.5 Quart Frozen Yogurt-Ice Cream Maker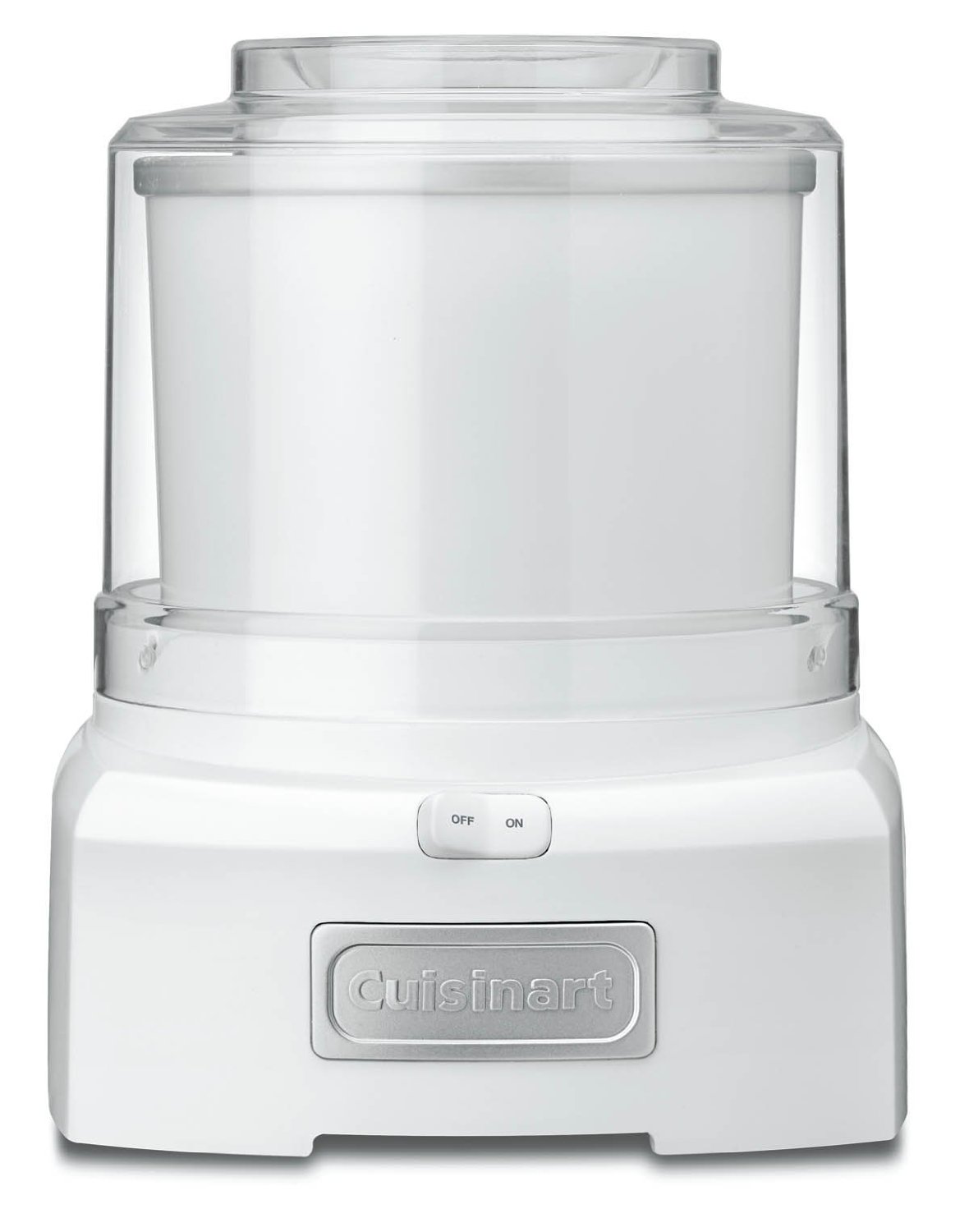 This small, easy to transport, easy to store ice cream maker from Conair Cuisinart produces just enough ice cream for you and someone else to share with its one-point-five quart capacity. Equipped with a high-powered, efficient mixing paddle, it can produce a full one-point-five quarts of ice cream in twenty minutes or less.
With a double-insulated freezer bowl, this ice cream maker helps your ice cream freeze faster and stay frozen longer; this design also eliminates the need for adding ice to your ice cream mixture.
4. 

Nostalgia Vintage Collection 4-Quart Wood Bucket Electric Ice Cream Maker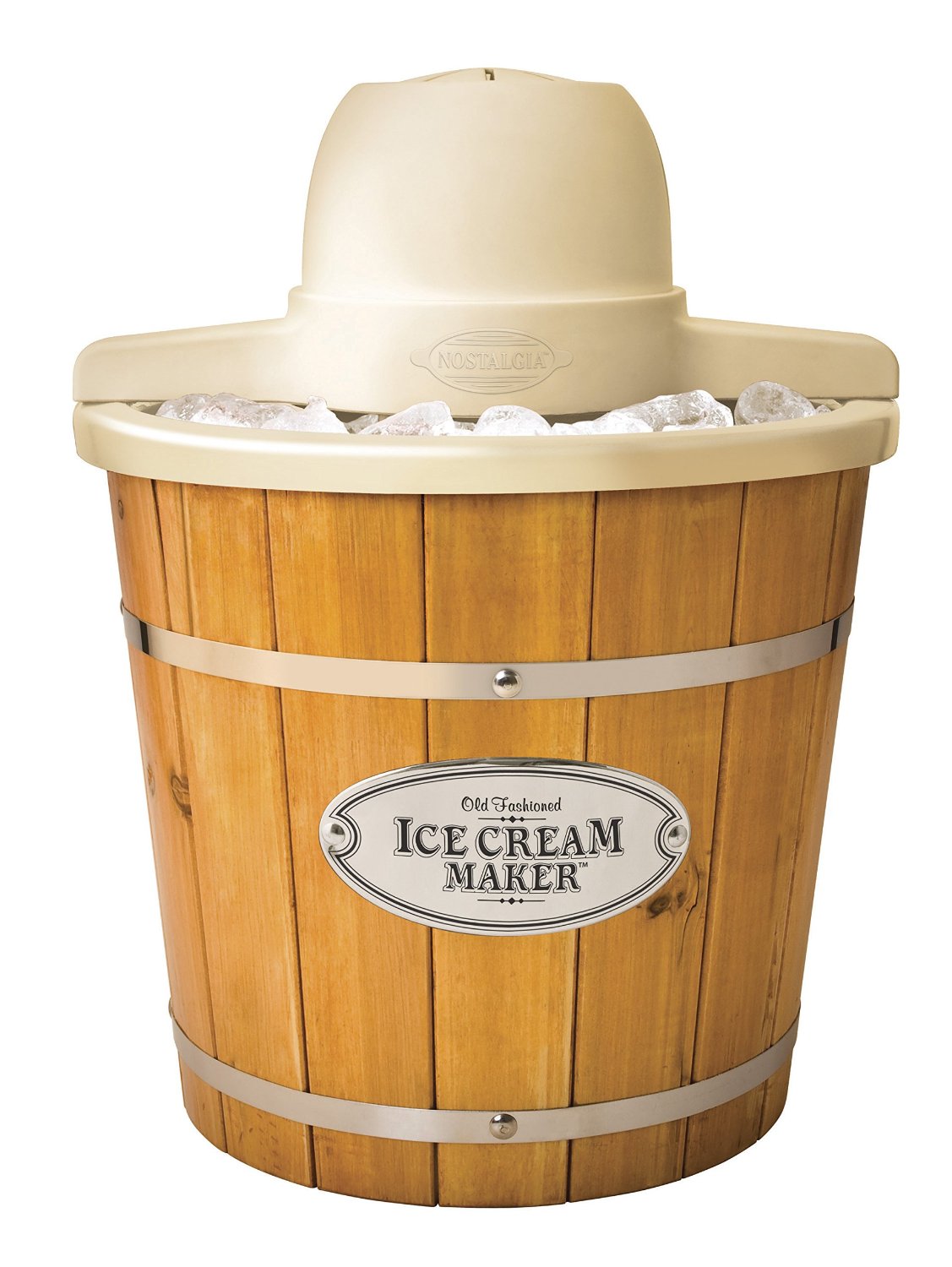 One of the biggest and most common complaints about ice cream makers is that they are extremely difficult to clean. Yes, it's great to be able to make ice cream easily at home, but it becomes a lot less fun when you're left with a giant mess to clean up after you've enjoyed your ice cream.
This ice cream maker from Nostalgia eliminates this challenge which its special construction that is designed specifically to make cleaning up easier than ever. With a built-in removable plastic bucket liner, you can effortlessly wash up your ice cream residue without having to haul the whole machine to the sink. The ice cream maker is equipped with a powerful electric motor, a four-quart capacity, real wood construction, and is capable of making ice cream, frozen yogurt, or gelato.
3. Cuisinart Compressor Ice Cream and Gelato Maker
A fully automatic appliance, this ice cream maker from Cuisinart is designed with a unique commercial-quality compressor to produce fresh, creamy, smooth ice cream effortlessly. It is capable of producing both ice cream and gelato and includes two separate paddles: one designed for making authentic gelato and the other for making creamy ice cream.
This ice cream maker features a 60-minute countdown timer that tells you exactly when your ice cream will be ready. If you can't get to the machine right away when the ice cream is done, it will keep your ice cream cool for up to ten minutes after the timer rings.
2. Cuisinart Pure Indulgence 2-Quart Automatic Frozen Yogurt, Sorbet, and Ice Cream Maker
This versatile ice cream maker can produce ice cream, frozen yogurt and sorbet. Equipped with a durable stainless steel construction and a heavy-duty motor, it is powerful and produces your favorite frozen desserts quickly and efficiently.
Making your own fun ice cream flavors is easy with this ice cream maker. It includes a large ingredient spout that allows you to easily add your favorite mix-ins to the ice cream mixture within the machine's included double-insulated freezer bowl. You can buy this ice cream maker at Walmart.
1. 

Breville Smart Scoop Ice Cream Maker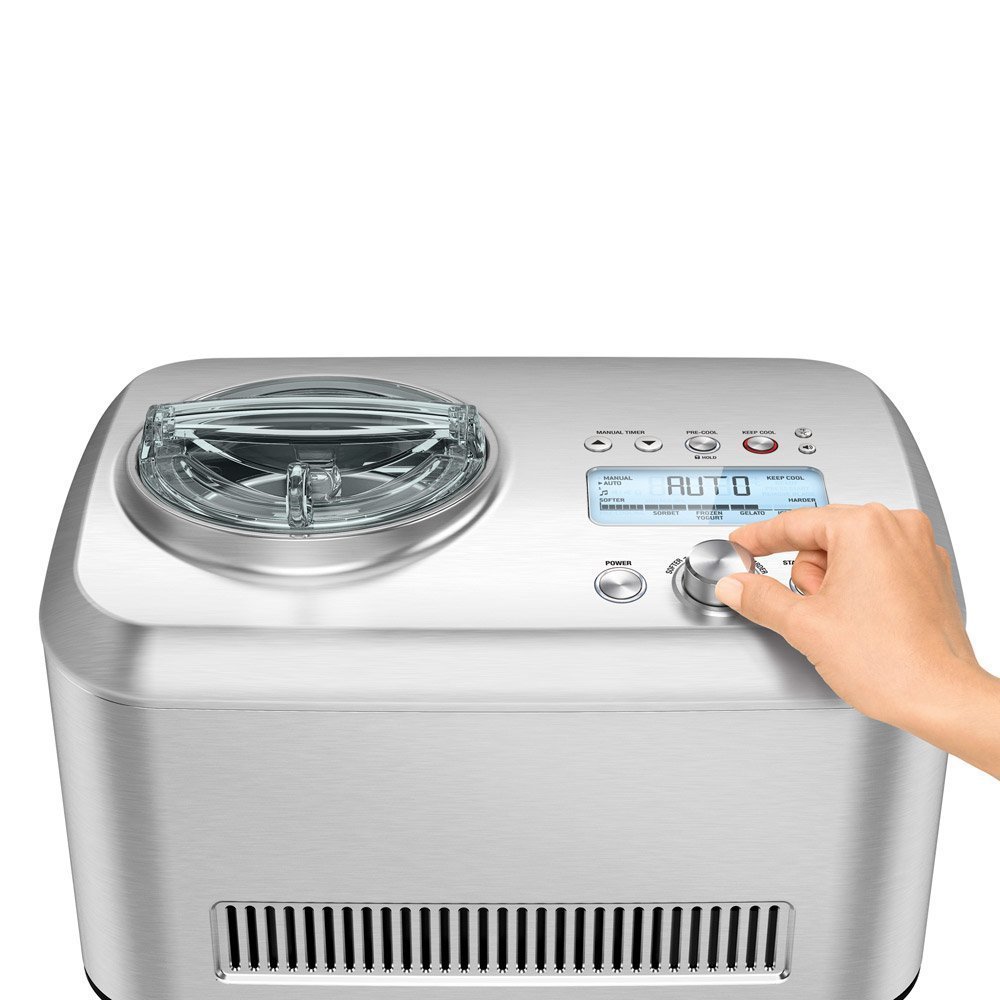 Designed with twelve different hardness settings, this ice cream maker allows you to choose what consistency your ice cream will have. These adjustable settings allow you to create a variety of frozen desserts, including sorbet, frozen yogurt, gelato, and traditional creamy ice cream.
The ice cream machine's self-refrigerating compressor keeps ice cream cold effortlessly during and after production for up to three hours. It also features a pre-cool setting to create an optimal operating temperature.
Not all ice cream makers are created equal and it's important to invest in one that works efficiently to create delicious, creamy ice cream without making a mess or causing frustration. Use the list in this post to learn about some of the best ice cream makers currently available for purchase.