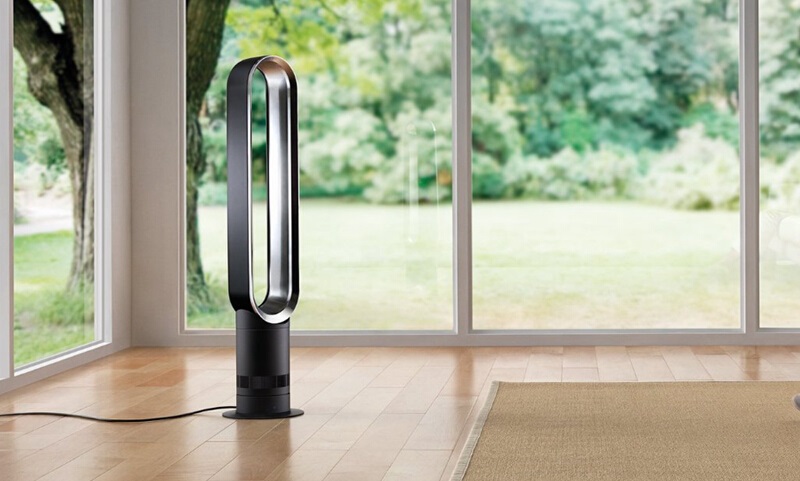 Here's a focused rundown of the Top 10 Best Cooling Tower Fans for rooms in this year, which have been tested and reviewed by thousands of consumers.  Many people find that using good-quality cooling tower fans in rooms that get very hot, is a cheaper option than expensive air-conditioning units.
These days, you can expect any decent cooling tower fans for rooms where you work, relax or sleep, to give 'reasonably quiet' to 'very quiet' operation. If you have a tower that's noisy from the start, it's worth checking the instructions to see if you've accidentally put some screws in the wrong holes.
I know this tip works, because of our recent experiences with cooling tower fan assembly instructions, which are sometimes vague or incorrect leading to noisy fan units!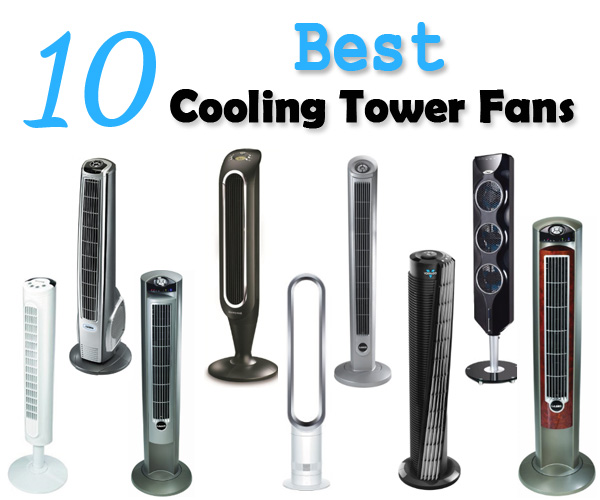 The advantage of the cooling tower fan are very much related to safety, comfort and power-savings.  Obviously, table fans with rapidly oscillating fab blades are not the safest appliances for use in a home where children live or visit.  Many cooling tower fans offer the same features at similar prices, but there are noticeable differences in appearance, noise-levels, strength of air-flow, durability and whether you can clean the inside of a dusty unit.
10. 

Honeywell Fresh Breeze Tower Fan with Remote Control, HY-048BP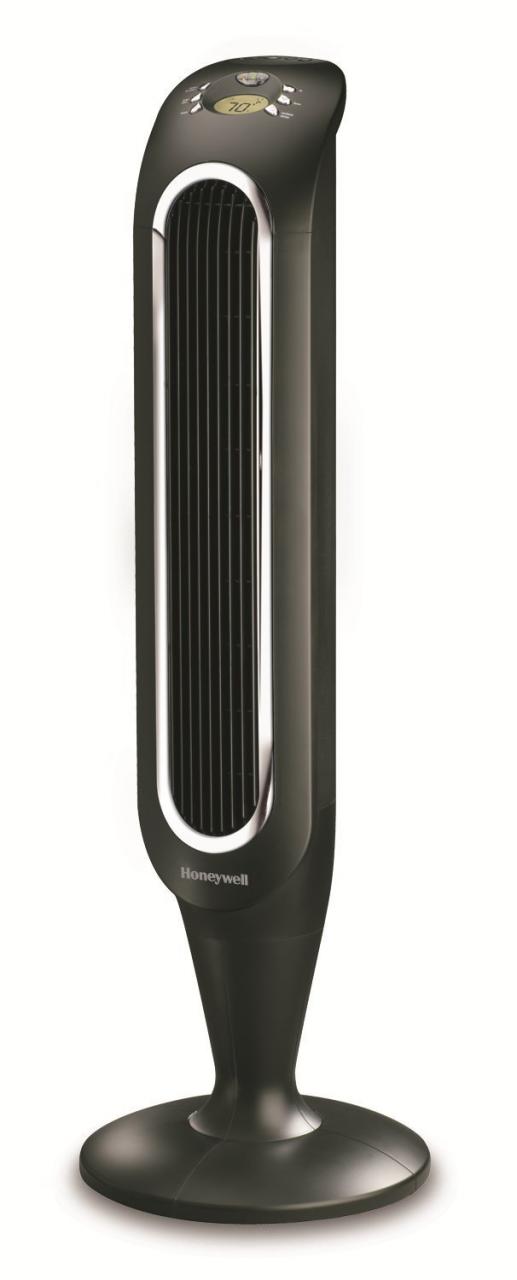 Cooling tower fans for rooms in frequent use need a programmable thermostat, at least 3 speeds and a timer/switch-off function.  This is one of the best tower fans for rooms of a medium to large size, where you need an oscillating fan to give wide, cool air distribution.
More stylish in design than most cooling tower fans, this model looks compact but is able to create a strong, cool breeze to a distance of 25 ft. away.  The thermostat ensures a constant set temperature is maintained and the remote control is another popular feature.  This cooling tower fan is on sale with a great discount right now.
9. Lasko 4820 Xtra Air Tower Fan with Fresh Air Ionizer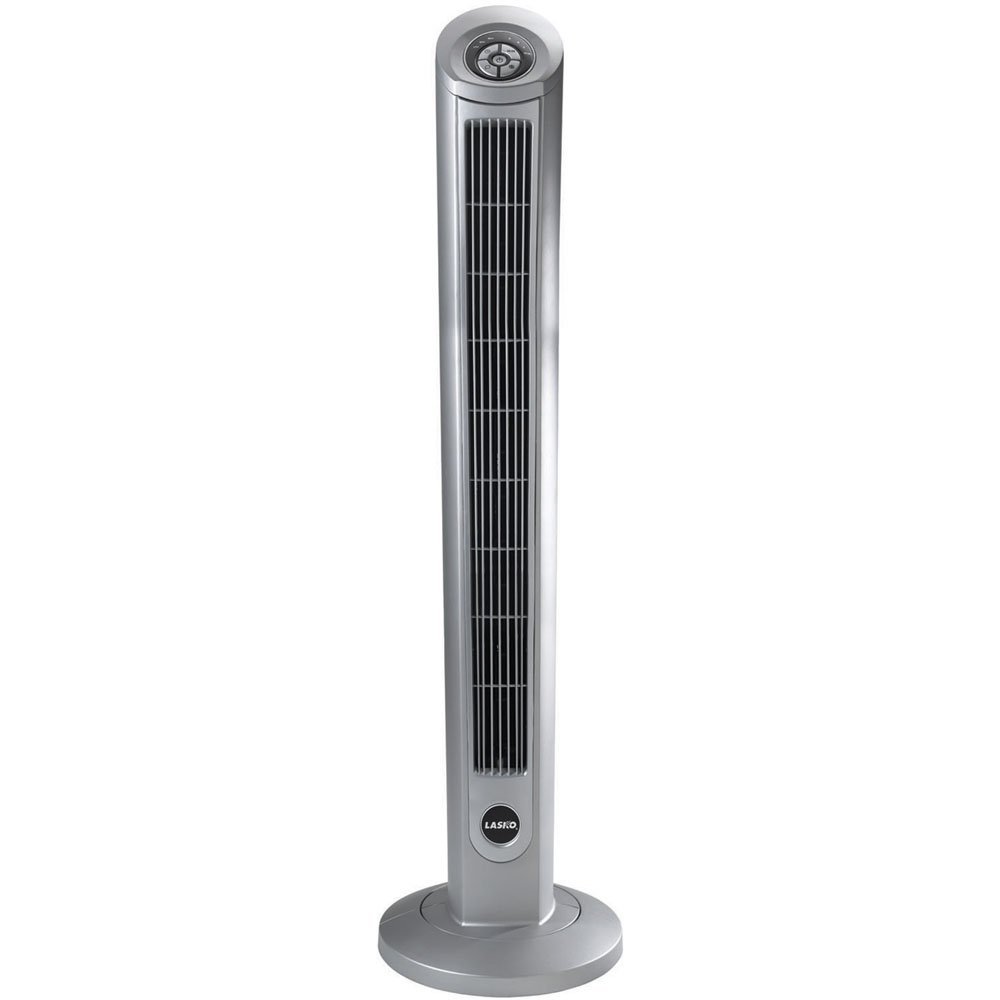 This cooling tower fan has an ionizer, a timer and a multi-function remote-control.  It's slightly more expensive than the Honeywell, but this cooling tower fan is quieter in use.  In fact, being very quiet even on the 'high' setting is the important feature that sets this oscillating fan apart for many other fans.
Users report that it's good at circulating all the air in a large room, although it doesn't seem to be as durable as some purchasers expected.  More than one reviewer says their Lasko cooling tower fan stopped working within the first year.
8. 

Seville Classics UltraSlimline Tower Fan, 40-inch Tower Fan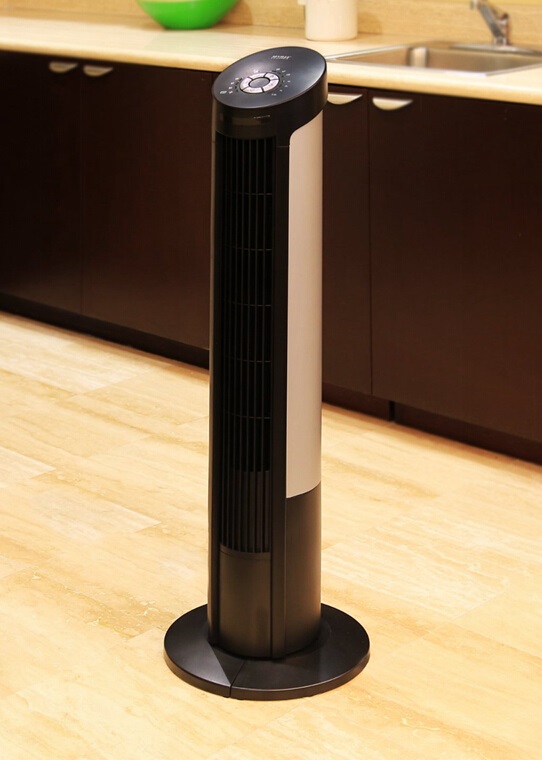 This popular cooling tower fan has a sophisticated look, including colors like silver, brown and black satin.  It has four different settings, one more than most tower fans, and the usual 'switch-off' timer.  The oscillating fan also has three different 'wind' modes – normal wind, sleeping wind and natural wind.
I like the idea of the natural wind mode, which varies the fan speed to create the feeling of a natural outdoor breeze.  Users say it oscillates silently, with no ticking sound.  It pushes out plenty of 'cool air' and the lowest fan setting, 'Eco' mode is almost silent.  Judged good quality and reasonably priced.
7. Lasko 4443 40″ Hybrid Fan

This cooling tower fan's for rooms including bedrooms, and has a special on or off night-light feature for kids.  A user who has had this model for more than a year, says it is 'very quiet'.  Some users have commented that the pitch of the 'white' noise is mid to high, which they like!
Oddly other reviewers say it's noisy, so it may be that the noise vibration differs depending on the floor: tiled, carpeted or wooden.  Not the best-looking tower fan for rooms you like to be super-stylish. It's advertised as having 30 % more air delivery than standard cooling tower fans, and users agree it's a great fan for anyone needing strong blowing power.
6. 

Honeywell HYF023W Comfort Control Tower Fan, Wide Area Cooling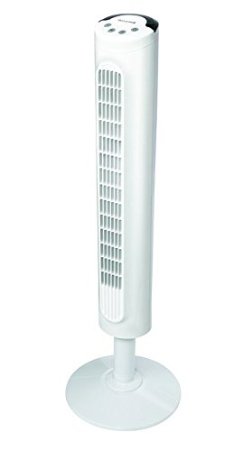 This is one of the fresh-looking, white enamelled cooling tower fans for rooms in a small, modern home or office.  It has the electronic control with LED display, auto-off timer and oscillating action that all tower fans for rooms in a home or office offer.
At 32″ this model is smaller than the 40″ and 60″ models described above.  A lot users said that it's a very quiet tower fan, for rooms where you sleep or watch TV, you can use it without being disturbed. It doesn't have a remote control, but users are very satisfied with the amount of cool air it circulates.
5. Lasko 2551 Wind Curve Platinum Tower Fan With Remote Control and Fresh Air Ionizer

Users liked its rounded design and the fact that the ionizer removes kitchen smells that float through the house.  It does a great job circulating air with the oscillating feature on, or off.
It has a safety cut-out feature, in case the units is accidentally knocked over.  This is good because cooling tower fans aren't the most stable appliances owing to their top-heavy design and the too-small bases.  The fan is quiet and durable with one reviewer saying his tower fan lasted 10 years in frequent use!
4. 

Vornado 184 Whole Room Tower Air Circulator, 41″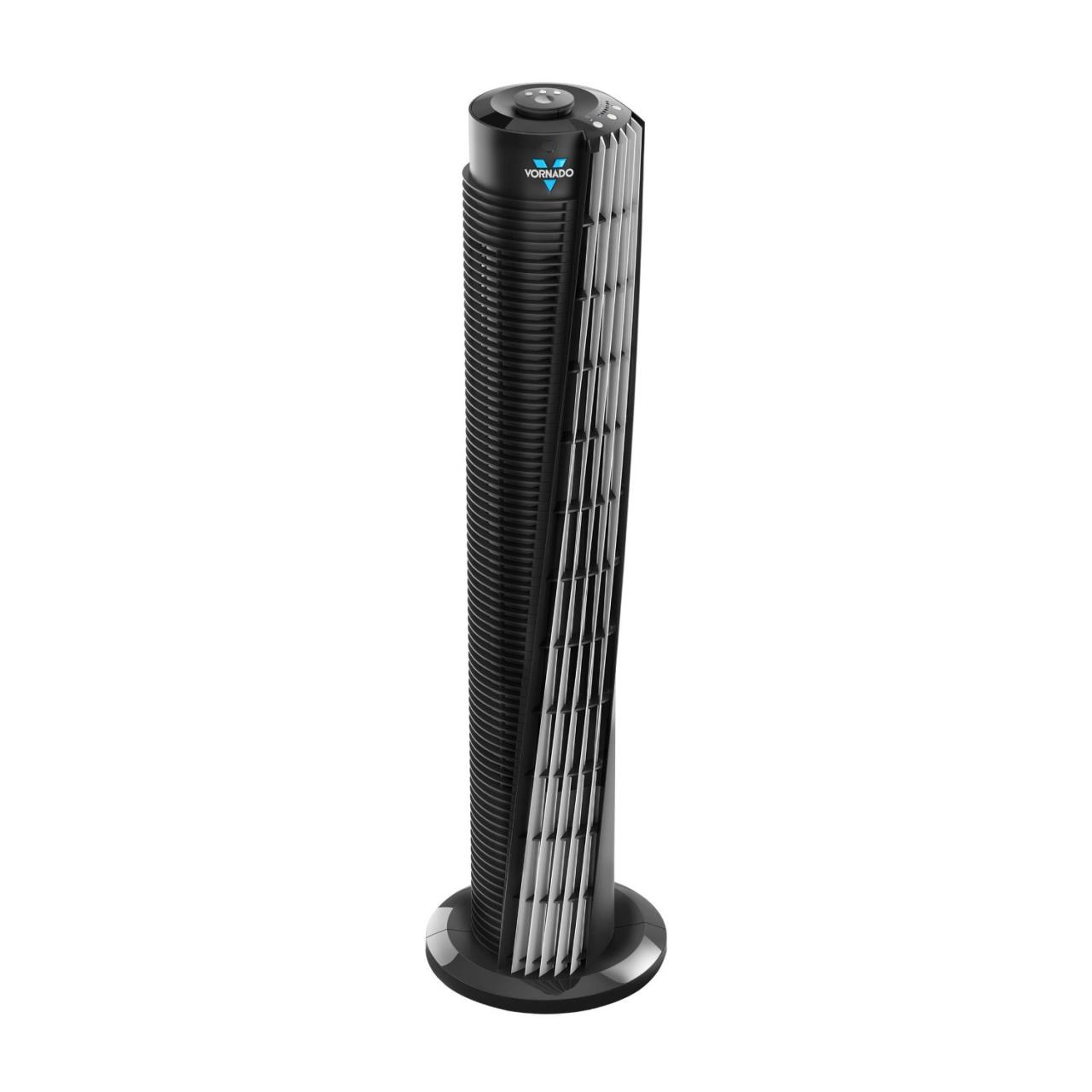 This model has a little more style in the design and the unique cross-cut air outlet, claims to create a broad area of constant airflow.  This also eliminates the need for a wobbly, oscillating base as used by most cooling tower fans.  For rooms in home or office, this is marketed as a very quiet fan with a 4-speed settings and timer.
This model is about twice as expensive as some of the tower fans on our Top 10 Best Cooling Tower Fans list, but some purchasers are disappointed with the V-flow air circulation design.  It's judged to be a good tower fan, but it doesn't not blow cool air 'in all directions' as claimed in the videos.
3. 

Ozeri 3x Tower Fan (44″) with Passive Noise Reduction Technology

Looking like a set of audio-speakers, this model features a unique fan design with three independent fans.  It's marketed as one of the world's thinnest cooling tower fans for rooms where style matters.  I don't like the look of this unit, but when buying an efficient fan that's not my major concern.
I like the fact that you can remove the back easily and clean out all the dust.  This is a very important feature for anyone with allergies or lung problems.  You can use just one, two or all three fans, which user feel reduces their house-cooling power bill.
2. 

Lasko #2554 42-Inch Wind Curve Fan with Remote

I like the look of this tower fan, it's better proportioned and more solid-looking than some others.  Unfortunately, like most tower fans you can't open it and clean inside.
It's said to be extremely quiet in use and is an excellent fan for circulating air all around large or small rooms.  It has a remote control unit, which I know is valued by folks who have difficulty moving around.
1. A Cool Stylish Tower Fan – 

Dyson Air Multiplier AM07 Tower Fan, White
The Dyson costs substantially more than middle-range cooling tower fans, and with no fan blades, it's very safe.
The remote has 10 airflow settings and with no safety-grille or blades, it's easy to clean. It consumes less power to produce a powerful airflow and is really quiet on low speeds.  At high speeds, there is the gentle sound of air moving around and you do pay more for the fabulously stylish design!