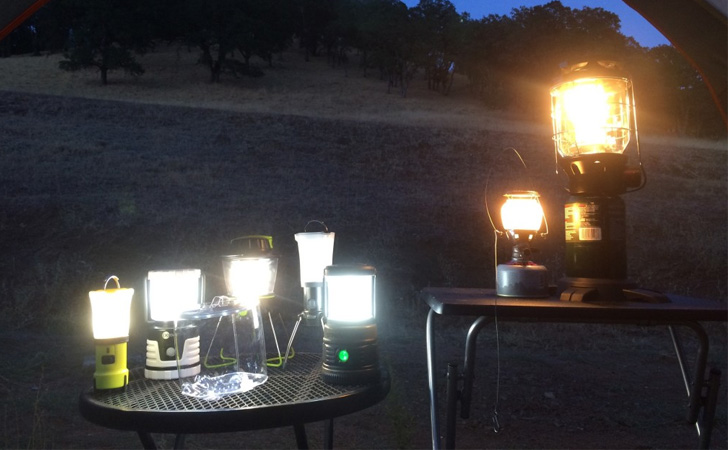 LED lanterns are a necessity when it comes to camping, backpacking, hiking, or any other outdoor activity that progresses into the nighttime. They're also a great tool to have on hand in your home in case of power outages and other emergencies. Powerful, bright, and battery or solar-powered to prevent the need for electricity and outlets, LED lanterns can be a very helpful addition to your camping trip packing list as well as your garage at home to make sure you stay safe and have access to bright light at all times.
If you're in the market for an LED lantern, keep reading the following LED lantern reviews to learn more about the top rated best LED lanterns available.
10. Divine LEDs 

2-Pack LED Lantern Flashlights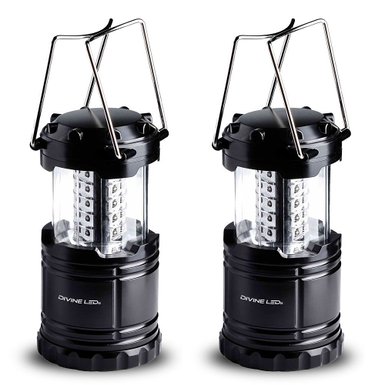 Constructed with an intuitive, easy to use design, this two-pack of LED lanterns can light up your entire tent while camping or provide vital tools for two people on a hike. There is no on/off switch for these LED lanterns; you can turn them on and off easily by extending and retracting the lantern itself.
These lanterns require three AAA batteries, which can be inserted effortlessly into the bottom compartment of the lantern; the batteries last a long time without dimming or dying in these power-conserving lanterns. One hundred percent water-resistant, these lanterns ensure that you don't need to worry about dew accumulation during camping or a light rain during a nighttime hike.
9. 

GridLite Portable LED Camping Lantern Flashlight
With an ultra bright 60-lumen light, this LED lantern from GridLite is powered by thirty independent LED bulbs to provide high-powered, extended light in all directions. Crafted from top-quality plastic that is fully water resistant, it is durable enough to effortlessly endure all of your outdoor adventures.
Featuring a lightweight, collapsible design, the lantern ensures that you don't need to worry about it taking up too much room in your backpack and weighing you down. It also includes foldable handles to increase its effortless portability.
8. Divine LEDs 

Ultra Bright LED Lantern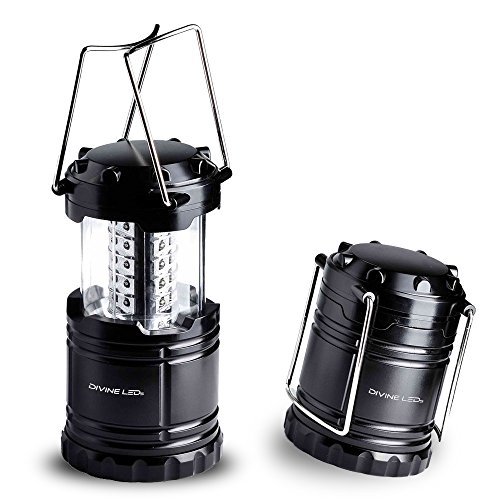 Crafted from military-grade materials, this LED lantern is completely water resistant and made from extremely durable plastic. With an advanced collapsible design, it retracts into itself with a simple push for easy storage and portability and extends again when you're ready to use it.
Featuring thirty independent powerful LED lights, this lantern has an extremely long battery life and can even be used with rechargeable batteries to save money and energy. Its LED lights put out maximum brightness to provide you with enough light to easily see out in all directions with just one lantern, if you're looking for Camping Lanterns, this is the perfect one!
7. 

Streamlight The Siege Lantern for Outdoor, Camping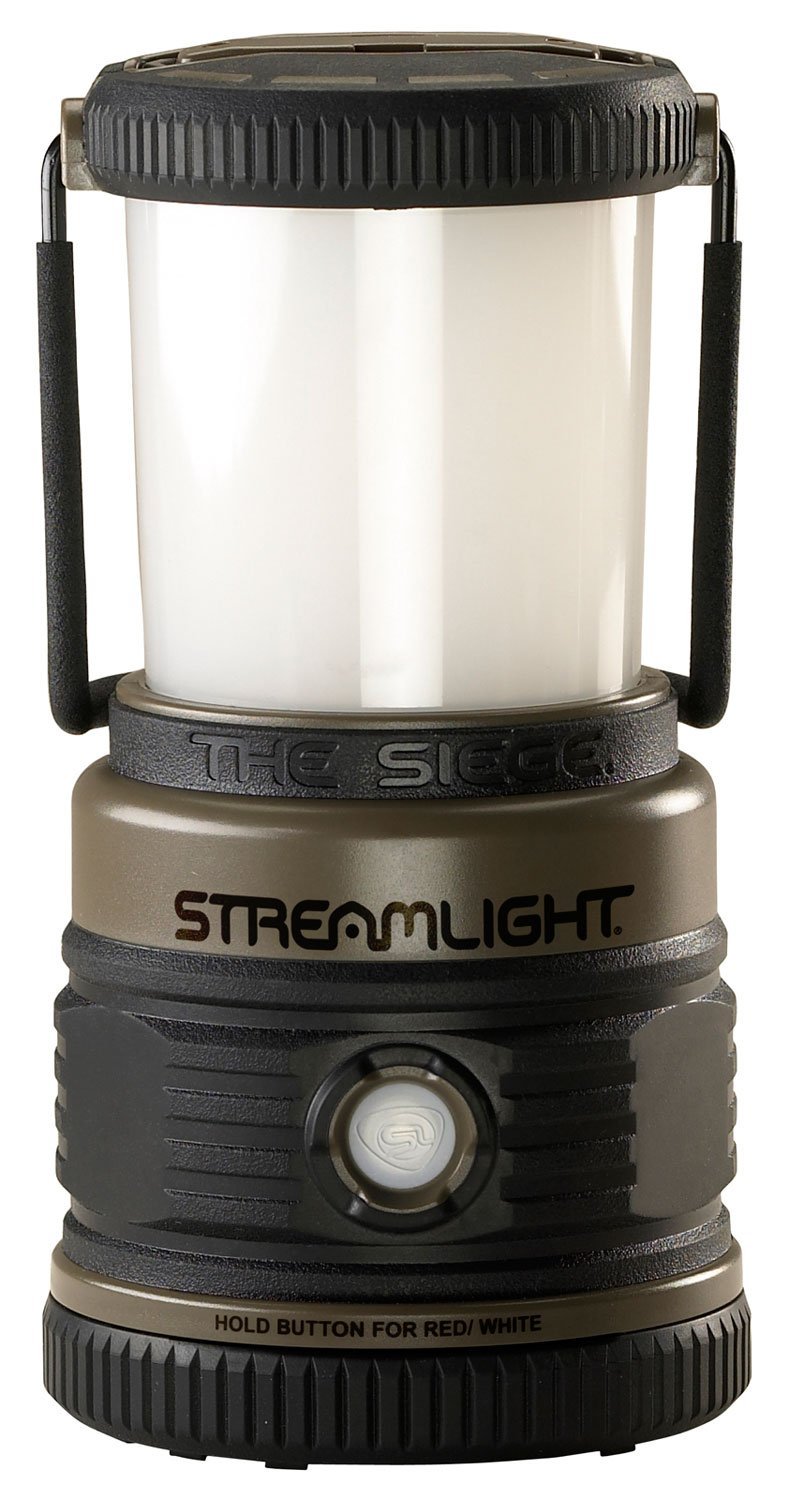 Equipped with four white LED lights and one special red LED light, this LED lantern helps preserve your night vision and allow you to see extended distances in all directions. On just three D-cell alkaline batteries, it can run for up to three hundred hours when used on its innovative energy-saving low white light mode.
In fact, this lantern features several different adjustable settings that you can use depending on the amount of light you need at a specific time. It includes a high, medium, and low setting that output different amounts of lumens as well as a night-vision red setting and a red SOS flashing mode in case of emergencies.
6. MalloMe 4-Pack 

LED Camping Lantern Flashlights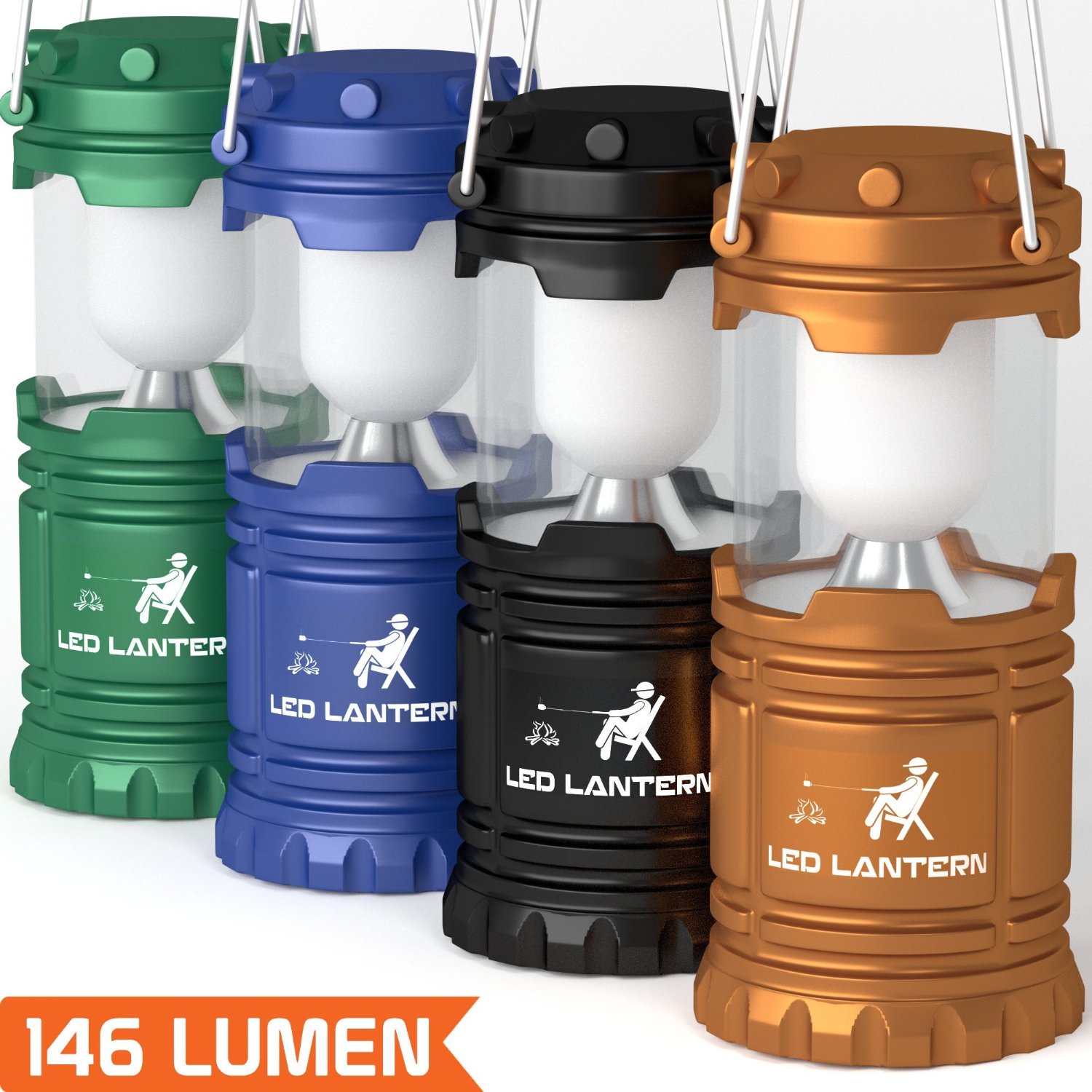 Designed to emit maximum brightness, each of the LED lanterns in this four pack include one hundred forty-six lumens of light that shine out in three hundred sixty degrees for extended, all-around visibility. Crafted from approved, professional military-grade materials, these are some of the highest quality LED lanterns available.
Each of the lanterns in the four pack come in different colors: army green, black, navy blue, and golden brown. The LED bulbs in each lantern last over one hundred thousand hours to provide you with light in any emergency or day-to-day situation.
5. Lemontec 

Portable LED Camping Lantern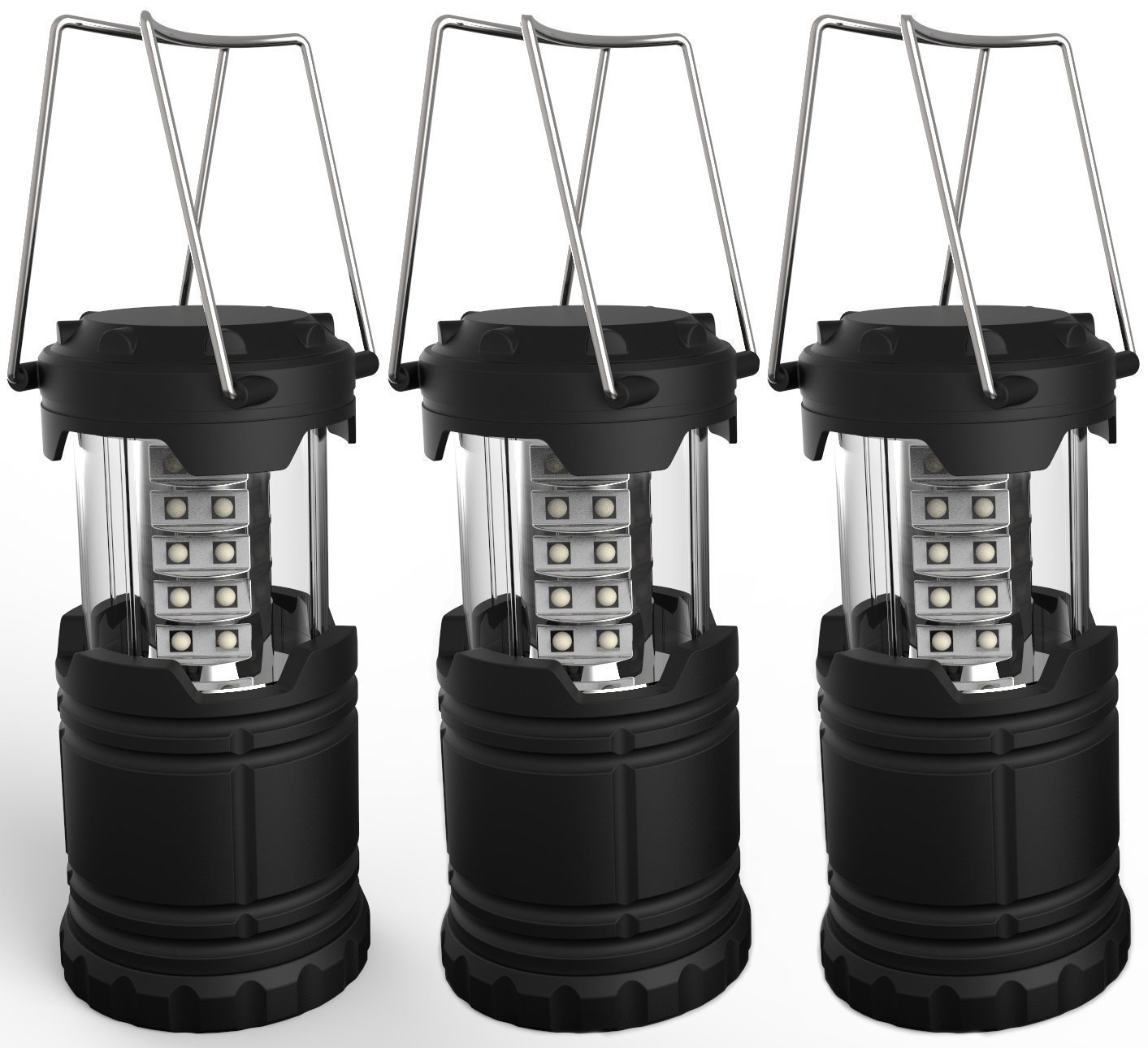 Designed to emit maximum, three hundred sixty degree bright light, this three pack of LED lanterns include thirty high-powered individual LED lightbulbs. Their long-lasting battery life allows them to be used for up to twelve hours at one time before the batteries need to be replaced.
With a portable and easily storable innovative design, these compact lanterns can be folded up into a compact unit effortlessly with a single push to be stored long-term or packed up temporarily into a camping backpack. No set up is needed to make these lanterns usable; they're ready to use immediately after they arrive.
4. 

AGPtek 5 Mode Hand Crank Dynamo 36 LED Rechargeable Camping Lantern Emergency Light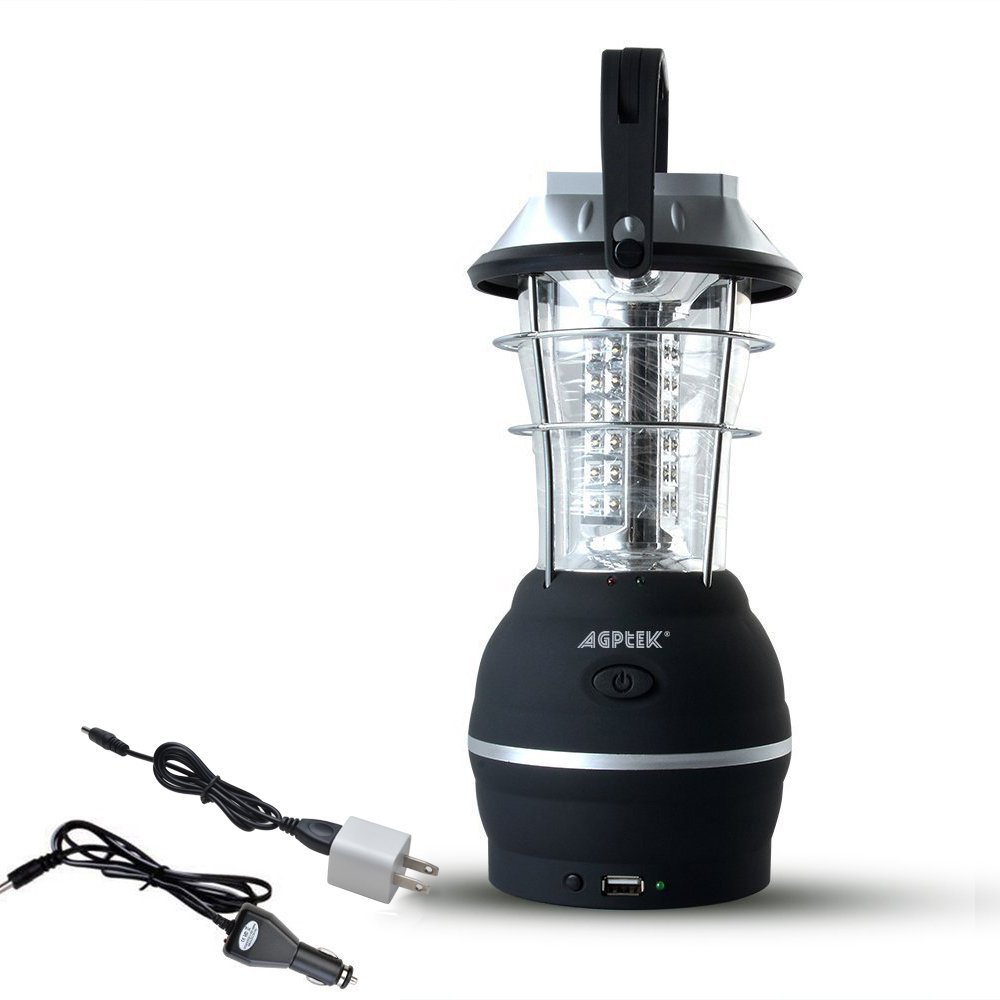 This lantern will never leave you hanging without light when you need it. It features five different charging methods to ensure that you are always able to give it the energy it needs no matter where you are. These charging methods include solar power, crank dynamo, car adapter, AC adapter, or three AA batteries.
Designed with a low energy consumption, the LED lantern emits extremely bright light without using up too much power or running down batteries quickly. It is equipped with two separate brightness modes: a bright mode for reading or lighting up a tent and a super bright mode for extended vision while actively hiking or to light up an entire room for multiple people.
3. 

ThorFire LED Camping Lantern
Rechargeable led lanterns. This tiny portable LED lantern, which only weighs less than six ounces, is a versatile product that can be used for hiking, camping, jogging, running, indoor use, and more. It can be folded up to be used as a miniature flashlight or unfolded for use as a traditional camping lantern.
When you have electrical power, you can charge the lantern with a 5V USB charger. When you're off the grid and don't have access to power, however, you can charge it with an easy hand crank to get light almost instantly.
2. AYL StarLight 

Ultra Bright LED Lantern
The LED bulbs in this lantern output six hundred lumens of light for maximum brightness with extreme clarity. The bulbs can withstand over one hundred thousand hours of use before dimming or burning out.
This LED lantern is battery powered and can last for up to six days of continuous use on just one set of three D batteries. Equipped with three different lighting modes, the lantern can be used on a low setting, a high setting, and a flashing strobe setting for emergencies depending on your situation and how much light you need at any given time.  Also you can buy this LED lantern at Walmart.
1. Vont 2 Pack

Portable Outdoor LED Camping Lantern Flashlight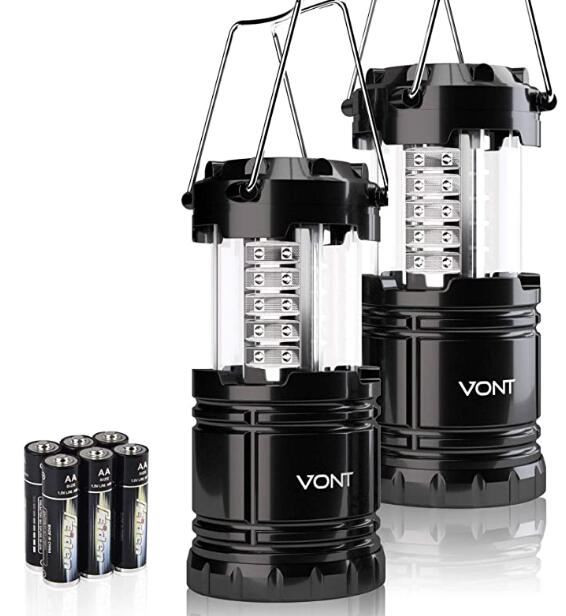 Featuring thirty razy bright individual LED lightbulbs each, this two-pack of LED lanterns emits three hundred sixty degrees of super bright light without gobbling up energy. Crafted from professional military-grade material, the lanterns are durable and extremely lightweight.
On a single set of six AA batteries, these lanterns can last for up to twelve hours of continuous use without dimming or dying out. When you're not using the lanterns, you can easily collapse them to a smaller size for storage and effortless portability. This is one of the best led lanterns with battery operated.
If you're looking for something to provide you with light at all times, no matter where you are or whether you have access to electricity, an LED lantern should do the trick. Use the list in this post to find some of the best LED lanterns that can make your camping trips more pleasant and could even save your life during an emergency.