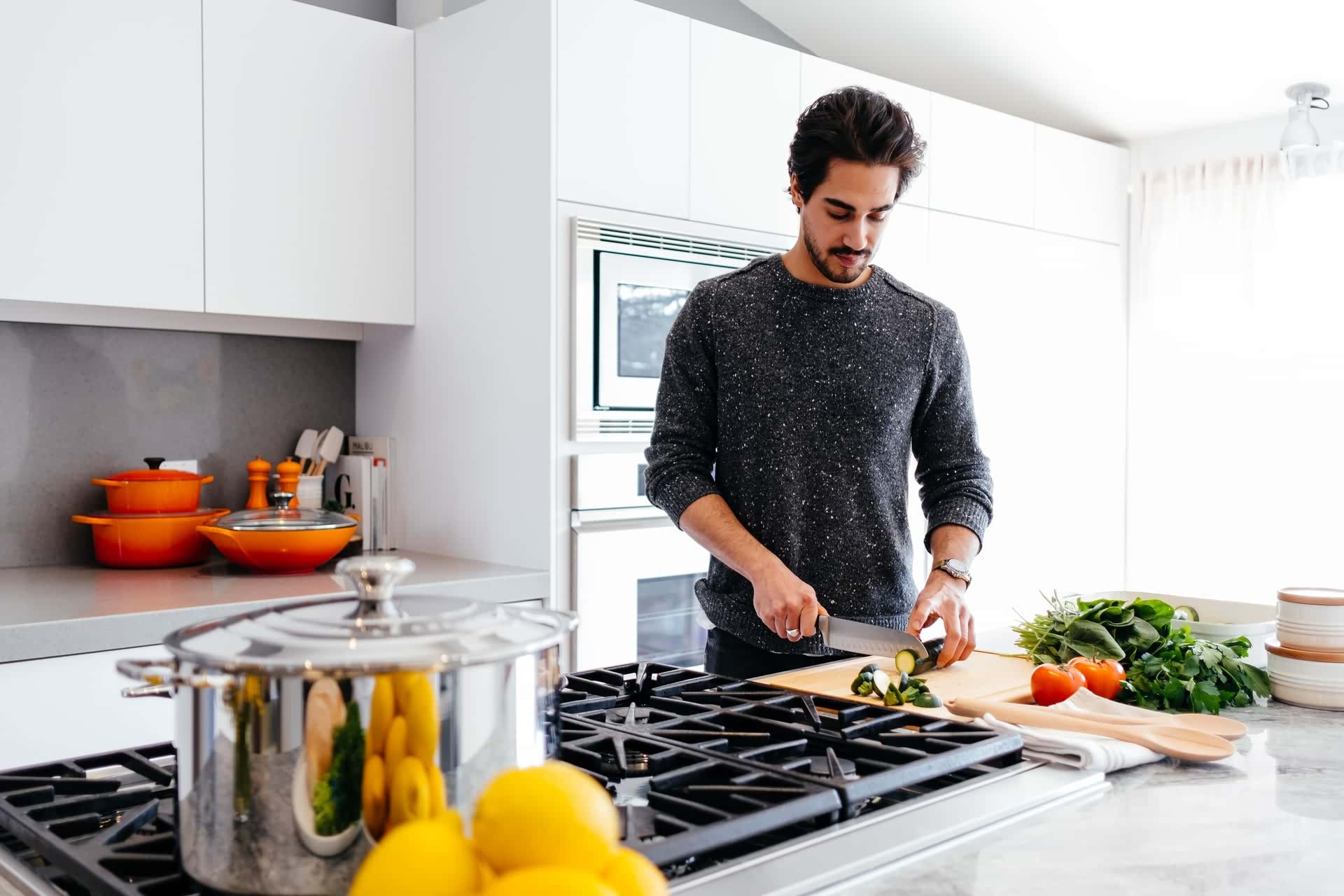 Pleasing people on a birthday, a retirement or even for Christmas is not always easy. It is therefore necessary to succeed in finding what gift to give to a man according to his preferences. If he is passionate about cooking, we have a wide selection of gifts to advise you. The perfect gift can be found in kitchen accessories, culinary experiments, a small personalized product, gift boxes, etc.
If you are looking for a good gift idea for a man who loves to cook, you are spoiled for choice to meet his desires!
Make him the king of the home kitchen!
One of the first ideas that can come to mind to make a man who loves to cook happy is to offer him something to indulge in his passion at home. Many types of products are intended for cooking, for making, cooking, decorating the plate, presenting dishes, etc.
Essential utensils for small budgets
For children who want to buy a gift for their cooking father or grandfather, or gifts at low prices, there are a multitude of accessories that can be found in kitchen stores, decoration, in the supermarket or on the internet. Think for example of the set of kitchen knives, utensils for cutting or tasting shellfish, the pretty pepper plant, oven mitts, etc.
If it's more baking that interests him, choose cake molds, nozzles for making beautiful toppings, a patterned rolling pin, a cookie tin or even fun-designed cookie cutters. And since cooking enthusiasts often like to entertain, why not opt ​​for pretty tableware: glass, plate, gravy boat, wine carafe, placemat, bottle holder, etc., there are also many ideas.
The personalized gift also always has its effect, whether with a photo, a message or very specific details. The apron, mug, cutting board, wooden kitchen utensil and wine storage box are also included in the list of customizable gift ideas.
The kitchen kit: an all-in-one gift to please
If you are familiar with the tastes of the man you are giving the gift to or if you want to introduce him to new cuisines, kitchen sets should be on your list too! The most classic box with the original kit, it will be easy to choose from the selection below: The cocktail box, generally containing a shaker, a glass, a few main ingredients and a recipe book.
The chocolate fan kit, with accessories such as a culinary thermometer, a pastry bag, a spatula, molds, etc. The practical box for making sushi, often including a bamboo mat, a knife, chopsticks and recipe ideas. The molecular kitchen kit with its very specific accessories and a book for making recipes.
The set to create your own beer or cider at home, including all the details needed for brewing. So you have something to please the men around you, whatever the desires and the occasion, from birthdays to Father's Day through the bachelor party.
Home appliances for men who love to cook
To cook well, you must also be well equipped! Depending on your budget and what the lucky one likes to make, you can therefore consider the purchase of small appliances. To make sure you don't go wrong in the choice of the accessory, choose a classic and practical product, such as the hand blender, the mixer, the blender, the pressure cooker, etc.
For an invitation to travel to foreign cuisines, consider appliances like the electric wok, pizza maker, dough maker or hot dog machine. For a man who is 100% homemade, other gifts can make him happy, such as ice cream maker, yogurt maker, juice extractor, bread maker, fryer, waffle iron, etc.
Ingredients to offer so that your man can cook his meals
We often think of kitchen utensils as a gift, but less of the basic products: the ingredients. And yet, it can be a really good idea if you buy a quality product or a themed box. The box of spices, oils, sugars or chocolate can for example be used to make good menus. Men who love to cook also like having fresh ingredients available.
So, think of the kit to grow your own aromatic herbs and vegetables at home, an original gift and at a low price. Your husband, brother, father or friend will be able to be proud to concoct dishes that he has made from start to finish!
Give him the opportunity to enter the world of gastronomy
The love of cooking doesn't always come down to preparing meals at home to please loved ones. For some men, cooking should be a real experience, an opportunity to discover new flavors and an opportunity to continuously improve. This is why a more original gift, allowing him to discover the world of gastronomy more closely, is also an interesting idea.
Cooking with professionals: the dream gift for a gastronomy enthusiast
One of the most traditional gifts for a culinary experience for a man who loves to cook up good food is, of course, the cooking class. There are many different formulas, giving you the guarantee to meet his desires:
The gift card for a cooking or baking class with a great chef.
The gift box, in which a wide selection of cooking workshops is offered. He can choose the place he wants to go and possibly a theme (around chocolate, Asian cuisine, festive menu, parent-child cuisine, etc.).
A subscription for regular cooking classes lasting a few months, or even a year.
A workshop or an oenology course, so that he can learn more about the pairings between wine and dish.
But if you really want to find him an original and totally immersive gift, a gift card to join a kitchen team during a service should surprise and delight him! The lucky recipient of the gift will thus be able to participate in the preparation of the dishes on the menu and learn chef techniques.
Many establishments now offer this service allowing you to experience life in a restaurant up close, and often to enjoy a menu afterwards.
The discovery of gastronomy through tasting and visits
A fine cook has a good chance of also being a gourmand, who appreciates good food and discovering culinary specialties. Your list of potential gifts can then include tasting sessions with producers or restaurateurs. It may also be worth offering culinary tours, whether in your own city or while traveling.
Some formulas offer, for example, a visit to typical markets, accompanied by a tasting break. Others focus on a specific theme, such as the country's Christmas specialties, the best pastries in town, the region's organic producers, etc. The service providers also sometimes leave you the choice of a personalized visit, to meet precisely the tastes of the man who will receive this gift.
Thanks to this wide selection of products and boxes, buying the perfect gift for a man who loves to cook should now be child's play!
Author Bio
Vikram Rana is Marketing Manager at LiftnGift and has served as the Head of Conversion Marketing at Planet Web Solution. He's an expert in inbound marketing and lead generation.