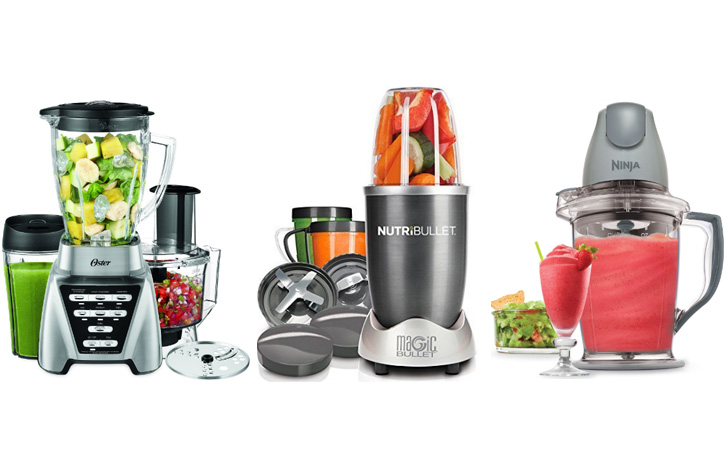 Best Home Blenders For Every Budget
There's nothing more refreshing than a cold, thick, delicious smoothie on a hot summer day, after a long workout, or just anytime you want a yummy snack. Smoothies are filling, they're healthy, and they're delicious, but great smoothies require a high-quality blender to make.
If you're in the market for a new blender to support your smoothie-making needs, keep reading the Blenders reviews to learn more about the top rated best blenders.
10. 

Oster Pro Blender 2-in-1
With seven speeds and a three pre-programmed settings designed to blend different ingredients depending on their density, this blender from Oster is equipped to blend any mixture of fruits and vegetables into a smooth and creamy smoothie. Featuring dual-direction blade technology, it chops and grinds ingredient to precision to leave no pieces unblended.
The extra wide, three-point-five inch blade system of this blender allows fruits and vegetables to go deeper into the blender and get closer to the blade to ensure smooth and even blending. With twelve hundred watts of power, this blender is capable of crushing just about anything and can even effortlessly blend ice without leaving any chunks of ice behind.
9. KitchenAid 5-Speed Blender
Equipped with a one hundred percent stainless steel blade and a BPA-free plastic pitcher, this blender from KitchenAid won't leave any strange tasting residue in your yummy smoothie. With innovative, breakthrough Intelli-Speed motor control and five different settings, it is easy to control and adjust in order to blend your smoothie ingredients to creamy perfection.
Crafted with an enduring and durable design that can withstand years of daily use, this powerful blender features a die-cast metal base. It also includes a special soft start feature that starts blending your ingredients slowly to prevent damage and uneven blending until all of the separate ingredients have been drawn into the blade.
8. 

BLACK+DECKER FusionBlade 12 Speed Blender
Equipped with a special fusion blade system that includes two stainless steel blades, this blender from BLACK + DECKER is able to smoothly crush, puree, and blend any ingredients you throw its way.
With twelve different speeds and a separate pulse setting, the blender can be adjusted easily to fit the blending needs of any fruits, vegetables, and other smoothie ingredients. A six-cup glass blending jar allows you to make a large amount of smoothie for multiple people; the jar also includes level markings measurements so you can keep track of how much smoothie you'll be making.
7. 

Magic Bullet Blender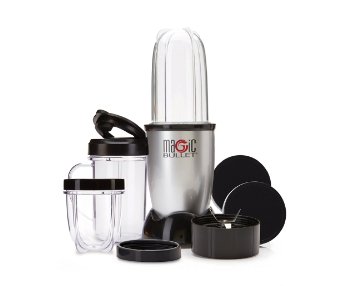 This small blender from Magic Bullet is portable, undeniably adorable, and super effective, too. This combination makes it the perfect appliance for whipping up personal smoothies quickly and effortlessly.
Designed to chop, blend, mix, whip, grind, and otherwise pulverize fruits and vegetables, the blender might be small, but it is incredibly effective at creating smooth, creamy, evenly blended smoothies. Plus, the blender comes with a free included recipe book that gives you ideas on how to make a wide variety of recipes using your blender in ten seconds or less.
6. 

Nutri Ninja Pro – Ninja Professional Blender – Baby Food Maker

Renowned as the most effective blender on the market for extracting nutrients and vitamins from ingredients, this blender from Ninja can help you get the most health and flavor out of your smoothies. With nine hundred watts of professional power, it can pulverize any ingredient you put in it quickly and effortlessly.
Designed to puree ice, seeds, skin, and stems evenly without skipping or stopping, this blender is the perfect choice for you if you like to throw whole fruits and vegetables into your smoothies for extra nutrition. The blender comes with two to-go cups (one in an 18-ounce size and one in a 24-ounce size) for easy hydration while on the go.
5. 

BELLA Rocket Extract PRO Power Blender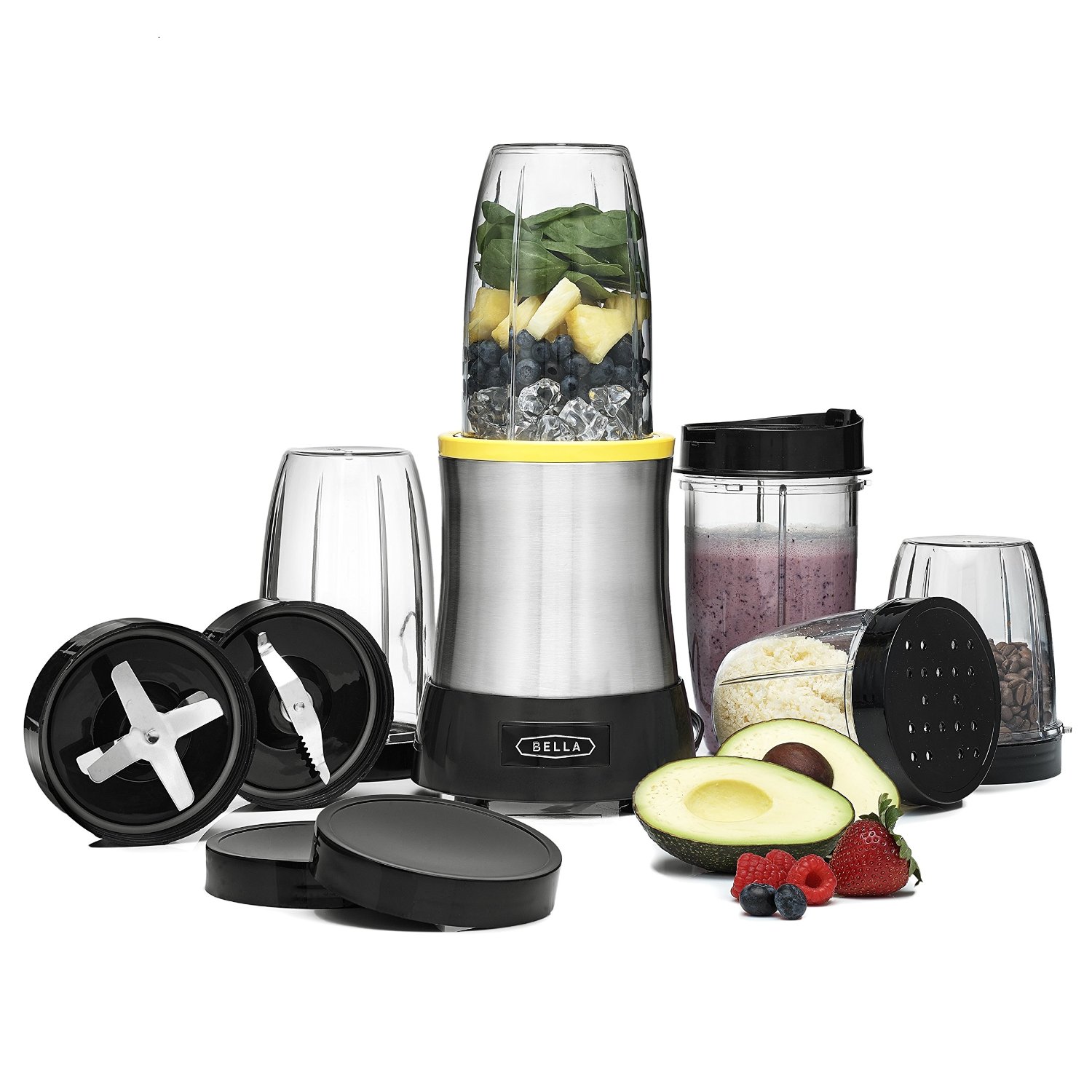 This blender from BELLA is great for whipping up delicious smoothies, but that's not all it's good for. It is a versatile, multi-use product that works tirelessly to blend up smoothies as well as salsas, soup, nut butters, and ice to diversify and simplify your at-home meal options.
With a 700-watt base, this blender is equipped with enough power to efficiently extract the maximum amount of nutrients from fruits and veggies. If you want to add some extra flavor and nutrition to your smoothies, you can even throw in some healthy seeds and nuts, which the blender will smoothly pulverize into an even and creamy mix.
4. Blendtec Total Blender for Baby Food
A convenient, space-saving countertop appliance, this blender is equipped with a three HP direct-drive motor and one thousand five hundred sixty watts of power to blend up anything you need it to. Its blades spin at a high speed of up to twenty-nine thousand RPM to crush and pulverize ingredients into a smooth and creamy treat.
The blender is extremely easy and intuitive to use. It is equipped with preprogrammed blending cycles to simplify the control process as well as digital touchpad controls that allow you to easily adjust the blending settings depending on the ingredients you're including in your smoothie.
3. 

Ninja Master Prep blender for smoothies
Equipped with four different powerful and precise blades, this large forty-eight ounce blender can cut and crush like no other. It also features an interchangeable four hundred-watt power pod that provides enough power to blend almost anything to smooth perfection.
With a no-slip bottom and an easy pour spot, this blender is easy to use quickly without worrying about making a mess. It is powerful enough to blend frozen ingredients and can mince, dice, chop, and make other precise cuts effortlessly.
2. 

Magic Bullet NutriBullet 12-Piece High-Speed Blender/Mixer System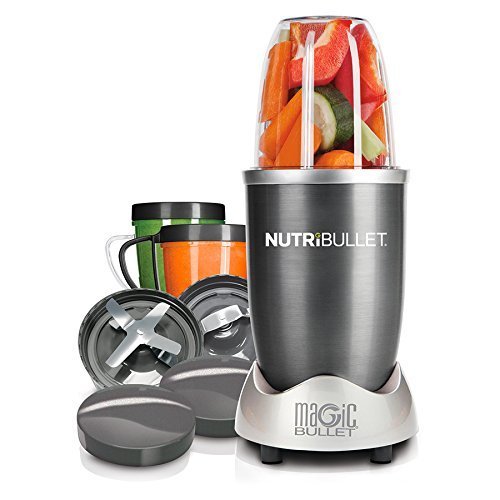 This blender for smoothies from Magic Bullet is exactly what it claims to be–magic. In a matter of seconds, the small, portable, and easy to store blender can pulverize fruits and vegetables to a smooth and creamy finish. Equipped with a high-torque power base and a six hundred-watt motor, it has maximum power to blend smoothie ingredients together quickly and efficiently.
With two separate blades–one flat blade and one emulsifying blade–this blender is equipped with cyclonic action that crushes and blends ingredients to create a smooth and evenly blended mixture. The blender also comes with one tall cup and two short cups to provide you with plenty of containers to store and serve your delicious smoothies.
1. 

Vitamix 5200 Series Blender 
The peels, skins, seeds, and pulp of fruits and vegetables (aka the parts we don't eat) often have the most nutrients. If you want to add some extra nutrition and flavor to your smoothie by throwing in a whole lime or an apple that hasn't been peeled or had its seeds removed, you can go for it with this super powerful Vitamix blender.
Equipped with powerful and precise blades that reach speeds high enough to create effective friction heat, this blender can crush through peels, skins, seeds, and more to create a smooth mixture effortlessly. Plus, it's super easy to control the blender with its speeds that can be adjusted using a single rotating dial that can be adjusted at any time during the blending process.
Smoothies are a delicious treat that are healthy and natural, too. In order to make the best smoothies, you need the best blender. Use the list in this post to find the best blenders for smoothies and choose one that fits your needs and preferences.