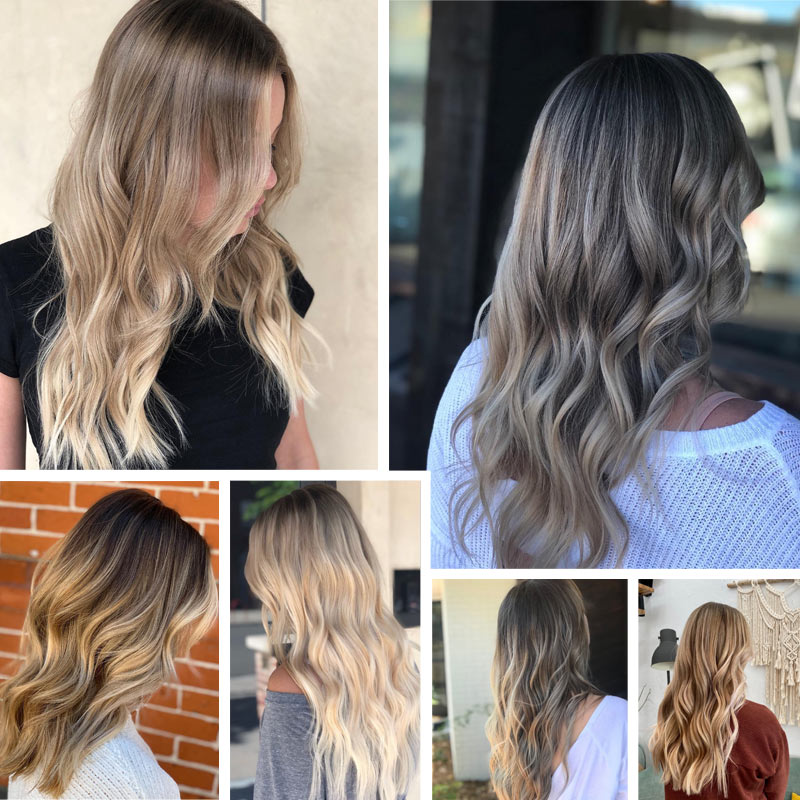 Blonde is a surprisingly diverse hair color. From platinum blonde to dirty blonde to strawberry blonde and everything in between, there are countless different shades of blonde that you can rock. If you think you can't pull off blonde hair, you're probably wrong.
Women with longer haircuts have even more options when it comes to going blonde. If you have long hair, you can pull off a wider variety of multi-dimensional ombré and balayage blonde looks that shorter hairstyles can't accommodate.
If you have long hair and are thinking about going blonde or are looking to switch up your blonde look, keep reading to get inspiration from 9 ultra-stylish long blonde hairstyles that are in line with current top trends in the world of women's fashion and hair.
1. Dirty Blonde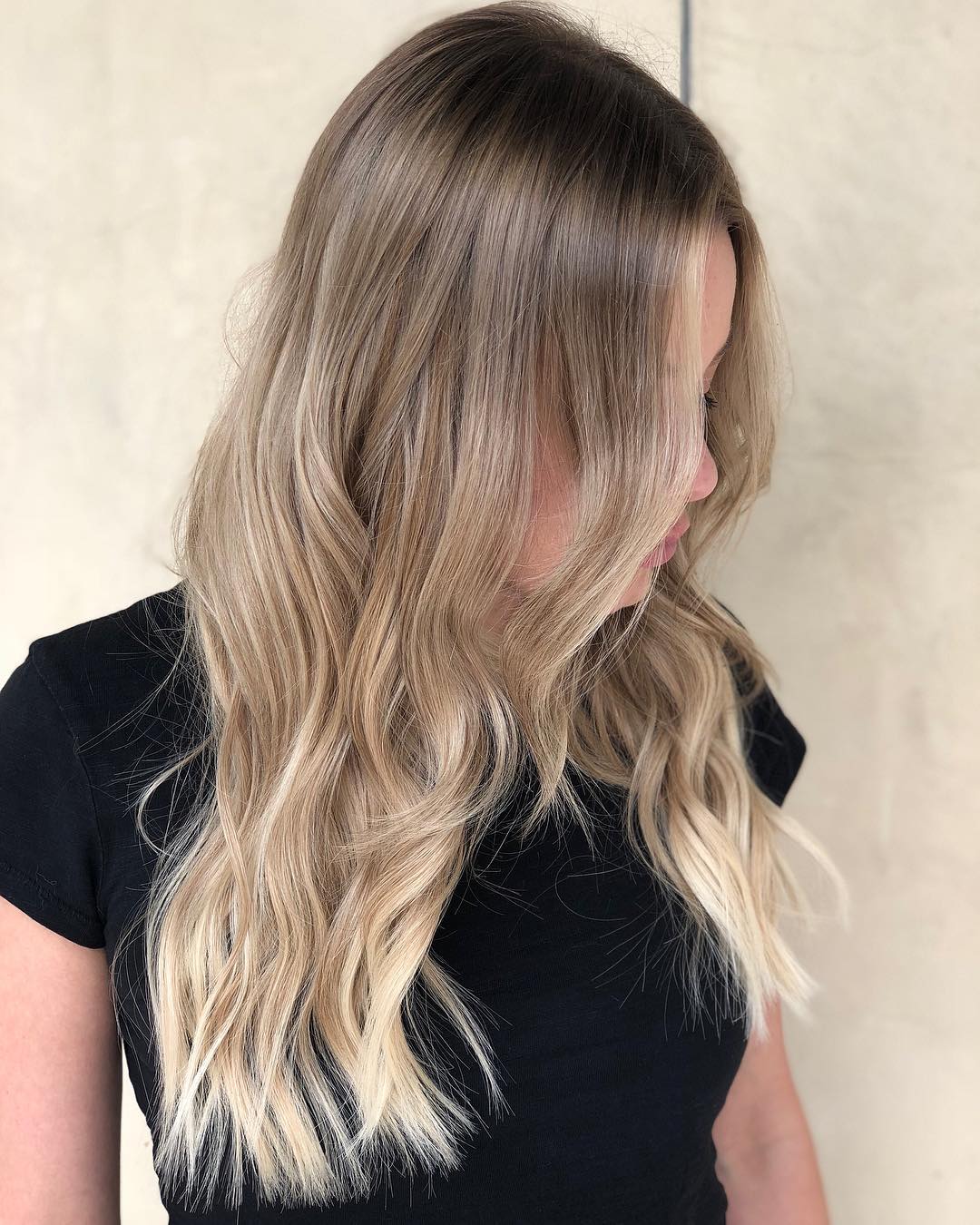 Dirty blonde is one of the most versatile, natural-looking shades of blonde. It looks completely natural, and it's universally flattering for cool, neutral, and warm skin tones.
This dirty blonde look combine natural blonde roots with scattered lighter blonde highlights. It is perfect for naturally darker blondes who want to go lighter while maintaining a natural-looking, low-maintenance finish for their look.
2. Ash Blonde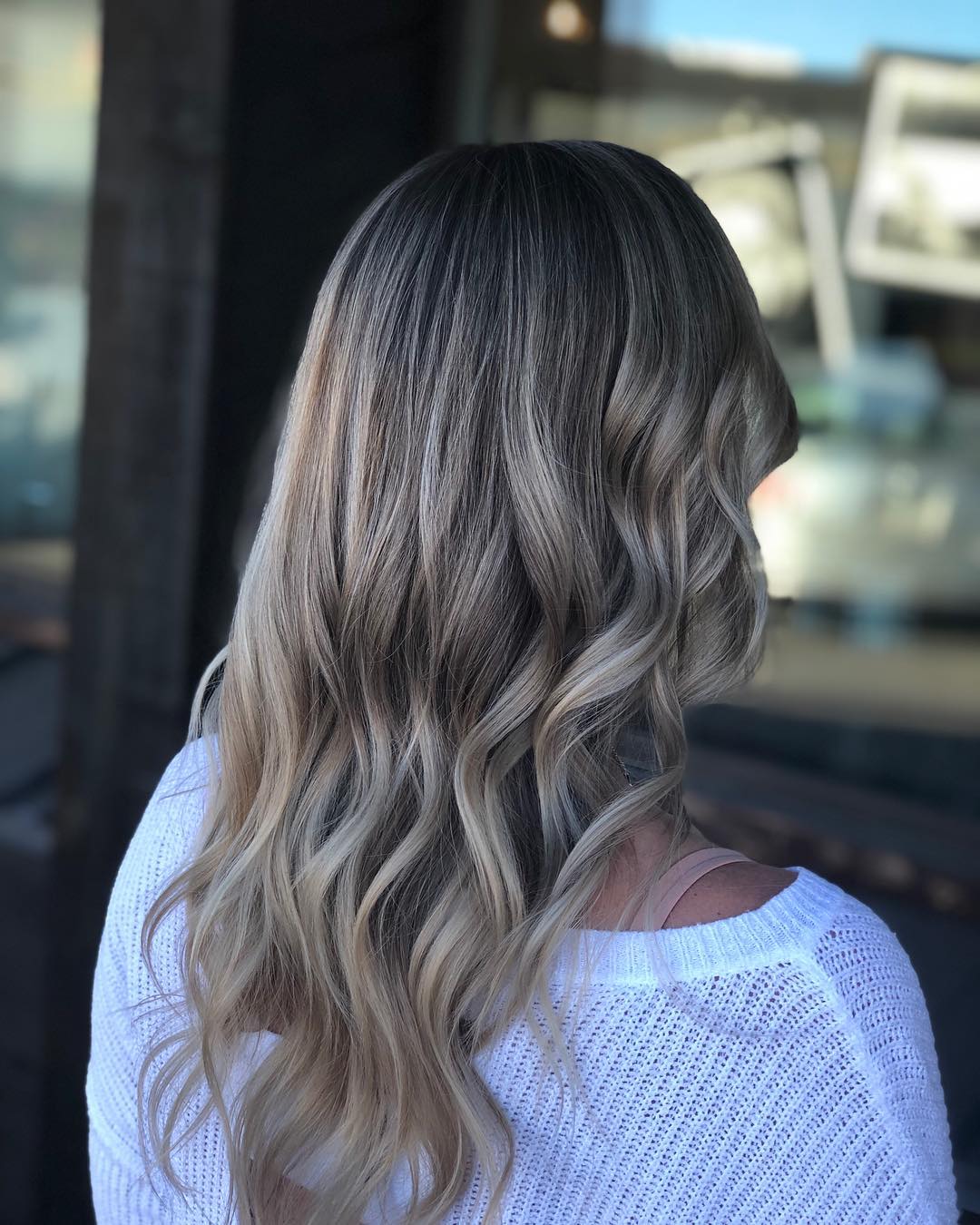 Ash blonde is currently the trendiest shade of blonde in the world of women's fashion and hair.
This gorgeous ash blonde look is ultra-glamorous. It features a natural-looking cool-toned brunette shadow root and lighter ice blonde highlights that add a bright finish to this look. This cool-toned ash blonde style is especially flattering for women with light and medium skin that features cool undertones.
3. Honey Blonde Balayage for Long Hair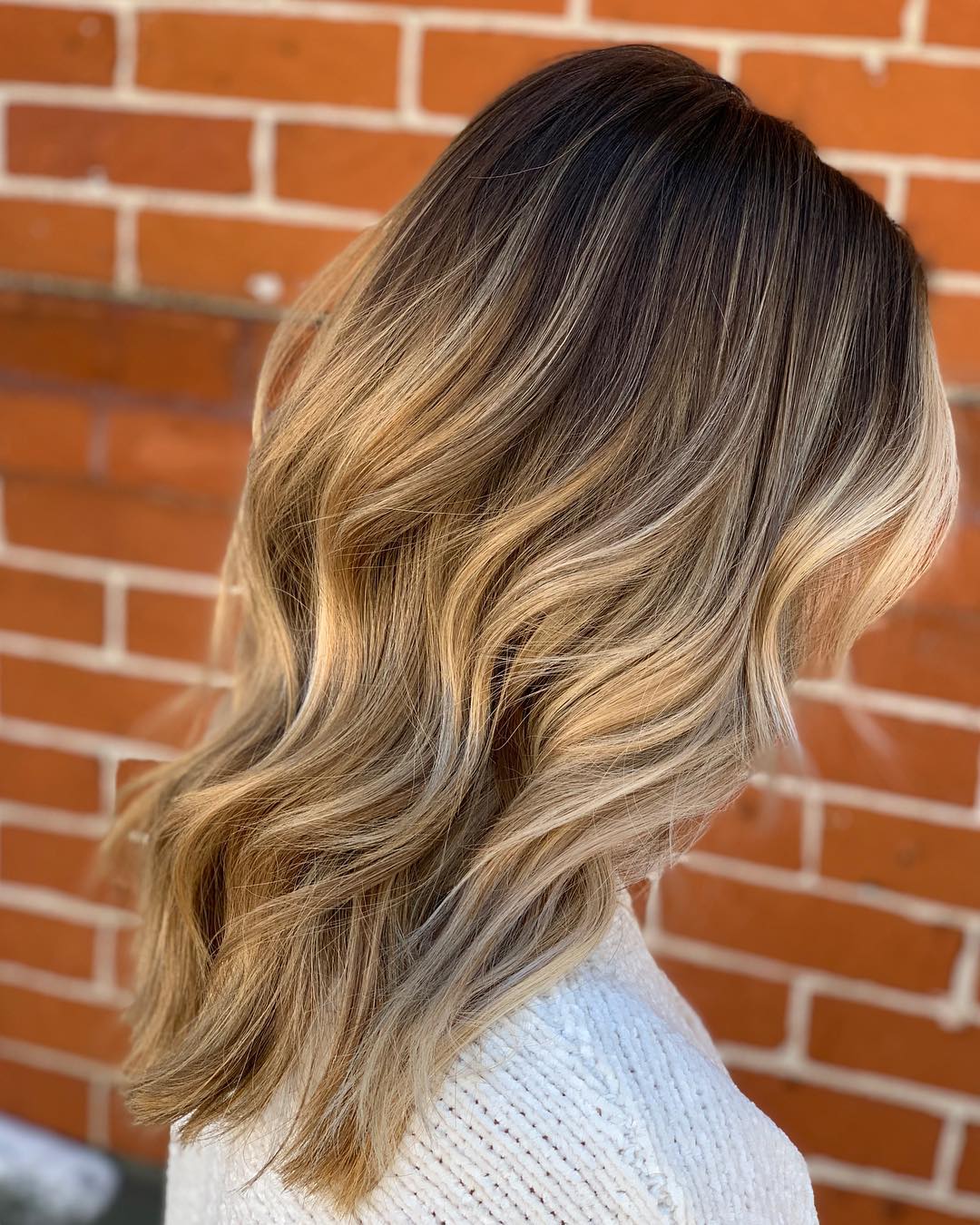 Honey blonde is an extremely underrated hair color. This beautiful, elegant honey blonde look shows off warm, honey-colored waves with a high-shine finish. Honey blonde is especially flattering for women with medium and dark warm skin tones.
A darker brunette shadow root gives this honey blonde look a more natural-looking finish and stretches the time you can wait between root touchups for this low-maintenance blonde look. Lighter blonde highlights add a bright, luminous finish to this warm, honey blonde style.
4. Sandy Blonde with Soft Waves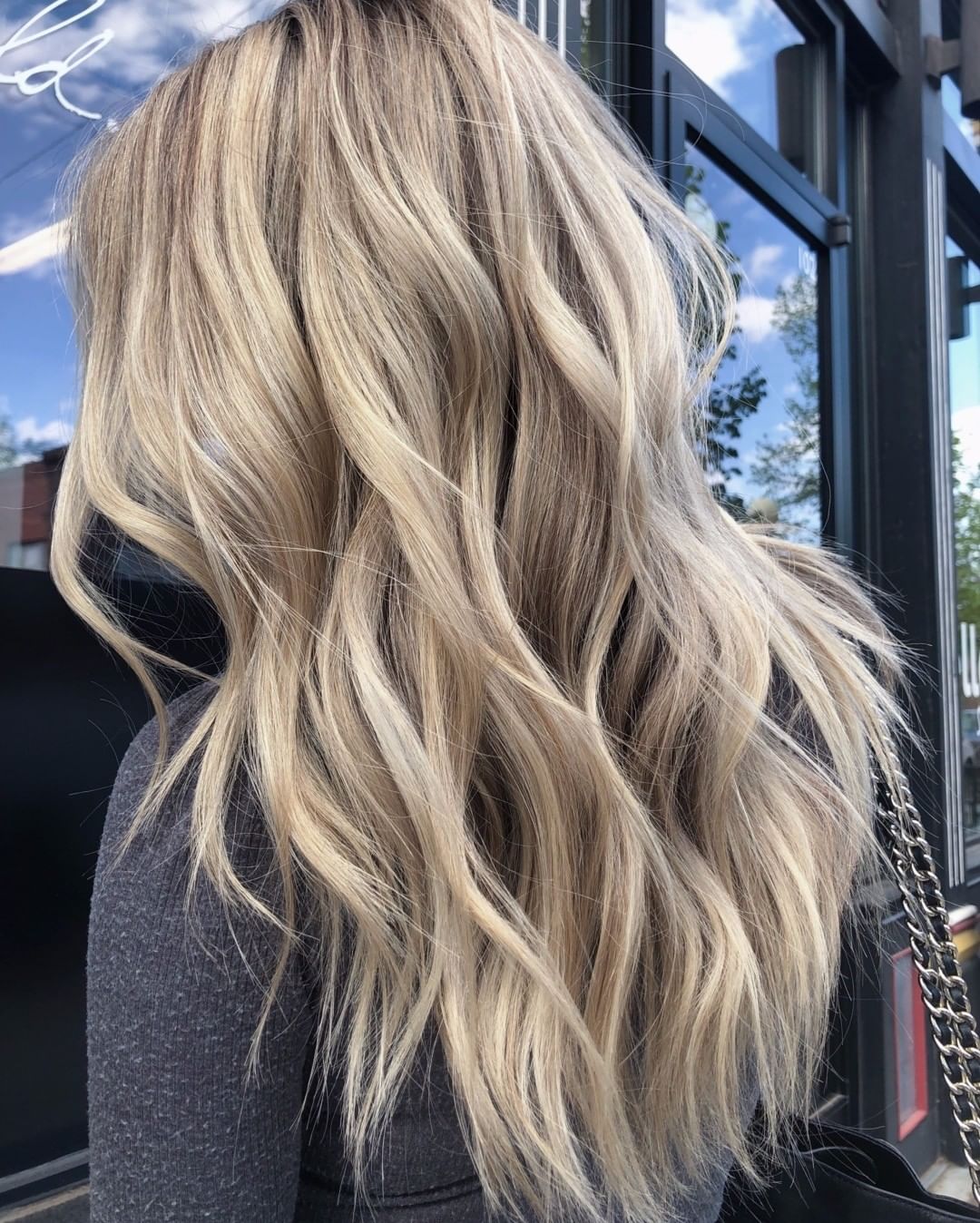 Sandy blonde is a cool-toned beige color that is almost universally flattering. It is cool-toned, so it is especially flattering for women with cool undertones in their skin.
However, this sandy blonde look can also accommodate skin tones with neutral undertones. Even women with warmer skin tones can pull off this sandy blonde hairstyle.
5. Dirty Blonde to Ice Blonde Ombré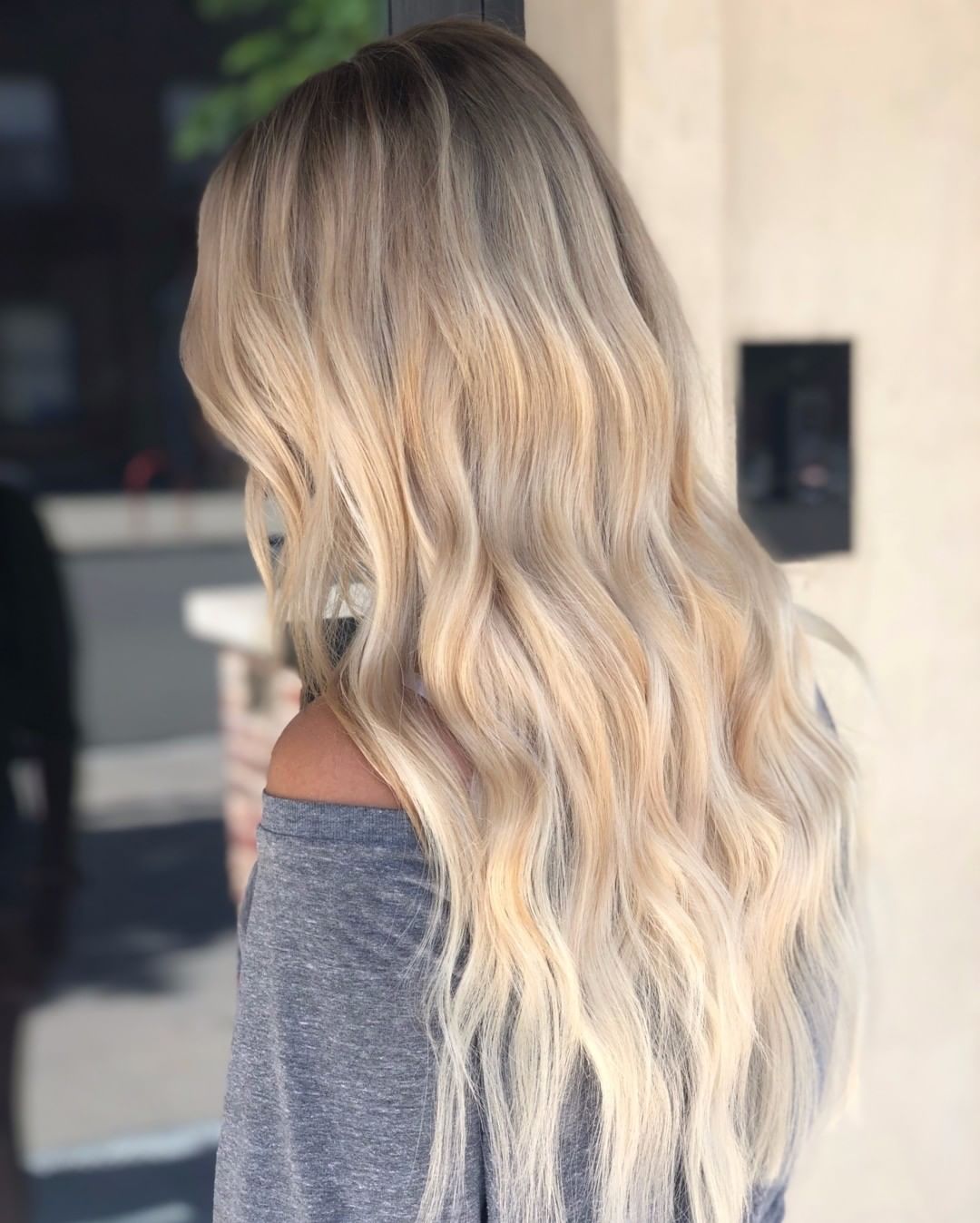 Do you want to achieve one of the beautiful, ultra-light-blonde shades that are so trendy right now but are concerned about damage or maintenance? If you have long hair, this dirty blonde to ice blonde ombré look might be your perfect solution .
This ombré long hairstyle starts with natural-looking dirty blonde roots and fades into a pearlescent light ice blonde at the ends. It blends together multiple versatile shades of blonde for a bright, luminous finish that still looks completely natural. This glamorous dirty blonde and ice blonde ombré style is cool-toned and is especially flattering for women with naturally cool undertones in their skin.
6. Brunette and Blonde Balayage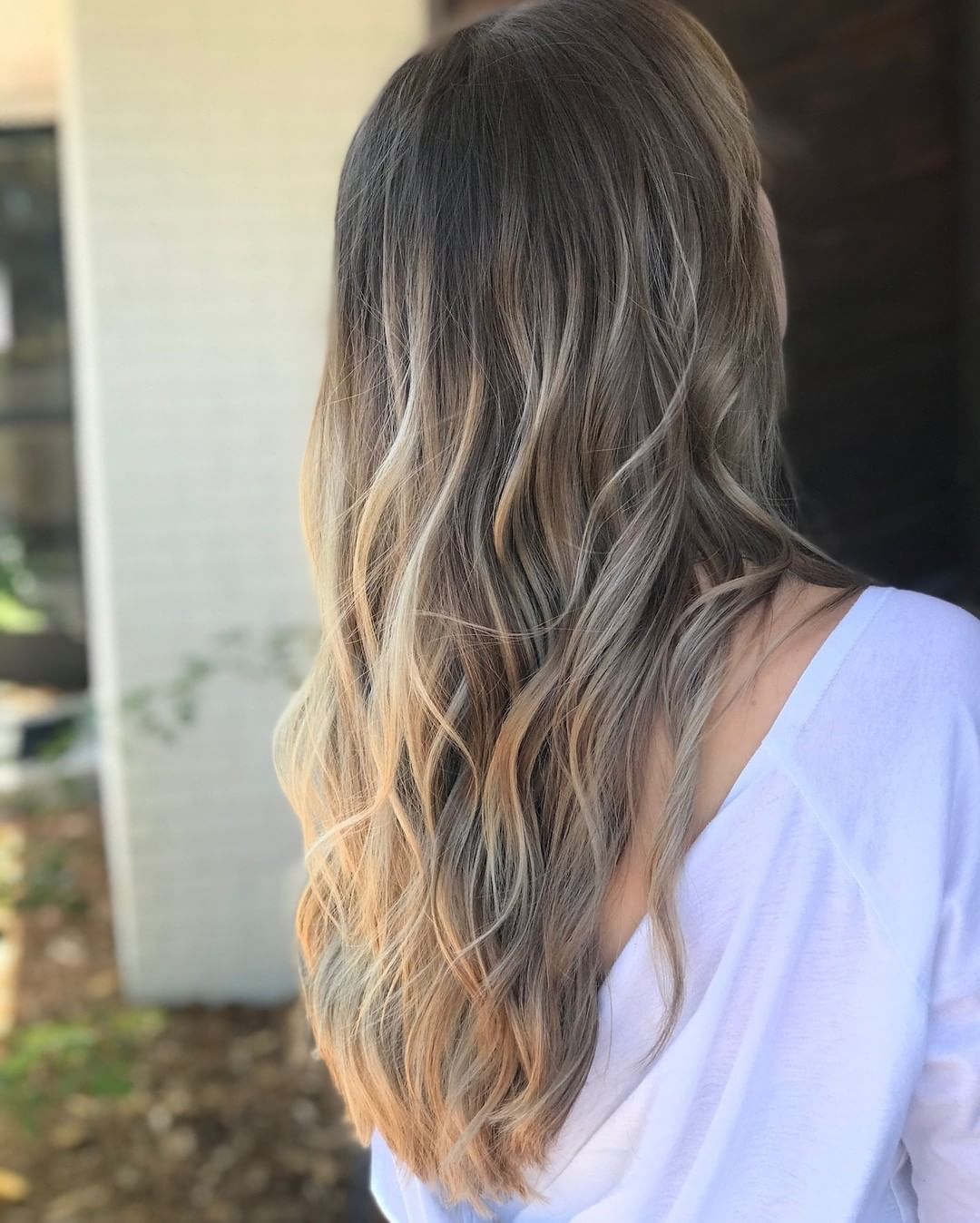 This glamorous brunette and blonde balayage starts with medium brunette roots and features light blonde balayage that simultaneously adds eye-catching style to this look and seamlessly ties it together.
Balayage is much lower-maintenance and less damaging for your hair than all-over bleaching. A look like this brunette and blonde balayage is perfect for women who want to go blonde but are worried about hair damage from excessive bleaching and want to maintain a semi-natural look.
This look blends together multiple shades of brunette and blonde. All of these shades are cool-toned, which means that this look is most flattering for light and medium skin tones with cool or neutral undertones.
7. Long Hair With Bright Platinum Pearl Blonde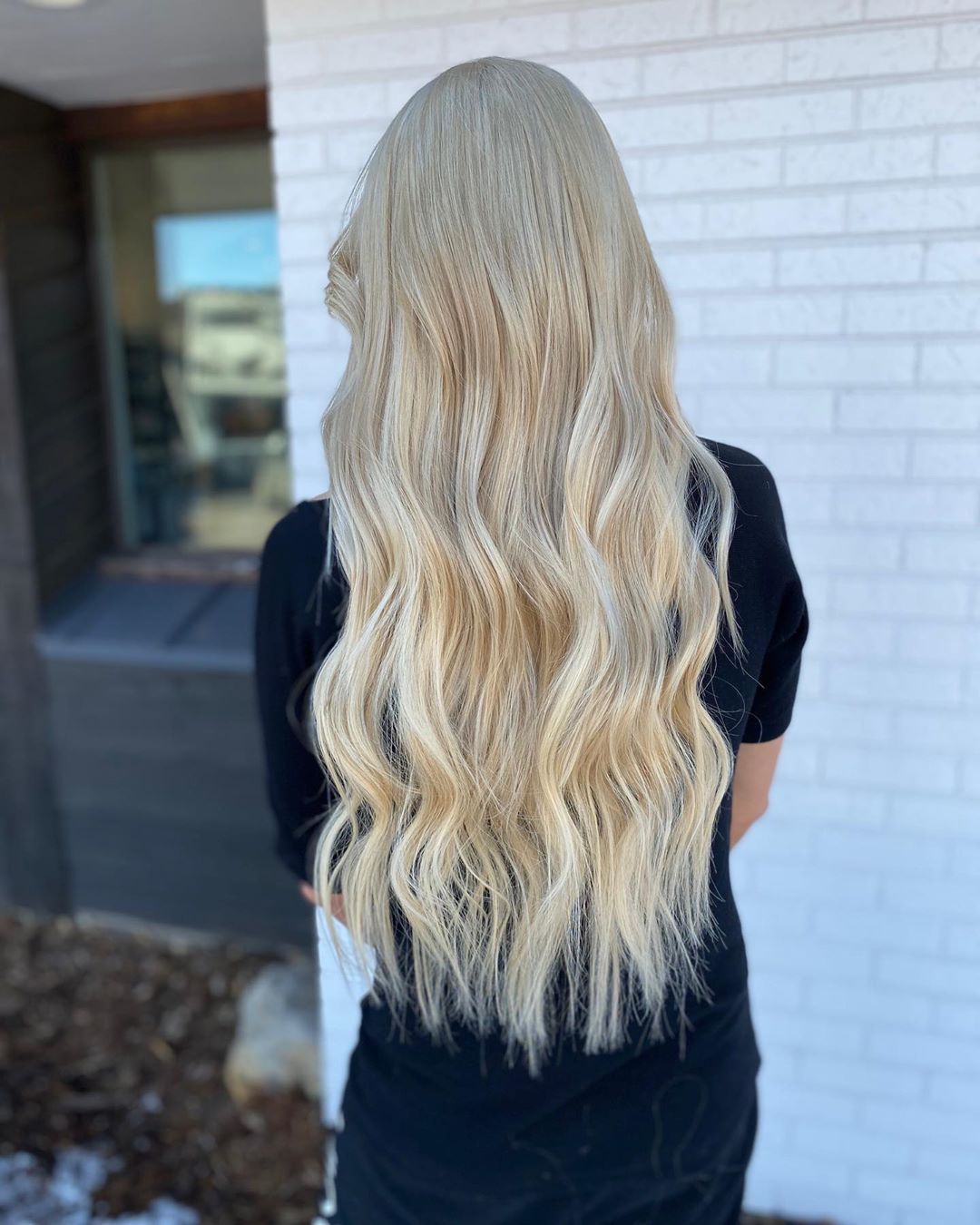 Pearl blonde is currently an ultra-trendy color. This gorgeous blonde color is a light and luminous shade of blonde that looks pearlescent because of its high-shine finish.
This long hairstyle is a glamorous shade of bright, platinum pearl blonde. This icy pearl blonde flatters light and medium skin tones with cool undertones. Flatter your platinum blonde hair with bolder makeup looks that enhance your features to prevent your platinum shade from washing out your skin.
8. Strawberry Blonde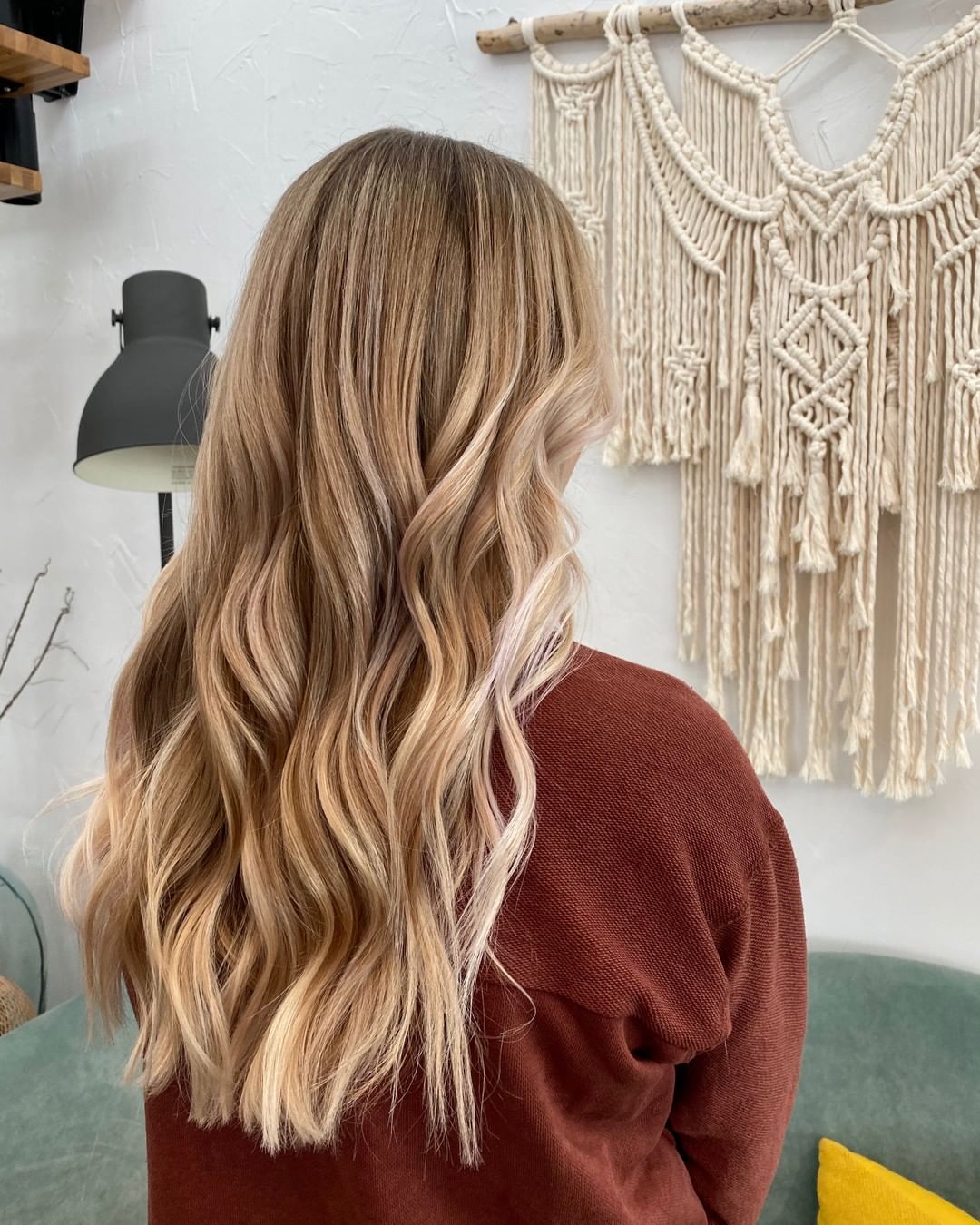 Strawberry blonde is a striking hair color that is sure to turn heads anywhere you go. It is a one-of-a-kind color that is effortlessly eye-catching, but still looks natural enough that it doesn't attract too much attention.
This long strawberry blonde haircut features lighter blonde highlights that add brightness and shine to this look. Its bright strawberry blonde color is especially flattering for women with light, warm-toned skin tones. Its wavy finish shows off the multi-dimensionality of this cut's strawberry blonde color.
9. Golden Beige Blonde for Long Hair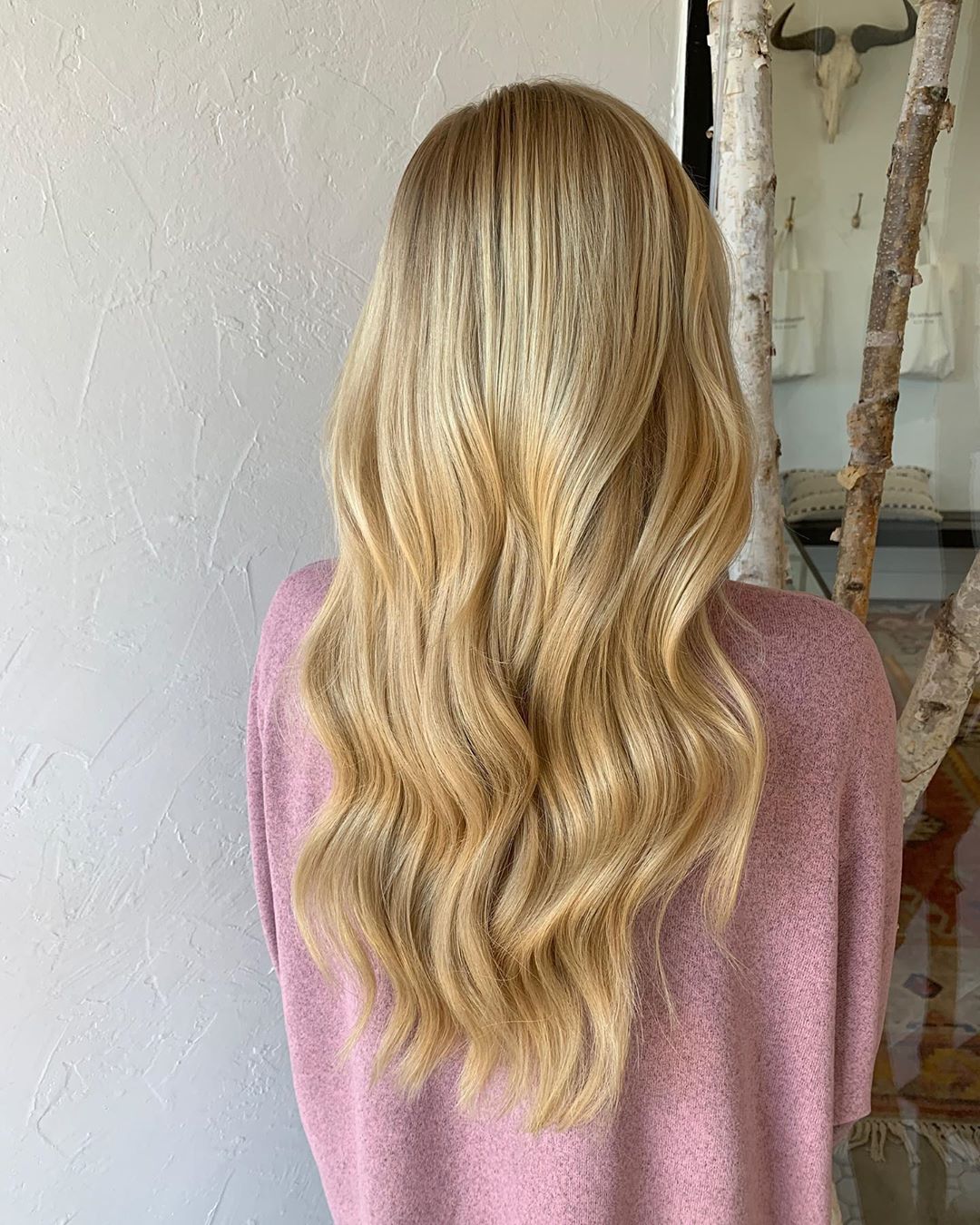 This beautiful warm-toned golden beige blonde looks completely natural. It is ideal for women with naturally warm or neutral skin tones and is especially flattering for women with peachy or golden undertones.
Subtle waves add volume and dimension that show off the shiny color of this cut and keep this long haircut from falling flat. These loose, relaxed waves are easy to create with a flat iron and some texturizing spray. The trick is to let your curls relax before you apply hairspray.
Styles: elle.b Salon
Address: 2931 W 25th Ave #102, Denver, CO 80211
Phone: (720) 708-2867
Hairstyles Gallery