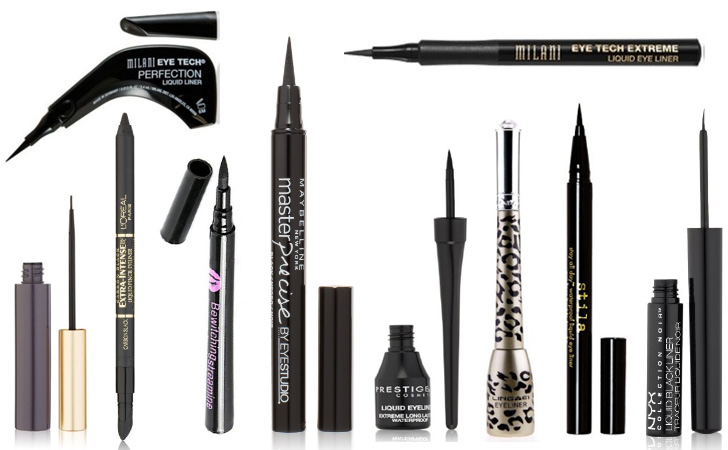 Liquid eyeliner can be a great addition to your makeup collection. It can help you create a wide variety of gorgeous eyeliner designs, ranging from thick dramatic lines to winged eyeliner to graphic eyeliner, like no other eyeliner formula can.
When buying liquid eyeliner, however, it is important to invest in a high-quality formula that glides on easily and won't skip, run, bleed, or fade throughout the day. Keep reading the liquid eyeliner reviews to learn more about the top-rated best liquid eyeliners that are currently available.
Liquid Eyeliners Reviews
10. L'Oreal Paris Lineur Intense Brush Tip Liquid Eyeliner

With a simple, no-nonsense design, this liquid eyeliner from L'Oreal Paris has a high-quality formula and a standard construction that can work wonders for ladies who know their way around a traditional liquid eyeliner brush. Intensely pigmented, the liner is available in three neutral shades of brown and two different hues of black.
If you have sensitive eyes, there's no need to worry; even if this liner gets smudged into your eye, the ophthalmologist-tested formula won't cause any damage. While the design of the liner is more or less traditional, it does feature a special tapered brush tip to help you create precise lines and angles to achieve a variety of designs. If you're looking for liquid eyeliners for beginners, this is a great one.
9. L'Oreal Paris Extra-Intense Liquid Pencil Eyeliner
At this point, you might be wondering what exactly a 'liquid pencil' eyeliner is. The answer to that question is, most simply, God's gift to the eyeliner world. Even the most avid liquid eyeliner lovers can't deny that pencil eyeliner formulas, with all their faults considered, are generally much easier to apply than liquid formulas.
With this liquid eyeliner from L'Oreal Paris, you can have it all in one; the special, innovative liner combines the effortless precision tip of a pencil liner with the smooth, gliding intensity of a traditional liquid eyeliner to provide you with the opportunity to create dramatic, precise lines of your desired intensity without the frustration that arises when applying most liquid eyeliners.
8. Silvercell Waterproof Liquid Eyeliner

Even girls with perfect winged eyeliner need to cry sometimes. With this waterproof liquid eyeliner from Silvercell, you don't need to worry about your tears messing up the graphic liquid liner design you spent thirty minutes applying before you left for work.
With a thick tip that dispenses intense black liquid pigment for a smooth and even application, the liner will stay put along your lash line all day long until you decide to remove it, even when exposed to a rainfall of water or tears.
7. Milani Eye Tech Perfection Liquid Liner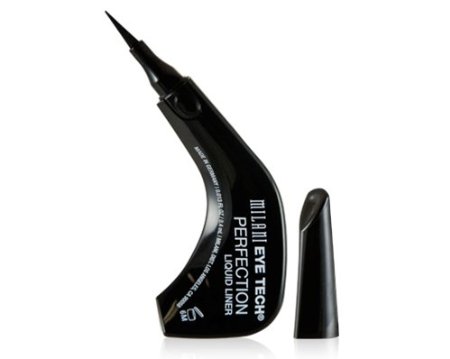 You might have seen these strangely shaped eyeliner containers that are sweeping the cosmetics shelves. Although the design and construction of these weird, curved liquid liner tubes might look confusing and downright gimmicky, they actually are anything but.
Take this liquid liner from Milani, for instance. Its curved tube allows you to maintain more control when applying your eyeliner in order to create more precise lines that look smooth and straight instead of wobbly. When it comes to what's inside this handy tube, there's no disappointment either; this liner is intensely pigmented and is water, smear, and feather-resistant for effortless all-day wear.
6. 

Maybelline New York Eye Studio Master Precise Liquid Eyeliner

At this point, you might be sick of hearing about several black liquid eyeliners, many of which appear to be more or less the same. I promise you, however, that each and every one of these liners has something special and unique to share with you.
The claim to fame of this liquid eyeliner from Maybelline New York, for example, is its especially fat tip. This fat tip allows you to create smooth, straight lines that are thick and dramatic for intense wings or graphic designs. Plus, the ink that dispenses from this liner comes out in a continuous flow that allows for a smooth application that doesn't skip.
5. Prestige Liquid Eyeliner

Are you someone who likes to apply eyeliner in the morning for work and have it last until you're done with your business dinner at nine or ten PM? You might think there's no hope for you to find a liquid liner that won't run or smudge if you're out and about all day long.
With this liquid liner from Prestige, however, you won't have to worry about your eyeliner for an extended period of up to twelve hours. The long-lasting liner has an ultra-thin fiber tip that allows you to glide on smooth, fine lines and build up their intensity to your desired thickness. As an added bonus, there are no parabens or gluten in the formulation of this liner.
4. MEXI Makeup Waterproof Leopard Shell Liquid Eyeliner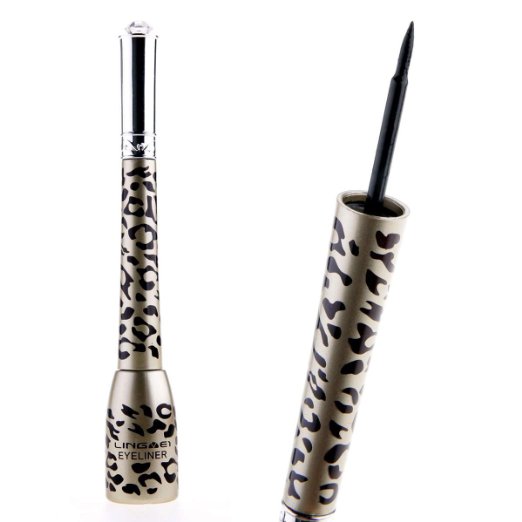 Okay, honestly, even if this eyeliner was the worst, it might be worth buying just so you could have the adorable, sleek leopard-print container to pull out of your purse and show off. Lucky for us, the eyeliner that's actually inside the fashionable packaging is top-notch.
The bristles of the firm application brush are crafted from high-quality synthetic taklon that allows you to apply the intensely pigmented liner easily and evenly onto your eyelids. The eyeliner formula itself is thick without being globby and is able to glide smoothly onto your skin without skipping or running before it dries.
3. NYX Cosmetics Collection Noir Liquid Liner

Do you love the smooth intensity or liquid eyeliner formulas but prefer a subtle, thin application rather than dramatic graphic designs or wings? No problem; just try this ultra thin-tipped liquid liner from NYX Cosmetics.
Packaged in a thin and sleek tube that is easy to slip into your purse or even your pocket, this liquid eyeliner has a firm, thin brush tip that allows you to glide on a subtle, fine application of the intense, richly pigmented liner easily and smoothly.
2. Milani Eye Tech Extreme Liquid Eyeliner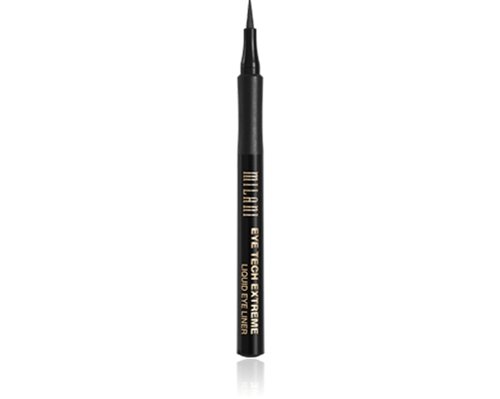 Liquid eyeliner is great, but it can be difficult for beginners or less experienced beauty lovers to apply a smooth, straight line with a traditional, bristled liquid eyeliner brush. Felt-tipped liquid liners, such as this one from Milani, are a great alternative to standard liquid eyeliners, as they are much easier to apply successfully.
Resistant to water, sweat, tears, and other moisture, this intense black liquid eyeliner won't budge, smudge, run, or feather out of place all day long. Crafted with a felt tip of medium thickness, you can use this liner to create thin or thick lines of your desired intensity, depending on the look you're striving to create.
1. stila Stay All Day Waterproof Liquid Eye Liner (Editor's Choice)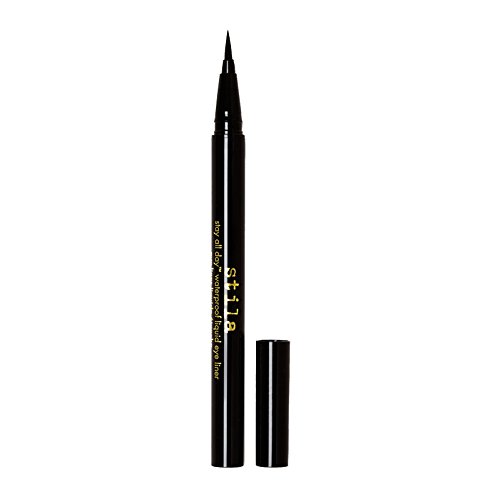 This is one of the best liquid eyeliners. When this liner says it will "stay all day", it's not lying. After you apply it, you can rub it as hard as you want and cry as much as you can, but it won't go anywhere. With an incredible quick-dry time, this liquid eyeliner from stila stays put on your eyelids without smudging, smearing, chipping, running, bleeding, or feathering. This is the great liquid eyeliners that don't smudge!
Plus, if you're a lover of wild, fun liner colors, you're in luck. While many liquid eyeliners are only available in shades of black, brown, and navy, this liner comes in fifteen different colors in different shades of greens, blues, oranges, and neutrals. If you're looking for the best best drugstore liquid eyeliner, why not try this one?
Great liquid eyeliner formulas can be difficult to find. By using this list, however, you can choose from some of the best liquid eyeliners available to make your search for the perfect liquid eyeliner significantly shorter and easier.