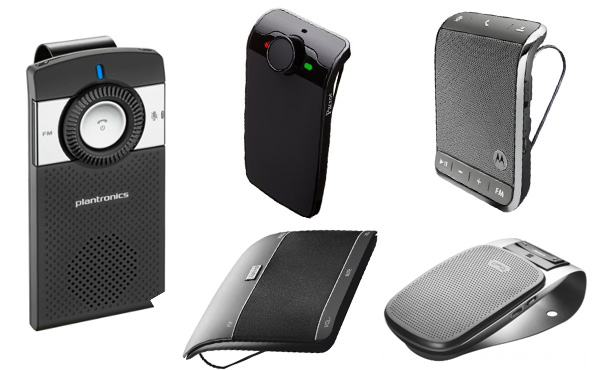 Find The best car Bluetooth speakerphone here! Knowing what features are important to you is the first step towards filtering the many Bluetooth speakerphones for cars right now.  Location is one of the first things to check, as you need the microphone and speakers fairly near your head.  Therefore, we have restricted our 10 best Bluetooth speakerphones to units you can attach to your sun visor easily and securely. In addition, high quality sound reproduction is vital for a hands-free car kit, so the best Bluetooth speakerphones for cars are those which come with speakers, so you don't have to rely on your car's stereo.
Speakerphones that use your existing car speakers for audio reproduction have a problem with echo, because the microphone is affected by audio from the speakers.  Focus on the noise reduction and echo cancelling system, as call quality is vital and you don't want road noise (or your kids) drowning out the caller's, or your, voice.  More than one microphone is always better, so consider speakerphones with 2 microphones and the best Bluetooth speakerphones have 4 microphones.  Multipoint pairing enables you to connect two phones to the speakerphone at the same time, so you don't have to choose between your personal phone and your business phone.
So with all that in mind, here are the top rated bluetooth car speakerphones, read the following bluetooth car speakerphone reviews to find the most suitable one for you.
10. Plantronics K100 Bluetooth Speakerphone for Cars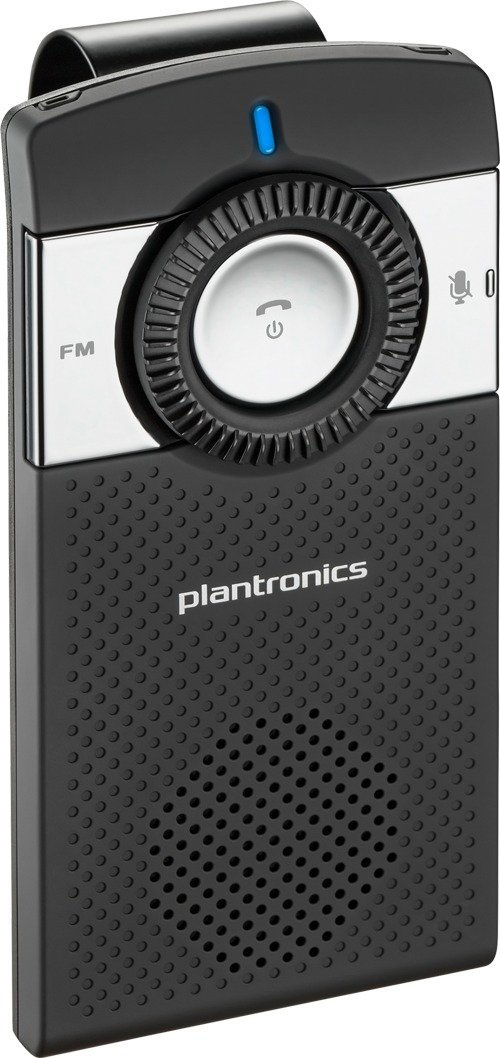 This is one of the best Bluetooth speakerphones for cars in 2019 and has dual microphones, plus Digital Signal Processing (DSP).  This cancels out noise and conversation around you and focuses on your voice.  You get 15 hours talk-time and 17 days on standby and with A2DP you can stream music, podcasts, GPS etc. from A2DP-enabled phones.
The FM transmitter gives the option to feed phone conversations and other audio through your car's speakers, for more volume or to share.  Echo cancellation gives a better listening experience on both sides of the call. Voice alerts report the status of connection, volume and power on/off.
9. 

SuperTooth Z004098E Crystal Portable Visor Bluetooth Car Kit and Speakerphone for all Apple iPads/iPhone and most Cell Phones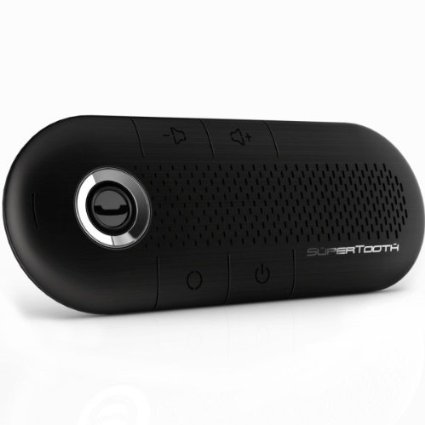 This is one of the Bluetooth speakerphones for cars you can use with all iPads and iPhone 12. This model is very easy to use and has large buttons on the front so you can access key commands slickly.  No installation is needed as you simply attach it to your car's sun-visor with a magnetic clip.
This speakerphone can be used with Multipoint technology, so you can be connected to your personal phone and a business-use cell phone at the same time.  Like all the best Bluetooth speakerphones it has DSP echo/dual noise cancellation, and 'speaks' GPS instructions from your smartphone.
8. 

Jabra DRIVE Bluetooth In-Car Speakerphone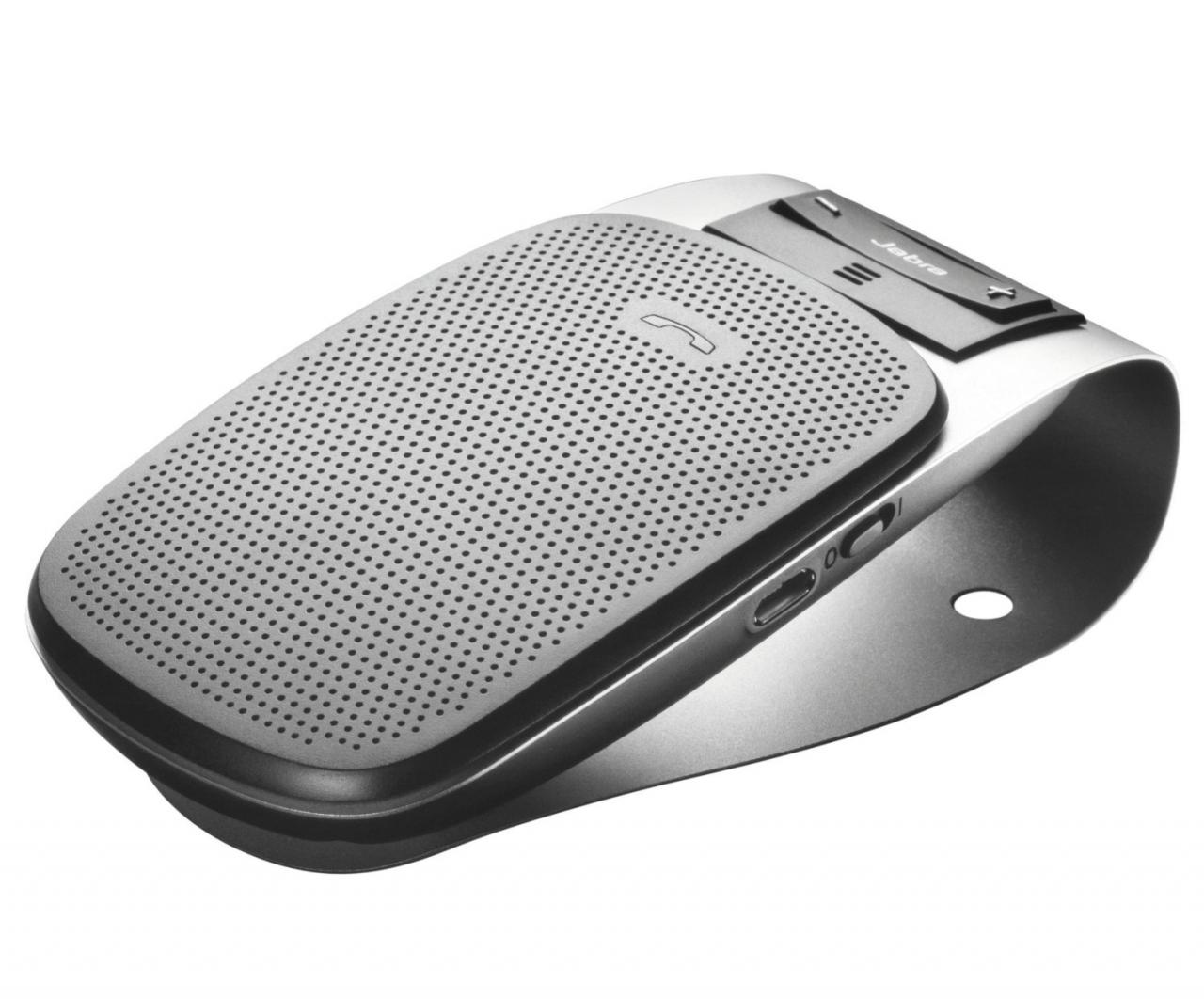 This is another good choice from current Bluetooth speakerphones for cars, with easy-use buttons and clear sound with good noise cancellation.  Set-up is very simple and after you clip it to your sun visor, it connects automatically as you get in your vehicle.  It has multi-use ability, so you can be connected to two Bluetooth devices at the same time.
You get up to 20 hours talk-time plus 30 days standby along with music streaming, GPS Smartphone instructions via A2DP Bluetooth audio and a compatible device.  It works well and is extremely easy to use
7. Motorola Sonic Rider Bluetooth In-Car Speakerphone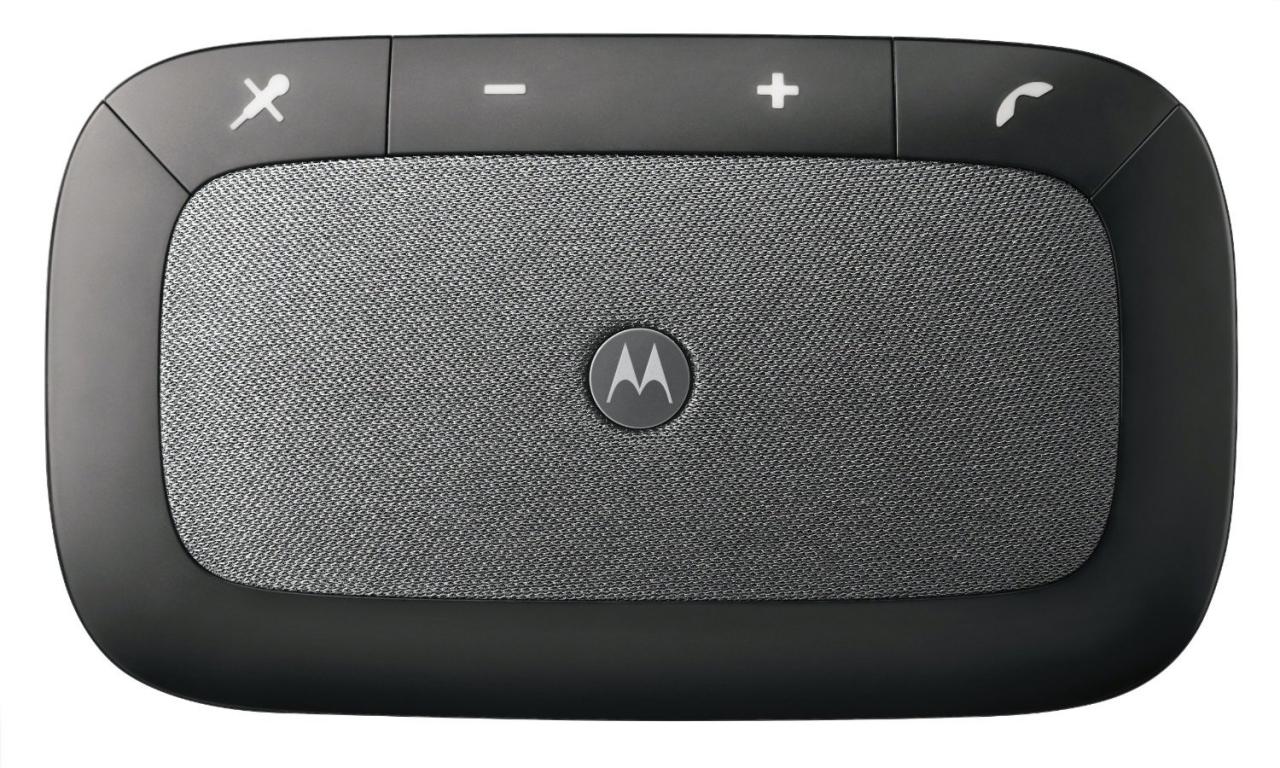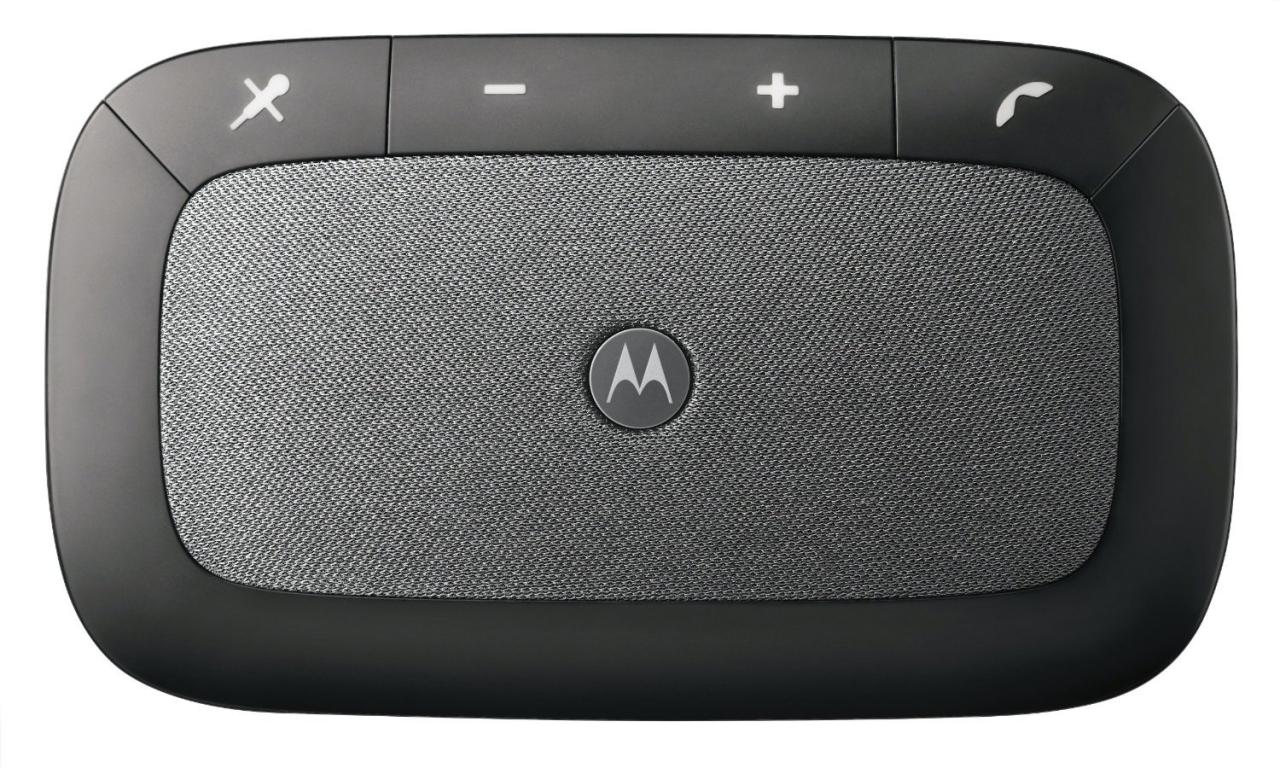 This Bluetooth speakerphone for cars has very high quality echo and noise reduction, and the 2-watt speakers and single microphone give good listening clarity regardless of road noise. Your voice will be clearly heard at the other end, too.  This model gives more than double the talk-time of its leading competitor with an impressive 45 hours talk-time, plus 5 months on standby.
You can take calls from two lines at the same time, so your passengers can also use the speakerphone.  It saves up to 6 different phone links, allowing family use, too.  Reviewers said, 'It works great!' over and over again and it's excellent value for money! This bluetooth car speakerphone also available at walmart.
6. 

Parrot MINIKIT Neo Hands-Free Bluetooth Car Kit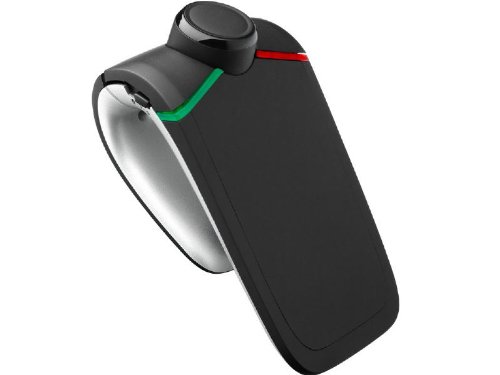 The Parrot Mini-kit Neo is a Bluetooth speakerphone for cars with vocal menus and good voice clarity at both ends.  It also has Multipoint so you can connect with two phones at the same time.  You can also get Bluetooth audio streaming and the kit contains a car-charger and a mains charger.
Incoming calls can be accepted by voice command, 'Accept' or you can push the green button and answer the call.  This easy-to-use unit also goes into deep sleep mode to save energy and will automatically switch on when the car vibrates as you open the door and get in.
5. 

Parrot Minikit with Bluetooth Speakerphone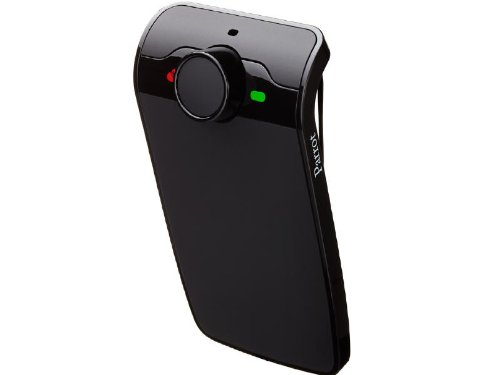 This Bluetooth speakerphone's a model with all of the usual features, like connecting to 2 phones, voice recognition to call contacts, accept or reject calls by voice command and automatic switch-on.  You also get up to 6 months of standby from the battery in Ultra-Low Power Mode!
The kit includes a USB/Mini USB cable, a 12V accessory socket charger plus an elastic strap and the Quickstart Guide.  In addition, users liked the 6-months free 'Text Friendly' feature, which lets you listen to your emails, dictate replies and send emails to your contacts.  Reviewers say it's fast and simple to make hands-free calls.
4. Supertooth HD Voice In Car Speakerphone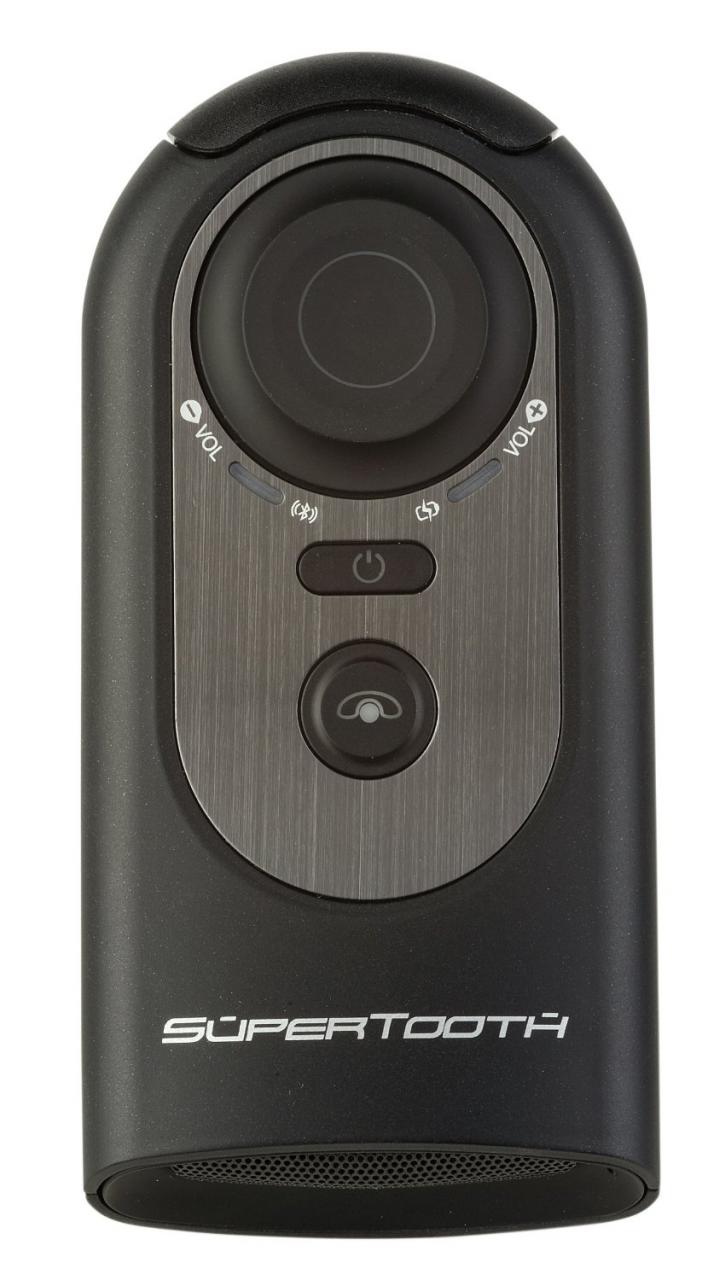 This unit is a Bluetooth Version 3.0 hands-free car kit, with multiple language settings available.  To answer a call, you just say, 'OK' and it has Multipoint, for connecting 2 phones.  It has superior Twin Speaker V Array Technology and two HD Supertooth speakers with a 5-watt audio output.
The built-in dual microphones give extremely clear voice reproduction – not affected by noisy cars or passengers!  You get 20 hours talk-time and 1,000 hours stand-by time, making the battery life a definite advantage.  You can listen to incoming messages and dictate, send/post voice messages for SMS, e-mail, Facebook wall and Twitter page.
3. 

Motorola Roadster Pro Universal Bluetooth In-Car Speakerphone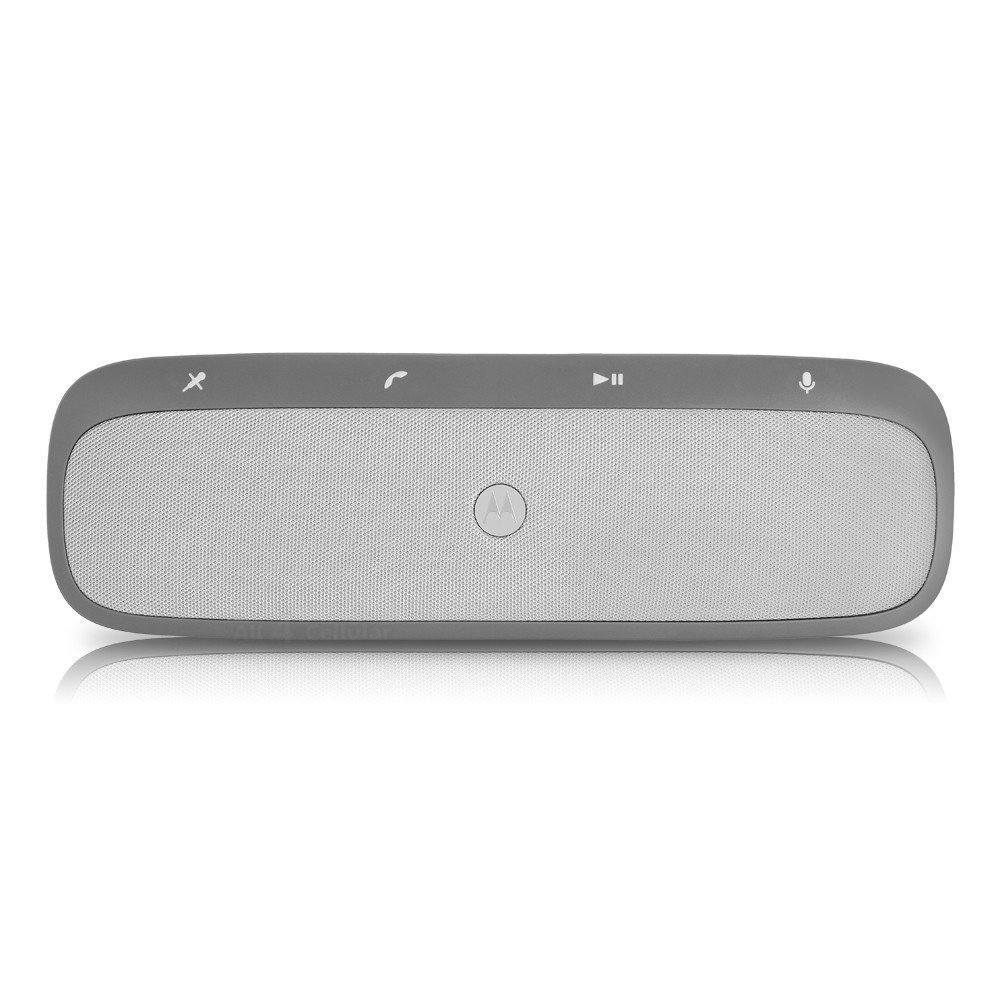 We have the world's first 4-microphone, car speakerphone! This unit has excellent voice clarity from advanced noise cancelling technology and dual 30 x 40 mm speakers through which your calls and your music will flow loud and crystal-clear.
This unit has a motion sensor to turn it on and off, so you get a long, 42 day standby time.  The Roadster Pro has 13 hours of talk time, speech-to-text and text-to-speech, along with EasyPair technology and the Multipoint two phone simultaneous connection function.  Users love it!
2. Motorola Roadster 2 Wireless In-Car Speakerphone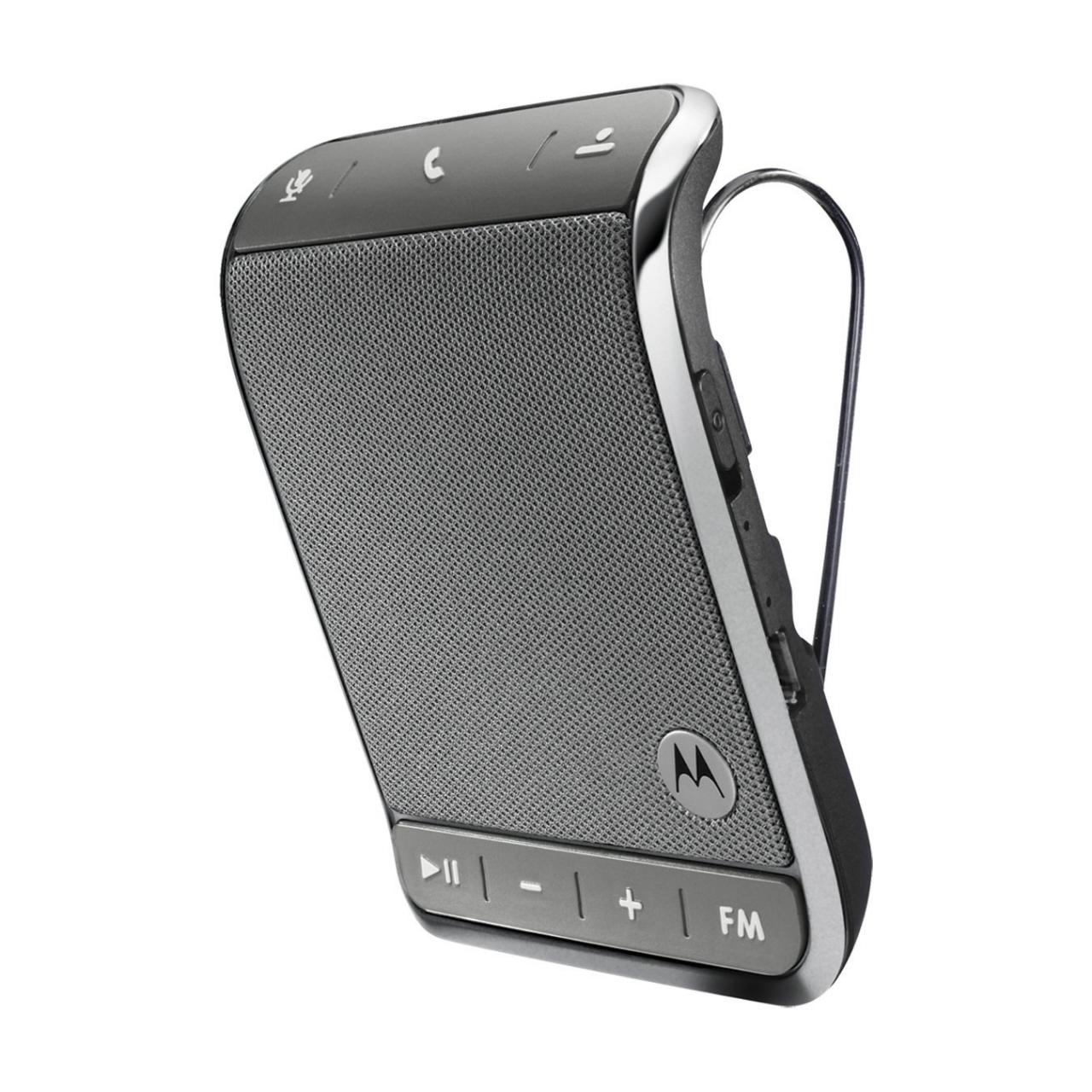 This model has a 2-watt speaker to listen to calls or stream music through or use the FM transmitter and your car speakers.  CrystalTalk technology promises clear voice reproduction for both parties to a call.  The speakerphone's dual microphone noise cancelling and echo controls block background noise. You get 20 hours talk-time and three weeks on standby.  The package includes a car charger and the User Guide.
You can download the free My Motospeak/App to get your incoming text messages read out loud and reply using voice commands to dictate and send texts.  This unit also gives Caller ID and you receive voice alerts about your battery's current status.
1. 

Jabra Freeway Bluetooth Speakerphone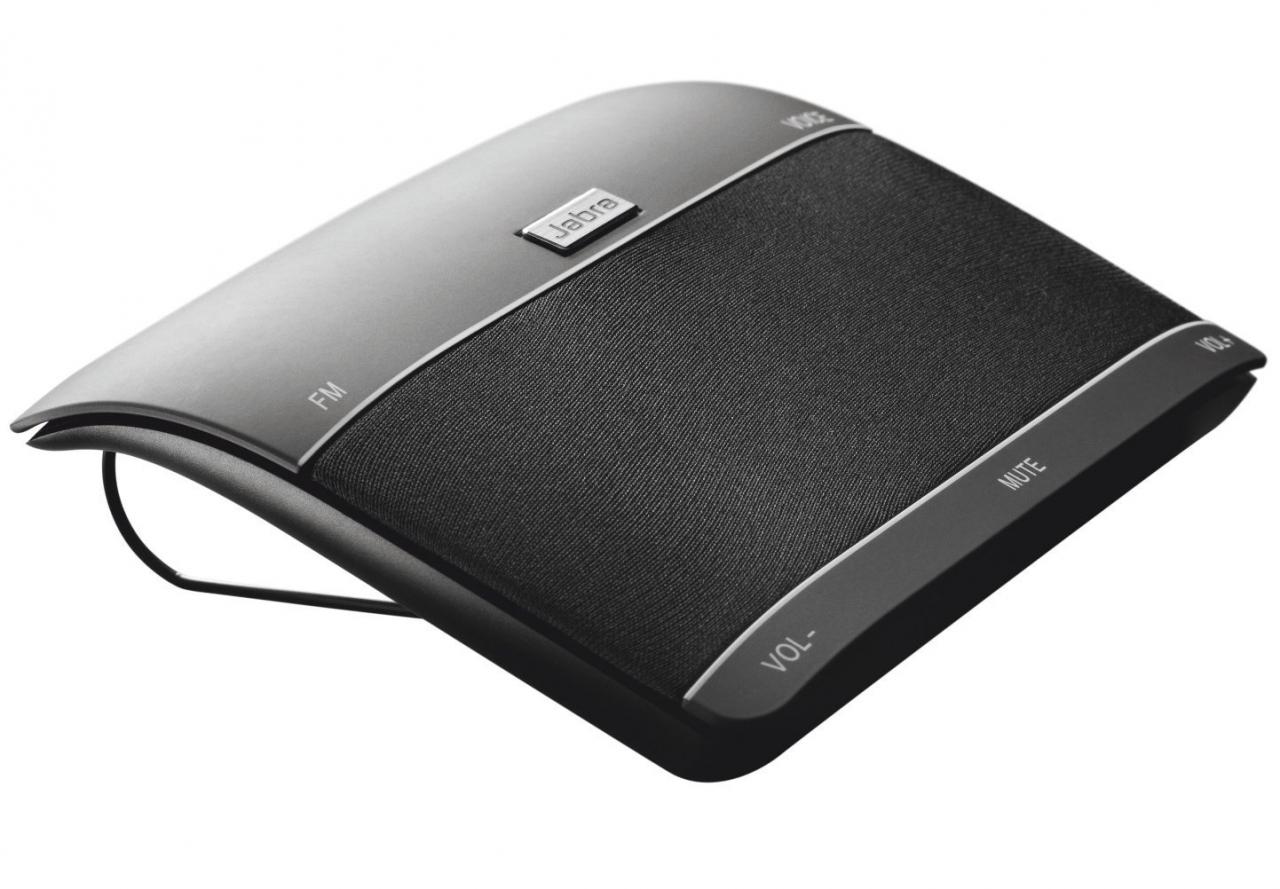 At No. 1 in our Top 10 Best Bluetooth Speakerphones for Cars, this isn't the most expensive Bluetooth speakerphone on the market, but it has fantastic sound quality from the 3 speakers and Virtual Surround sound!  You get 14 hours of talk-time and up to 960 hours i.e. 40 days on standby, podcasts and GPS directions.
Along with all the basic features, you can use your voice to make calls, answer, end, re-dial and reject calls. If you want to use Voice Assist to receive and send Facebook updates, Twitter messages, e-mails and text messages, you can easily set-up a Voice Assist subscription.  This is great value for the price!