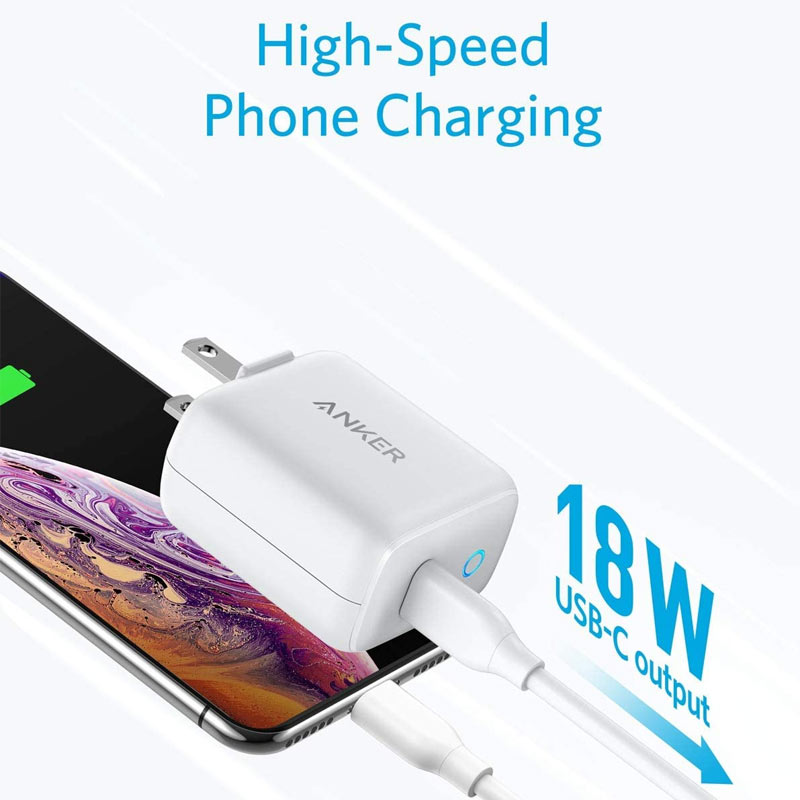 Many people don't realize that when they're charging their phones, they're taking much longer to do so than necessary. This is oftentimes the result of a wall charger that isn't providing sufficient wattage to the phone. In fact, the iPhone 14 comes with a wall adapter that only provides a charge of 5W to the device, which is a mere fraction of the charge that the device is capable of receiving. In this article, we'll be taking a look at all of the things you should consider when picking out a wall charger. As well, we'll take a look at some fast chargers that you can buy right now.
Things to Look for In a Wall Charger
The Right Type of Port
Of course, you will need a wall charger that has the right type of port for whatever cable you are using. Given that Lightning cables typically use USB-C, you'll most commonly find wall chargers for iPhones using this type of port. However, there are also wall chargers that feature other types of ports, both instead of and in addition to USB-C. All of the wall chargers that we're looking at in this article use USB-C ports.
The Right Amount of Wattage
As we discussed, a major cause of devices taking longer to charge than they have to is that the charger is not providing the proper amount of electricity to the device. Since the iPhone 14 is only receiving a 5W charge with it's included charger, that means it's only living up to a fraction of it's potential. And it's not only the iPhone 14– many devices are packaged with chargers that provide insufficient wattage, leading owners to not even realize that they could be charging their devices much faster than they are now.
For this reason, it's important for owners to take a look at the instruction manuals of their devices and make sure that they are using a wall charger that is capable of providing the right amount of wattage. Every wall charger we'll look at in this article provides at least an 18W charge, which is more than 3x the charge generated by the iPhone 14's pack-in charger.
The Right Amount of Ports
In addition to the right type of port, you'll also need to make sure the wall charger that you purchase features the right amount of ports for your needs. Some wall chargers feature only a single port, but other chargers feature multiple ports, allowing you to charge multiple devices at the same time without the need for additional chargers. Of course, you'll still need an additional cable, but at least you won't need to buy another wall charger! Keep in mind, however, that charging two devices at the same time can affect the overall wattage that is being delivered to each device, prolonging the amount of time each device takes to charge.
Size of the Charger
While it might not seem like too big of an issue, having the right size wall charger can actually make a pretty big difference when it comes to portability. Your wall charger may be something you constantly take with you when you're out on the go, so it's size might matter. There are certainly some chargers that are smaller than others, with the single-port chargers definitely being smaller than the dual-port chargers overall.
The Best and Fastest Chargers for iPhone 14 and Other Devices
Best & Fastest Chargers for iPhone 14, iPhone 14 Pro, Pro Max
1. Anker PowerPort PD 1
Features:
Single port
18W output
Includes USB-C to Lightning cable
For a single-port charger, this is on the larger side, but it's still quite a bit smaller than the dual-port wall chargers. What it lacks in compactness it makes up for in durability, and the fact that it comes with a reliable a MFi-certified USB-C to Lightning cable. It has foldable prongs so that you can pack it up and carry it with you wherever you go, and it's still small enough that it shouldn't pose too much of a burden in most situations.
This charger outputs 18W, meaning that it can charge your iPhone 14 around three times as fast as the pack-in charger. While there's only one port, so you can't charge multiple devices at the same time, that will only be an issue to some. Overall, this is a great and reliable charger that may be a pretty good deal for some due to it's included cable.
2. Anker PowerPort III Duo
Features:
Dual ports
18W output for each port
For those who like the PowerPort PD 1 yet need multiple ports, the Anker PowerPort III Duo features the same basic design, is only a little bit larger, and features two ports both with 18W output, meaning you can charge two devices just as fast as you can a single device with the PowerPort PD 1. However, it doesn't come with a cable.
3. Anker PowerPort III Nano
Features:
Single port
18W output
Compact size
As it's name would suggest, this is a compact variant from Anker. It features only a single port with an 18W output, and doesn't have foldable prongs. However, some may still like this charger for just how small it is, easily fitting in your pocket whereas other chargers require a purse or knapsack.
4. AUKEY PA-Y18 Minima 18W PD for iPhone 14
Features:
This option from AUKEY is another single-port charger with an output of 18W, but it doesn't come with an included cable of any sort. As well, it's a little bit less durable than the Anker PowerPort PD 1, although it does come in at a much more compact size for those who are concerned with travel.
There are once again foldable prongs, making travel that much easier, and the charger features a sleek design that is similar to the design Apple uses for it's own patented chargers (which we'll look at later). It may not hold up as long as the Anker PowerPort PD 1 or come with a cable, but it takes up less room, and certainly costs a good deal less. Overall a good buy, especially in a pinch.
5. AUKEY PA-D2 Focus Duo 36W Dual-Port PD for iPhone
Features:
Dual ports
30W output for single port, 18W output for both
Another fast charger from AUKEY, this one both ups the amount of ports and the amount of wattage. While two charging devices will still only receive an 18W charge, when one device is plugged in it can receive a charge of up to 30W! This wall charger is only slightly bigger than the AUKEY PA-Y18 Minima 18W PD and may be worth it for those who need to charge more devices, or simply want the fastest charge possible for a single device.
6. ZMI zPower Turbo 65W
Features:
Single port
65W output
Includes USB-C to USB-C cable
So… this one's got a lot of power. In fact, it's got more power than the iPhone 14 truly needs. However, that extra power is there to charge other devices, such as tablets, and will certainly come in handy for those who will be charging all of their devices on just one charger. Keep in mind, though, that there is still only one port, so all of that power can only go to one device at a time. Still, if you want the most power possible in a single charge, than this may be the charger for you. It's not too big, and it even comes with it's own cable… although it won't work with an iPhone 14. Still, this is an excellent wall charger for those who will be charging more than just their iPhones.
7. Apple 18W USB-C Power Adapter
Features:
It's from Apple, so you know it's going to work… but is it the best? For the price, this really isn't the greatest wall charger out there, but it's certainly not the worst. It's a little bit bigger than the smaller ones, a little bit smaller than the bigger ones, and provides just about everything you would expect it to– a safe option all-around. It gives your device an 18W charge, which makes you wonder why Apple didn't just include this as the pack-in charger for the iPhone 14 (also you can try the wireless chargers for iPhone 14 here.) in the first place. There's certainly something to be said for buying your charger straight from the manufacturer of the device, but there are certainly options that are both more reasonable and more powerful.
Which Charger Is the Best?
Overall, which charger is the best really depends on your own personal needs. If you're going to be charging other devices besides your iPhone or other smartphone, such as a tablet or laptop, then the ZMI zPower Turbo 65W might be the way to go. If you have a partner and both of you need to charge your devices at the same time, the AUKEY PA-D2 Focus Duo 36W Dual-Port PD or Anker PowerPort III Duo might be your fix.
If you're just one person and you're only going to be using your wall charger to charge your smartphone, the Anker PowerPort PD 1 or AUKEY PA-Y18 Minima 18W PD might do the trick, or you can opt for the AUKEY PA-D2 Focus Duo 36W Dual-Port PD and eschew using the extra port for extra wattage. Finally, if you're focused on portability more than anything, the Anker PowerPort III Nano is certainly the smallest option, though it's lack of foldable prongs may put off some travelers. No matter what your preferences are, there are many fast chargers out there for you!