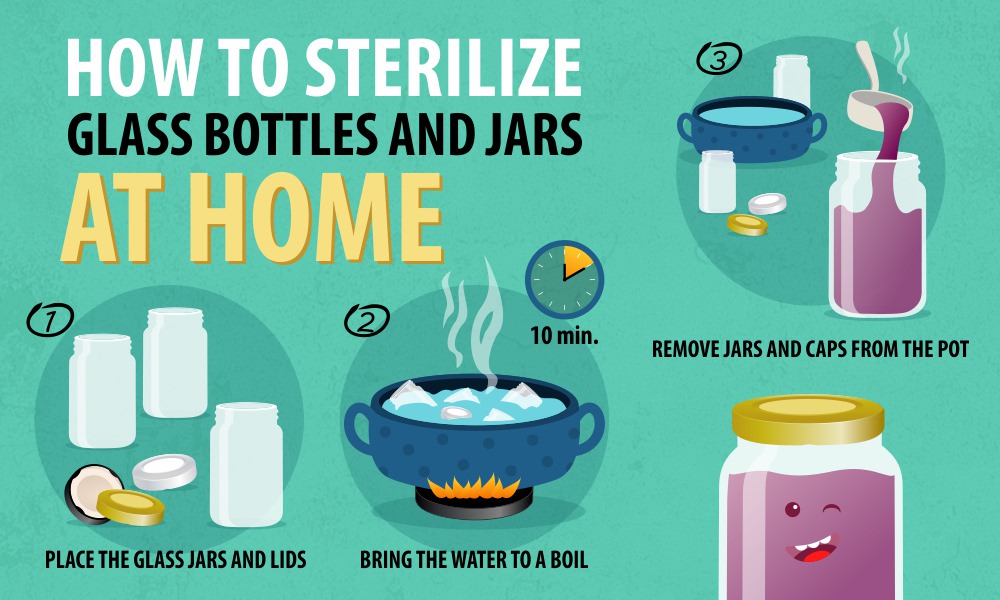 Read the following Baby Bottle Sterilizer reviews to find your favorite one.
Does the bottle sterilizer necessary? The answer is absolutely YES. If you are a mom or a mom to be you know how important keeping your baby's bottles clean and sterilized is. If you are currently using bottles you know how much time and effort goes into sterilizing them and keeping them clean. It takes a lot of time to ensure every bottle your child uses is always squeaky clean and sterilized every time you need to make them a bottle.
Countless times we forget and leave bottles all over the kitchen only to realize we need to sterilize them once more. Having a baby bottle sterilizer cannot only help you keep your baby bottles clean but give you  the certainty that your baby is not consuming any household germs. Here are the best 10 baby bottle sterilizers that will ensure your bottles are not only sterile but germ free.
Keep Your Baby Safe With the Best Baby Bottle Sterilizers
10. 

Tommee Microwave Bottle Sterilizer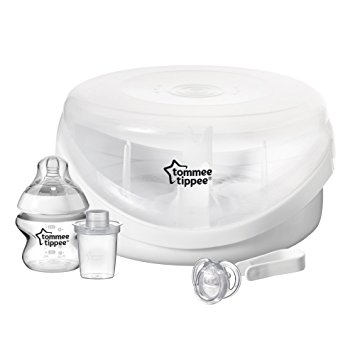 An easy way to sterilize your baby's bottles is by using a microwavable bottle sterilizer. They are easy to use as you can simply place your baby bottles inside the compartment and place it in the microwave for 4 minutes. After 4 minutes your bottles will be sterilized and ready to be used.
This bottle sterilizer holds 4  bottles and is spacious enough that you can clean your baby's pacifiers as well. It is a chemical free way of killing 99% of germs that may be on the bottles that your baby uses everyday. As long as the bottles are in the casing after being sterilized they will remain sterile for 24 hours.
9.

The First Years of Power Electrical Baby Bottle Sterilizer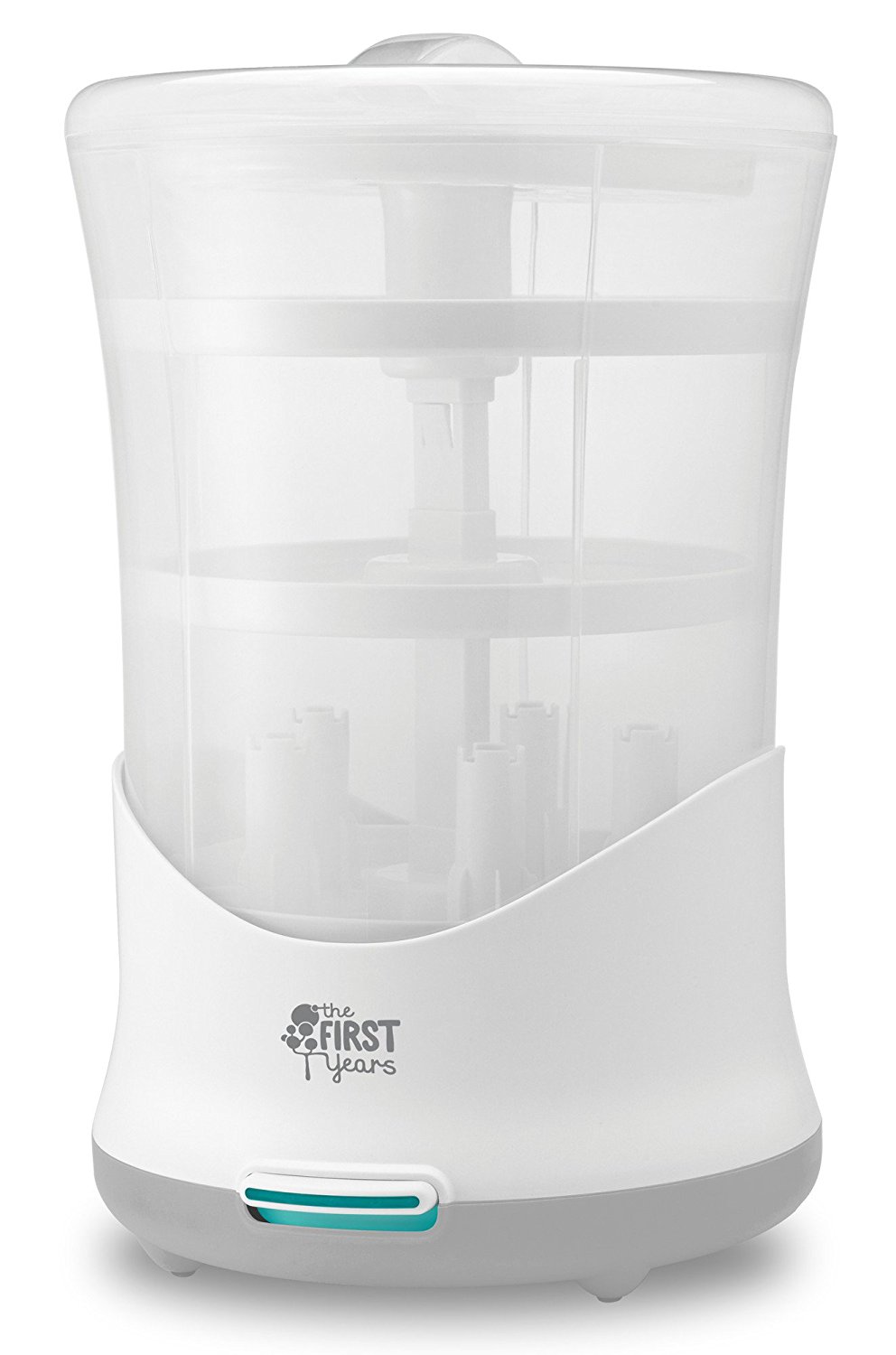 If you want a multifunctional bottle sterilizer that will destroy common household germs and bacteria on your baby bottles but also on your baby's pacifiers and small toys this is the one for you. This electric bottle sterilizer was intended to direct steam deep inside the bottles for better sterilization.
It has a tower like design that directs steam into every bottle individually giving your bottles a deep clean every time you use this baby sterilizer. Another great feature this bottle sterilizer has is a built-in drying rack. The built-in drying rack can be removed for air drying or left inside.
8.

Baby Brezza Bottle Sterilizer – Baby Bottle Warmers & Sterilizers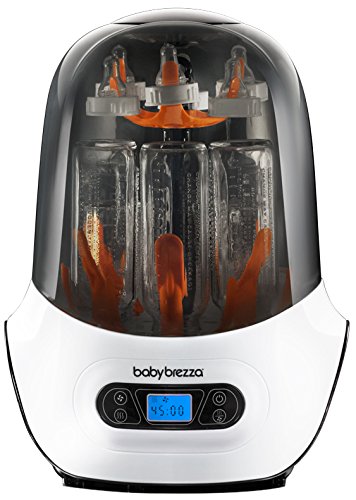 It sterilizes your baby bottles in 8 minutes. This is an excellent feature as it is able to kill 99.9% of germs and bacteria in a short amount of time. As a mom you need items that will get the job done quickly so you are able to get back to attending your baby. This bottle sterilizer allows you to do just that. It also gives you the option of choosing the time frame you want your bottles dried in 30, 45 or 60 minute drying cycles.
You also have a control panel that allows you to choose what you want your bottle sterilizer to do. Do you want it to sterilize, sterilize and dry or dry only? The options are right at your fingertips. Your bottles will remain sterilized for 24 hours once you have sterilized them.
7.

Dr. Brown's Microwave Sterilizing Bags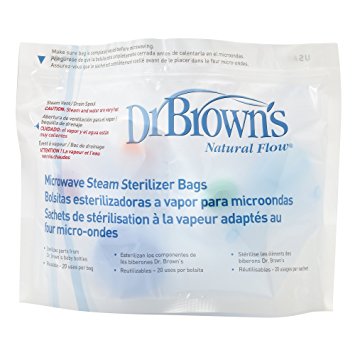 Sterilizing your baby bottles on the go no longer needs to be something of the past. These microwave sterilizing bags enable you to be able to sterilize your baby's bottles, pacifiers and small toys on the go. You can sterilize any item you need with these microwavable bags.
Each bag is reusable up to 20 times and removes up to 99.9% of household germs and bacteria. This offers moms the peace of mind of always being able to sterilize their children's bottles even when on the go.
6.

Cuisinart 6 bottle Sterilizer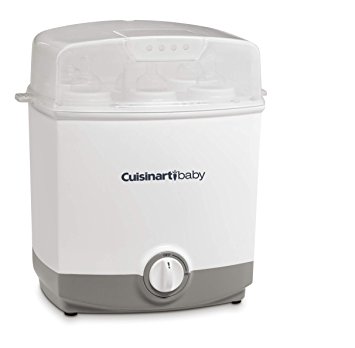 This baby sterilizer is not only easy to use but it is spacious. It holds 6 bottles. The more bottles you can fit into your sterilizer the less time you will spend sterilizing different bottles. This can cut your bottle cleaning and sterilizing in half.
It will also clean any other small items you need sterilized such as pacifiers, toys and/or breastfeeding accessories.
5.

Dr. Brown Microwave Sterilizing Steamer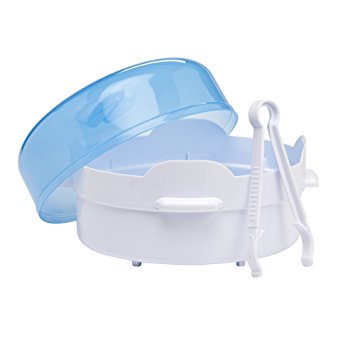 If you prefer a microwave sterilizing system this is a great one for you to try. It effectively removes household bacteria and disinfects your baby bottles. Also comes with a sterilizing tray that is made to hold all items. It is also removable for easy cleaning. All it takes is 4 minutes in your microwave and your bottles are ready to be used.
This sterilizing steamer is BPA free so you can be assured that your baby's bottles are being cleaned without any harmful chemicals. Being BPA free is one of the main reasons why microwave sterilizers are so popular.
4.

Munchkin Steam Electric Bottle Sterilizer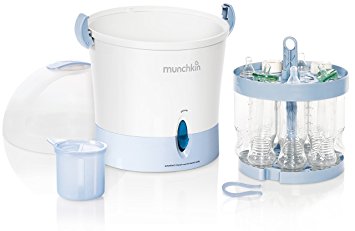 Quick, easy and effective is the proper way to describe this bottle sterilizer the reason being it cleans 9 bottles at a time in 6 minutes. This makes cleaning a large amount of bottles a one step process. With the push of a button you can begin the cleaning cycle and it will turn off automatically once it is finished.
It has a large capacity so you are able to sterilize pacifiers, teething toys, toys, nipples and breast pump accessories. Also comes with a heat resistant tab that remains tight and sealed until the cycle is finished. This prevents you or your little one from accidentally opening it.
3.

Avent Microwave Sterilizer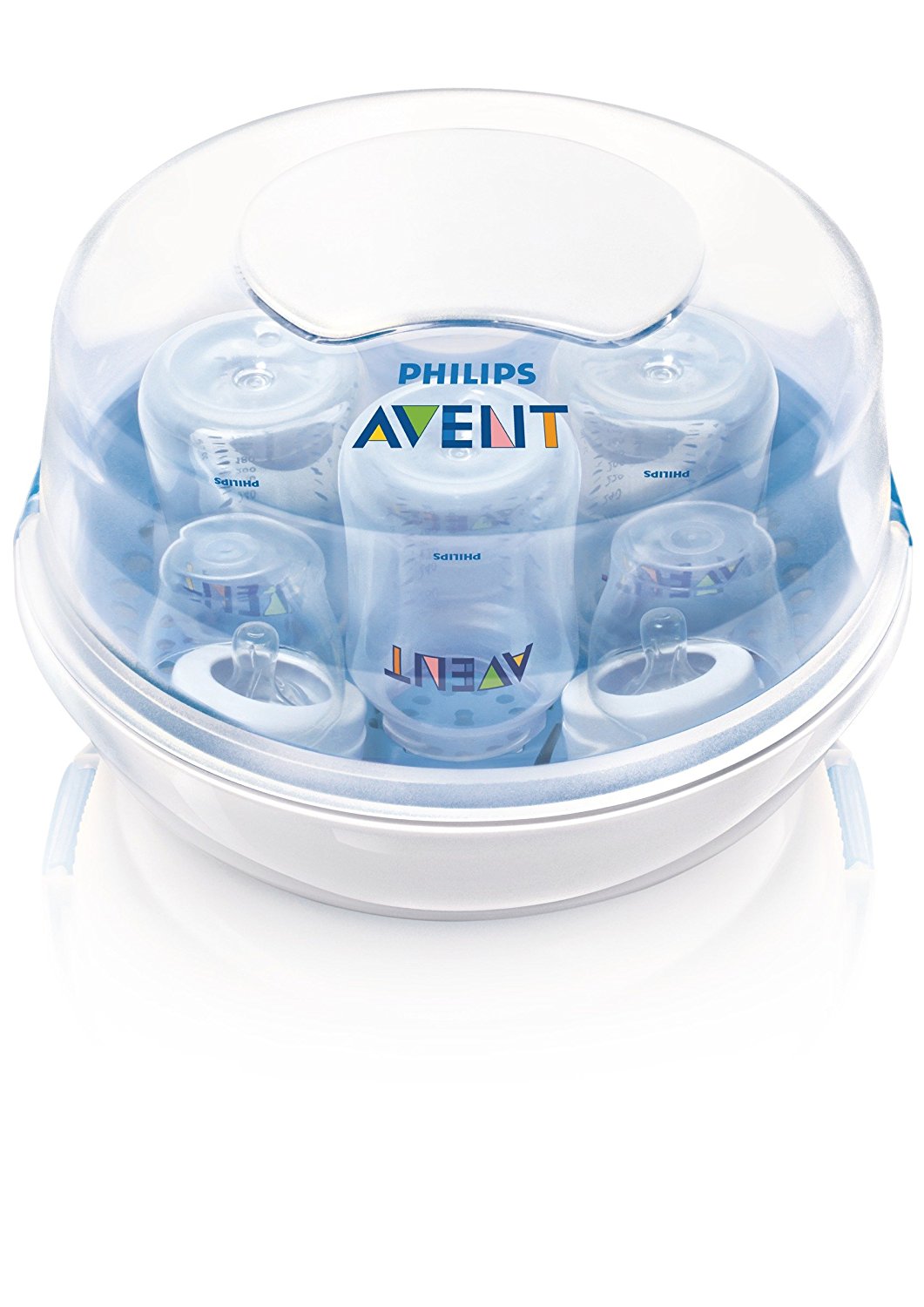 Your microwave sterilizer should be easy and lightweight to use. That is exactly what this bottle sterilizer is. It is as simple as one two three while removing 99.9 percent of household bacteria and germs in 2 minutes. The bottles remain sterilized for 24 hours after they have been cleaned.
You can also store them in this sterilizer to keep them compact and clean. It holds 4 bottles as well as pacifiers, nipples and breastfeeding items they can all be sanitized by using this sterilizer.
2. 

Wabi Baby Bottle Sterilizer and Dryer Plus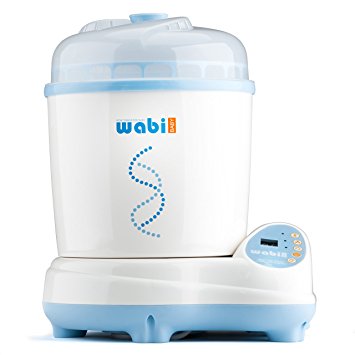 This baby sterilizer is a 3 in one system. You can sterilize, dry and store not only your baby bottles but toys, teething rings, nipples, eating utensils among many other things as well. Sterilizing your bottles will take approximately 8-15 minutes with a sensor that shuts off automatically once the cycle is done.
When it comes to drying your bottles you have 3 different time options 30,45 and 60 minutes. It fits up to 8 bottles at a time which is great if you are short on time and need clean bottles quickly. This sterilizer comes with an awesome feature that enables you to store your bottles once they are done.
1.

Avent 3 in 1 Steam Sterilizer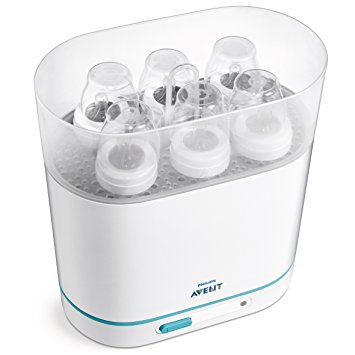 This sterilizer kills 99.9 percent of germs and bacteria without using chemicals. It comes with a 3 in 1 design that allows you to clean 6 bottles at a time. This design uses electricity to create intense steam that allows your bottles to get a deep clean every time.
You can clean bottles, breastfeeding pumps, pacifiers or small utensils. It allows you to effectively remove all germs and bacteria from any item your child may use.  After 6 minutes, the sterilizer will turn itself off and your bottles will remain clean for the next 24 hours as long as the lid is closed.
Finding a bottle sterilizer should not be difficult once you know the perks that they can offer to you and your family. Let us know below which bottle sterilizer caught your eye,