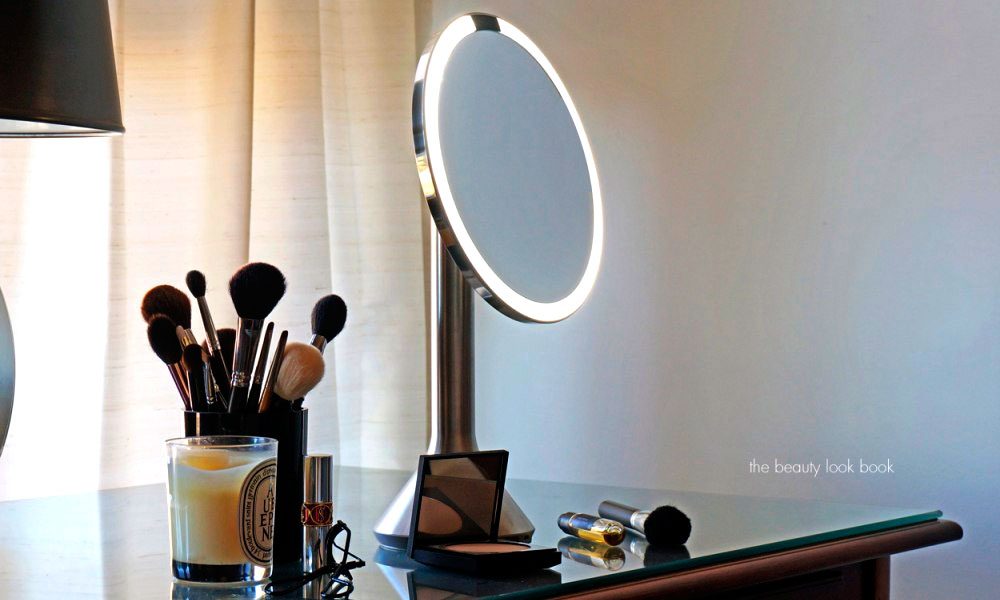 Best Makeup Mirrors to Ensure a Flawless Finish
The lighting you use when applying your makeup is just as important as the makeup you use and the techniques you use to apply it. If you apply your makeup under low-quality lighting, it will not end up with the smooth finish you want to achieve. Makeup looks completely different in different lightings. Every woman has experienced the frustrating struggle of leaving the house only to realize that your makeup looks patchy or uneven in another lighting. This problem is why it is so important to have top-quality lighting when you apply your makeup.
The best lighting under which to apply your makeup is natural lighting. Natural lighting is lighting that mimics normal outdoor lighting as closely as possible. However, when you apply your makeup under the fluorescent lighting of your bathroom or bedroom at home, it can be difficult to achieve this natural lighting quality. Having the right makeup mirror can help you apply your makeup so that it looks gorgeous in any environment. With a top-quality makeup mirror that features built-in lighting and magnification, you can see your face clearly up close under natural lighting. This allows you to ensure a smooth and even finish for your makeup. Read the following makeup mirror reviews to find your favorite one.
8. Secura Vanity Makeup Mirror with light

This makeup mirror features both magnification and lighting for an enhanced makeup application experience. It includes seven-times magnification that helps you look closely at your face and catch any imperfections in your makeup before you leave the house. The lighting that this makeup mirror provides is white LED lights that provides warm and natural lighting.
The mirror is both wireless and cordless. It runs off of batteries and is extremely energy-efficient; the mirror's batteries can last for up to ten thousand hours of use. This mirror also swivels three hundred sixty-degrees in order to allow you to apply your makeup easily and comfortably from any angle.
7. Gotofine Makeup Mirror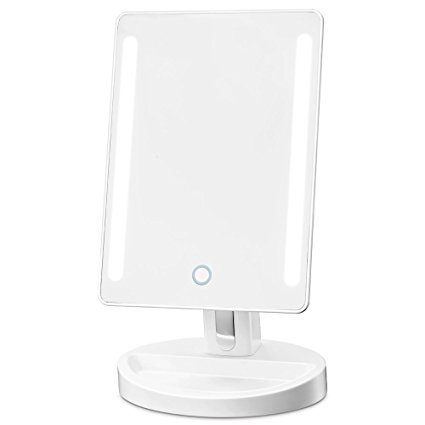 The superior, modernized LED lighting system that this makeup mirror features is designed specifically to shine light onto your face that closely imitates natural lighting. This lighting is similar to natural sunlight and bathes your skin in a soft, bright glow that allows you to identify any impurities within your makeup before it is too late. Also, you can easily adjust the brightness of the mirror's lights depending on your preferences, the time of day, and the existing lighting in your room.
This mirror has two different power options. It can be operated with batteries or connected to a power cable for continuous use. The main mirror includes a portable, detachable spot that features ten-times magnification so that you can more closely inspect certain areas of your makeup. You can use this mirror at any angle; it features one hundred eighty-degree rotation for easy adjustment and placement.
6. Charmax Makeup Mirror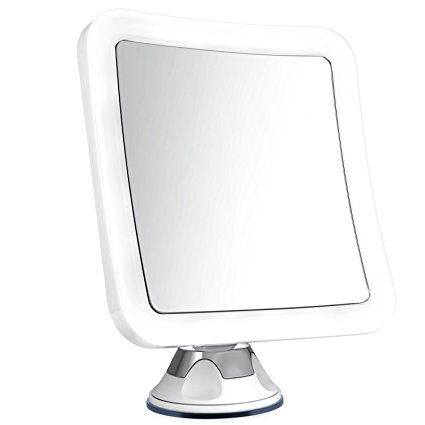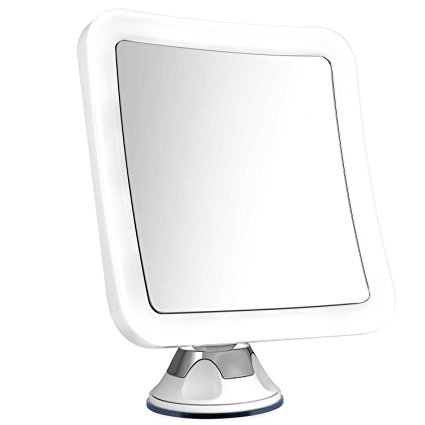 This energy-efficient makeup mirror provides natural, warm LED lighting. Its curved, square shape allows you to view your face from a natural angle and carefully observe all sides and areas of your face. Plus, the mirror swivels three hundred sixty degrees and locks at any angle in order to help you study your skin from any angle.
This mirror also has eight-times magnification. This magnification helps you view the details of your skin close-up in order to apply your makeup with smooth and even coverage. The mirror is battery-operated, which means that it does not involve any frustrating cords or require an electrical outlet to work.
5. Miusco Makeup Mirror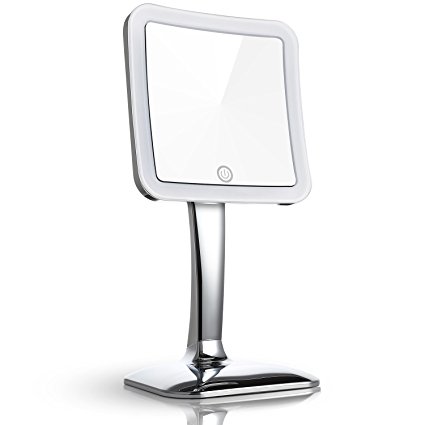 This makeup mirror includes sixteen separate LED lights that produce warm, extremely natural lighting. These LED lights are extremely energy-efficient and last through up to ten thousand hours of use. The lights of the mirror can be dimmed and operated using a convenient touch-sensitive button on the face of the mirror.
The mirror is magnified seven times. This low-grade magnification allows you to observe your face in a realistic way while still being able to see the details of your skin. The arm of the mirror swivels three hundred sixty degrees. This complete rotation capability helps you view your face from all possible angles.
4. simplehuman Makeup Mirror
The light that this professional-quality makeup mirror emits effectively mimics natural sunlight. It uses surgical-grade LED lights to produce bright light that displays your skin exactly as it appears under natural light. This natural lighting helps you apply your makeup evenly so that it looks great all day long no matter what environment you're in. As an added bonus, the mirror features a special motion-activated sensor. When your face gets close to the mirror, it automatically lights up without requiring any manual activation.
The mirror features ten-times magnification. This magnification helps you study the details of your skin up close in order to allow you to easily perfect your makeup before you leave the house.
3. Illumina by Conair Makeup Mirror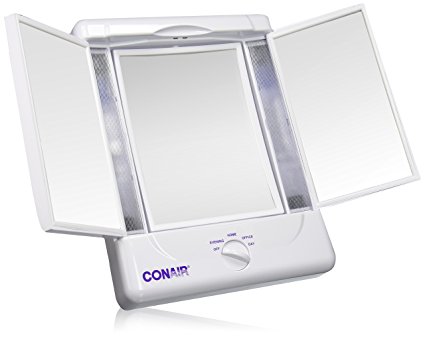 When you use this makeup mirror to apply your makeup, you have plenty of viewing options. The two-sided makeup mirror includes three separate panels and four different light settings. The mirror includes both five-times and one-time magnification in order to allow you to view your face normally and up close. The three separate panels that the mirror features helps you study your skin from many different angles in order to catch any imperfections in your makeup during the application process.
As stated previously, this mirror features four different lighting settings. These settings include an evening, home, office, and day setting. Each setting is designed for use in a different environment or varying time of day and helps provide you with the most accurate natural lighting wherever you are no matter what time it is.
2. Best Makeup Mirror – Jerdon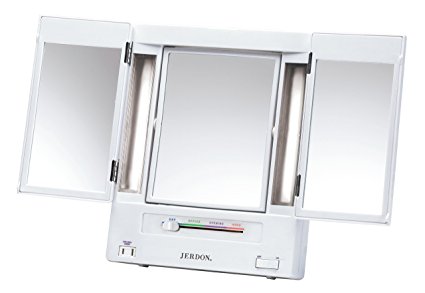 This mirror features both adjustable magnification and lighting in order to vary your viewing experience with your changing preferences. It features four lighting settings that are designed for use in different environments at different times of day. The mirror also includes a five-times magnification option for up-close viewing.
The mirror includes three panels and two different sides in order to allow you to study your face from all different angles. Also, it includes a built-in electrical outlet for easy use no matter where you are.
1. Conair Makeup Mirror – best lighted makeup mirror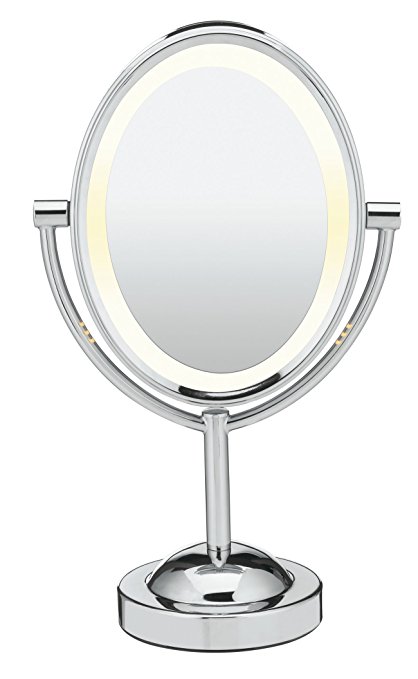 This makeup mirror from Conair features a simple and effective design. One side of the mirror has one-time magnification to allow you to view your face as others see it. However, the other side of the mirror is magnified seven times in order to help you study the details of your skin up close.
The mirror is lighted around the edges. This circular lighting pattern provides your skin bathes your skin in soft, natural light that illuminates your entire face at one time for most accurate observation.