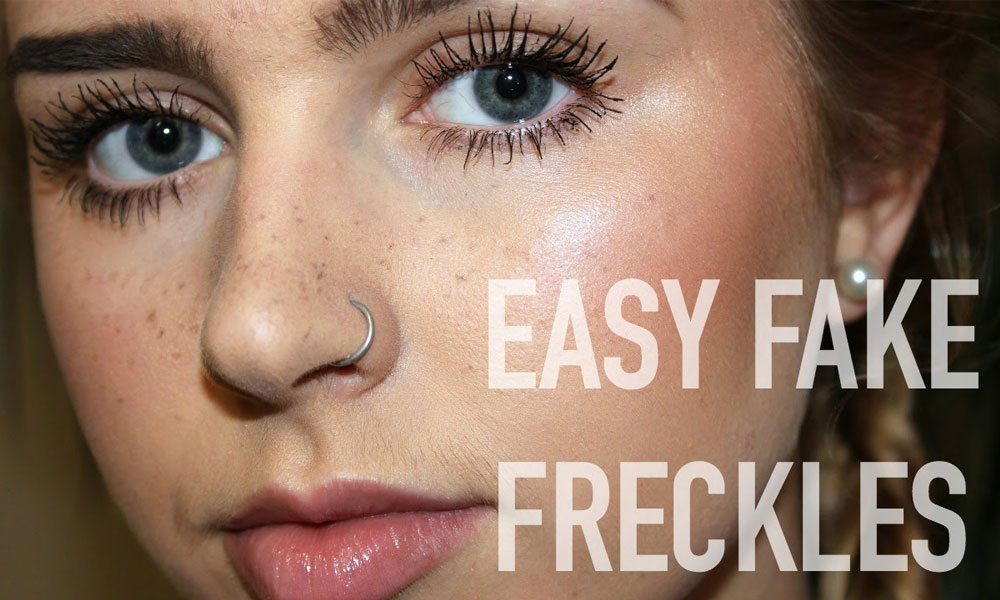 Natural freckles are adorable skin adornments that scream whimsical beauty. These melanized skin cells are affectionately referred to as 'angel kisses' and automatically make you look and feel unique. However, freckles are usually clearly visible only on women with fair complexions. Plus, not every woman is born with a collection of natural freckles on her own skin. Even women who start their lives with a smattering of freckles often see these freckles fade throughout their life. If you don't naturally have freckles, however, that doesn't mean you can't reap the benefits of these beautiful angel kisses. All you have to do is draw your own fake freckles.
Freckles might seem like a strange thing to fake. However, fake freckles are nothing to gawk at. In fact, drawing freckles onto your skin where you don't naturally have any is a very common practice that has gained extremely popularity in the beauty world. That doesn't mean you should just start drawing spots all over your skin, however. It is important to learn how to correctly draw freckles onto your skin before you attempt to create your faux freckles.
1. Use Cream Eyeliner
Cream eyeliner is the best product to use to create your fake freckles. Regular pencil eyeliner doesn't look natural, while liquid liner smudges, smears, and flakes when it dries. Cream liner formulas have the perfect texture for creating fake freckles that look authentic and last all day.
2. Press, Don't Smear
It's important to blend your fake freckles in order to help them look more natural. However, never try to blend your freckles by smearing them into your skin. Instead, use a Beautyblender to gently press each freckle against your skin. This blending technique gives your freckles a subtle finish without distorting them.
3. Use Tanner First
Before you apply your fake freckles, blend a small amount of self-tanner into the area where you plan to put your freckles. This trick helps prep your skin for your freckles by placing your skin tone in the shade range of your freckles, which makes the freckles look more natural and subtle.
4. Choose the Right Shade

You want your fake freckles to be noticeable without looking too obviously fake. In order to achieve this perfect balance, it's important to use the right shade of eyeliner to create your freckles.
Don't use dark brown eyeliner if you have a fair complexion. On the other hand, don't pick a light brown eyeliner that blends into your medium skin tone. A good rule of thumb is to choose a liner that is three to four shades darker than your natural skin tone. This shade difference helps create freckles that look natural but still stand out from your skin.
5. Try Color or Glitter
Fake freckles are just that: fake. You can try to make your faux freckles look as real as possible, but you can also embrace their artificiality. If you're feeling extra creative and whimsical, toss the natural shade of liner aside and create colorful or glittery freckles instead.
Use cream pencil eyeliner or a cream eyeshadow formula to create colorful freckles on your skin. Experiment with bright and pastel colors to determine which shades you prefer against your skin. To create glittery freckles, apply fake freckles like normal. Then, dot the freckles with liquid glitter liner to add some sparkle.
6. Layer Your Blush
If you are really set on making your freckles appear natural and subtle, try layering your blush on top of them. Applying blush, bronzer, highlighter, and other skin makeup products after you apply your fake freckles help the freckles appear to blend more effortlessly into your skin and gives them a subtle finish.
Always apply primer, foundation, and concealer as a base before you apply your fake freckles. Then layer the rest of your makeup accordingly depending on how subtle you want your freckles to look.
7. Set Your Makeup

Setting your makeup is always an important step in your daily beauty routine in order to help your makeup last all day long without fading, smudging, creasing, or becoming otherwise distorted. However, when you apply fake freckles, setting your makeup becomes exponentially more important.
There's nothing more embarrassing than ending up with smudged "freckles" streaked all over your skin by the end of the day. After you finish applying your freckles, dust a liberal amount of setting powder over the area where your freckles are. Then, after you're done with your full makeup routine, spritz your skin with setting spray to finish off your look with a protective seal.
Fake freckles is a very popular beauty trend that helps you create those sought-after dots on your skin that you've always wanted. Use the tips in this post to learn how to create fake freckles in order to achieve the best possible results for your faux angel kisses.