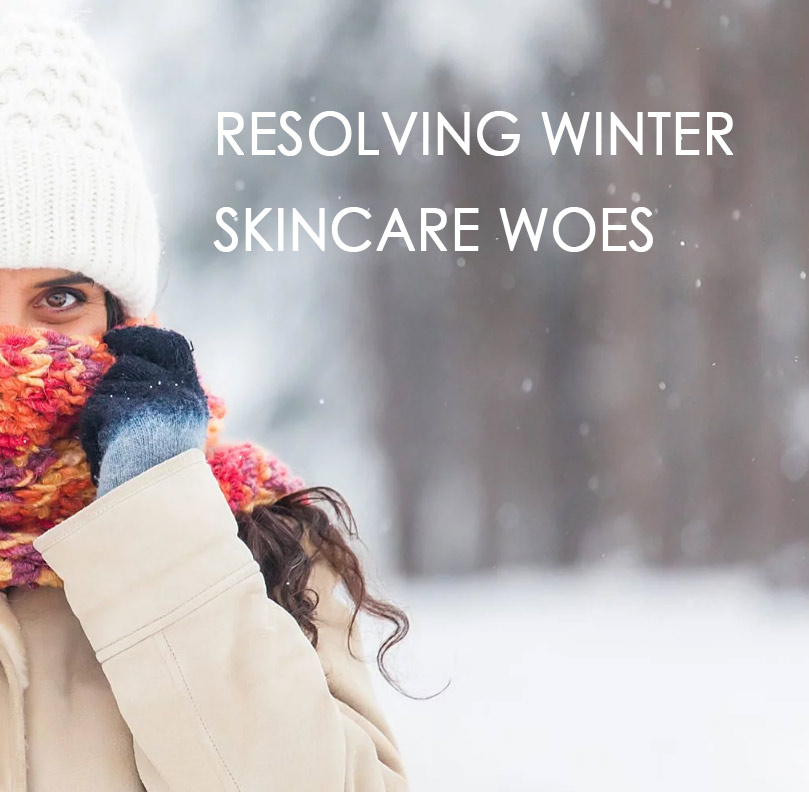 Harsh winter weather with colder temperatures, low humidity, wind and indoor heating can dehydrate and irritate your skin. This is further exacerbated by those long, hot showers we all enjoy. Add in holiday stress, late nights and the occasional adult beverage, and you have a recipe for skin disaster. Your skin may become chapped, flaky, dull, rough, tight, itchy, red and can develop fine lines.
Just as thirst means you're already dehydrated, the same principle applies to your skin. Dehydration inhibits skin nutrition and repair, and slows cell turnover which compromises the skin barrier leaving skin vulnerable to damaging free radicals, UV damage and premature aging.
To prevent these skincare woes, your number one skincare goal this winter is to keep your skin hydrated, intact and functioning optimally so that you can have soft, smooth, healthy skin now and for years to come.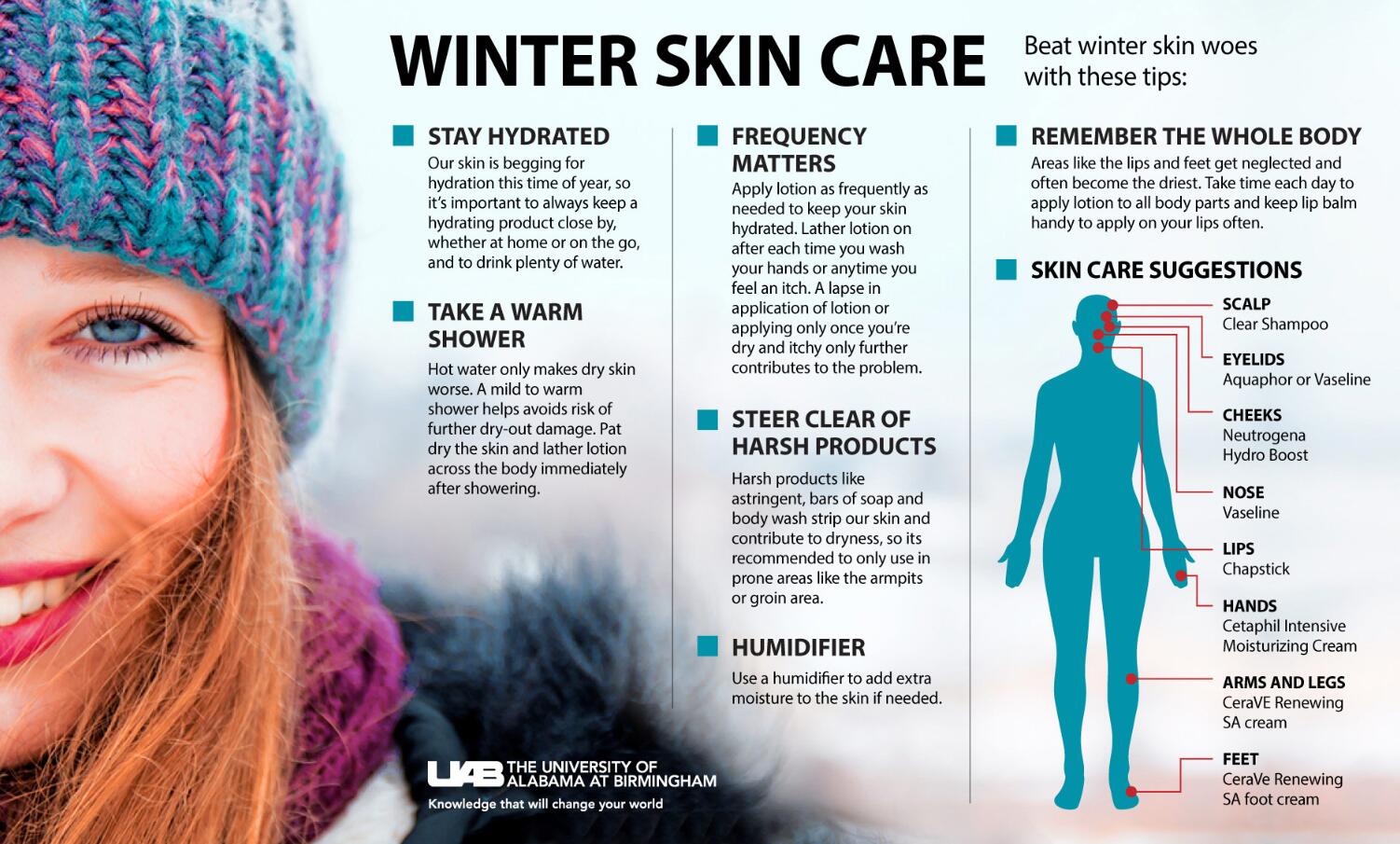 Step 1: Cleanse + Tone
The good news is that it's possible to prevent and fix winter skincare woes with the right products, ingredients and lifestyle choices.  Remember that the same skin regimen you follow in the summer, doesn't apply in the winter. To combat winter weather you must arm yourself with products that contain hydrating natural ingredients, maintain moisture balance, and nourish, repair and soothe.
To prevent winter dehydration in the first place, start your regimen with a cleanser and toner that are free of drying sulfates and alcohol. Timeless by Pevonia's Foaming Gel Cleanser leaves the skin clean and hydrated, while rejuvenating and healing with rosemary and sage.  Follow with the Timeless Radiant Skin Toner to remove drying tap water as a dynamic jump start to combat harsh winter air.  The toner can also be misted anytime throughout the day, even over makeup, to quench dry winter skin. The hyaluronic acid helps your skin hold up to 1,000 times its weight in water, to deeply hydrate the skin along with marine collagen.  Think of this toner as a drink of water for your skin.
Tip: The Foaming Gel Cleanser can be used on your body as a nondrying alternative to drugstore body washes and soaps.
Tip: Don't forget to exfoliate. A gentle, sulfate-free exfoliant can soften and remove dry patches, and help your serums and moisturizers penetrate more deeply for maximum hydration.  Choose a scrub with natural "beads" like the jojoba beads in the Timeless Gentle Foaming Scrub, which soothe and hydrate while they buff away dead skin cells.  The scrub is ideal during the winter as it reduces inflammation and promotes circulation via calendula, chamomile, French rose, horse chestnut and allantoin.  Simply scrub two or three times a week in lieu of your regular cleanser and you'll experience smoother, hydrated skin in no time.
Step Two: Renew + Protect
Serums and moisturizers with naturally sourced ingredients are the ultimate solutions for stressed winter skin. Choose those with hyaluronic acid, olive oil (squalane), safflower seed oil, hazelnut oil, glycerin, dimethicone, and vitamin E. These ingredients are all-star hydrators and renewers. If you haven't used serums before, make them part of your winter routine. They're highly concentrated and designed to penetrate deeply for maximum hydration and replenishment.
Timeless By Pevonia's Timeless Eye Contour and Timeless Collagen Serum combine high concentrations of deeply hydrating, moisture preserving and rebuilding ingredients, which make these products a must during the winter.  They both contain marine collagen, which hydrates the skin, and plant-based glycerin and mineral sourced dimethicone which create a barrier, preventing moisture from evaporating, effectively protecting your skin from harsh winter air.
It's recommended to use one serum for face, and one designed specifically for the eye area as the skin around your eyes is more delicate.  The Timeless Eye Contour Serum contains squalane, hyaluronic acid, vitamin E, safflower oil, marine elastin, malic and glycolic acids, and green tea, which are the best ingredients for protecting the skin around your eyes.  These ingredients,
Penetrate deeply for maximum skin nourishment and hydration.
Reinforce the skin barrier and seal in moisture without clogging pores or leaving an oily film.
Hydrate and plump up fine lines
Dramatically boost hydration.
Replenish the essential fatty acids that we lose as we age.
Neutralize free radicals and repair skin.
Replenish amino acids, which reinforce the skin barrier and prevent and correct fine lines and wrinkles.
Stimulate cell turnover, moisture production and improve product penetration.
Protect the skin against bacteria and free radicals.
Sooth, heal and reduce irritation.
Step Three: Moisturize
Moisturizing is essential to seal in your serums and lock in your moisture.  The Timeless Collagen Moisturizer is a great for withstanding dry winter environments, as it provides a natural occlusive barrier between your skin and the environment without clogging your pores.  It deeply hydrates, prevents moisture loss, preserves the skin's moisture, and reinforces and protects your skin.  It also contains sorbitol, panthenol and arnica to further hydrate, soothe and heal irritated winter skin.  Bye bye parched, pink skin.
Lifestyle Solutions
Ward off winter dehydration with these tips:
Do not sit directly next to heat sources.
Take short, warm (not hot!) showers.
Drink eight glasses of water daily. You can also hydrate with decaffeinated teas and water-rich fruits such as grapes.
Avoid harsh, drying sulfates, alcohol and mineral oil, which can clog pores, thin skin and cause breakouts.
Minimize tobacco, caffeine and alcohol.
Consume healthy fats such as olive oil and avocado.
Use a humidifier to help alleviate parched winter skin.
Post brought to you by Pevonia Corporate Educator and Licensed Esthetician, Kendall Weatherman. Kendall continues helping consumers via www.timelessbypevonia.com by assessing their skincare concerns and customizing regimens to address their particular needs. Kendall studies everything she can about new developments in the world of skin and health loves sharing her experience, knowledge and passion for healthy, results-oriented skin and body care.