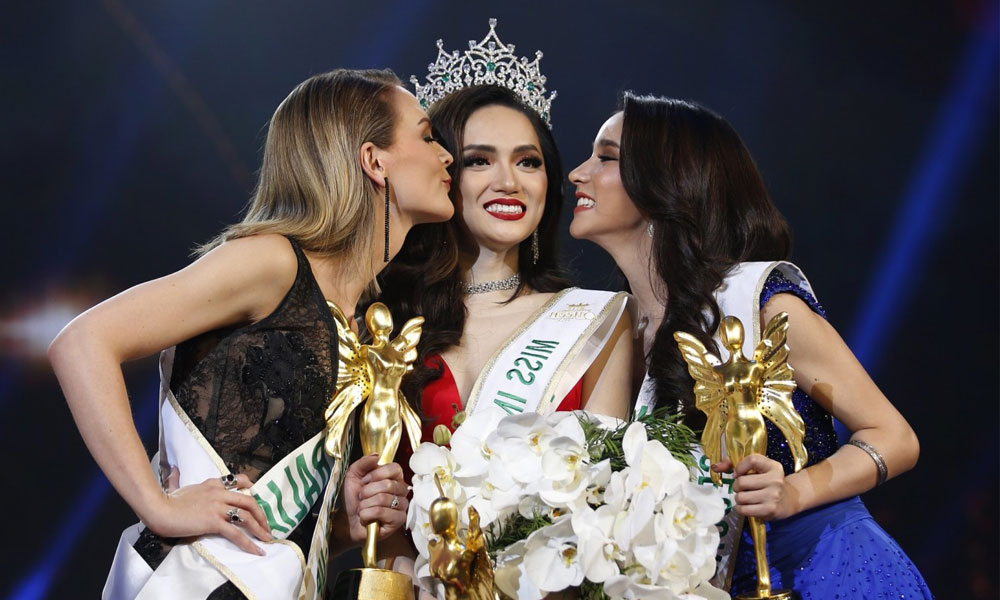 Lots of successful Beauty Queens share their tips, after they've retired. So we've collected their up-to-date and useful beauty tips to help you look as good as they do!
1. Great makeup remover
Coconut oil is a very efficient make-up remover that leaves dry skin wonderfully clean and moisturized. The oil is great for dissolving all types of greasy makeup and it's easy to give your face a light massage as you clean it. Wipe off the oil with a wet-wipe or two and your face will feel as fresh as a daisy!
2. Condition as you shave
Use hair conditioner instead of shaving cream, to save money and leave your legs much softer. This also makes your spray tan or leg make-up glide on much more evenly with a super-smooth texture.
3. Covering leg imperfections
Leg make-up is a wonderful product for any woman without perfect skin! For example, I have brown spots on my legs and if I put faux tan on, it just dyes those brown spots darker. And that looks like an unattractive leopard-print pattern on my legs! So I'm delighted with the coverage and texture I get with leg make-up. Instead of darkening the brown spots, it covers them over completely. And that includes veins, scars, bruises and birth-marks.
I like Dermablend Leg and Body Makeup, which comes in a very wide range of colors. But there are many other leg make-up products to choose from including the Sally Hansen leg makeup range. Beauty queens prefer leg makeup because it's quick and easy to put on yourself and you don't have to layer it to get darker colors. Just choose the color you want from the color chart and one or two layers is sufficient.
4. Tattoos & piercings
Although there are no rules to say that Beauty Queens aren't eligible if they have tattoos/piercings on show, some judges are prejudiced against them. So remember that products like Dermablend Body Makeup are specially designed to cover tattoos completely and blend in with your normal skin tone. And remove any piercings, except for two earring holes.
5. No wardrobe malfunctions
Butt glue is a must-have for beauty queens who need their swimsuit to stay in place, without riding up, as they parade around a stage. And another sticky tip is double-sided tape, which keeps a low cut evening gown neatly glued to the cleavage underneath.  So there are virtually no horrifying 'wardrobe malfunctions' on a Miss World stage!
6. Big hair needs heated rollers
And if you want your hair extensions to be arranged in a glamorous, 'big hair', hair-design, the only way to get that look is with heated rollers. Heated rollers may have gone out of fashion for home use, but they are still the mainstay styling product for fashion and beauty photoshoots. Beauty queens leave them in for hours at a time, to get a firm set for their stage-appearance.
7. Add inches to your legs
Want to make your legs look longer? Then look out for the Beauty Queen favorite Chinese Laundry – The Teaser – Platform Sandal in beige, black or white. Choose the color that matches your skin tone best. They have a 1 ½" platform and a 5 ½" heels, so you'll need to practice walking on this height, but just think how much more regal you'll look!
8. Best stain remover
White gowns for wedding or beauty pageants are very easy to smudge or stain, so they must be protected by garment bags until you're all ready to get dressed. However, makeup has a tendency to get everywhere from your fingertips.
So if you have a last minute stain crisis use hand-sanitizer to remove it fast. Just squeeze some hand-cleanser onto the stain and leave it to penetrate for about 10". The gently hand wash the small problem area and you garment will be clean and smudge-free.
9. Avoid Preparation H for eye bags
Although most beauty fans now know that Preparation H is the best product for reducing under-eye bags and puffy eyes after crying. I feel someone should point out that if you get Preparation H in your eyes the ingredients, including hydrocortisone, can cause serious, permanent damage to your eye-ball. It's much better to use frozen peas, cold cucumber slices or refrigerated, peppermint tea bags for 'eye-bags'!