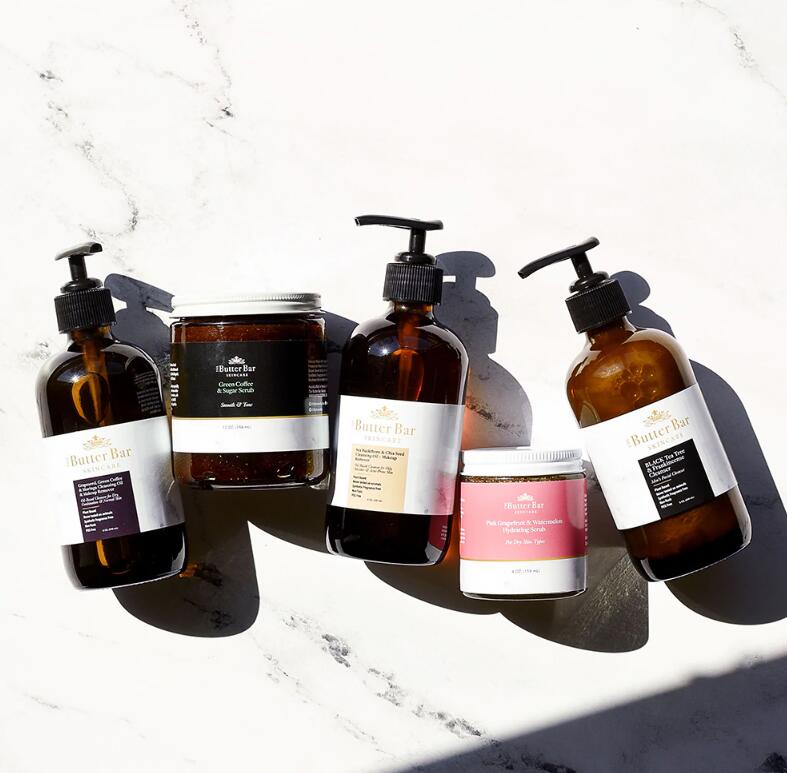 Differences between Scrubs and Cleansers
We all know we are supposed to cleanse morning and night, as well as exfoliate weekly. But when asked, only a few people really know what exactly they are using on their skin, how they are using it and why they are using it. The main differences between cleansers and scrubs are their purposes, ingredients and frequency of use. Read on to better understand the differences between cleansers and scrubs, as well as when and how to use them.
In general, cleansers are intended to remove makeup, dirt, oil and other impurities from the skin. A scrub's main function is to exfoliate and remove dulling dead skin cells. We use scrubs to reveal newer, brighter and healthier skin, along with stimulating cell turnover. However, the best cleansers and scrubs will do far more than this.
Don't underestimate cleansers and scrubs. Even though they get washed off and have little "contact" time with the skin, quality cleansers and scrubs make a big impact. They help promote youthful, clear skin, while poor-quality cleansers and scrubs can actually make skin look worse. It is important to choose and use wisely. In addition, both products are a must for anyone using serums and moisturizers as they pave the way for these products to work their best!
Timeless By Pevonia's Foaming Gel Cleanser achieves multiple purposes as it deeply cleanses while it refrains from using drying sulfates. It also contains plant extracts like rosemary, pine, lemon, basil, and burdock. Together these ingredients unite to hydrate, balance, promote even skin tone, prevent aging as well as combat bacteria and free radicals.
Scrubs are physical exfoliants in that they contain granules that actually polish and buff away dead skin cells. Some scrubs contain cleansing agents as well, performing double duty. The trick with scrubs is to exfoliate without being too abrasive and causing irritation or inflammation. Timeless By Pevonia's Gentle Foaming Scrub accomplishes all three functions (and more!) making it a great way to save time and face!
Timeless By Pevonia's Gentle Foaming Scrub exfoliates and deeply cleanses to prevent pores from getting clogged. The Gentle Foaming Scrub contains soothing, brightening ingredients, which truly sets it apart from the majority of other scrubs. It reduces redness or sensitivity via allantoin, chamomile, calendula, horse chestnut, and French Rose essential oil. This make it great for sensitive skin types and rosacea sufferers. It also brightens via its exfoliating action and natural citric acid.
When to Use Which
Cleansers and scrubs are a vital first step in your skincare regimen. Cleansing morning and evening every day is always recommended, whereas most scrubs are used anywhere from 2-4 times a week. Timeless By Pevonia's Gentle Foaming Scrub is not like "most scrubs" as it is gentle enough that it can be used daily. However, ideally those with dry, sensitive or mature, thin skin should use it once to twice a week. Whereas those with thicker, oilier skin can use it successfully 3-4 times per week.
Tips For How to Use Cleansers and Scrubs
Choose wisely! Use products with gentle, effective and safe ingredients. This means no sulfates, mineral oil or rough nutshells, which are unkind to the skin. As well as no plastic, polyethylene or silica beads, which are unkind to sea life.
Just a dab will do it! Use Timeless By Pevonia's Foaming Gel Cleanser like a sulfate-free shampoo! Just take a small pea-sized amount, add water and rub your palms together to create a lather, then apply to your skin.
Easy Does it! Use your products gently. This means no hot water, scrubbing pads, aggressive scrubbing, or downward movements. Let the products do their jobs. Light pressure and warm water is all you need!
Up and Out! Remember to use upward and outward circular movements to encourage a youthful appearance.
Hit the Shower! Scrubbing in the shower makes it easier to remove all the granules as well as encourage you to cleanse your neck and chest too.
Don't Forget! Designate specific scrub days to make sure you remember to exfoliate. For dry, sensitive skin types scrub Monday and Thursday. For combination, oilier skin types, scrub Monday, Wednesday and Friday.