So you already have the perfect foundation. It has the coverage you want, mattifies your skin, and makes your pores instantly disappear. Good for you! But let me give you the cold hard truth—smooth, flawless skin doesn't depend just on your foundation.
Yes, you heard that right. There are many other factors that will affect how well your foundation will glide on your skin. One of the most crucial ways to ensure your foundation will perform to the best of its abilities is by choosing the best foundation brush.
A bad foundation brush will leave your foundation streaky and unblended. At worst, you'll have foundation lines across your face and your application will look unnatural. Using the best brush is truly key in perfecting your foundation look.
Here's how to choose the best foundation brush, along with seven of our top recommendations depending on your need.
How to choose the best foundation brush for you
Meticulously picking out a good foundation brush may sound unnecessary to some, but if you're committed to making your foundation application look pristine, it's a non-negotiable. There are plenty of different kinds of foundation brushes by shape or bristle design.
There are three common foundation brush shapes—flat, balloon, and oval brushes. Each one brings something new to the table.
Flat foundation brushes offer the most coverage, since all it does is pack on your foundation onto your skin. It delivers the pigment straight to your skin, giving you an airbrushed, opaque finish. It's fantastic paired with liquid foundations.
Meanwhile, balloon brushes are more curved towards the top. They're more commonly used to powder foundations that you lightly swipe on your skin for sheer to medium coverage. These brushes are great for everyday use, where you don't have to be extremely precise with your blending. They also help control shine and oiliness.
Oval brushes are perfect for gentle application, like for weightless BB creams or loose powder. They're amazing at blending foundation, and you don't even need to use that much pressure when using it.
Next, let's talk about bristles. You can either choose between natural hair or synthetic fibers. Like the different foundation brush shapes, they have their own purpose too.
Natural hair is softer and more comfortable on the skin. They also blend your makeup better. However, they're more expensive and drink up too much foundation. They're also rarely cruelty-free, since they're made of animal hair.
On the contrary, synthetic brushes are more affordable and accessible at any price point. They may not be the most comfortable on the skin, but you get the most out of your foundation since synthetic bristles don't soak up too much of your makeup.
1. Foundation Brushes for Beginners: wet n wild Flat Top Brush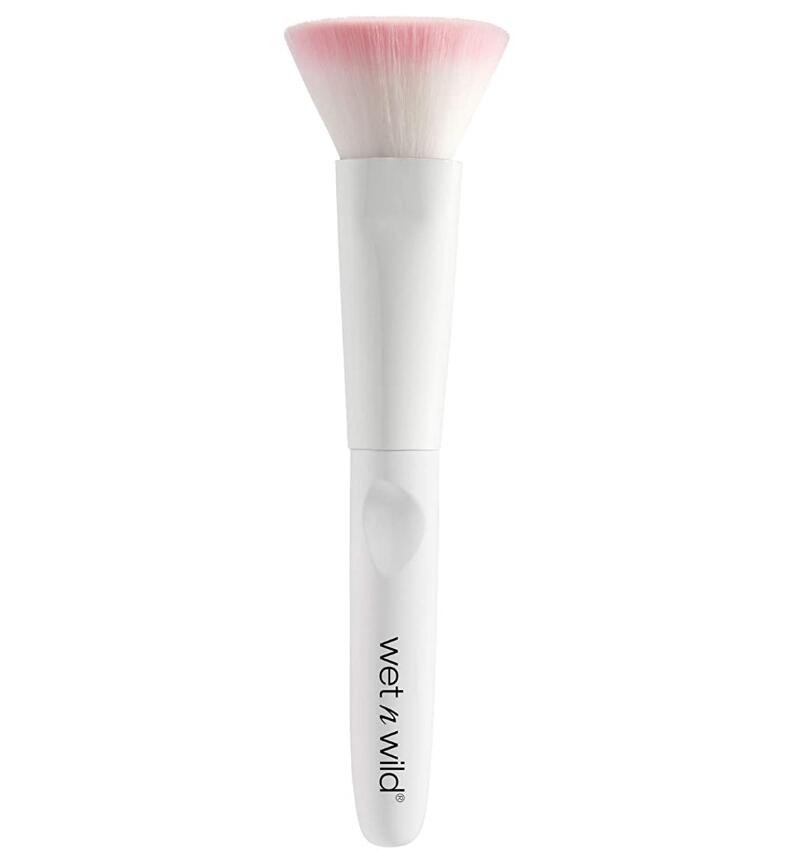 Even though this foundation brush by wet n wild is made with synthetic fibers, they feel smooth and luscious on the skin—never stiff or abrasive. The bristles are densely packed in a flat-top shape, making them perfect for bold, full-coverage foundation looks.
It's very versatile in that you can use it for liquid and powder foundation. It provides the coverage you want with liquid foundation but is still fluffy enough to apply powders magnificently.
This cruelty-free foundation brush has a cute pink and white design—perfect for bringing out your feminine side as you collect brushes.
2. e.l.f. Buffing Foundation Brush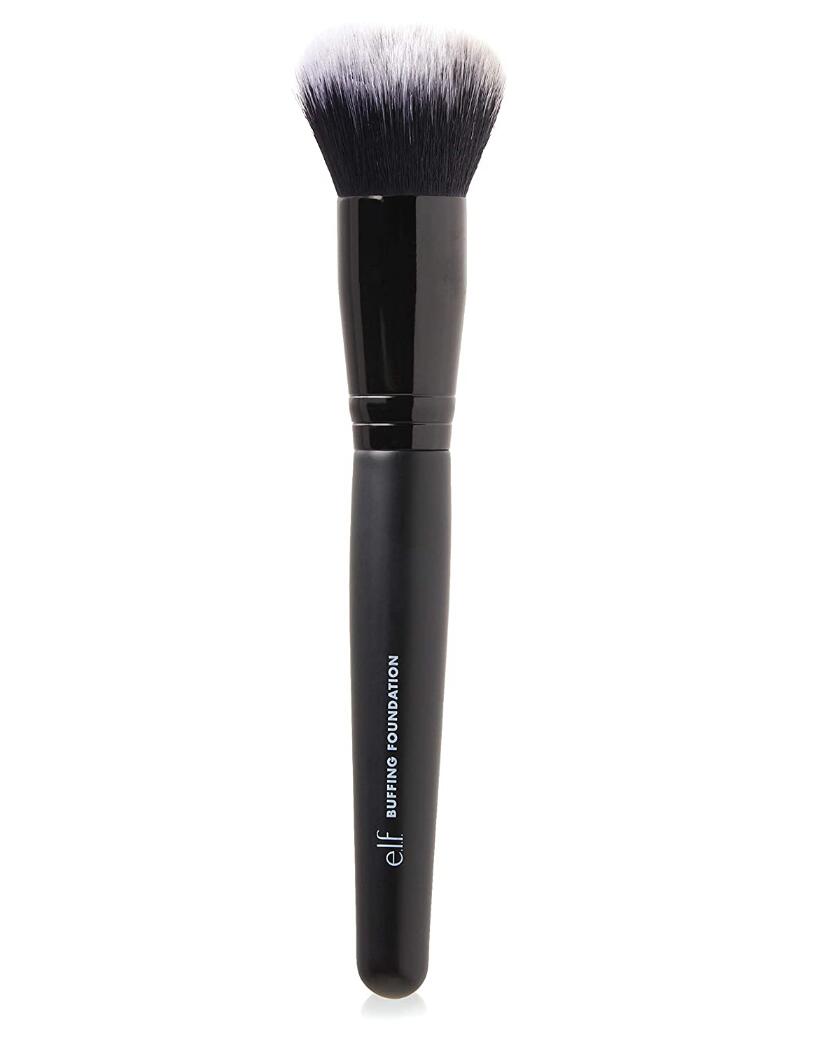 If you're going for a more flawless, airbrushed finish, try out this buffing brush from e.l.f. It's designed to blend your foundation seamlessly into your skin to make your complexion look even and uniform. It distributes your makeup evenly across the skin, giving you a blurred and soft-focused finish.
There is a subtle tapering at the top of this brush that makes it easier to blend foundation into the curves and crevices of your face. You can even use it to contour and draw out angles when you get to other steps of your makeup routine.
Because e.l.f. commits to offering vegan and cruelty-free cosmetics, this foundation brush is designed with synthetic fibers. That said, the bristles are still smooth and soft to the touch.
3. Rare Beauty Liquid Touch Foundation Brush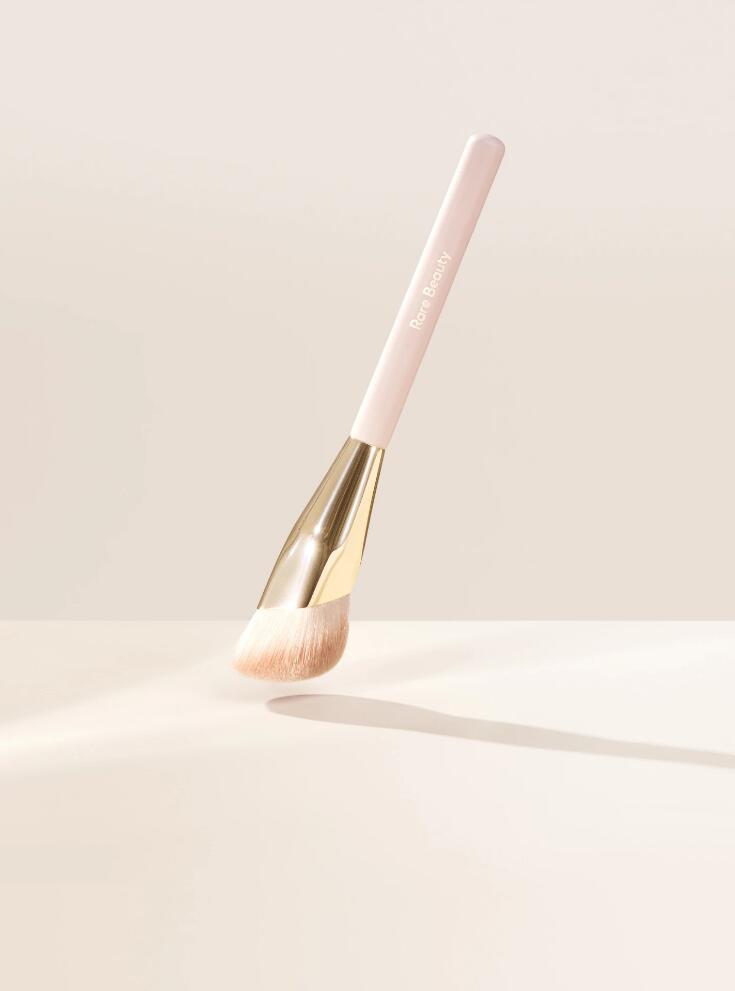 For a more luxurious foundation application, check out this brush by Selena Gomez's Rare Beauty. It comes in a unique marquis shape, reminiscent of how your fingers look. This makes your foundation easy to smooth out on your face, as if you're doing it with your own fingertips.
The synthetic bristles are super silky and soft, so you'll never feel like you're being too rough on your skin despite its ultra-precise shape. They're perfect for building coverage to hide blemishes and imperfections properly.
4. Sephora Collection PRO Foundation Brush #56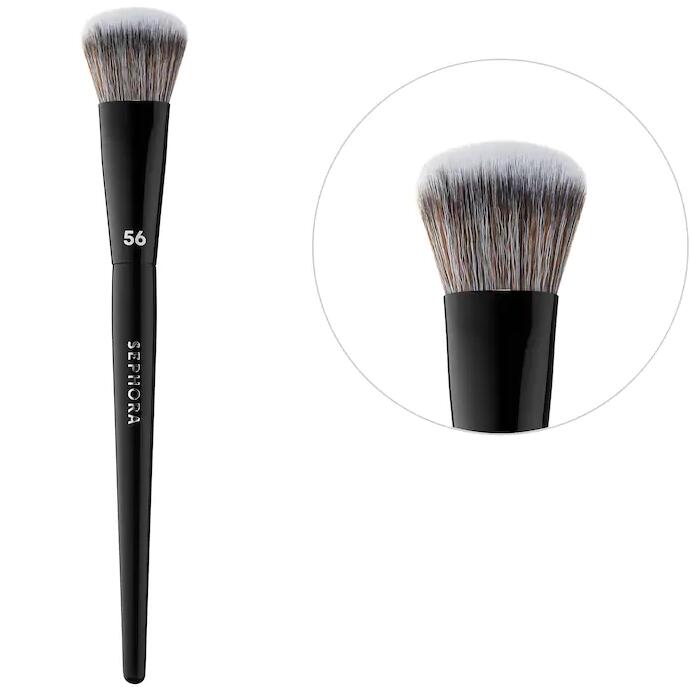 The soft, synthetic bristles of this foundation brush by Sephora Collection have a dome shape. The bristles are densely packed, allowing for intense coverage as you apply your foundation to your face. Because the tip is so dense, it will pair well with cream or stick foundations.
What's awesome about this brush is that it has a tapered handle, making it more comfortable to grip. This gives you more control of where you blend and buff your foundation, leading to a more precise and even application.
The wooden handle is also made from sustainable forests, so you know you're making a responsible purchase if you choose this brush.
5. Real Techniques Expert Face Brush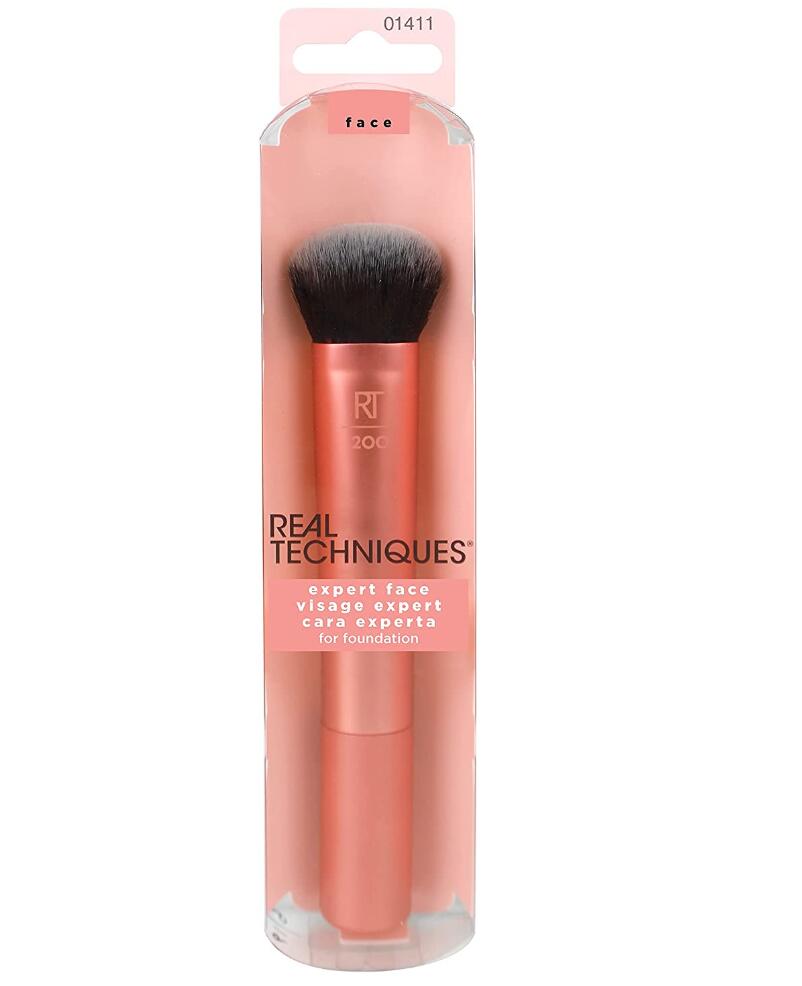 The expert face brush by Real Techniques was developed to cater to multiple makeup steps, from foundation to contour to highlighting. But it does its best work when it comes to laying on your base makeup.
This brush works to buff foundation flawlessly into your skin, giving you something in between an airbrushed and natural finish. Its bristles aren't super densely packed, so you can also use it to set your foundation with a pressed powder.
6. Hourglass Vanish™ Foundation Brush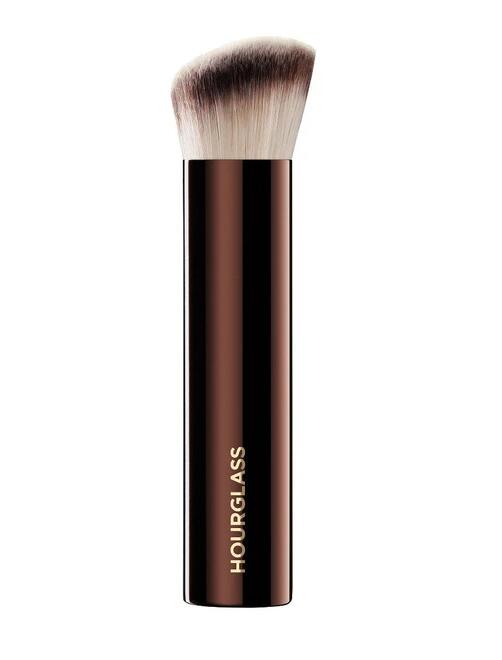 Pamper your skin with this opulent, high-end foundation brush by Hourglass. The top is flat and the bristles are packed, so it's perfect for full-coverage liquid and stick foundations.
The bristles are extremely soft and feel expensive, like microfiber. They're made of taklon, a high-grade synthetic fiber that's more top-quality than common synthetic hairs. It's incredibly gentle on your face, so you don't have to worry about being too rough on your delicate skin.
The rounded yet flat shape allows you to use this brush in the contours of your face as well, be it your jaw area or to highlight high cheekbones. It's pretty much an all-around makeup brush that will feel super comfy on your skin.
7. Fenty Beauty Full-Bodied Foundation Brush 110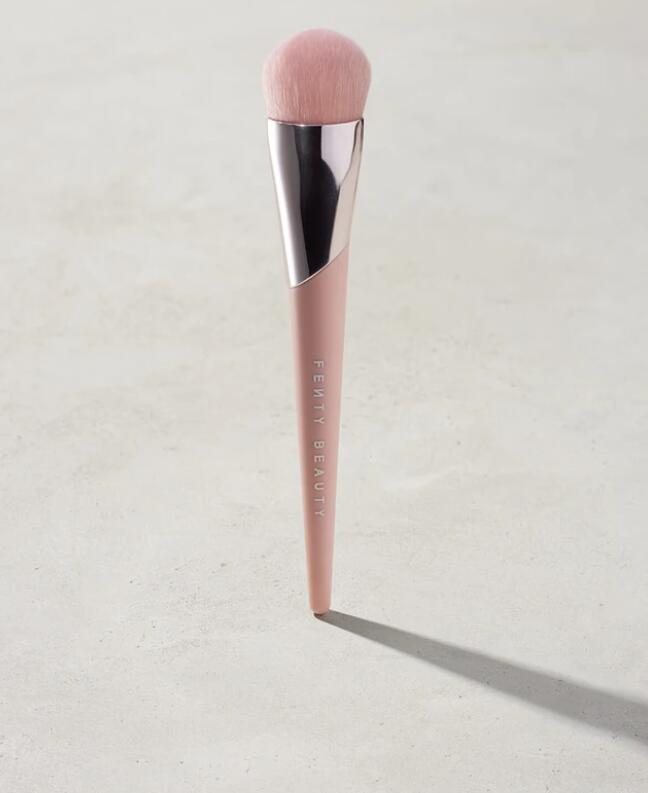 The last one we have on this list is this cute, full-bodied foundation brush by Fenty Beauty. It's made of 140,000 fine bristles to help blend your foundation the way you want. The soft bristles are firm yet offer just medium density, so they will never feel too hard upon your skin.
This brush works to give you a seamless, flawless foundation application while still leaving your skin looking natural and touchable. Because it has a semi-flat top and semi-rounded shape, it can achieve both. The shape mimics a paw, which is intriguing yet super effective for comfortable blending.
We love that this brush comes in a captivating Millennial pink color—perfect for divas who love keeping their makeup tools looking girly and feminine.
Conclusion
Always remember that getting that perfectly airbrushed, blemish-free makeup look doesn't depend solely on expensive makeup brands. How you apply your foundation to your skin matters too. And when it comes to face makeup, using the best brush is key to the best blending.
Check out any of the foundation brushes listed above to elevate your foundation game. They'll help you maximize what your makeup can do for you, be it in terms of coverage, blendability, or just overall comfort as you do your makeup. Subscribe to get more beauty shopping tips on herstylecode.com